Best Apartment Living Room Ideas For Your Space
Posted on September 30, 2020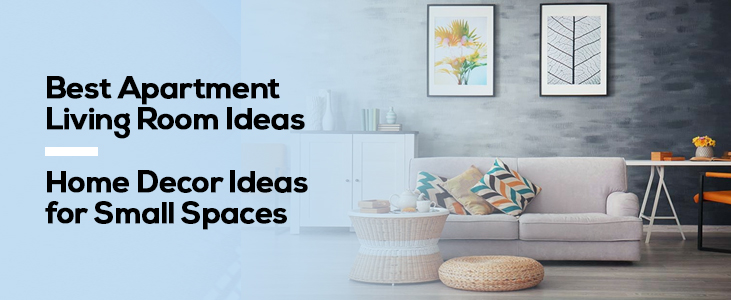 Upcoming Indian cities have many apartments that are quite small, due to lack of space and quick growth.
Choosing the right décor can be daunting, but doesn't have to be impossible.
There are plenty of home decor ideas for small spaces that we have collected from experts, and present to our readers from time to time.
Today, however, we will focus on small apartment living room ideas. You can also checkout the latest apartment trends.
Apartment Living Room Ideas
1. Dual Use Furniture
The instinctive reaction of most people is to invest in compact furniture based on exact measurements; but this may not always be the best idea.
Living room furniture for small spaces should ideally be multipurpose.
Even large sized furniture can create an illusion of space – if used strategically.
Think about function: can your sofa double up as a bed, if you have a guest?
Can your bench store stuff inside?
This is what you need to consider.
Use ottomans in your living room – they can multipurpose as tepoys or side tables, extra seating when needed, and footrests when you want to unwind.
These are not only space saving ideas for small apartments, but can also make your living room look more cheerful and snazzy.
2. Go Green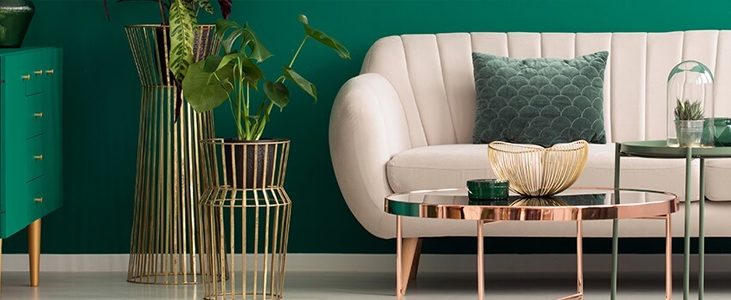 Living in an apartment without your own garden is not so cool; but you can create a green haven inside your apartment no matter what the size. You can try some eco-friendly house construction methods also.
In fact, having greenery inside is one of the most practical and the healthiest apartment living room ideas of all.
Choose a wall to create a vertical garden, or place indoor plants in all the corners, and even randomly in your living room – at the sides of your sofas, or even bang in the middle.
Plants create a soothing atmosphere, and help you relax and unwind.
You can choose plants that regulate oxygen at night and absorb harmful chemicals to create a healthy living space for you right in the city – like money plants, aloe vera, syngonium, and snake plants.
You can also use plants that are perennial blooms like petunias and dianthus.
You can also make a terrarium with succulents -it's easy and can be made without spending much.
Bonsais are also a great option for the living room – they make fascinating center pieces. Also get some tips to set up indoor gardens for apartments in Kerala.
3. Create A Visual Progression Of Space
This is one of the more creative small drawing room ideas; even the smallest of spaces can be made to look larger than it actually is.
Using complementary, neutral tones and offset in white, can create visual spatial progression.
White walls, and using tones of whites, off-whites, and light creams and beiges for the décor can really help to make your room look spacious and breezy.
This visual mirage can be created in many ways: one would be to use a giant-sized piece of décor – it could be a sofa, chandelier, a wall art piece – anything that catches your fancy.
When you explore living room designs for flats it's very important to think about creating the impression of a large space, otherwise you could feel claustrophobic. You can also read low cost interior design for homes in Kerala.
A dramatic statement helps create contrast and arrests the attention of the viewer, and fools the mind into thinking that the room is much bigger than it actually is.
White is also calming and soothing – which is something everyone needs. Additionally, it allows you to experiment with your décor.
You can try out art pieces, furniture, rugs and cushions in literally any color, there's no time wasted in trying to color match! Is your ceiling low? Choose low sofas or settees, and voila! Also read some tips for furnishing first apartment.
Your ceiling will suddenly seem higher. You can also paint the wall in vertical stripes using two shades of the same color, to give the illusion of height.
4. Allow Natural Light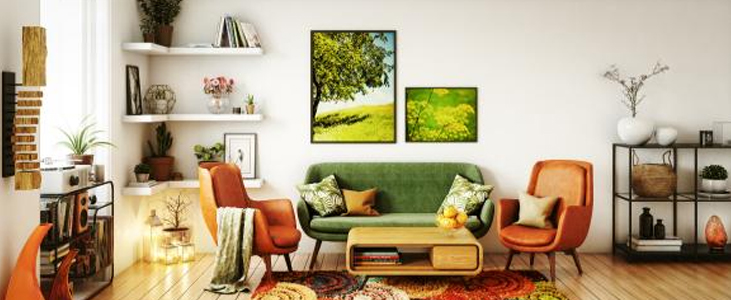 If you're completely stumped about how to decorate a small living room, here's one thing you can do that requires little effort.
If your living room has large windows through which the sunlight streams in, don't install blackout curtains – make sure your curtains are light in color and fabric, and let the sunlight come in unhindered.
Natural light can also make your room appear bigger than it is, and it's also more cheerful.
5. Enhance the Floor
Apartment living room designs may not always leave a whole lot for you to do, so play around with the different elements – the floor for instance. Wooden floors always look elegant – and can be quite expensive.
So what you can do, is get good quality vinyl flooring that has a wood finish.
It adds warmth and class to a lackluster floor.
You can then place large rugs in bold colors and designs – contrary to what you think, it will actually make the room appear bigger.
Smaller rugs tend to break up the floor visually and make it appear smaller. Check out about wooden flooring in Kerala.
6. Keep It Homely
A small room can be very inviting and cozy; choose plush rugs that you can sink your feet into, and keep the seating close together.
You can check out sofa designs for small living rooms online, and either purchase or get them made from a carpenter.
Your sofa design is especially important if your living room is also narrow.
Choose sectional sofa sets that can be rearranged as you wish, to utilize the available floor space to the hilt.
You can also use dark colored paints; this won't make the room appear bigger, but you can create a very inviting and personal space by painting your walls in glossy dark colors.
Have bright colored sofas, rugs and throws to add pizzazz to the room.
Strategically placed wall art can create the effect of a jewel box in such a room.
You can also float your furniture – it doesn't have to be all stacked against the wall.
If you place the sofa so that there is space between the sofa and the wall, it can create the illusion of space.
If your sofa is plain, dress it up with colorful fabric – an old handloom saree that you don't use, for instance. Not only will it jazz up the room, it will also bring on the nostalgia. Also read some stunning apartment ceiling design.
7. Use the Height
When the square footage is less, get innovative, and leverage the high ceilings.
Install tall shelves or wall display units, accentuate windows with high curtains hung above the windows, and use bold colored wallpaper or wall paint.
High curtains add airiness and light to a room.
Tall standalone lamps add elegance and makes the room brighter.
You can also display your art work vertically – start from a little above the floor, and go right up to the ceiling.
8. Display a Little of India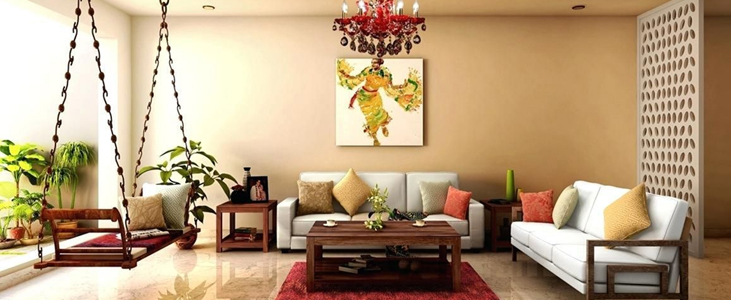 If you want small living room designs Indian style, place large elegant lamps (deepams), sculptures, wooden carved elephants, brass antiques, replicas of the famed 'paaya kappal' (ancient ships) of Malabar, Tanjavur, Warli, or Madhubani paintings on the walls.
Choose Dhurries with traditional designs as throws on your sofa, or even as rugs.
Bamboo or wicker footrests, swing chairs, and small side tables also give a hint of rural artisan India.
Wooden swings were an integral part of homes in ancient India, so try to hang a small swing in a corner of the living room or the balcony if you have one attached to your living room.
9. Go for Multiples
This is a pretty ingenious small living room interior design idea. Rather than one big tepoy or coffee table, use two small ones.
You can move them around as you like depending on your requirement, and make it easy for you to move around as well.
You can also use a daybed, with a small side table; throw in a few cushions to make it a comfy lounging or reading space.
10. Color Schemes
Small hall design ideas should always involve having fun with colors – of course, without making the room look chaotic.
This won't happen if you stick to a fixed color palette – pastels, vivid shades, monochromes – but not everything together.
You can also mix patterns but need to be clever about it, and ensure that the patterns don't clash with each other.
11. Incorporate Mirrors
This is one of the most common interior design ideas for a living room in an apartment; mirrors reflect light and make any small room look a whole lot larger than it actually is.
Layering a couple of framed mirrors, or making a mirror wall will add a unique dimension to your living room.
Are you looking for flats in Calicut? Check out the latest projects by one of the most reputed builders in Calicut, PVS Builders.