Stunning Apartment Ceiling Design Ideas For Your New Space
Posted on February 19, 2020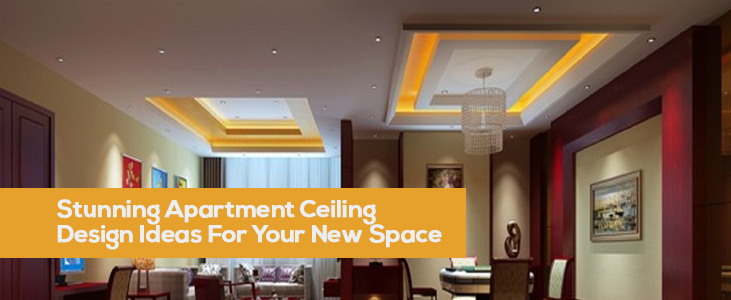 Ceiling is often the last thing we think of when we plan our interiors. At the most, people make a false ceiling and install spotlights. It's very rare to see flats in Calicut sporting ceilings with distinctive designs. However, by making your ceiling the focal point, you can really accentuate a room – and it all depends on the design you choose. To feel inspired, all you have to do is, literally, look up! Here we present a few out of the box ideas for you:
Types of Apartment Ceiling Designs
1. Herringbone Ceiling
Creating a herringbone pattern on your ceiling with either plaster or wood can make it the cynosure of all eyes of whoever enters your home. Of course, you can also just paint the ceiling in that design, but it won't have the same effect. It's intriguing and unique look will make that room the focal point of your entire apartment.
2. Geometry in Wood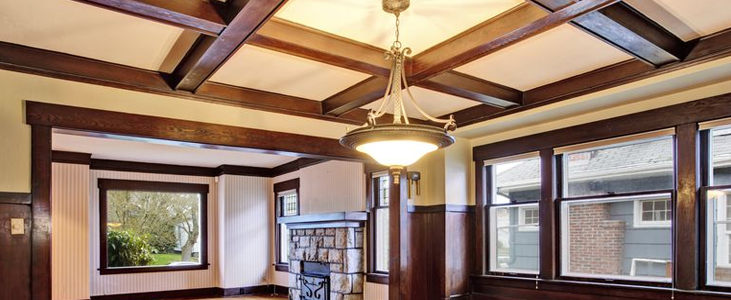 Another interesting apartment ceiling design is a geometric pattern in wood. Wood is a versatile material, and can be crafted into as many shapes as your imagination allows. Create a kind of false ceiling by carving geometric patterns from wood and fixing them on your ceiling. It creates an interesting balance in the room and definitely makes your ceiling stand out from boring ones! There are many low cost interior design for homes.
3. Ceiling Mural
If you are into art, why not go in for a painted ceiling? A mural on the ceiling renders a luxurious feel to an otherwise plain part of your apartment. You can go in for Thanjavur style or a European style mural, depending on your taste.
4. Glass for Light
Though metaphorically glass ceilings are meant to be broken, in real life, a glass ceiling can add a dash of pizzazz to your apartment, and flood the interiors with light. Talk about a vibrant room! You can be sure that anyone who visits your apartment in Calicut will be awestruck.
5. Add Depth with Lights
Spotlights on the ceiling are nothing new; however, you can go for a different kind of lighting system that reflects the colors used in the room to create a stunning atmosphere. This apartment ceiling design won't cost you an arm and a leg either. Take a look at some DIY small apartment hacks.
6. Origami Structure
Origami is orderly and structured, and conveys warmth. Origami shapes carved on wood and affixed to an otherwise plain ceiling can be welcoming as well as scintillating. With the clever use of light, you can also bring about a dynamic daytime design on the ceiling.
7. Ceiling Tiles Reflect Vivid Colors
The combination of shapes and textures in an intricate combination can create heady visual delight. Beautiful patterned tiles on your ceiling that contrast with the sober colors on the living room walls and soft lighting, will render a 'Wow' factor to your apartment in Calicut. Also read some apartment trends.
8. Under the Stars
If you've been to a planetarium, you know how wonderful it feels to just look up and see the night sky clear as anything, and all the stars and planets shining high above. If you like star gazing, why not do up your ceiling to represent the glittering night sky? Dinner times are sure to be absolutely interesting!
9. Break Rules with Colors
Most apartment ceiling designs include the color white for the ceiling. Well, after all, it's not a part of the house we pay much attention to! But what if you broke convention? What if, instead of painting it a boring old white, you paint it in a color that blends beautifully with the color palette used for your walls? Not only will it give the room a unique appearance, it can also create the illusion of larger space. And in an apartment, that is definitely needed!
10. Painted Wood
Yes, wood features prominently when it comes to apartment ceiling design; like I said earlier, it's very versatile. So you can even paint your wooden ceiling – but you need to contrast it with a vibrant color on the walls, only then can you create a dazzling effect. Instead of the sober pastels, go for a bright or dark shade of blue or green, to create a mesmerizing combination – subconsciously, it creates a forest or ocean feel.
11. Stripes Forever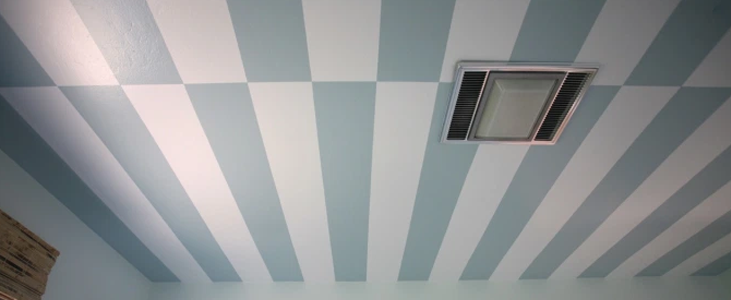 If you're feeling bold, paint your ceilings in stripes – 2 or 3 colors max. alternate dark and light colors, or if you're using bright colors, stick to 2. Or, you can also create an ombre effect. Paint the ceiling from one end to the other in one color, starting from the lightest shade and finishing up with the darkest. It's guaranteed to get your guests talking!
12. Scandinavian Style
For a clean, pristine look, use light and white wood intermittently for the ceiling. It's a great idea for bedrooms or studies, where you want quiet and peace.
13. Modern with Metallic
If you want to be simple yet flaunt some detail, try a ceiling of metal – pressed tin, specifically. Bear in mind that it's time consuming and delicate work; but you're highly unlikely to find many such ceilings in Calicut flats.
14. Stucco Ceiling
For an eclectic and sophisticated look, make a ceiling of stucco, with small openings for light to shine through. This kind of ceiling is best used in the master bedroom, or in the living room – to add a punch, if you will, to the room. Also read about the vastu for master bedroom.
15. Frame and Color
Talk about picture perfect! You can use this idea for kids' bedrooms, living rooms or dining rooms. Make a wooden frame and place it all along the borders of the ceiling – and paint the ceiling, either in unusual colors to contrast or complement the walls, or a mural, or even stripes.
16. Travel Bug
Do you like to travel – or at least know about far flung places in the world? Why not have a giant map of the world painted on your ceiling? This apartment ceiling design will be most apt in the living room, children's bedrooms or studies. Every time you feel you're getting the travel bug, just look up and see where you'd like to go! Get some modern curtain designs.
17. Home Theater on the Ceiling
Turn your ceiling into a huge screen, fix a projector on a table, and watch movies as you relax on the bed. What an ideal movie watching atmosphere! Best used for bedrooms, you can also try it in the living room for some family fun time.
18. Diamond Faces
Who doesn't love diamonds? Well, the real thing is very expensive, and out of reach for most of us. Let's make do with the next best thing – a diamond faceted ceiling! Diamond patterns on the ceiling can create an illusion of depth and height while rendering flamboyance to the room.
19. Tray Ceiling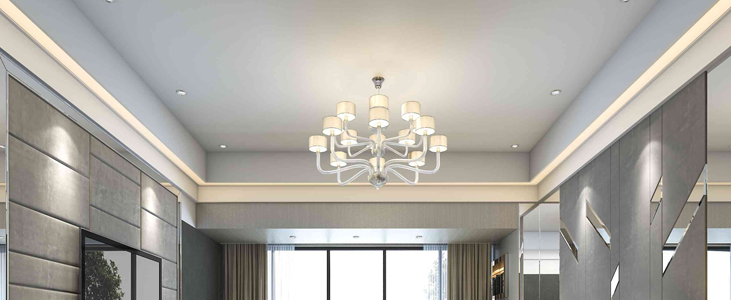 For an uber-modern touch in your living room or dining room, create a tray design for your ceiling – add to that, lights around the tray, and you have a visual treat. You can also recreate it in the bedroom with soft lights, and create a soft, undulating ambience. Check out some summer decorating ideas for living room.
Are you checking out the best builders in Calicut for superior apartment projects? You have come to the right place. PVS Builders are one of the most trustworthy and reputed builders in Calicut, with some of the best laid out apartments in prime locations. Contact us today to know more!