Independent House Means
Posted on December 29, 2021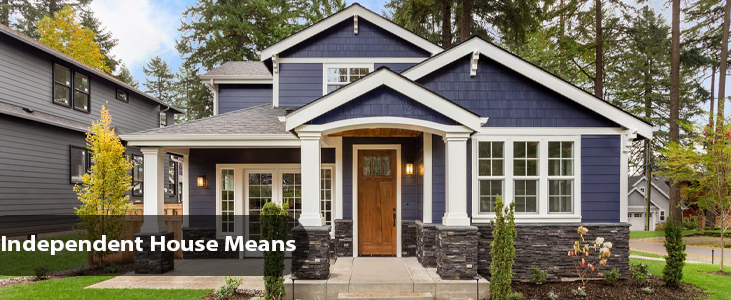 Today's world revolves around seeking more options for everything they would like to purchase. This goes the same for buying the dream homes too- it needs close consideration of the current economic factors, complete building plan, and ideation, searching for various options to finally arrive at the ideal choice. With numerous choices for Flats in Calicut, today's buyers can buy the property and thrive in houses, flats, or apartments that go hand in hand with their expectations and requirements.
It is necessary to understand the various real estate trends, and the arrangements that the property providers can make for you, and match them with your expectations, before deciding about investing in those properties. If you consider the features like budget, living spaces, and their size, you can explore many residential options and housing units according to them. While making a home search, people usually research bungalows, flats, apartments, independent houses, villas, and more.
Let's have a look at what independent house means and why they are trending in the current market.
What does an Independent House mean?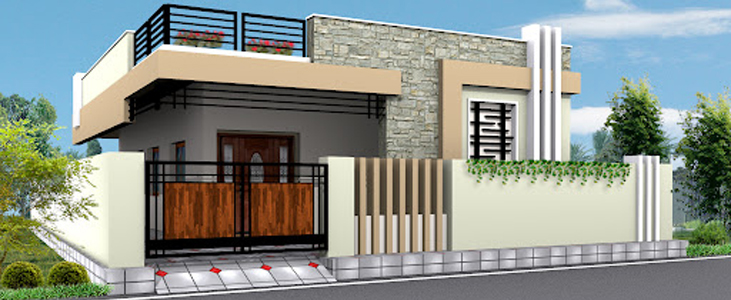 When the buyer prefers to own a separate living space but wishes to avoid constructing an entire house, an independent house means an ideal option. Various providers are available to provide you with superior housing living units in both individual and shared amenities in the gated community.
In these houses, the house design, architectural, and material aspects for quality assurance, are controlled by the house owner. You also have a range of choices to construct several floors and self-occupy a particular floor, then leave the remaining floors by renting them out. This can be another source of added income, and help you increase the revenue.
The individual houses let you be responsible for essential costs like the cost of maintenance, cost of living, security, and safety costs. With time, the land can appreciate the value, and also can be preserved for coming generations with considerable benefits of high resale value. Also, read the best ways to increase home value.
Factors that motivate people to opt for Independent houses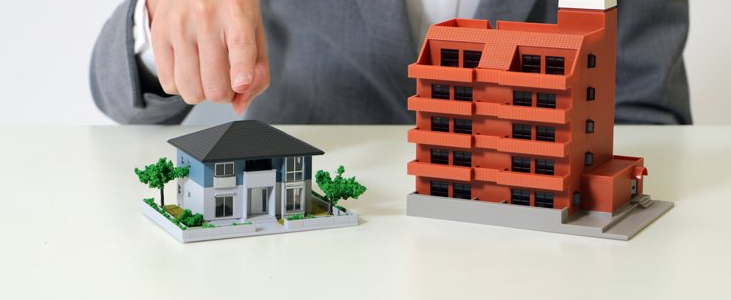 Certain situations push people towards making decisions to buy independent property instead of flats, villas, or apartment property. Here are the major reasons why the property buyers opt for independent houses:
Experience the privileges of daily living in a big family, since more family members can live together in an independent living facility.
You can experience family privacy in independent houses rather than having cluttered apartment clusters. But in fact, life in independent houses can lead to a loss of the privilege of leading life with collaborations and networking with like-minded inhabitants.
Both the land and the house can belong exclusively to the owner. But remember, the tax and other costs shall be taken care of solely by the owner in this case.
The resale value of the land might increase and can be highly profitable when considering the long run. But since the future is unpredictable, various costs impact the maintenance of independent houses, which is your responsibility.
Since you are self-responsible, you need to be highly vigilant and accountable for all the damages, expenses, maintenance, and risks that are bound to happen. You can enjoy being the owner, but certain factors of burden can add to your costs and time.
Things to note while buying an independent house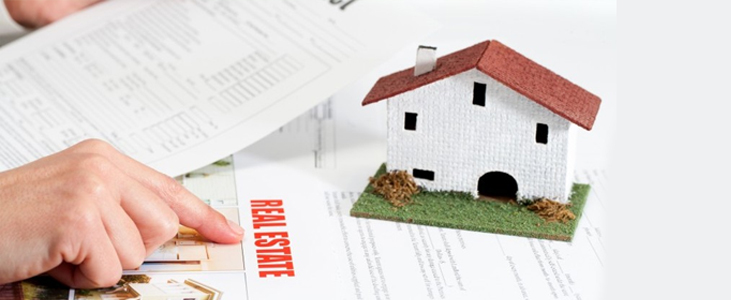 Here are some factors you must consider while deciding to invest in an independent house:
Location
Buyers usually search for a property that can let them get quick access to facilities and services nearby. It should also be connected to the cities, hospitals, groceries, educational institutions, metros, parks, and workplaces. Be sure that the location is safe and good for the family to reside in.
Size and shape of the Plot
It is important to measure and analyze the plot and its size. Depending upon the preferred choice, you can decide on the plot shape being rectangular, irregular, or as required. Also, the size needs to be taken into consideration to be allocated for lawn, parking, driveaway, and so on.
Bedrooms
It is vital to consider your family and the requirement of bedrooms. In families, the kind of sharing bedrooms are different. If there are visitors frequently, then it is always ideal to consider them, by designating a separate guest room. An additional bedroom for kids, playroom, or office room can also be assigned as per the requirement.
Bathrooms
When you search for pre-built independent houses, it is important to note the number of bathrooms. You should also search for the style, design, and size of the bathroom. Think about the people who use them, and analyze the pattern needed.
Kitchen
The kitchen is the heart and soul, where most renovations take birth. The entire family, friends, or relatives spend most of the time in the kitchen. The layouts and designs can be made innovative, which attracts visitors. Modular kitchens or large kitchen spaces can be also adopted based on the cooking needs and preferences.
Age of the building
This is a factor to be considered if you are buying a house instead of reconstructing or constructing a new house. Older homes need upgrading and renewal and make sure this process is aligned to your budget, efforts, and time. Pre-built houses are the best for people who look for houses on a certain budget.
Price of The Property
Purchasing an independent house is a great investment. Hence it is important to look at the price range and if needed, you can go for a pre-approved loan plan too. With independent property, you also get utmost privacy, and you don't share space with others. It can be sold later as parts or entirely, as you wish.
Independent Houses Vs Apartments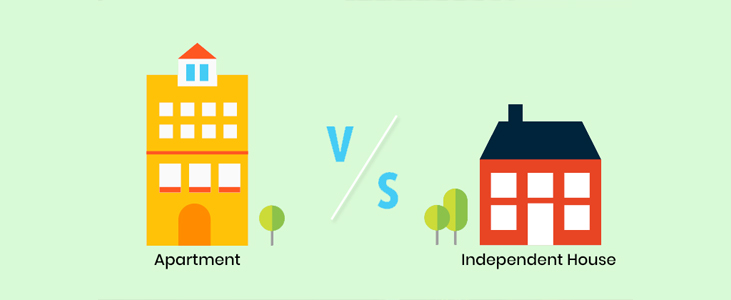 The buyers might come across a dilemma in choosing what is the best- apartments or independent houses. To land in the right decision, let's have a quick comparison of Independent houses Vs Apartments.
It costs a lot when you decide to buy an independent house. However, this cost is justified by the cost of the plot, legal documents like electricity charges, authority clearance, investment in labor, Stamp duties, and various clearance charges. However, buying apartments doesn't need any additional expenses or extra effort, since the buyer has to only pay off the cost of the apartment projects.
When you invest in standalone buildings, it is entirely your responsibility, and you require an additional effort to build the services, amenities and spend on the raw materials. But, apartment units give you all the facilities and that providers offer, like power backup, parking space, water facilities, fire safety mechanisms, and more.
Apartment buyers can easily get loans for home buying as the builders have good collaboration with financial institutions for effortless buying /selling. But the bank loan needed to buy independent houses undergoes strict and time-consuming processes from the buyers' end.
When you own a residential property, it needs an outside team and finance to manage the repair and maintenance of independent homes. Whereas, apartments possess the relevant in-house team for efforts of maintenance, and repair mechanisms.
Many home buyers believe that independent unit and independent villa property have high capital appreciation. These home buying myths may not always be true for them. Flats or apartments are very high in demand, and you will be able to rent them out or sell and gain good income from rent.
Life in flats or apartments is perfect as they can welcome communal harmony while independent houses can't let you enjoy collaboration or interpersonal relationships. Apartments let you experience life in a mutually beneficial apartment society and give more networking opportunities than independent houses.
If you wish to build a standalone house, it doesn't happen overnight. To bring a final home, you have to employ professionals, building, design, and finally deliver it. When you can buy an apartment, ready to occupy, then these risks are not going to bother you.
We have two buyer types according to the real estate trends. To some, the property is an investment, while for others it is personal. Personal focusing buyers look for customization, aesthetics, visual appeal, services, and proximity to adequate facilities, layout, etc. whereas the investment concerned buyers will consider the resale value and renting out to enjoy the returns. Apartments are ideal for both the above options, where you can get the best returns.
Can you experience an independent house in a flat?
If the homebuyers opt to enjoy the benefit of independent living but wish to avoid the negative impact of buying them, shall go for life in multi-storeyed apartments or flats. With this, you can experience living with large families and get an aura of independent living. With the best flats in Calicut, you get the privilege of customization and can get living spaces similar to living in an independent house. It is always acceptable to buy apartments or flats instead of independent houses, which can serve well to your budget and lifestyle.
Conclusion
While buyers look for homes to suit nuclear families under a common family budget, they don't go for the investment burden. Hence, most of them opt for flats or apartments for their residential options. However, if you are a big family, very very keen on privacy, have great financial status, and need to stay away from neighbors, then independent houses are perfect. Most of the buyers would think about avoiding the costs and technical challenges of building the whole property and choose apartments for their living. Apartments in Calicut can be the prime option to give you the comfort of living with facilities and amenities while you get the privileges of living in your dream home away from chaos.
PVS Builders is one of the best builders in Kerala, which provides the best flats and apartments in Kozhikode. To make your dream homes, with all your necessities fulfilled, contact us soon.