Landscaping In Kerala Homes: What You Need To Know
Posted on November 30, 2021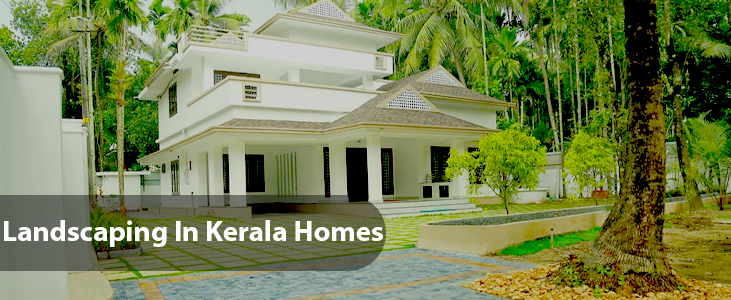 Landscaping is an age-old art of modifying the existing terrain to add beauty and convenience. It includes the construction of Beautiful Gardens, erecting structures, and leveling of land. Nowadays landscaping mainly concentrates on creating an aesthetic sense and providing more usable space for outdoor activities and greenery. 
Landscaping in Kerala Homes    
Kerala is a paradise of greenery, backwaters, and artforms, and the Keralites love to incorporate these factors into their day-to-day life. The traditional Kerala architecture is a relevant example of infusing nature into our homes. The concept of nadumuttam [open courtyard at the center of a house ]  mullathara,[platform to plant jasmine] makes the basis for creating contemporary landscaping designs in Kerala. The flats In Calicut and other developing cities gives prominence for landscaping.  
Landscaping ideas for front of the house in Kerala
Everyone desires an appealing look for the front area of their home, there are many traditional and contemporary ways to make the front yard a unique one. Landscape Architects provide a lot of Structural Plans for this, landscaping begins from the front gate and compound wall. The compound wall is not just a protective fence but can be a center of attraction if it is constructed with aesthetic sense, growing creepers and fixing clay tiles in the wall along with the traditional padippura' style gate makes your front yard attractive. Considering the weather in Kerala, a nadappura can also be erected from gateway to porch. This walkway can be more appealing by using wooden planks or stone styles. This walkway is much useful during the rainy season and it gives a tharavadu look for your home. The next prime concern in landscaping is gardens, Landscaping Companies, and Garden Designers bring a lot of options for Beautiful Flower Garden designs like a vertical garden, hanging style garden, eco-friendly garden, PebbleGarden.
Home Garden Landscaping in Kerala
Everyone loves to have a charming front yard, adding these features will make your Dream Garden come true. Plan a proper garden;    the foremost thing in setting a garden is selecting the plants and bushes. Arrange them according to the outdoor space, keep a separate section for potted plants and local bushes. A variety of other plants such as Accent Plants, OrnamentalPlants, and creepers creates Dazzling Design for the garden and Public Spaces. It is always advisable to use Quality Planting Materials, Raw Materials, and Building Materials to get maximum benefits and low maintenance for garden care. These plants help to control Air Pollution, especially in cities. Hence gardens became an inseparable part of Urban Landscaping. Along with the plants and trees. The following traditional ideas and Conceptual Designs add rustic beauty to the entire landscape.
Water Bodies
Adding water features to the garden will give a cool as well as countryside feel to the entire yard. These little water bodies will attract birds and other little creatures like frogs, which gives a positive vibe to the entire yard.
Lotus pond
A beautiful pond in the center of the garden with weeds, pebbles, AquaStone, and lotus flowers, is a brilliant idea  of landscaping, especially during the rainy season this little pond creates a musical effect,
Fountains And Artificial waterfall
A traditional structure like a statue or a fish pond with a fountain, or a waterfall along with light arrangement, makes your outdoor space elegant even during night time these lights will reflect lights creating a 3D effect.
A fish tank or mini pool
A pool filled with Gallons Of Water, and decorative stones along with  fish both ornamental and edible gives a wow look to the garden,
Wells
Well is another essential feature of the Kerala landscape, most of the people depend upon wells rather than public water supply. According to Vastu shastra, a well is always constructed in the northeast corner. Nowadays wells have undergone tremendous change in their shape and look, now building a well is considered as an art piece rather than a water resource.
Poothara and Thulasithara
 Holy basil plant is an inseparable part of Hindu Kerala homes, considering its sanctity a separate stone platform is constructed to plant tulsi and a space is provided for pooja, along with this a poothara is also made, this is a little area separated with bricks or fence to grow medicinal plants and other flowers which is used for Bhoomi pooja purpose.
Sitting Arrangements in the Garden
Everyone loves to spend time sitting in the garden enjoying nature, wooden benches and armchairs are the best options for this, a wooden pergola with Jasmine creepers gives a brilliant Cascadian look. If the customer is ready to invest more money then the Landscape Designer will provide a lot of options for outdoor sitting arrangements like country tea shop and houseboat, models with eco-friendly materials.
Palm Tree Leaf Patio   
Fixing a palm leaf or bamboo umbrella, instead of a regular patio canopy will make your outdoor space more exciting. It will be an apt place for enjoying the morning coffee watching the rising sun or a romantic evening dinner`.The only drawback of this design is it needs a little bit of yearly maintenance compared to concrete structures, but if you promote eco-friendly constructions then go for this .its the best option.
Include a Swing
In the olden day's swings were an inseparable part of the Malayali household, branches of the jackfruit trees and tamarind trees were used to hang swings, during the time of the thiruvathira festival it was customary to make a swing. Installing a swing in the garden with an artificial tree structure will bring nostalgia and appeal to the garden. And this will be a perfect place for kids.
Charupadi and Nadumuttam
Charupadi and nadumuttam were common features of traditional Kerala homes charupadi is an inbuilt wooden structure used instead of modern handrails in front balconies and porches [poomukham and varandha] which serves both sitting and protection from falling down, these inbuilt seats were very much convenient for outdoor gatherings. And nadumuttam is an open roof courtyard commonly seen in nalukettu and ettukettu [a big mansion which is divided into four blocks according to directions with a central courtyard, especially for joint families ] style homes in  Kerala . Nowadays these two styles of architecture are adapted for outdoor landscaping designs, a sitting area in the porch is designed in charupadi style and an outdoor area adjacent to a pond is constructed in nadumuttam style with pebble paths or clay tiles and stone pillars, wooden benches, or cement benches are constructed which makes a perfect sitting area.
Light Arrangements and Vintage Items
Light arrangements provide a magnificent look to the garden especially during starlit nights – It also makes a perfect party space for social occasions. By using antic lamps such as charath,[small earthen lamp],mesha vilakku [oil lamps used to be placed on the table], and shararanthal[ lantern] we can give traditional Kerala touch. The traditional lambs and modern lights together give gardens a wonderful look. Vintage items like brass pots, earthen vessels, and traditional agriculture tools like a wooden plow, animal cart, traditional bamboo baskets, and waterwheels, make the outdoor landscape unique.
Backyard Landscape
Backyard landscaping gives more prominence for making maximum utility space, and kitchen garden. The backyard can be made attractive and productive by using Simple Ideas like constructing parallel pergola for creeper plants like bitter gourd and ivy gourd, planning a terrace garden helps to include more fruit-bearing plants in the yard. Along with this, a Provision for a traditional open kitchen makes will be the perfect barbeque sport.  An attractive green lawn and a Blend of RockGarden with coconut trees and plantain make the backyard complete. The concept of an Eco-friendly house can be fulfilled using these landscape ideas, nowadays Landscape contractors give a lot of CREATIVE IDEAS for Backyard Designs and home gardens for Commercial Clients and they also provide House renovation Ideas And Rainwater harvesting methods for apartments.
Benefits Of Landscaping Designs In Kerala
Landscaping not only enhances the beauty of the land but makes the house more pleasant and habitable to the tenant. For people living in urban areas, landscape designs help utilize space, keep the air pollution in check and provide more exposure to nature,  landscaping also helps to maintain proper HomeWasteManagement.. In today's busy life landscaping gives much relief and freshness to the people.
PVS Builders is one of the best builders in Kerala, which provides the best flats and apartments in Kozhikode. To make your dream homes, with all your necessities fulfilled, contact us soon.