Rain Water Harvesting Methods in Apartments to Consider
Posted on May 28, 2019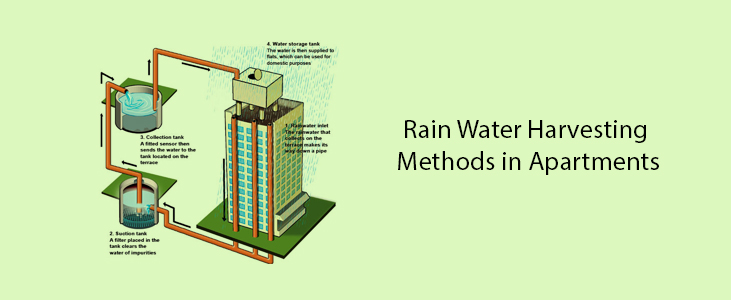 Do you know about rain water harvesting in apartments? Which is the best method for that? Rooftop rain water harvesting method is one of the top harvesting techniques for apartments. It is eco-friendly and involves diverting and storing rain water. We will discuss more this here. Before that get some basic information.
India though was blessed with huge water bodies previously but with the harsh nature and misuse of water, the scarcity of water has aroused.
Moreover, due to the increased population, the demand for water has increased heavily and the government is failing to meet the increasing demand for water.
Rainwater harvesting is an age-old technique used by ancestors to feed their cattle and also was used for irrigation purposes. Nowadays rain water harvesting methods in apartments has been in great demand.
Due to the increasing demands of home, apartments are booming in the housing sector. And to provide sufficient water to all the builders are providing rainwater harvesting pit for easy availability of ample water for apartment dwellers.
Rain water harvesting methods in apartments is one of the great sustainable technologies for supplementary water requirements. Check out some apartment trends.
Nowadays all reputed builders and construction companies provide rainwater harvesting pit within their premises for direct use or for recharging groundwater. But there are also some low budget apartments which do not provide rainwater harvesting facility, in that case, apartment owners can definitely form an association and take initiative to have a contract with the builder for providing rainwater harvesting facility.
Though the cost of the rainwater harvesting system is a bit costly in comparison to the amount of water saved and the reduction in water bill in future is just nothing! Every apartment must have a separate pipeline for groundwater and rainwater. Nowadays apartments have welfare association who takes of the maintenance of such amenities. Here are some questions to ask a builder before buying an apartment.
What is Rain Water Harvesting System?
Rainwater harvesting system is a method of collecting rainwater from any surface that directly receives rainwater, such as ground, terrace, paved way, courtyard, lawn, etc.
A gutter or a channel is made to transfer the collected water from rooftops to the recharge pits or storage tanks. Another pipe (downpipe) is connected to the gutters for easy transfer of rainwater from the terrace or gutters and the pipe size is as per the intensity of rainwater flow.
A first- flush diverter is installed just before the inlet of the water tank which helps to eliminate all pollutants present in the rainwater.
The down-pipe flap is further used to direct the first flush of rainwater, and the later rainfall is collected in the storage tanks. A Filter unit is used to remove all soluble and insoluble pollutants from rainwater.
Methods of Rain Water Harvesting
There are two main sources from where you can collect rainwater:
Which Method is Best for Rain Water Harvesting and Why?
Among these two ways, the rooftop version is more popular as it is easy to implement. In apartments or flats, a combination of both is used to have a maximum storage of rainwater. As it is the simplest technique to harvest rainwater. And moreover it is easy and as the rooftop is the only source where abundant rainwater can get accumulated. And, this is an eco-friendly method. Mostly rain water harvesting methods in apartments is done via rooftop method.
Components Required for Rain Water Harvesting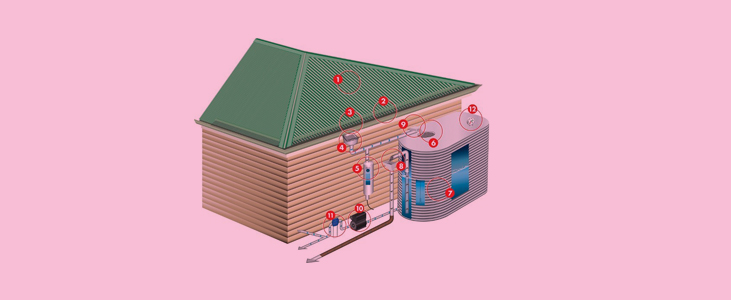 If you want to have rainwater harvesting process in your apartment then you need to know the components:
Catchment– Catchment is the surface where rainwater falls. Ground, rooftop, balconies or any surface where rainwater falls directly
Conduit– Conduits for transportation is the pipes that allow a passage through which rainwater will get collected from the catchment and will reach up to storage tanks. The pipes used for rainwater harvesting are UV resistant.
Mesh– Mesh is an opening to filter out all the debris and pollutants that get collected from the runoffs along with rainwater
First Flush– Lots of pollutant and harmful toxic agents that are suspended in the air. The first shower has such pollutants mixed with the rainwater; this water is unsuitable for drinking or any other household purpose. A process is followed to discard the first flush of rainwater. This system also helps to clean the transportation pipes.
Filter- A filter system helps to remove the pollutants, turbidity, microorganisms, and debris that are combined in the rainwater. The filter system has the following layers of gravel; sand and mesh filter which is also known as "netlon" which is attached in the topmost layer of the storage tank.
Storage– There is typically two kinds of storage- one is for direct use and another is for replenishing the natural aquifers. For direct use, the water is collected in tanks and is further supplied through pipelines and can be directly drawn through faucets. In the second case, the water is used to replenish various groundwater reservoirs such as trenches, bore well or percolation tank.
Benefits of Adopting Rain Water Harvesting Methods in Apartments: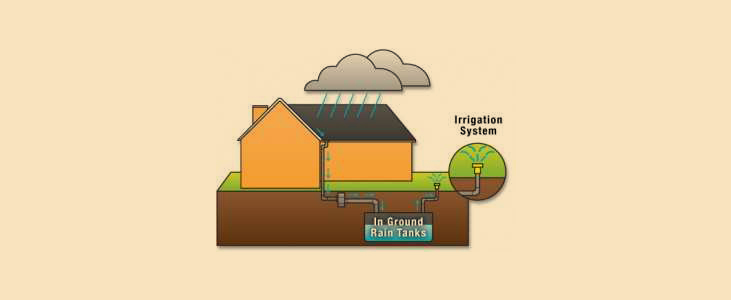 There are lots of benefits for adopting rainwater harvesting method especially for apartment dwellers:
Rainwater harvesting method promotes water conservation method.
Rainwater harvesting method helps to mitigate flooding on roads and within your apartment premises.
Rainwater harvesting method requires less maintenance.
Rainwater harvesting method helps to diminish potable water for several purposes.
Rainwater harvesting method helps to reduce water consumption by up to 40 percent.
Rainwater harvesting method helps to save money and keeps you away from huge water bills.
How Rain Water Can be Further Used:
Rainwater can be further used for several household purposes such as cleaning, cooking, washing and bathing, and even drinking purposes.
Other Easy Ways to Do Rain Water Harvesting:
Installation of covered rain barrel which can be used to collect rainwater via a simple pipe
Create a rain garden. It's a sunken landscape which uses native plants, local soil and mulch to abolish pollutants from water and allows it to percolate into the ground.
Make your rain chain. Rain chain helps to downpipe the rainwater into a storage vessel.
Recharge your bore wells naturally. In this process, rooftop rainwater gets collected through pipes with a filter. And at the end, it gets to open dug wells for replenishing underground aquifers.
Set up 'splashback'. And this method a piece of rectangular shaped plastic or concrete path is placed below the downspout which further carries rainwater from the rooftop of a house during rainfall
Use rain saucer to collect rainwater in tanks. Two unfold funnels are used in the top of a barrel to collect direct rainwater.
Make rain reservoir where rainwater can get naturally collected. These reservoirs are placed at the slanting end of the rooftop so that rainwater can fall directly into these reservoirs.
Getting the Rain Water Harvesting System Installed in Your Apartments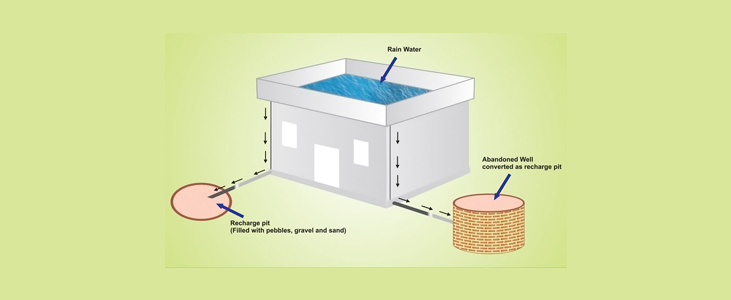 The complete rainwater harvesting system cannot be done instantly. It requires a bit of time. And there are several companies who are into this business.
The complete system is expensive. But yes, this one-time investment will help you to save your high water bills each month.
But luckily now some of the builders are coming up with Rainwater Harvesting system within their premises. Few apartments in Calicut come with Rainwater harvesting facility. Kerala is blessed with abundant rainwater and this really helps flats in Calicut to store the rainwater in rainwater harvesting pit.
Still, if you are not a resident of any flats in Calicut, you can use the above mentioned easy techniques for DIY rainwater harvesting.
Rainwater harvesting will help you to save water consumption and will also allow you to contribute to nature by saving the wastage of water.
Rainwater harvesting is basically a wise way to reuse rainwater and get it into the process of recycling. Enjoy the monsoon by saving more water through rainwater harvesting method! Here are some tips to save water in your apartments.
Prepare to welcome monsoon with the idea of rainwater harvesting. Conduct discussions and awareness programs within your society and let people know about the process. Get some monsoon home care tips for apartment.
Let them know how significantly the rainwater harvesting method can change your life. You can set up a basic system depending on the budget. Even kids can be involved in the process for a good cause.
You can start using a basic vessel in your rooftop or garden area where rainwater can be collected, use basic filter method to get the water cleaned from the pollutants, at least this water can be used for cleaning or washing utensils or even for watering the plant! To setup, an indoor garden for apartments can keep air temperature down and many more benefits too. Store freshwater and reserve our planet! Start recycling natural water.
PVS Builders & Developers is one of the most renowned builders of Calicut and provides some of the most efficient apartments in Calicut, Kannur, and Aluva. If you are looking for flats in Calicut with some of the best features and high-quality amenities then contact us today or visit our website for more information on our latest apartments in Calicut.