Amazing Apartment Balcony Design Ideas And Inspiration
Posted on May 15, 2019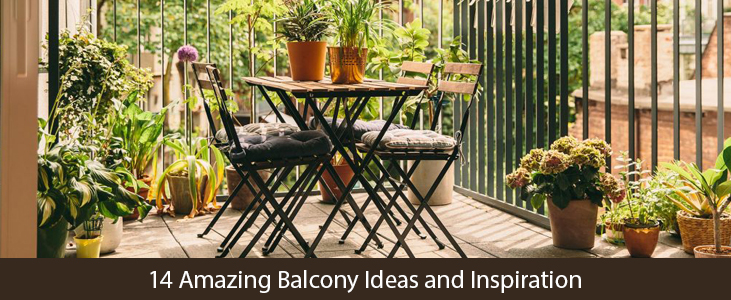 A decent, well-equipped, and aesthetically designed balcony is the dream for the majority of people who live in city apartments. Unlike in rural areas, urban dwellings have smaller residential spaces. If you are one of those lucky people who own balcony, then you definitely owe it to yourself, your family, and your friends to make the most of it.
With a private outdoor space, you can create a personalized space. If you want to give a warm, conventional touch to your balcony, you can add elements and products with such essence. And if you want it to speak of your cool, funky, and modern personality, you can add elements that spread such vibrancy to the space. Here are some low cost interior design for homes.
Why Do You Need To Design The Balcony?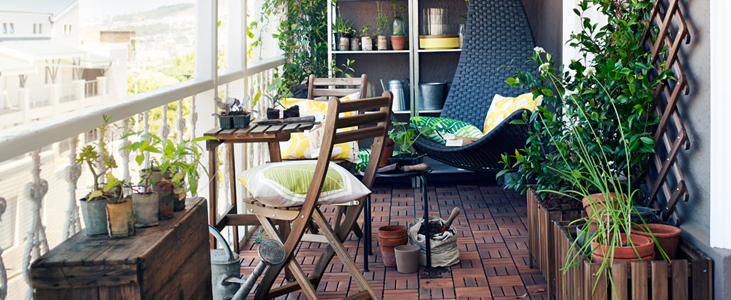 As the general belief among the homeowners is that they can do the interiors or decoration of their homes on their own. So, they often tend to do these things themselves. For such purposes, a good sense of aesthetics is as important as ample research for designs and layouts. You also need good carpenter or painters to bring out the best in the provided space. But usually, the results turn out to be what they imagined when every aspect of designing is taken care of. Checkout the house renovation ideas.
The main point is that only aesthetics is not the main thing in balcony designing. You also need the skills to carve out the best design and then put the stuff in such a way that they look harmonious. And then your private outdoor space will itself talk about its uniqueness. So, balcony designing is about doing the work inventively, with a blend of creativity and the work should be done effectively and efficiently to save time too.
Amazing Balcony Design Ideas you must Try
1. A Small Table can Make a Big Difference
If you want to make your balcony space look extraordinary, just add a small table in the center. This way, you will have a decent space to enjoy your morning team. We recommend choosing a chair and a table that can be folded up easily so that the storage is never a problem. Considering how a coffee table serves that purpose of both usability and designing, adding a table is one of the best small balcony design ideas you can get today.
2. Built-in Seating to Make your Balcony Look Fashionable

This is one of the best tricks you can employ to maximize the square footage. You can make your balcony look visually appealing through the built-in seating. Apart from that, you also don't need to fret about the winds knocking over your expensive feature, sending it flying, or breaking it into pieces. This is the best apartment balcony design ideas to try if you have decent space in your balcony.
3. Go Green with your Balcony Space
Want to avail multiple benefits with cheapest resources? Just add potted plants, shrubs, or creepers in your outdoor space, and you'll have the best outdoor space ever. Surrounding your balcony area with lush plants doesn't only make your area look good but it also helps you get some extra fresh oxygen. Also read some tips to set up indoor gardens for apartments.
4. Floor Pillows to Make your Space Cushiony
How about adding warmth, softness, and vibrance all together? For this, you don't need to burn holes in your pocket or work all night to redecorate the space. Just get some colorful, vibrant, and comfortable floor pillows and toss them around.
5. Patterned Rug for the Simple Look

Want your balcony speak of sophistication and simplicity? Just add a decent looking patterned rug on your balcony floor. If you want to achieve more with this look, make sure to add a rug that will stand up with your balcony walls or any other element you have in that area. Patterned rugs are one of the key elements of small open balcony ideas. Here are some modern house interior design ideas.
6. Make the Best of your Wall Space
This is a tricky but really useful tip. If you want your balcony areas to resemble like an extension of your room or apartment, hang some planters, antiques, or any weather-resistant hanging art. On the floor, you can put some sofas or chairs, some cushions or a simple coffee table.
7. Brighten the Space
Want to enhance how the balcony looks from outside? Just brighten the space up by adding plenty of light. This way, your balcony will make for a great space for a late-night hangout. You can also install scones or an outdoor pendant. If your apartment is on rent and you don't want to spend much, simply add the outdoor lanterns and the string lights to bring vibrancy to your personal space. Here are some small apartment decorating ideas on a budget.
8. Hammock for the Swing you Need in your Life
Want to add a vacation mood to your private outdoor space? Just buy a decent hammock and put it in your balcony. This is great for renters too because they can also take the hammock when deciding to move out. Hammock is perfect for anyone who is looking for large balcony ideas. Adding a hammock gives a laid-back vibe to the area and creates an atmosphere to relax and refreshing.
9. Folding Furniture are a Way to Go

For those who are short on balcony space but still need apartment balcony design ideas, folding furniture can come to the rescue for those looking for front balcony design. Start with buying a small-sized furniture and tuck it in your balcony whenever you feel like hanging out inside your house. Once you are done, you can fold the furniture away and enjoy some free space.
10. Creating a Space for Cocktails
What's better than a private outdoor space for enjoying cocktails with your loved ones? A small table and two low chairs are the only two things you will require to design a private spot to kick back, relax, and catch up with your partner while the world passes by. This makes for a cool balcony idea. If you want to have an extra seating simply opt for a pouf topped with a tray.
11. Flowers to Add the Missing Fun
Your balcony might be small to add a table or two chairs. But we bet it has some space to add the flowers. With a bunch of flowers in your balcony, you can create a visually appealing space. For this, you will need to install the planters alongside the railing of your balcony. Add flowers of different colors and enhance the curb appeal of your home.
12. A Space to Recline in your Balcony
No matter whether you want to curl up with your favorite book or soak up the rising sun, an outdoor lounge chair or day bed is all you need to recline in your balcony. This will not only help you enjoy restful treat once in a while, but also make your balcony look visually beautiful. If you want more apartment balcony design ideas, we recommend adding some outdoor pillows for making things extra comfortable.
13. And if you Want some Privacy
If your balcony faces your neighbor's window or bedroom and interrupts your personal space, you can always create a natural wall by adding tall plants or curtains or shades. You can add elegant looking bamboo shades which can be lowered or raised as per the need of the hour. This is one of the best apartment balcony privacy ideas you can use.
Adding Shade in your Balcony

This is another tip for those looking to enjoy some privacy in their 'balcony time.' For this, you can add a retractable awning in your balcony. The awning with protect you from rain, shine, winds, and allow you an open space whenever you need. Checkout how to choose paint colours for your home.
When Do You Need An Interior Designer?
If you are falling short of apartment balcony design ideas, you can always reach the interior designers. Builders in Calicut ensure that all the craftsmen are skilled enough to do them effectively and efficiently- Be it electrician, carpenter or painters, they make sure that they hire the candidates with the required skill sets and the tools to perform their jobs well. They believe in improving existing methods, and so, the skills and techniques are always updated with time.
Apartments in Calicut represent the best balcony designs with craftsmanship that are unique and intricating. Apartment in Calicut have several limited-edition lounge chairs and sofas, and aesthetically kept elements in small and large balconies. Balcony designing is about doing the work inventively, with a blend of creativity and the work should be done effectively and efficiently to save time too.
Builder in Calicut ensures that all the materials used are of decent quality and meet the standard. They own an extensive network of vendors for all our products. Be it tiles, marbles for flooring, basins, lightings, uPVC Windows, partitions, glass works etc. They regularly update themselves by adding new entrants or newly launched products to keep their customers updated with the latest designs and modern arts.
Are you checking out the best flats in Calicut for superior apartment projects? You have come to the right place. PVS Builders are one of the most trustworthy and reputed builders in Calicut, with some of the best laid-out apartments in prime locations. Contact us today to know more!