DIY Small Apartment Hacks
Posted on April 25, 2019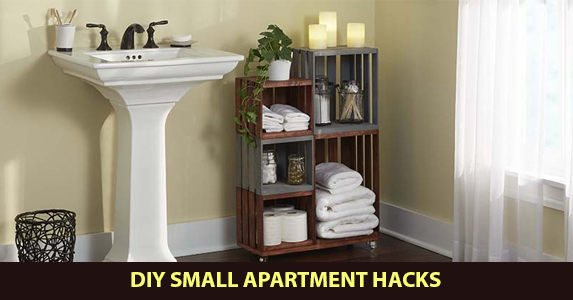 Living in a large apartment can be very expensive especially if you are living in a large or costly city because real estate prices are growing hurriedly there. That's why many people are forced to live in small apartments where they can cut down their budget and still lead a comfortable life. Many people are also staying in small flats in Calicut or other places because most of the families are nuclear. But you can make these small spaces beautiful and appealing by utilizing the space effectively. People who are living in smaller spaces can switch to the contemporary style of décor and with their creativity and space-saving furniture, they can convert these areas into more stylish and trendy places.
But getting things to a manageable level can be a challenging and daunting task for the small apartment owners. Here, we have assembled some tips for storage ideas for small spaces on a budget. In this article, we are going to mention some effective DIY small apartment hacks so that you can realize there is a chunk of opportunities even with these small spaces.
Let's take a look at some DIY small apartment hacks.
1. Magnetic Storage For The Kitchen: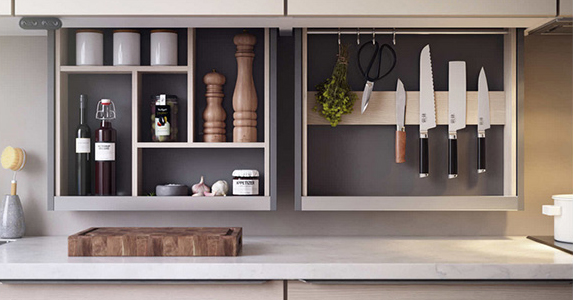 Kitchen plays an imperative role in every apartment. If you are living in a small apartment, you need to utilize your kitchen space wisely. Kitchen cabinet is a great choice where you can safely store all your crockery items and other things. But it will take a lot of space and it is also very expensive. So, use your creativity and manage everything in your small apartment. In this scenario, you should opt for some DIY magnetic strips where you can put all your cooking items like pans, knives, and other things without consuming much space.
2. A Shelf Above the Door of Your Washroom:
Are you looking for some useful DIY small apartment hacks for your bathroom? Then, just add a storage shelf just above the door of your washroom. But don't forget to place a support board on the wall as this will act as the piece where your shelf can rest on. This is a very simple and DIY space saving idea for small apartment owners. Also read and get some of the best and modern curtain designs your must try at your apartment.
3. Use An Extra Shower Curtain Rod to Hand Your Toiletries:
If you install a cabinet in your washroom to store your toiletries, then this will take a lot of space and money. But if you can add an extra shower curtain rod in your washroom to hang your toiletries, then this can save a chunk of space and money. Moreover, this is an easy DIY hack which you can easily implement.
4. Go for Under the Bed Shoe Organizer:
This is an effective storage compartment under the bed, and this is one of the best small bedroom storage solutions. You can also add caster wheels on the bottom of the organizer so that you can comfortably pull it out. While organizing this, you can also decorate your apartment interiors, checkout these low cost interior designs for homes.
5. Cascade Your Clothing With a Chain to Expand Your Closet Storage:
If you want to store more clothes in your closet, then this could be the best DIY hack. All you need is just a simple chain and spray paint. This is an outstanding space saving idea for your bedroom, now you can hang more clothes by using this vertical space.
6. Storage Ottoman: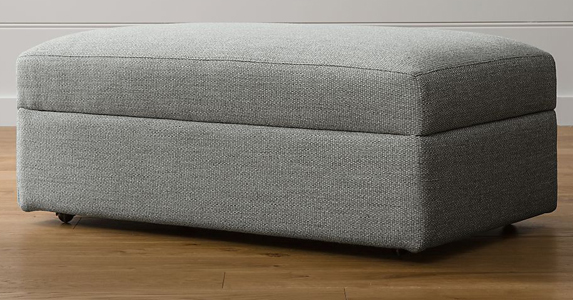 A storage ottoman is the best way which you not only help you to declutter your room but also uplifts the aesthetic look of your apartment. This is one of the best space saving furniture for small apartment owners. You need to do some DIY jobs to match it with the rest of the décor of your home. Also read best small apartment decorating ideas on a budget.
7. Corner Shelf:
Corners are the most negligible and ignored places of an apartment. But if you are living in a small apartment, you can utilize these corners effectively. You don't need to purchase or build shelves to store your photo frames, coffee mugs, trophies or indoor plants. Rather you can install shelves to these corners and keep all your stuff here. For this, you just need to install some wooden planks to these corners to create extra storage and your shelves are ready to use.
8. Pegboard Shelves:
Pegboard shelves are very useful and handy because it helps you to customize your storage space as per your need. Always, place a coat of wood glue on your pieces before finishing it with a nail gun. You can install a shoe peg organizer in your closet. This will help you to free up floor space.
9. Use a Convertible Desk To The Table:
If you are living in a tiny apartment, your desk and kitchen table consume a lot of space. With your creativity and DIY skills, you can kill two birds with one stone. You can go for a convertible desk to table in order to solve this issue.
10. Install Wooden Crates On the Wall to Add More Storage Space:
You can easily install wooden crates on the walls of your bedroom or bathroom. This is undoubtedly a chic way which will help you to create more storage space. Moreover, you don't need to spend a chunk of money for this installation. So, this DIY small apartment hack is very worthy, and it will not tarnish the look of your apartment.
11. Mason Jar Storage Shelf:
This is the time that you should use your old mason jars or glass jars to make a storage shelf. They are the ideal one where you can store anything from nuts and bolts to spices.
12. Use Your Door's Behind Space:
Are you living in a tiny apartment? Then, use this behind space of every door wisely to create extra space. Nowadays, you may various types of door organizers that are specially designed for small apartment owners. They come in various shapes or materials. You can even make them by using plastics or clothes. You can may many organizers as per your need and use all the doors of your apartment. These door organizers are ideal where you can keep your shoes, daily stuff, jewellery items, and other things.
13. Install Mirrors On Walls:
Though you are living in a small apartment, still, you can create the illusion of having a bigger or spacious room by installing mirrors on the walls of your room. You can purchase these types of mirrors from a local store at an affordable price. Now, using your DIY skills, install them on the walls with the help of nuts and bolts. This is one of the most popular ideas for creating space in a small apartment. This small step can make a striking difference in how your room looks.
14. Build a Platform Storage Bed:
Storage beds are the best options for those who are living in a limited space. Storage beds are ideal where you can keep your pillows, covers, cushions, extra clothes, utensils and other items. Whenever you need these things, you can pull them out. With your inherent creativity and a few screws, you can turn your bed into a platform storage solution.
15. Add a Few Floating Shelves:
Floating shelves are the awesome storage solutions for tiny apartments. These shelves actually free up a lot of floor space and allow the sunlight to enter your room. This visually expands your room. You can easily create DIY floating shelves with the help of a screwdriver and a stud.
16. Build Your Bookshelves From Old Dresser Drawer:
Are you a creative person and have basic DIY knowledge and skills? If yes, then you can save a lot of money and space by building your own bookshelves from your old and discarded dresser drawer. Arrange the drawers as per your need and get an instant and intriguing book storage for yourself.
17. Create Your Rolling Pantry:
Do have enough space for your pantry needs? Don't worry, you can make a rolling pantry and tuck beside your fridge. You just need a wire storage rack and then, just install wheels on its bottom side. Finally, your rolling pantry is ready to use.
18. Wall Mount Your Clothing Items:
If you want to save space by not purchasing a closet, then, you can wall mount your clothing items. Hang your dresses, shoes, scarves, coats, etc. in wall-mounted hooks or racks. These little storage solutions are cleaner and space efficient. Moreover, they don't tarnish the look of your room.
Living in a small apartment is not at all an easy or simple job because you need to manage so many things at a time. The above, we mentioned some DIY small apartment hacks which will help you to maximize your small space. This article will also help you with how you can utilize your furniture in more creatively and effectively. These days, the internet is crammed with a chunk of information regarding some DIY small apartment hacks. So, by visiting some interior designing companies or services sites, you can get more information regarding the same.
PVS Builders & Developers is one of the leading builders in Calicut that provides top-notch flats and apartments in Calicut, Kannur and Aluva. For booking your apartment, contact us today or visit our website for more information.