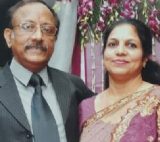 Pratibha & P.S.Radhakrishnan
Managing Partner, Archetype Interiors
Flat No. 8 C, PVS Prestige
Apartments Palazhi, Calicut
Having retired from a public sector and used to a distinctive and different life style, apartments were the natural choice of dwelling for us rather than independent houses. Once the decision to settle down in Calicut was made, the next step was to zero in on a property where our balance life span could be spent comfortably. Several visits to the leading builders' offices and sites followed. After examining the pros and cons, comparative merits and demerits, it appeared that the PVS Prestige Apartments scored over their counterparts and that is how we settled for "PVS Prestige" and to this date we do not regret our decision.
The major advantage enjoyed by the "PVS Prestige" is the location. Hardly 100 meters away from the hustle and bustle of the Bypass, the condominium is located in the midst of a panchayat market place where the children, women and the elderly could venture out for their daily needs. Allopathic, ayurvedic and homeopathic doctors, pharmacies, dentists, bakeries, vegetable, fish and meat vendors are within a few steps from the colony gate. Hardware and even white goods are available within walkable distance.
The most prominent landmark of Calicut, Hilite mall is situated just 100 mts away. Calicut Govt.Medical College, Metro Cardiac Centre, Starcare Hospital, Cradle Pediatric Hospital, Asten Orthopedic Centre are all within ½ km to 3½ km distance.
The quality of construction of the Apartments is pretty decent and the room sizes are bigger than most of the contemporaries. Basic amenities are available and if one is not looking for a luxury apartment, PVS Prestige is the place.
The view from the balconies on the east, north and south are panoramic and simply stunning. We had never realized before shifting to the flat that there is this much of greenery in Calicut.
To sit in the balcony and behold the rising Sun in different hues every morning with the morning newspaper and a steaming cup of tea in hand is an experience of a lifetime savored day after day after day.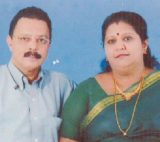 Mohanakrishnan
Flat Owner
Flat No. S2/G, Pearl Park-II
Odumbra, Calicut
My name is Mohanakrishnan, I have a very long association with PVS Flats, I was staying at Orchid Gardens, Govindapuram for a along time. I like the apartment and the amenities PVS has been providing.
I now own a flat at Pearl Park Phase II which is on a joint ownership with my daughter Pooja, The construction is good. I find that they use only quality materials. Their customer service is good and all the employees are available on call and are able to render all possible services. Yet I find their flats economical too.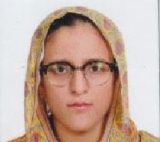 Dr. K. Fathima
Flat Owner
Flat no-14A, PVS Vydoorya
Mini- Bye Pass Road, Calicut
I would like to start my words by thanking PVS Builders & Developers for its help in providing my dream home concept into a reality. The work indulged by PVS Builders is more than expected by their timely deliverance and quality engineering, they have been a great help since the start until registration.
I applaud everyone at PVS Builders for their marvelous works in projects, Very happy to be a part of them, I humbly suggest anyone who is looking for a flat can blindfold go for PVS flats for its expertise in flat throughout Kerala.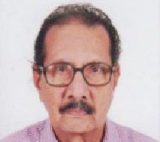 Er. P.P Abdullakutty
President - PVS Vydoorya Flat Owner's Association.
PVS VYDOORYA – 5A
The entire PVS family helped us to realize our dream through expert planning, craftsmanship & design. This was a dream come true and it wouldn't have worked out without all of your help. PVS Builders met our needs very well and add a beautiful selection of apartments to choose from.
Infact we contacted several well known builders before taking a flat with PVS, we appreciated the details provided by the sales team, once the construction started everything from excavation to final finishing went smoothly and was done by qualified sub contractors and craftsmen
We are well pleased with the workmanship and appearance of a finished flat, we also appreciated the services given by the builders before and after the sale
My all good wishes to PVS Builders for still better projects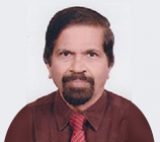 Sreekumar Menon
President Pvs Prestige Flat Owners Association
Pvs Prestige
Myself and my co-brother are owners of Flat 9F &8F at PVS Prestige. Considering the Quality of construction, locational advantages and reputation of the builder, we both have further booked two flats in their new Project 50 Cross Roads, coming up at YMCA Cross Road, in the heart of Calicut City. All our good wishes to PVS Builders to scale new heights kissing the sky-and happy to express my views on PVS Prestige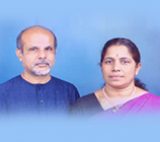 K.V.MOHANAN.Msc.LLB
Advocate
5B,Nakshathra PVS Apartments
YMCA Cross Rd
Staying in Nakshathra since its inception. Built in the most convenient location using standard high quality materials, designed with comfort and beauty. Really a HOME with all unique modern amenities satisfying the customer to the core.
As a flat owner it is very difficult to be dissatisfied with the quality of construction and amenities provided also the warm approach of the builder in solving issues if any
TRUELY PVS NAKSHATHRA IS MY HOME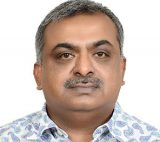 LT.Col. K.K. Manu (Retd.)
Flat No.10C PVS Nakshatra
YMCA Cross, Calicut
When my family decided, ten years ago to move to Kozhikode and look for a home, we chose PVS Nakshatra. The advantage of being in the heart of the city, but away from the hustle and bustle, the open and bright concept of the common areas is unique about the place. Thank you so much for your help getting us our "Dream Home"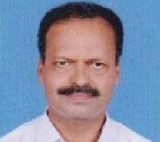 Raveendran P.K
Ex. President-PVS Fortune flat Owners Welfare Association
Flat No. 9C, PVS Fortune,
Kannur-06
I had bought a flat in PVS fortune, Kannur considering the reputation of the company in various fields. In buying the flat, I understand that my decision was absolutely right.
The company had provided many additional facilities over and above the provisions of the agreement for the benefit of flat owners
Therefore, I have no hesitation to say that I am satisfied with PVS builders & Developers.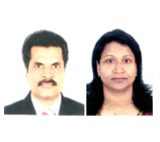 Mathews & Lissy Mathews
Owner of Apt 3A T2
PVS IRIS
It's a Nice Experience!
We would like to thank this opportunity and congratulating PVS for having created such a wonderful experience for us through your excellent management and customer centric approach. We never thought buying a flat from a builders' company will be such a pleasant experience. Your staffs have maintained a very good communication with us and have updated us with every piece of information. And, also the delivery ceremony and key handing over was a memorable event.
Further, we would like to bring it to your knowledge that, because of such wonderful moment of truth with your company that we will definitely recommend your company to our friends and families.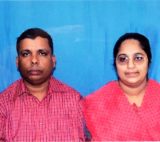 A.S.Babukutty
Flat Owner
Flat No.: 3D/T2 PVS IRIS
I am Residing in Tower 2, flat no. 3D, from the last 2 years.
I take this opportunity to appreciate PVS, IRIS builders for all the services that you had provided us with.
We are satisfied with all the facilities that PVS builders have given to us. Especially with the maintenance faculty and the club house amenities.
We are very happy that we got the best office staff from PVS Builders who coordinate and come up with best solutions for every need of ours.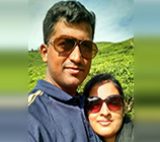 Vineeth & Nithya
1 D Tower 2 - Flat Owner
PVS IRIS
First of all thanks from our end!.We are extremely happy and delighted with the sales process and guidance that we have received during the period of purchasing our apartment at iris.Prompt follow ups , guidance in each and every situation and most importantly support is what we have received from your end.We will certainly guide our friends and relatives looking at apartments to you end. We are privileged to be a part of PVS Iris.