How to Start Your Own Kitchen Garden in Kerala?
Posted on May 13, 2021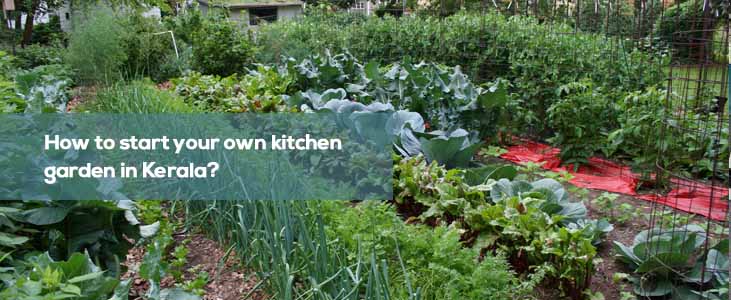 Lives in the urban areas, especially in Kerala, have become quite hectic, and no one gets enough time to be with nature.
This is why starting a garden will bring you closer to the environment and will also help in healthy food diet, therapeutic healing and rejuvenation. Not only would you experience a stress-free and refreshing time, but you would also gain natural ingredients and herbs in your vicinity.
You can either build a backyard garden or have an indoor balcony yard filled with flowers and small vegetables. 
However, creating vegetable gardens is a popular and effective, albeit complex activity to choose for beginners. Such areas have a limited space and witness constantly changing temperature. Thus, it can feel challenging to start the garden and maintain its beauty and health. Also you can try how to set up indoor gardens in kerala
In this article, we have discussed everything you need to know about a kitchen garden in Kerala and how to build one.  
How Do I Start a Small Kitchen Garden?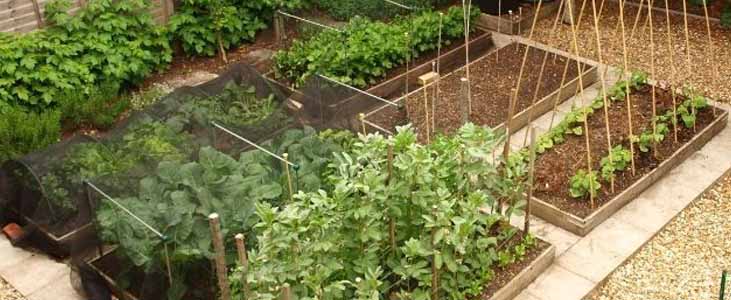 Most urban houses have smaller kitchen areas, which usually occupy one-third of the living room. The space constraint is a notable obstacle in creating a vegetable garden suitable for urban areas.
If one is following traditional gardening methods, then the kitchen region is very confined and small for planting multiple herbs. However, over the years, several new garden techniques have come up in response to the space and environmental requirements. Indeed, you can easily start your own small but efficient kitchen garden if you follow them diligently. Also read how to setup a terrace garden in Kerala.
1. Assessing the Duration and Intensity of Sunlight
The first task one should focus on is assessing how sunlight reaches the kitchen and the surrounding area. In many cases, individuals do not have a direct source of sun rays within the kitchen exclusively.For these cases, finding a spot close to the kitchen area within sun exposure is effective. Therefore, the garden plants will still remain within your reach.
Therefore, you should look for a wall or a backdrop that receives the maximum amount of sunlight throughout the day. Next, you need to check how the intensity of the rays changes throughout the day and if the angle of sun exposure changes with the timing.
Later, finalize a spot that meets these considerations best. Also consider attractive terrace garden ideas for homes.
2. Choosing The Garden Pots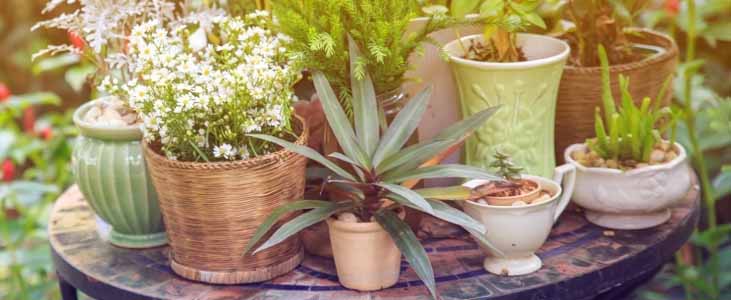 Next, you should select proper garden pots and containers for growing your kitchen garden plants. Since the vegetable gardens remain indoors, garden beds or wooden cartons for planting the seeds and saplings are not effective. Indeed, containers and pots take up less space compared to these options.
Overall, you can grow different vegetables, fruits, and herbs in separate pot types. For green vegetables, you can use baskets; for bushy fruit plants, smart polypropylene containers are more suitable.
To note, earthen garden pots are also good choices, but only if you are arranging the kitchen garden on the floor. Using these earthen pots for vertical or raised gardens can cause damage. 
3. Selecting The Plants to Include
While creating a kitchen garden in Kerala, you need to select which plants to add carefully. Not all plants available in India can survive in Keralite weather and climate. So, research on the geography and suitable plants for the region to make a list. 
Apart from that, it would also help if you choose herbs based on seasons. For winter gardens, floral species that are either annual plants or can survive through harsh cold weather are suitable. Similarly, you have to ensure that the plants for summer gardens can grow in the amount of sunlight your chosen garden spot usually receives. 
4. Getting The Perfect Soil
Without having proper soil, the seeds will never germinate, no matter how much sunlight they receive and if you water them properly. Furthermore, different plant species need different soil mixes. Hence, planting seeds into an incompatible soil type would make them infertile or sterile. 
This is why while choosing the plants to grow in your organic kitchen garden Kerala, learn about the type of soil they need. Also, research about fertile soil conditions and the fertilizers that are suitable for their growth. 
5. Procuring the Essentials
After completing the planning phase and listing all necessary items, you should take action. First, you need to build the framework for your garden. Whether you are building a platform or a vertical garden frame, complete the build carefully.
After that, buy a suitable number of pots and containers that would fit your kitchen garden space.
Also, purchase necessary items like seeds, saplings, soil mix, organic compost, and fertilizers. Moreover, you will need gardening tools like gloves, towels, digging spade, bow rake, digging fork, garden knife, and so on. 
6. Planting The Seeds Saplings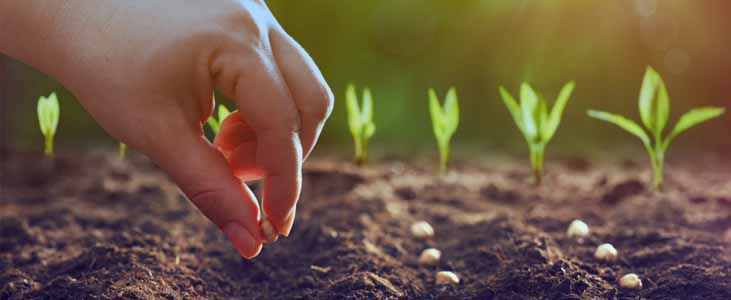 After you have collected everything, your next step is planting the seeds and saplings. Here, make sure while planting the seeds that they are sown at a correct depth.
7. Nurturing the Garden
The last step of developing a kitchen garden is to nurture it properly for good maintenance. Indeed, keep a look out for pests and worms and supply proper amounts of fertilizer at correct intervals. You must complete all curing tasks daily or at specified times. Also read how to setup a
What Can You Plant in a Kitchen Garden?
Typically, kitchen garden plants should have a small to medium height with standard foliage size. Therefore, growing herbs like thyme, rosemary, lavender, peppermint, basil, oregano, and others are best choices for a vegetable garden.
Apart from these, you can also plant small vegetable and fruit plants that take up less space. Overall, such plant types are useful ingredients for healthier food; having them close to the cooking area is beneficial. Additionally, you can include some decorative vines and succulents as well. 
How Do You Make a Good Kitchen Garden?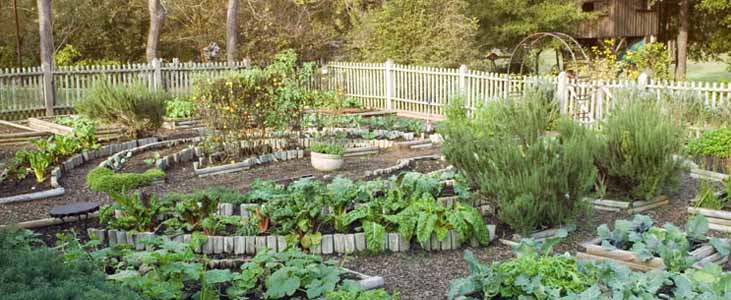 Starting a garden might sound easy to you but maintaining the same is not. Thus, we have described some of the best Kerala kitchen garden ideas that you can adopt for your gardening plan. 
Arrange all plants in a way where every pot receives ambient sunlight and air without crowding. 
Go for organic compost and organic fertiliser like cow dung ; chemical compounds are not good for health.
If you are growing larger plants, use earthen pots and place them on the floor. 
Segment your garden into different sections. Therefore, you would have enough room to add new plants, depending on whether they need direct sunlight or less intense exposure. 
Water your kitchen garden plants properly. Too much water will prevent the roots from breathing; so, make sure to use the spray bottle and/or watering can. 
For lack of space, a vertical garden is more suitable for kitchen areas. 
Transplants are ideal for growing several vegetables and fruits as they reproduce by vegetative propagation. 
What's the Easiest Vegetable to Grow?
Some of the vegetables that you can grow easily in your kitchen garden Kerala are: 
·        Bitter gourd 
·        Cherry tomato
·        Okra 
·        Cucumber 
·        Chili
·        Lemon and lime
·        Greens 
·        Bell peppers 
What Month is Best to Start a Garden?
To understand the best month to start your kitchen garden in Kerala, you should know about the correct sowing and harvesting times of your chosen plants.
For example, the plants you are including have a summer-centric harvesting time, you should plant them during early or mid-spring. Overall, there is no specific month to start creating a garden.
To note, focus mainly on the plant species, sowing conditions, and the suitable harvest time as per the climatic conditions of Kerala. 
What are the Best Plants for Small Gardens?
I. Herbs– You can grow basil, thyme, rosemary, oregano, dill, lavender, cilantro, coriander, mint, and a curry leaf plant.
II. Vegetables- Some of the best plants to grow in a small garden are okra, radish, bitter gourd, lime, chili plant, lemongrass, spring onion, tomato, bell peppers, and beans.
III. Flowers- You can even add some vines, succulents, and flowering plants like sunflowers, marigold, rose, orchids, chrysanthemums, and others. 
Soil Preparation, Use of Organic, Chemical Fertilizers, and Its Outcomes
Indeed, there is importance of kitchen gardens for every house in Kerala. Thus, you need to ensure that the soil preparation done for gardening is perfect. It would help if you utilize a proper soil mix that suits the needs of the plant you are planning to add.
Also, you can use homemade compost As for fertilizers, use organic chemicals as they are less harmful and wouldn't cause any health issues. Also, read how to compost in an apartment.
Conclusion 
Gardening is one of the healthiest and most stress-free activities for people to partake in. Starting from planning a garden to nurturing the baby plants and watching them grow are pretty much exhilarating. Not to mention, a lot of plant types have medicinal and health benefits and it gives healthier food also. Thus, planting them would give you free access to these options. So, you can follow our instructions to start the kitchen garden in Kerala and nurture the plants till harvest time. 
Are you checking out the best flats in Calicut for superior apartment projects? You have come to the right place. PVS Builders are one of the most trustworthy and reputed builders in Calicut, with some of the best laid-out apartments in prime locations. Contact us today to know more!