Attractive Rooftop Terrace Design ideas for Homes in Kerala
Posted on August 26, 2019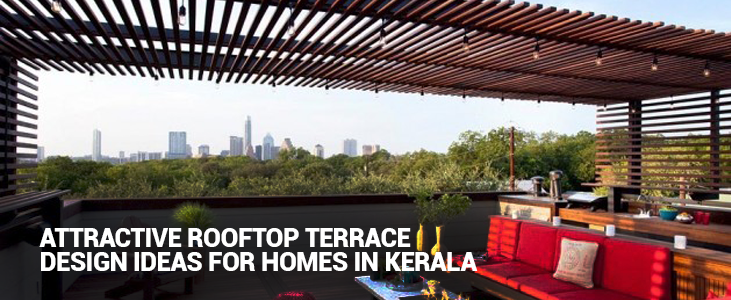 The population of India is growing very rapidly over the past few years. These days it would become very difficult for you to enjoy the amazing view of gardens from apartments or homes because of their proximity to each other.
People who are lucky to have rooftop terraces on their homes can infuse some greeneries in their lives by planting some shrubs and flowering plants to the terraces. But apart from terrace gardening, there are plenty of design styles which you can use to make this outdoor space attractive and compelling.
Depending on the space available, you can renovate your rooftop terrace area with some amazing designs and can invite your friends and relatives for dinner under the blue sky.
In this article, we are going to describe some amazing rooftop terrace design ideas for your home in Kerala. But before plunging into the topic, always remember that you should purchase flats in Calicut from only reputed builds in Calicut. Because reputed builders will offer you a property which possesses all the facilities and amenities like a rooftop terrace, apartment balcony, parking, and so on.
Let's take a look at how you can convert your rooftop terrace area into a region of envy and pride
1. Use Eco-Friendly Bamboo Roofs for a Serene and Breath-Taking View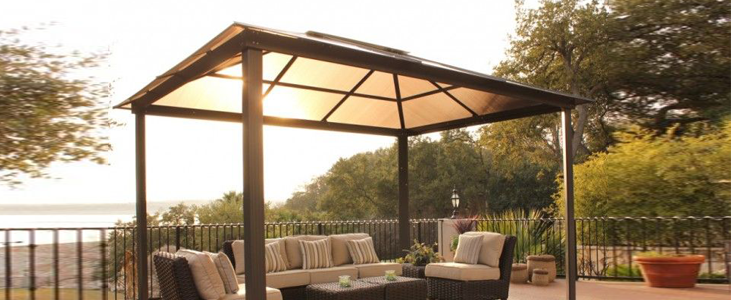 If you are a homeowner who is blessed with a rooftop terrace, then you hardly need to go to any other places for enjoying fresh air.
You can cover your rooftop area with eco-friendly bamboo roofs which will give you ultimate protection against sun and rain. By adding this simple shade to your rooftop area, you can make this place a perfect choice for your evening or morning snacks and beverages.
You can also uplift the aesthetic beauty of the space by adding some wicker sofas and table. This furniture will also enhance your comfort and will help you to relax and enjoy the fresh air. Check out some eco-friendly house construction methods in Kerala.
2. Create a Beautiful Luxury Terrace Garden
If you have adequate space, then why don't you create a luxury terrace garden from where you can enjoy the entire view of the city?
Many interior design firms will help you in creating a luxury terrace garden at your home as per your wish and requirements.
You can enhance the beauty of this garden by adding an artistic wooden gazebo with light folding furniture. During extreme weather conditions, you can easily keep this furniture inside your home. There are many tips which can help you while furnishing first apartment. This luxury terrace garden is an ideal place to enjoy the unrestricted view of the city during day and night without any disturbance.
3. Go for a Simple Design by Adding Plants and Trees
Plants and trees can certainly add colours and liveliness to any open space. These plants and trees are quite healthy as they will keep the space free of dangerous pollutants which are transmitted by air. The creepers and cactus plants are not only beautiful but also you can maintain them easily.
Moreover, they can easily grow in pots and containers. If your rooftop terrace floor is tiled properly, then you should carefully choose the plants and shrubs. You can even incorporate furniture into your rooftop floor but make sure it is lightweight and weatherproof.
4. Build an Enchanting Rock Garden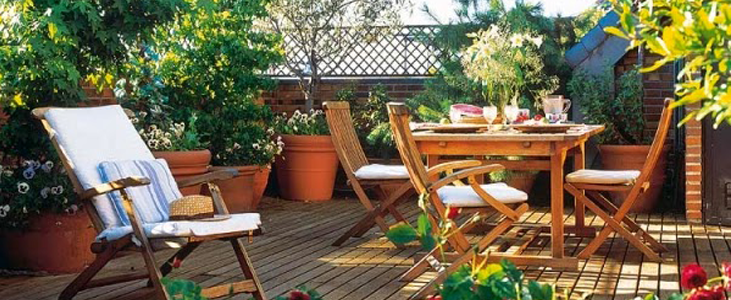 An enchanting rooftop rock garden will not only enhance the aesthetic beauty of the space but also uplift your status and style quotient in front of your neighbour, friends, and relatives. But before creating a rock garden set up, you need to ensure that your roof can bear the weight of soil and also, constant watering which is required to manage the lawn grass and garden.
The surrounding stone wall and walkways on all side will make this space more beautiful and eye-catching. You can add stone seats along the edge which will make it look like a rock garden.
Enjoy the beauty of the blue sky while seating on the white terrace deck is simply mesmerizing. Don't forget to put a wide canopy which will help you to stay away from the direct sunlight.
You can build your rooftop in Scandinavian style with a latticed wall to give a different look to space. Build an outer glass wall which is surrounded by a bed of flowers as this will add glamour to the rooftop space.
6. Add a Rustic Charm to Your Rooftop Terrace
By adding a rugged wall with rock chips you can give a different look to your rooftop. If you want to add a more rustic look, you should go for a wooden deck and rustic table (made of the bark of a tree). You should always choose lightweight furniture and chairs and place them at various corners of the deck.
7. Create a Natural Look without any Artificial Decor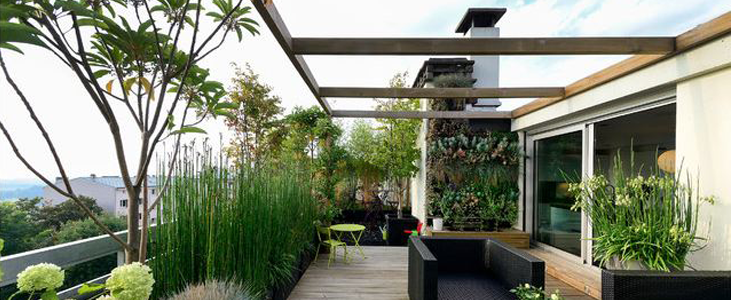 Kerala is a place which is famous for its unparalleled beauty and landscapes. If your home is surrounded by greenery, then you can build a rooftop terrace which is close to nature without adding any artificial decor. You can create a simple terrace roof which has a low brick wall and natural stone floor. This stone floor will keep your interiors cool in the summer.
8. Add Detachable Umbrellas
The monsoon is very popular in Kerala and every year; Kerala receives huge rain and heavy downpour. Every year, a chunk of tourists used to come to Kerala to see the monsoon and enjoy the celestial view of nature. You can checkout some monsoon home care tips also.
You can create a stylish terrace garden where you can sit safely and enjoy the monsoon in a relaxed way. Just add some detachable umbrellas across the wide wooden deck and give a monsoon makeover to your terrace space.
Now, you don't need to go anywhere and still, can enjoy the monsoon while seating at your rooftop terrace. Add several chairs around detachable umbrellas for entertaining and relaxation purposes.
9. Build a Contemporary Terrace
This is the time to build a modern and contemporary terrace which is an ideal place for enjoyment and entertainment. But before making the setup, make sure that your terrace is strong enough to bear all the things that you are planning to build under the sky.
You can add a glass cabin on your large rooftop terrace which is powered by solar panels. Solar power for apartments brings a big relief for energy consumption. Now, place all your electrical gadgets like refrigerator, TV, music system, etc. under this glass cabin. In this way, you can create a separate entertainment zone at your home where you can spend some time with your friends and relatives.
10. Add some Customized Steel Planters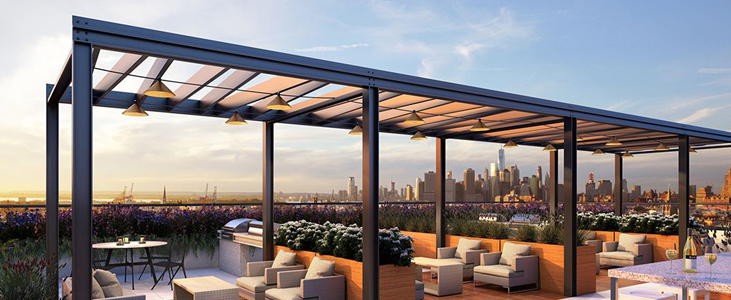 You can easily give a touch of class to your roof-top terrace by adding some customized steel-planters. The markets are crammed with many steel-planters, so you can choose any of them. Or there are many interior shops which offer custom fabricated steel planters to the customers. These planters are light-weighted and will also enhance the beauty of the space. Now, you can decorate the rest of the space with potted indoor plants and shrubs. You can also checkout some indoor gardens for apartments in Kerala.
11. Create an All-White or Neutral Seating
If you want to create a simple, elegant, and minimalistic style, then you should go for all-white or neutral seating. Choose white-coloured or neutral furniture (couches, table, chairs, etc.). This will certainly give a chic and modern look to your rooftop terrace.
12. Sectioned by Greenery
If you have a large and wider rooftop space, then you can use it for both dining and seating purposes. Now, try to segment your rooftop area with tall bushes as this will help you to use your space efficiently. Moreover, it will also separate the dining area from the lounge seating. Also read some of the latest apartments trends.
13. Change the Atmosphere with Mood-Setting String Lights
A rooftop terrace is an ideal place for all types of parties. Now, by adding string lights, you can enjoy the transition from day to night. These simple lights will keep your party going while creating a cosy and comfortable ambience for everyone.
14. Create a Simple and Elegant Style
By adding transparent window railings, you can create a sense of openness. Moreover, this will allow everyone to enjoy the view of nature while seating on a sofa or couch. To make a homely and inviting terrace, you can add an outdoor rug.
The above we mentioned some of the stunning and amazing rooftop terrace design ideas for your home in Kerala. If you like any idea, you can adopt it as per your wish and available space.
With the help of the internet, you can find some more innovative ideas which will help you to revamp the look and beauty of your terrace. You can also take assistance from a reputed interior design firm and make your rooftop terrace space not only beautiful but also quite effective and useful . Get some  low cost interior design for homes In Kerala here.
PVS Builders & Developers is one of the most renowned builders in Calicut and provides some of the most efficient apartments in Calicut, Kannur, and Aluva. If you are looking for flats in Calicut with some of the best features and high-quality amenities then contact us today or visit our website for more information on our latest apartments in Calicut.