Top 10 Types Vertical Pergola For Your New Home In Kerala
Posted on October 29, 2021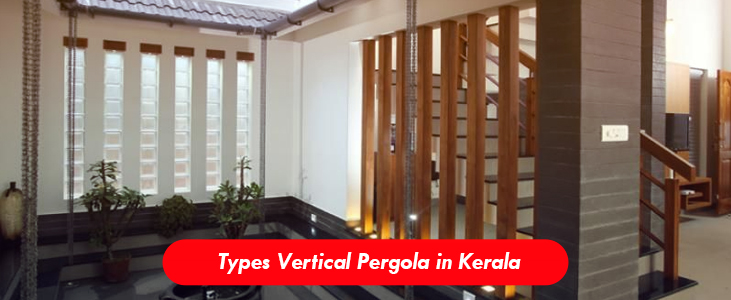 Pergola is a form of architectural structure used since the medieval period, the term pergola is derived from the Latin word peragula ''means projecting evave. It is considered as a modern version of green tunnels used around the 5th century, green tunnels were more or less temporary structures constructed to provide a cool shady passage in the gardens.
In layman, terms pergola is a semi-open structure with a grid of beams. These permanent structures are made of rocks, bricks, and in more modern times fiberglass. Pergolas provide a certain amount of shelter from sunlight and an aesthetic look, climbing plants and vines along with green walls makes it more magnificent.
Design ideas of pergolas are freestanding and semi-open structures made with a grid of beams without any ceiling, providing a nice pathway from your backyard garden, patio, upper floor, or balcony because of the partial coverage. It allows free flow of sunlight which gives a dazzling effect, also providing partial shades and free flow of air which makes a perfect place for morning coffee with your loved ones. During nightfall stars and Artificial Light altogether create a perfect dining space. These beautiful Vertical pergola add elegance and common spaces to the entire building. We can see pergola designs in the flats in Calicut.
Types of Pergola
Traditional and Vertical Pergola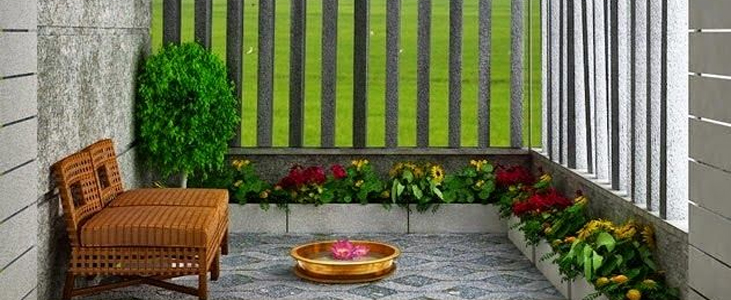 Traditional pergola areas are mostly found with an open ceiling, it is just a few pillars joined by beams at the top. These Vertical pergola are of vertical structure; the vertical bars or pillars make a unique pattern.
Traditional and Vertical Pergola are some of the commonly used pergola styles, this is mainly because it is easy to construct and maintain compared to other arched types and gable pergolas. The interesting aspect about a vertical pergola is that it suits every surrounding, whether it is a backyard, upper space, OUTDOOR DECKS, basement, or living area. This style needs minimum space, even building structures with limited space can use these vertical pergola.
The construction and maintenance cost is also less compared to other styles. So it is used more frequently everywhere in all climatic conditions. These pergolas are widely used in gardens and pathways as it has lots of open space for free airflow and makes trailers grow easily. We can use any material for this kind of pergolas as its construction is simple.  This pergola is even used for the basement with artificial lights. Also read more about bathroom lighting ideas.
Houses and buildings in Kerala widely use vertical pergolas as it suits very much to the climatic condition of Kerala, the moderate weather is perfect for this design here. These designs are mainly used in front balconies, upper portions, porches and backyards as it adds to the beauty. Vertical pergola are used as a part of interior design with a mix of contemporary art, it makes a perfect piece of art with Attractive Wall Papers and artificial lights in the backspace add beauty.
In many areas, wooden panels, well polished and carved, are used in living rooms and balconies. The light beams from these structures give the perfect lighting effect for your dining area. These structures are widely common in coastal towns like Calicut where there is wide scope for beach pathways and beach gardens. Also read more about
1. Open Top Pergola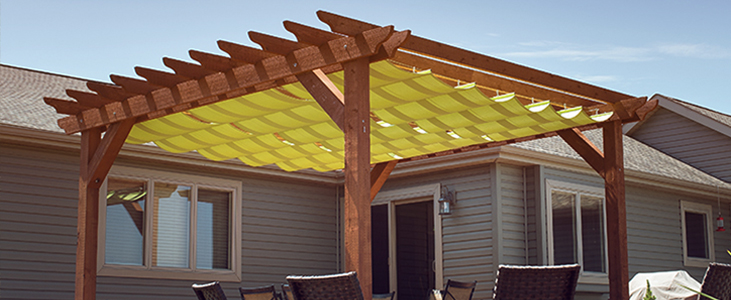 It is a traditional pergola with an open ceiling, it is just a few pillars joined by beams at the top. It gives enough sunlight and a lot of space for creepers and vines. These pergola designs are best suited for your brick wall all together to give a countryside effect to your garden. Nowadays in cities, this is a good option for your gardens where you can enjoy a nostalgic feel, these pergolas are usually constructed with stone and bricks. This is a bit expensive and needs constant maintenance. If you are looking for an exact match for your house, a brick pergola is the best choice as it goes very much with the building structure.
2. Wooden Pergolas
Wooden Pergolas is another traditional pergola. It uses polished wood with carvings to add a rustic touch to your lawn. Note that wood is always an expensive choice as it needs a lot of maintenance and care as the adverse weather may always affect these structures and moisture from the creepers gives wood chances of termite infection. So yearly maintenance is necessary. Also read more about wooden flooring in kerala.
3. Vinyl Pergola
As time went on traditional pergolas giveaway to contemporary designs. In olden times the structure was made either of rocks or wood, which is quite expensive. Nowadays vinyl is used instead of wood which is relatively cheap and durable and suits all climatic conditions. It can be considered contemporary metal and is extremely easy to assemble like "ready to eat food".
4. Metal and Steel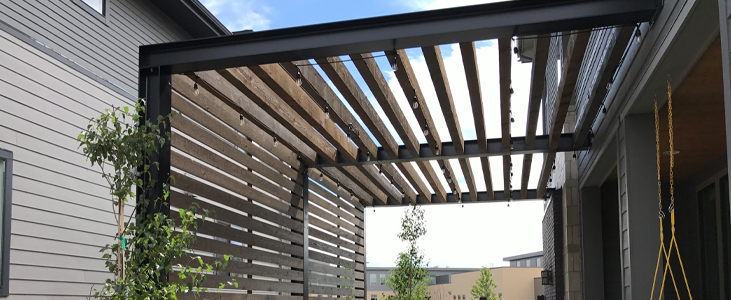 In modern times metal and steel is other options compared to wood as it is highly durable and economical. The metal pergolas are prone to rest so proper care is necessary. Steel is a much better option especially for regions with harsh weather conditions. Compared to metal, steel demands less maintenance, and cost '
5. Fiberglass
Fiberglass is a kind of plastic material that is similar to vinyl, compared to steel it gives a choice of different shades and colours. Altogether it can offer a classical look with size and shades. Fiberglass is available in lighter shades like beige or white which gives a refreshing look. It is also rust and corrosion resistant as fiberglass is non-porous, it is not affected by moisture and it will not soften or sag compared to vinyl material. The only drawback is that it is not at all suitable for regions prone to high winds and cyclones, the high pressure will lead to cracks on the structure.
6. Pvc Pergolas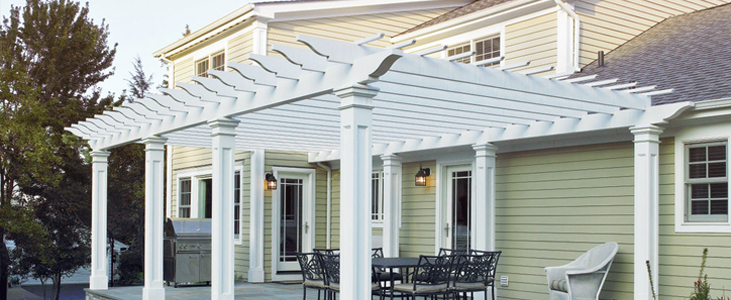 PVC pergolas are Adjustable Pergola the easiest choice for common men to make their homes elegant. Compared to most other materials, PVC demands less effort and cost for the outdoor structure. A thick PVC pipe is a perfect choice for an outdoor pergola or wooden deck railing, as it is resistant material to natural factors and requires minimal maintenance. These adjustable pergolas are trending today, the only thing is it fails to give a majestic look. but if you are ready to compromise the perfect look considering other monetary factors it will be an ideal choice for your modern house.
7. Pergola Styles
Everyone opts for a unique style for their apartments. Every day architects are coming up with innovative contemporary options to suit everyone's needs. These pergolas are the best freestanding structure for your outdoor space. nowadays a lot of options are available regarding construction material and styles according to our taste. Even western designs inspired by San Francisco and San Diego are very much in use in Kerala home designs, especially backyard pergola is so common nowadays, as it is very suitable to cover horizontal space
8. Gable Pergola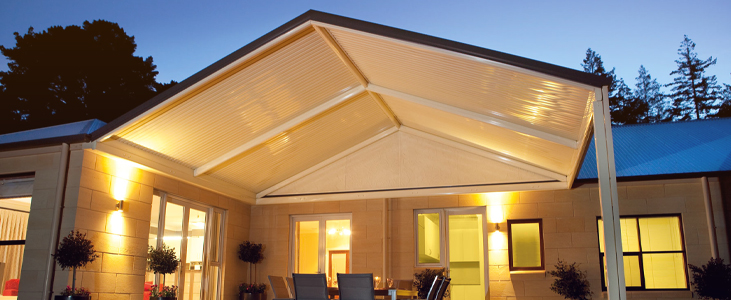 Gabled roof pergola is a simple architectural style.it gives a cottage feel when creepers and vines make the roof. Gable pergola is a revised version of canopy & pergola used in traditional times. This umbrella-style contemporary pergola creates a beautiful space in your garden. It will be a perfect place to have an evening tea and enjoy the setting sun. This style suits all-weather in summer because of its gabled roof sunlight strikes indirectly so it is less warm compared to a flat surface. Because of its sloping surface it is apt for the rainy season also in flat roofs there are chances of collecting water and damaging the structure but here water runs straight off. So it hardly ruins the structure, these designs give a magnificent look without much maintenance cost. This design is an excellent choice for all seasons, dazzling direct sunlight, dripping raindrops and snow-covered roof gives an aesthetic appeal.
9. Arched Pergola
Arched or curved pergolas add a touch of Mughal architecture to your outdoor area. It will bring a romantic tinge for your garden alone with roses and liana it will be a perfect place for a candlelight dinner on a starlit night. Compared to normal pergola these are a bit more expensive and prolonged construction. And this model demands more space than a normal structure so it is not much advisable for small areas. but these models are perfect for porches and Kitchen Garden.
10. Pitched Pergola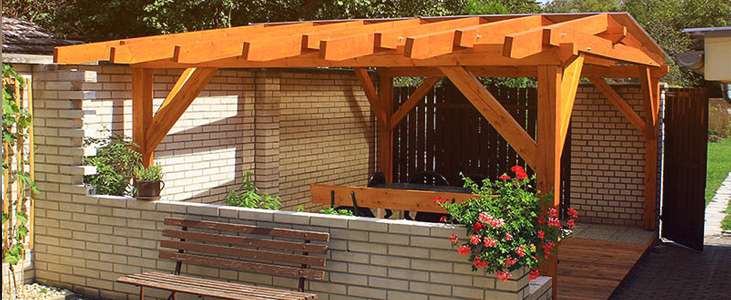 The pitched pergola is the most common and frequently used pergola in everyday life. It is the best way to make an extension from the main building for a walkway, porch, or balcony. It is a perfect design for your backyard for a stylish kitchen garden kitchen as enough sunlight will be available. The roof of the pergola is mostly standing, so maintenance is easy. The outstanding feature of this design is its utility and access as it is attached to the house; this area serves as an extended corridor for family gatherings. The main drawback of this style is as it is attached to the main building any damage will affect the main building and also tax problems regarding housing licenses. The pitched pergola is used widely for balcony gardens, attached with a few String Lights to give it a classy look.
Here's Why you should have a Pergola at your home
Pergolas is one architectural structure that maintains the same significance in the world of architecture from ancient times to the present. Outer Space or indoor pergola incorporates a classic look to your building, a perfect reading corner ', a swing for kids, or just a resting place for a cozy man .adding a few blue or white curtains and wisteria shrubs.
Are you checking out the best flats in Calicut for superior apartment projects? You have come to the right place. PVS Builders are one of the most trustworthy and reputed builders in Calicut, with some of the best laid out apartments in prime locations. Contact us today to know more!