Staircase Ideas for Small Spaces in Kerala
Posted on November 23, 2021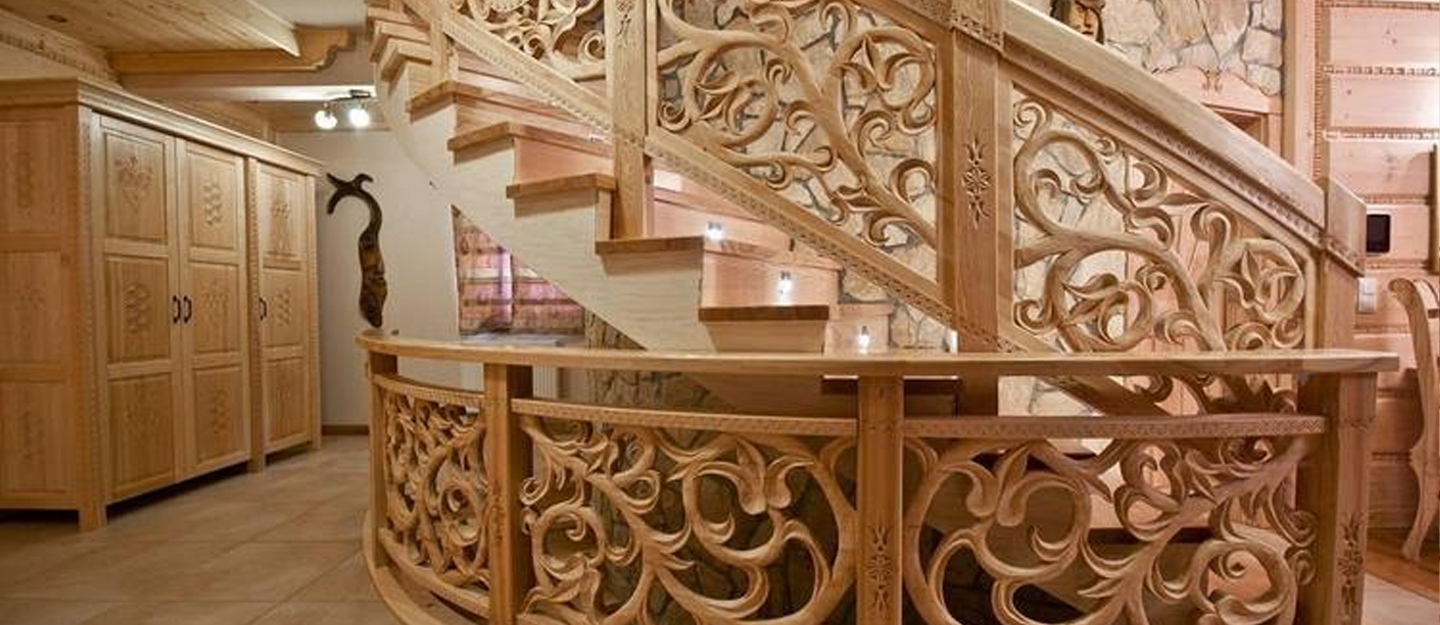 Innovative solutions are required for small spaces. When you have a limited amount of space in the Residence, for example, in your flats in Calicut, creating a staircase can be difficult. Here are some excellent ideas for space-saving stairs and Low-cost interior design homes Kerala ideas which you can integrate into your home. On the marketplace, you'll find different space-saving stairs made from wood, metal, and steel, as effectively as compact staircase gear such as space-saving staircase railing.
Population growth has led to an increase in the number of homes being crowded. Modern homeowners must adapt to restricted and limited space as a very common occurrence. The design for such a space must be well-planned so that it makes the most effective use of available space. Every aspect of the small space must be considered, including the designer staircase that can give you creative stairs.
Ensure that the carpentry staircase you select fits your taste, style, and apartment decor. It not only gives you the essential methods but is also a wonderful designer piece that will create a lovely ambiance in your apartment. The most important thing is that once done right, staircase renovation or building a staircase from scratch does not consume much space!
An important aspect of home architecture and design is the design of small and compact staircase design space stairs. As well as considering aesthetics and attractiveness, ergonomics and the optimal use of space also need to be taken into consideration. If you are planning to build a staircase within your home, here are some unique stair designs for small houses that might make your job easier. Here are some amazing ideas for creating a beautiful yet perfectly sized staircase.
Best Staircase Design Ideas for Small Spaces
1. Spiral Staircase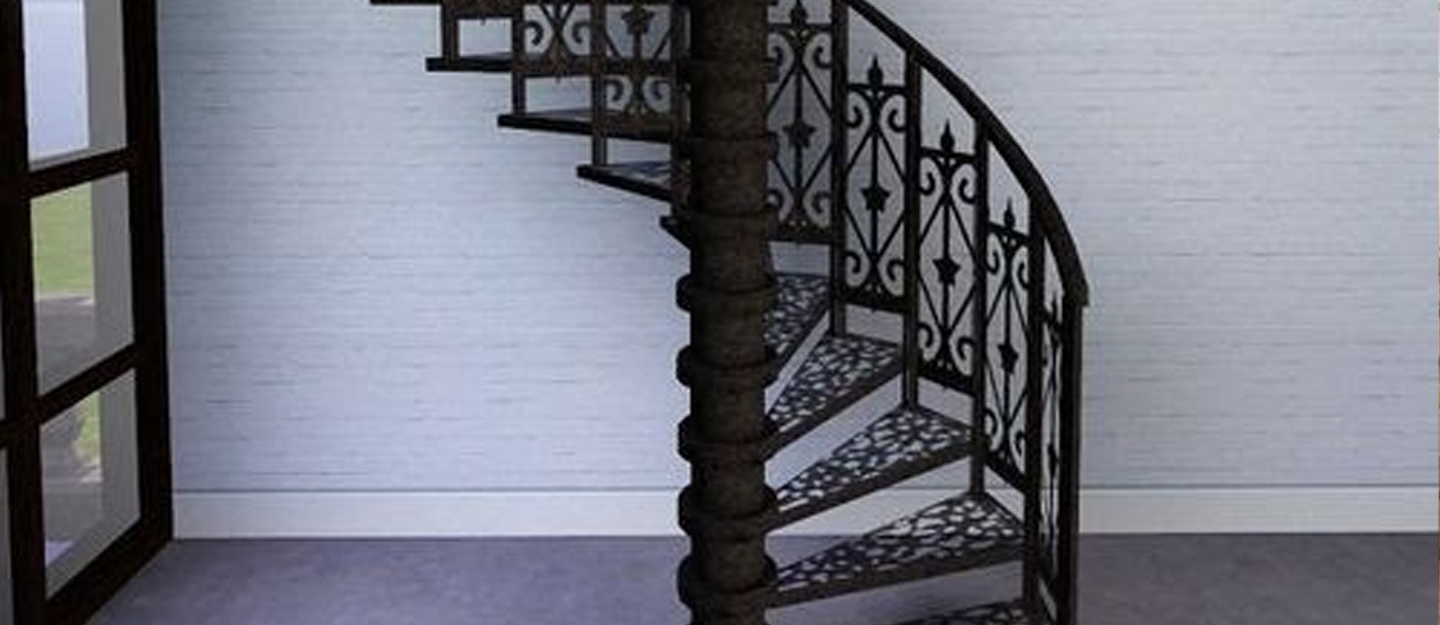 The stairs are built in this way for decades as an effective way to build stairs in spaces with limited space. This type of staircase acts as a focal point within a home. This curved staircase design is a fantastic option for small spaces and contributes significantly to maintaining a positive appeal for the entire home.
2. Open Stairs
Open staircases are also popular methods of staircase design in small houses and are popular among home buyers today. The risers are absent in this staircase. This retractable staircase gives the impression that the stairs are light. In a restricted setting, they make the stairs seem spacious.
3. Stairs with a single flight
A staircase of this design reminds one of a loft ladder. Lightweight and space-saving at the same time, they are visually attractive. In a compact setting, though these are different from traditional staircase patterns, open flight stairs are an attractive and practical way to traverse vertical distances between floors.
4. Hanging Staircase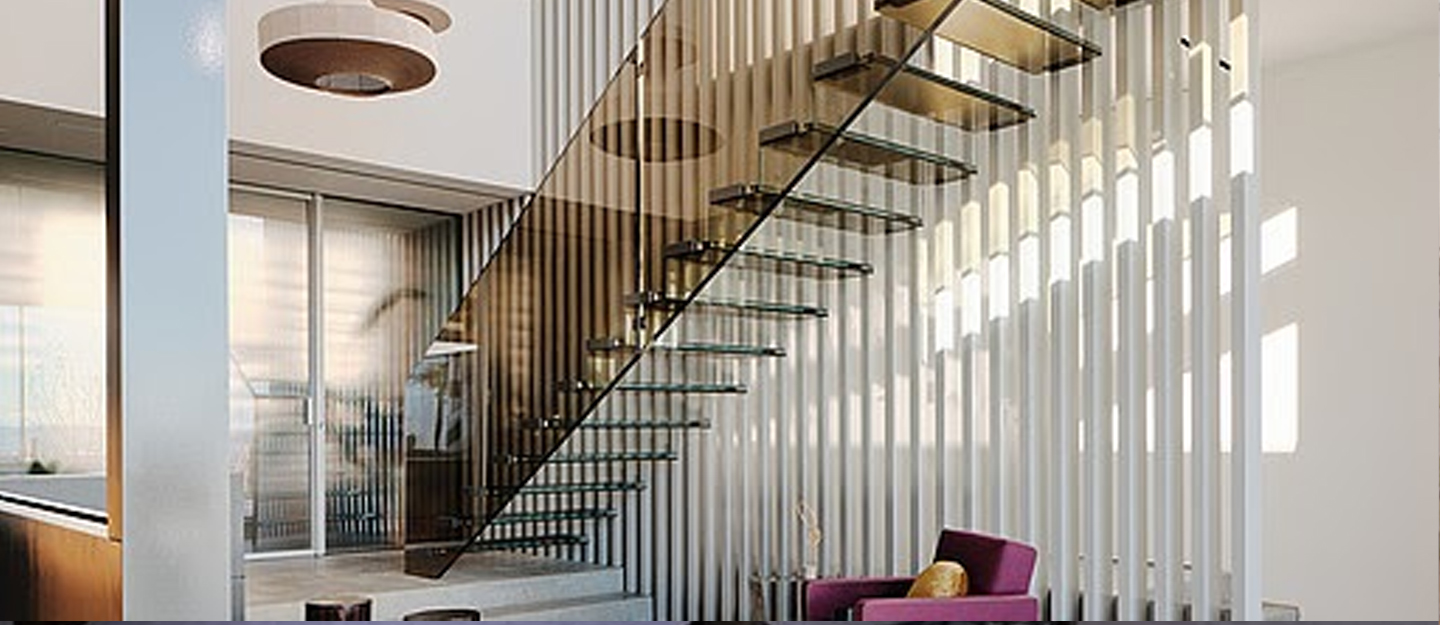 Even though hanging staircases are not widely popular, they are unique and need little space to construct. As a result, they are suitable for smaller houses. These hanging staircases are supported by sturdy metal frames and do not waste a single inch of floor space.
5. Wire Railing Staircase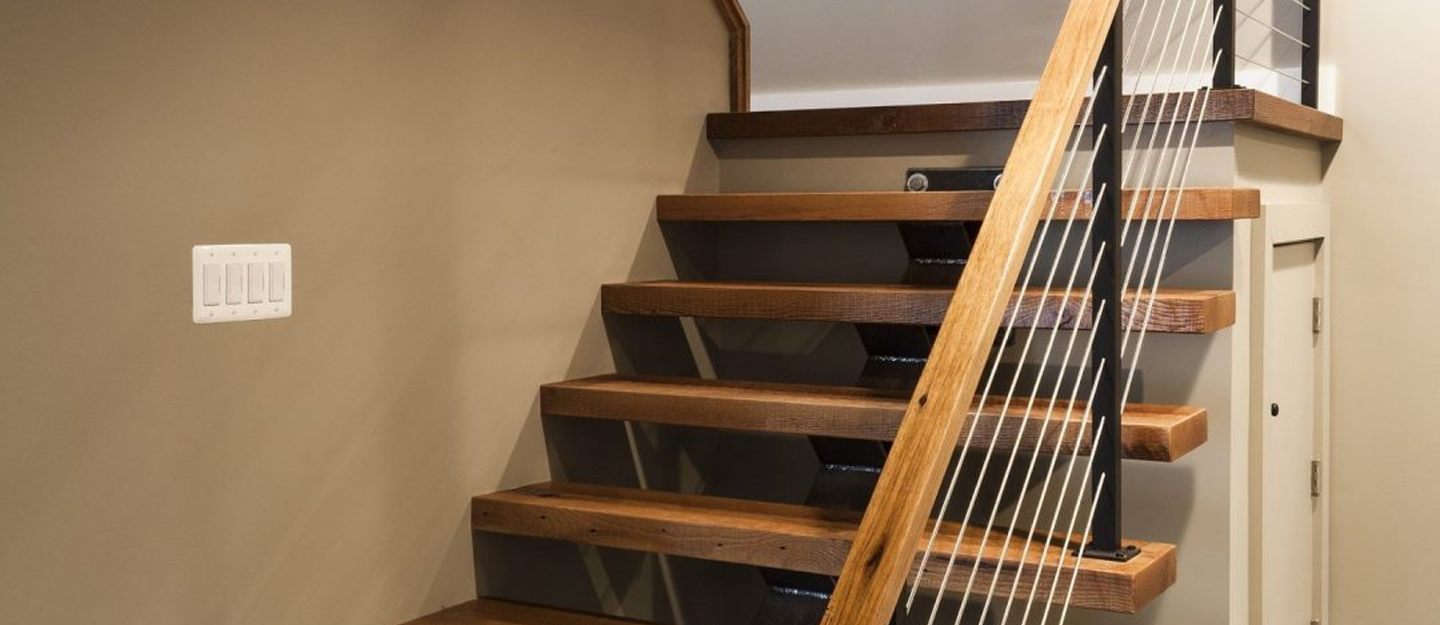 Wire railing staircase and slim staircases create visually lighter, space-saving stairs. If the primary staircase is designed likely, you could also use these primary staircase's storage space to make cabinets or shelves, etc.
6. Stairs With a Small Footprint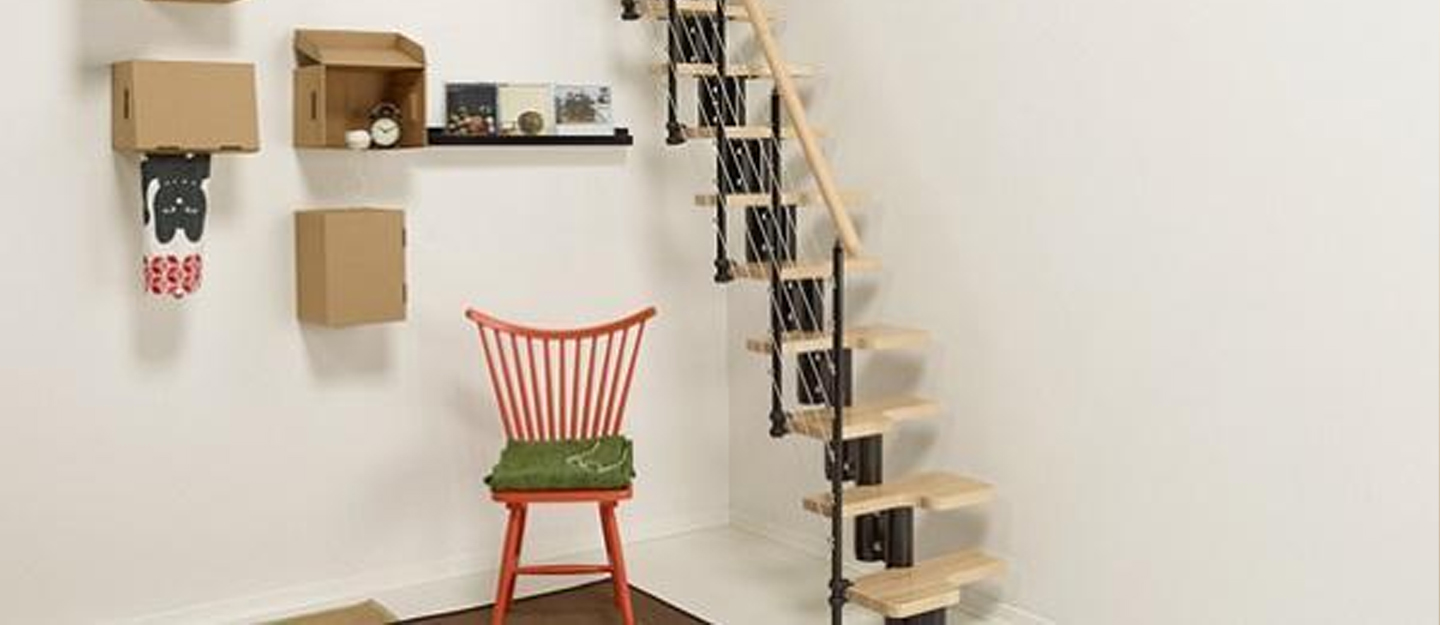 Low-profile staircases are made possible by the slim width and high risers of these kinds of staircases. Households with limited space have no problem fitting these steps comfortably and conveniently. The design is also great for commercial spaces such as offices and shops as these stair treads look great in dark steps and cater to stair functions perfectly.
7. Swirling Staircase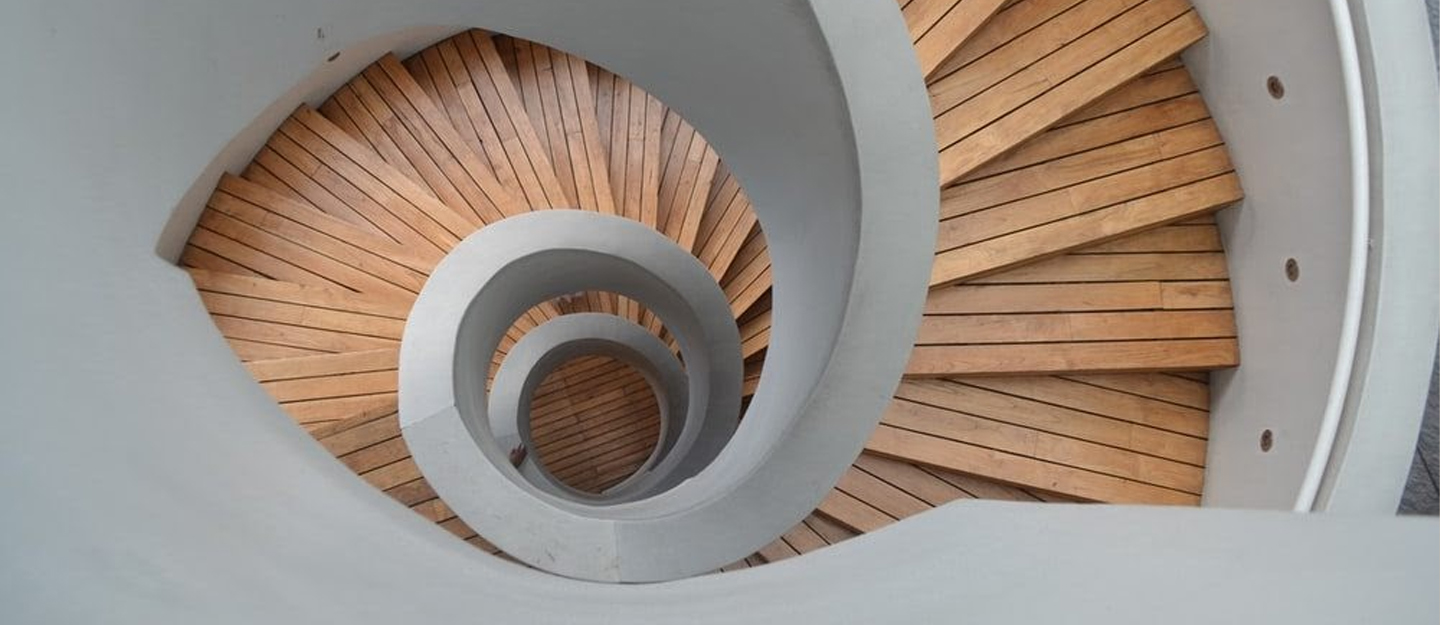 Space is effectively conserved by the smoothly spiraling staircases. Furthermore, these types of designs add a sculptural quality to the home décor style statement. It truly adds to the level of gravitas and appeal of the entire interior if these are carefully designed with the custom color combination. Also, read more about low-cost interior design homes.
8. Chunky Tread Staircase
A lack of popularity has been attributed to this design due to the active presence of the inconvenience factor. It also works well for small houses and modern sophisticate – kitchen with white walls and is not recommended for older people and children. In the event that all these factors can be ignored, then this design is certainly one of the creative staircase ideas and a clever way of creating a staircase that takes up less space from your ground floor or second-floor living area.
9. Alternating Narrow Steps
With these staircases, the width of each step is alternately arranged in a distinctive way. These types of staircases have a light fixture and sleek battens axially supporting them. By narrowing the steps according to the available space, it maximizes the floor space. This means that no space is wasted with unnecessary stairways.
10. A Staircase Featuring a Full-Wall Display Unit
By displaying an entire wall unit in front of a narrow staircase-like square footage, along with carefully chosen lighting and furniture, the attention is automatically deflected from the issue of space restrictions. We are never distracted by the staircase's size.
11.Cubic Staircase
It does not take up much floor space and doesn't even waste much if it is supported by a cubic metallic structure.
12. Double Section Staircases With Metal and Glass Combination
Double section staircases resemble an invisible ladder more than a staircase. The metal railing staircase idea when paired with glass stairs makes up this space-saving staircase design that is conveniently secured.
13. Wood Railing Staircase Design
Wood railing staircase design with dark wood and stylish lighting, a small staircase at the entrance makes an aesthetic statement and gives your home extra space without having to use metal risers. Simplified wood railing staircase idea in this instance to make an elegant statement rather than a boring and old-looking wood railing staircase idea.
14. Multi-Functional Staircase
You can always make use of a single space for several purposes in a short space. Living large in a small space means maximizing the use of a particular space. There might be a solution to a lot of space problems in a multi-purpose staircase. You can simply renovate your standard posts or straight wood railing staircase into a convenient space-saver or a display unit.
15. Helix Shaped Staircase Design
Small homes typically have circular staircases shaped like helixes in contemporary architecture. This helix-shaped staircase design staircase is engrossingly appealing when illuminated properly. A straight metal railing staircase can be remodeled into a helix staircase with the right interior designer which can be a completely different approach to staircase design but can give you a beautiful yet perfect-sized staircase.
16. Invisible Steps Staircase
When you want to create an atmosphere of space and elegance, go for simple glass staircases or a beautiful ribbon staircase made of glass. No bulky staircase can match the appeal of a glass one when it is combined with surrounding color and other finishes.
17. The WoodPecker Staircase
Nature has many wonderful elements, including wood. Any space heated with wood, which comes from trees, will be more comfortable. A rustic feel is added to Indian homes with a contemporary wood staircase. In addition to being durable, these wooden planks take up little space. Normal wood railing staircase remodel can be changed to wooden staircases that usually have a space beneath them that is usually left empty for the temporary storage of small items.
18. White Stairs With White Railings
The timeless appeal of white stairs never goes out of style. Especially within a small space, white color adds an air of spaciousness. Therefore, this traditional approach to staircase design is unbeatable.
You can build a staircase connecting floors at the corners of your home without interfering with other areas of the house. Gone are the days you solely depend on straight staircase design. Staircases also enhance the aesthetic appeal of any home. Railings made of sheer glass or wood stair treads, for example, add to an area's appeal while also making it appear bigger.
You immediately think of basic square-like structures with no visual or aesthetic appeal when you hear the wooden stairs. Today, staircases are more than just functional. A house's decor is enhanced by them, and they are an important part of it. In this article, we tried to tell you how to use them imaginatively.
In traditional Indian homes, there are usually a few floors above the main entrance, so they require more planning than others. With these staircase design ideas, your home will have a desi chic look that will make it unique and charismatic. More so, these stair cabinets and art stairs save space and are stylish.
As part of a multistory house, staircases are essential. Additionally, they serve as busy passageways, rather than just connecting floors vertically. A beautiful stair design can add a special touch to your home's décor if it is designed elegantly with meticulous planning and architecture. Hope our curation of low-cost house Construction Methods and staircase ideas for small spaces will help you renovate your home, poly studio, or any other space into a prettier, cozier, and spacious space!
Are you checking out the best flats in Calicut for superior apartment projects? You have come to the right place. PVS Builders are one of the most trustworthy and reputed builders in Calicut, with some of the best laid out apartments in prime locations. Contact us today to know more!