What Questions to Ask When Buying an Apartment in Calicut?
Posted on September 26, 2023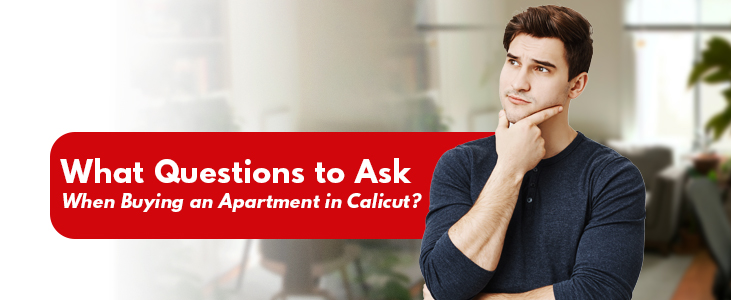 We know that Calicut is always in the limelight for its history and growth. It is a fast-developing city with IT parks, high-tech hospitals, malls, apartments, etc. If you are thinking about buying flats in Calicut, We're here to help! In this guide, we'll go over the important questions every buyer should ask before purchasing an apartment. We'll guide you through the process and have included important tips to purchase the most reliable apartment. Making the right choices when buying apartments in Calicut is important, starting with asking the right questions. Let's explore these critical topics together to make sure you find the perfect home in this amazing city.
What is The Total Cost of the Flat, Including All Additional Charges?
The total cost of a flat comprises several components beyond the base price. It's essential to have a comprehensive understanding of all these costs to make an informed decision. Additional charges may include registration fees, Goods and Services Tax (GST), stamp duty, legal and documentation charges, maintenance charges, parking fees, and connection charges for utilities like electricity and water. So before you sign the deal ensure that the total cost includes additional charges or not. Also, make sure that there are no hidden or post-completion charges.
What Are The Payment Terms and Financing Options Available When Buying Your Flat in Calicut?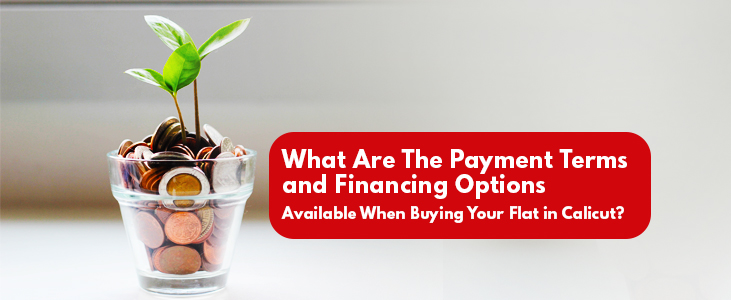 Payment terms and financing options can significantly impact your buying process. To navigate this, ask the builder about their specific terms:
Down Payment Requirement: Find out how much you need to pay upfront as a down payment. It's usually a percentage of the total cost.
Instalment Plans: Inquire about whether the builder offers flexible installment plans, which can ease the financial burden.
Bank Tie-Ups: Many builders in Calicut have tie-ups with banks or financial institutions. Ask if such arrangements exist and whether they provide favorable home loan options, including competitive interest rates and special offers.
What Amenities are Included in The Project, and What are Their Maintenance Charges?
Amenities can greatly enhance your living experience, but they come with maintenance costs. It's crucial to know what's offered and the associated charges:
Clubhouse Facilities: If the project has a clubhouse with amenities like a gym, swimming pool, or recreational areas, inquire about the maintenance charges for these facilities.
Security Services: Ask if security personnel and security systems are provided within the complex, and whether there are associated charges.
Common Area Maintenance: Learn about the upkeep of common areas such as gardens, parks, and pathways, and understand the maintenance costs.
Utilities: Inquire about how utilities like water supply, electricity, and sewage are managed, and whether there are shared utility charges.
Is Apartment Maintenance and Keeping the Home in Shape Difficult?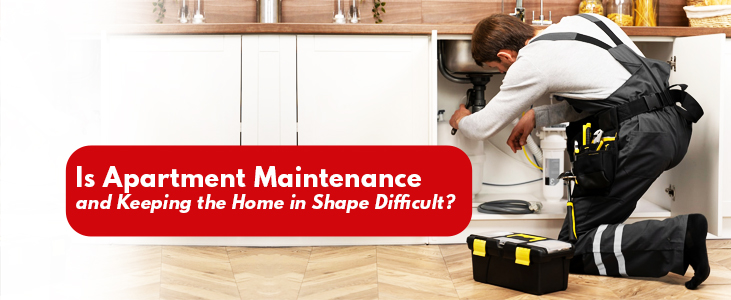 Regular apartment maintenance is crucial for preserving the value of your investment and ensuring a comfortable living environment. Creating and following an apartment maintenance checklist can help you stay organized and on top of essential tasks. Here's an apartment maintenance checklist for maintaining your apartment: 
Monthly Tasks:
Inspect Plumbing: Check for leaks under sinks, around toilets, and in the bathroom and kitchen. Ensure that drains are flowing smoothly.
Clean Air Filters: If your apartment has HVAC systems, change or clean the filters to maintain air quality and energy efficiency.
Test Smoke Alarms and Carbon Monoxide Detectors: Ensure these life-saving devices are in working order.
Quarterly Tasks:
Deep Clean: Thoroughly clean all surfaces, including floors, walls, and appliances. Don't forget to dust vents and light fixtures.
Check for Pest Infestations: Look for signs of pests like rodents or insects. If necessary, contact your property management for pest control.
Inspect Seals and Caulking: Check seals around windows and doors. Replace or repair any damaged caulk to maintain energy efficiency.
Annual Tasks:
Deep Clean Carpets: Consider professional carpet cleaning for a deep clean.
Service Appliances: Arrange for maintenance of appliances like your refrigerator, oven, and dishwasher if needed.
Inspect Electrical Systems: Check outlets and switches for signs of wear or damage. Replace if necessary.
Review Lease and Regulations: Familiarize yourself with any updates to your lease agreement and apartment complex regulations.
How Do Builders Ensure Apartment Security and What Items are Required for Security?
Security is the main beneficial feature of purchasing a gated community apartment. Hence, ensuring the safety of your apartment is a top priority. Here are some crucial apartment security tips buyers should ensure to help protect your home and loved ones. If the below security system is not available, it is advised to ask them to customize your apartment for it.
Strong Locks: Invest in high-quality deadbolt locks for all entry doors, and make sure they are installed correctly.
Security Systems: Consider installing a security system with alarms, motion detectors, and surveillance cameras. Many modern systems can be controlled remotely via smartphone apps, providing real-time monitoring.
Window Security: Strengthen window locks, and think about adding window film or security bars for added protection against break-ins.
Smart Locks: Explore smart locks that offer keyless entry and remote control, allowing you to grant access to trusted individuals without physical keys.
Peephole and Chain: Install a peephole in your front door to identify visitors before opening it. A chain lock can provide added security when answering the door.
Lighting: Ensure good exterior and interior lighting to deter burglars. Timers or smart lighting systems can create the illusion of an occupied home when you're away.
What are The Apartment Amenities Provided that Enhance our Living Experience?
When selecting an apartment, checking the apartment amenities list can significantly impact your daily life and overall satisfaction. If you are fitness-conscious and require regular exercise to maintain your health, you require a fitness centre. Most of the premium apartment builders provide a common Fitness centre inside the apartment building to ease your life. Additionally,  having a swimming pool offers relaxation and a place to cool off during hot months. Also, it is good for kids and adults for fitness. In apartments, you may find it difficult to host parties and invite guests above 15 members. Hence, having a clubhouse will help you get rid of the burden of renting another space away from home. Moreover, if you have pets, ensure that your apartments are pet-friendly. Ensure the apartment complex has security measures in place, such as controlled access, surveillance cameras, and security personnel. 
Are there any Future Home Technologies Installed in the Apartments?
As technology continues to advance, consider asking about future home technologies is beneficial. Inquire if the apartment complex has plans for smart home integration, allowing you to control lighting, temperature, and security systems with ease. If you drive an electric vehicle, check if there are plans to install EV charging stations in the future.  Also, you can enquire whether any energy-efficient features like LED lighting, smart thermostats, and energy-saving appliances are included. Additionally, ensure access to high-speed internet and inquire about future upgrades to faster services. Further, look for parcel lockers or delivery solutions that accommodate the growing trend of online shopping. 
What is The Builder's Policy on Customization and Modifications to the Flat?
Many builders offer some level of customization. It's essential to ask about their policy regarding modifications to ensure your new home aligns with your specific needs and tastes. Inquire about the extent of customization allowed, any associated costs, and the approval process.
What is The Quality of Construction Materials and Fittings Used in the Flat?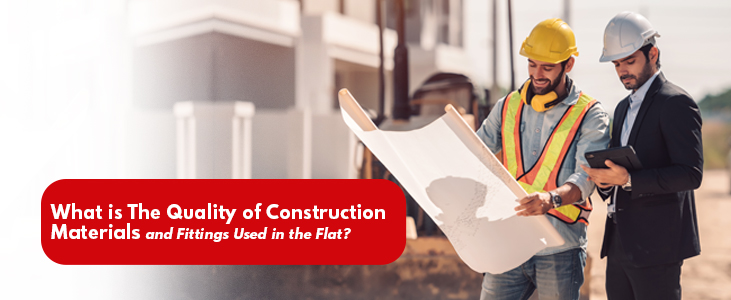 The quality of construction materials and fittings significantly impacts the durability and value of your flat. You can directly ask the builder or their team handling construction for details about the materials they use. You should enquire regarding all aspects such as flooring, plumbing fixtures, and kitchen appliances. Also, inquire about any warranties on these materials and whether they adhere to industry standards for quality.
What is the Warranty and After-sales Service Provided by the Builder?
Getting information regarding the builder's warranty and after-sales service is crucial for future security and peace of mind. Also, inquire about the duration and coverage of the warranty, including any specific items covered. Additionally, ask about their process for addressing post-purchase issues and how responsive they are to homeowner concerns.
Is the project approved by local authorities, and do you have all the necessary permits and licenses?
It's essential to verify the project's legal status. Ask the builder if all necessary permits and licenses are in place. You can check the papers and documents proving that the construction adheres to local regulations and standards. This is mandatory to reduce the risk of legal complications in the future. Additionally, you can check with local authorities for confirmation by yourself. If the building doesn't adhere to local regulations and building laws, it may be demolished by the government in the future.
Conclusion
Before purchasing a flat, asking the right questions to the builders is essential. It's your opportunity to gather crucial information, clarify doubts, and ensure that your investment aligns with your expectations and needs. The questions about total costs, payment terms, and amenities provide you with a comprehensive understanding of the financial aspects and lifestyle that come with the flat.