A complete list of Must have Apartment Amenities
Posted on September 30, 2022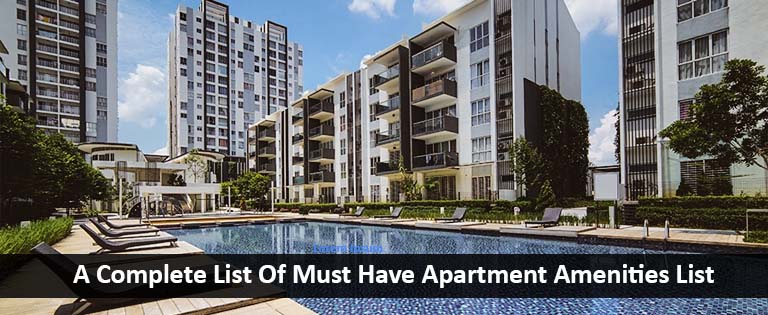 It is not uncommon to hear of people getting disappointing deals with home purchases. You cannot end up your dream home with unsatisfactory aspects. You can avoid this situation, if you ensure that the apartment you are going to buy offers the facilities you really want. Almost all the flats in Calicut provides the amenities for your dream home without any compromise. 
Purpose of amenities in apartments
Amenities play an important role in selecting a supreme quality residential real estate.  The goal of the amenity is to provide something useful to the residents. Amenities refers to the clubhouse, location, swimming pool, and gym which will increase the desirability of residential apartments. Amenities in apartment contribute a great deal for the enjoyment of home buyers. In fact, amenities have become a deciding factor for people to buy an apartment in Kerala.
An apartment project includes people of all age
group. Some of the common amenities in the apartment includes
Kids play area
Sporting facilities like cricket and basket ball
Indoor games
Wide-open spaces
Parks and so on
Like amenities, open place also plays a significant role in engaging socio demographics. While kids play in their area, elders can have a walk in the parks for fresh air. Youngsters can spend their time in swimming pools also.
Reason for people demanding amenities
The modern life style is extremely stressful and hectic. Work is one of the main factors for stress.  Heavy traffic and pollution are also the reasons. Because of all these discomforts, people are looking for apartments to calm down their mind and features that reduces their stress level. Apartment with good amenities give ideal solution to this matter. Also read more about.
The biggest advantage to good amenities is quality of life. For eg:
Parks provide you to chance to unwind and relief without leaving the apartment complex.
Clubhouses allow you to meet other residents and make friendship with the people around you.
Local dog parks are ideal for getting your pet outside without having to worry about issues like traffic.
What to look for when renting an apartment
When you start search for your apartment, you have to decide the list of amenities that your home should have.
There are three main categories to check while measuring the value of an apartment amenities: the indoor, the outdoor and the neighborhood. Also, know more about renting out homes in Kerala.
Indoor Amenities
If you are thinking of renting an apartment, begin with what is inside the unit. These amenities are the features that use daily and are bonuses outside the basics like number of bedrooms and overall square feet.
This should be the first consideration when you start apartment search.
Indoor amenities include
Dishwasher: Life is busy and fast paced enough without spending time washing up pots and pans.
You never have to wash with your hands when this amenity is provided.
Washer and Dryer: With this amenity, you can leave your clothes unaccompanied without worrying about strangers waiting to finish. Flexibility of time is another advantage of having an in-unit washer and dryer in the apartment.
Air conditioning: In summer days, we can see people acting more aggressively and destructive. It is not a hidden fact that air conditioning will help to improve your mood and also shuts from worsening your mental health.
Balcony: Balconies in apartment increase the quality of life. It will also add value to the property in case of resale. In balconies you can grow flowers, plants and vegetables. Read more about apartment balcony design ideas.
Intercom systems: The benefit of installing an intercom in the apartment will make the resident feel safer and more secure in their homes. It's really hard to realize who is knocking on the door. Apartment intercom system will help the resident to verify the guest before they enter into the home.
Furnished apartment: When you move from one place, the difficult part will be shifting your furniture. In case of apartments almost all will be fully furnished.
Granite Countertops:  This will give a luxurious look to your kitchen. Keeping your kitchen space spotless will be your top priority, and granite counter tops makes this easy.
Window Coverings: Window treatment helps to control light, privacy and temperature in your home. Read more about window design ideas.
Garbage disposal: You can get rid of food waste easily and avoid the risk of block on your pipes.
Outdoor amenities include:
Fitness Centre: One of the best benefits in having a fitness center in apartment is saving money. Gym membership, their yearly fees is expensive if it is outside. But utilizing gym in your own apartment saves your, money and can create a healthy lifestyle. 
Swimming pool: Taking a dip in a clean swimming pool is a greatest way to reduce your stress after a full day work. Swimming has many health benefits too. It is considered to be the best exercise for muscles and joints.
On-site management: Property management staff will give all answers to your questions.
Saloon and Spa: Sometimes if you book an appointment in a saloon, you have to travel so far and still you will be in line. But a saloon in your apartment will be more flexible. 
Common area Wi-Fi: Browse the web and your favorite show in a calm community living space.
Surveillance Camera: When you provide security cameras on your property, you are protecting yourself against lawsuits. In case of resale having video, surveillance will increase the value of your property. You will be able to ask high rent from tenants.
Resident lounge: Its very beneficial to have a resident lounge in your apartment. In residential lounge you can meet neighbors, host a get-together and so on.
Party room: Organizing a party in your home will be a mess, especially if it is a kid birthday party. The dreaded cleaning day after a party is not fun. If the apartment provides a party room, then it's very beneficial by keeping your home clean and safe.
Parking: Some apartments provide covered parking areas for the protection of your vehicle. So, no need to worry about where you leave the vehicle.
Roof top: A lovely weekend with your family on the roof top or having a barbeque with your relatives and friends with the roof top amenities will be super fun and exciting. Read more rooftop terrace design ideas.
Valet trash: Valet waste is a service offered by many apartments where a worker collects your waste directly on scheduled days.
Guest Suites: Guest suites is a place to stay for friends and relatives who comes to visit residents. They will be having a fully furnished unit and all the facilities that residents have. Their rooms might be smaller in size compared to residents flat.
Parcel Lockers: Parcel lockers will give you a secure kind of delivery and retrieval solution in an apartment. There will be larger packages which cannot be stored in post boxes. In that case parcel lockers will be useful.
Community garden: Community garden is a growing trend in most of apartments today. This is the best place to communicate and interact with your neighbors.
Recycling program: Reuse, recycle! Green living has never been easy. read more on. Read more on home waste management.
Supermarket: In most of metro cities, going to supermarket means half a day because of unending traffic jams. There comes the importance of supermarket in an apartment. It will save the time in your busy life styles. In most of the supermarkets they will provide a small bakery and cafe for a quick snack.
Complementary DVD Rentals: You can see the latest box office releases for less with free DVD rentals.
Shared amenities include:
Reception area Intercom
Car Wash area
Notice board
Entrance foyer
Maids and housekeeping staff changing room
Sewage treatment plant
Neighborhood Amenities
 When you are in search of an apartment you should look for what all surrounds your apartment. If you don't own a vehicle you might require a small walk for dining, a coffee shop and so on.
Neighborhood amenities includes:
Easy access for public transportation
Ease to major roadways
Restaurants
Coffee shops
Trails and bike paths
Ventilation is also very important. When you own a flat, you have to make sure whether there is adequate space. Living in small apartment without much air circulation will make anyone insane quickly.
Living in an apartment is stress-free and comes with various benefits including enjoying a modern lifestyle. These basic facilities can go a long way in ensuring a satisfying home-owning experience. So always select an ideal environment to live in with your loved ones.
Are you checking out the best flats in Calicut for superior apartment projects? You have come to the right place. PVS Builders are one of the most trustworthy and reputed builders in Calicut, with some of the best laid-out apartments in prime locations. Contact us today to know more!