Attractive Window Design Ideas for Apartments
Posted on March 26, 2021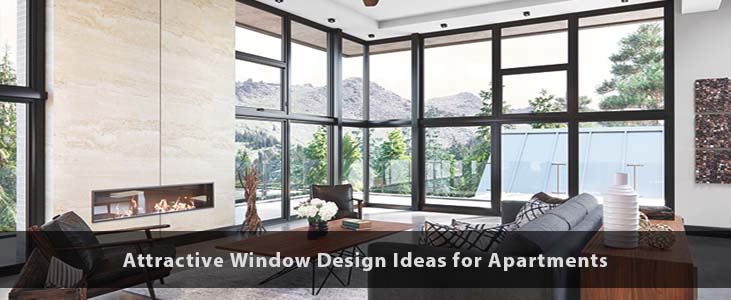 More and more people are choosing to live in apartments today rather than individual houses, thanks to the convenience and apartment security they offer. They are easier to manage and decorate as well as there is limited space, and you don't have to plan for a huge area. Windows are an integral part of apartments – as they provide light and warmth, and a vista of the scenes outside; they can prevent you from feeling like you live in a box.
Therefore, we will focus on window design ideas in this article, and see the different types of windows, and window treatments you can have in an apartment.
Different Types of Window Designs
1. Sliding Windows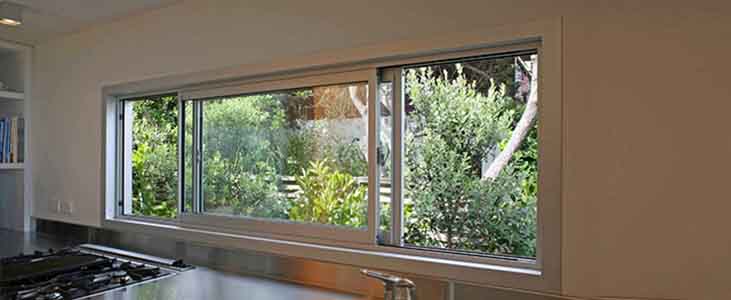 These are the most popular and common types of windows one sees in apartment buildings. Sliding windows usually occupy the middle portion of an entire wall, so you have plenty of light streaming in, and can get great views of the outdoors.
Thick drapes can keep the sun out in the summer and prevent the cool, A/C air from warming up. Easy to operate and maintain, these windows are also cost-effective, as less concrete is needed.
2. Bay Window
Bay windows are one of the designs of the more uncommon and unique windows for homes. They project slightly outward from the walls of the building, thereby forming a 'bay' in the room.
The most popular shapes for these are trapezoid or rectangular. These were very popular in early times in India, especially in the Havelis and mahals of Rajasthan, and where the women inhabitants would sit and watch court proceedings, etc.
Usually, bay windows have highly decorative frames with intricate sculptures or finely crafted wooden frames. They not only create extra space within the room but enhance the beauty of the exterior as well. Of course, these won't be economical – but if you can afford them, it will make a great addition to your home. Also read the tips to keep the top apartment cool in this summer.
3. Picture Window
Picture windows are in reality not windows at all as they cannot be opened – they are huge, floor-to-ceiling windows of fixed glass. They are called picture windows as they offer uninterrupted views of the scenery outside. While they ensure plenty of natural lighting in a room, they don't provide ventilation – and are ideal for those who want air conditioning throughout the day. You may find such windows in luxury apartments.
4. Arched Windows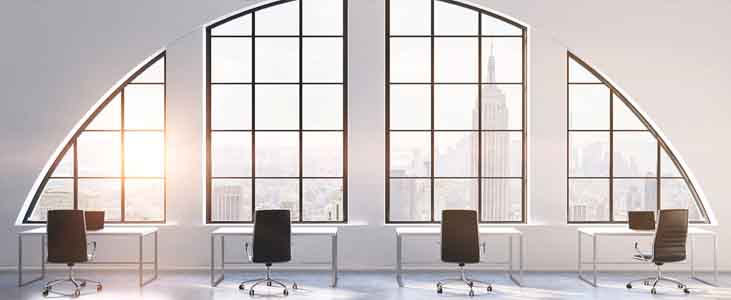 Arched windows are one of the most beautiful living room window ideas that are not frightfully expensive. They will look good as balcony windows as well.
Arches have a kind of old-world charm – just make sure you follow the same theme in the interior décor, and you can create a very customized look for your apartment.
5. Casement Window
A casement window is a modern window design, and such windows are fixed to the frame; these can open both inwards and outwards.
It has one casement window pane each on the left and on the right, and the handle is affixed so that it doesn't hamper the curtains or blinds. This type of window also lets in plenty of natural light and ventilation. Also read the modern curtain designs for living room.
6. Farmhouse Window Design
If you like rustic window design ideas, this style is ideal. It gives a warm, inviting, and cozy feel to the place. These windows are set in wooden frames in dark, vivid colors, and either has grilles or smaller glass panes divided by wooden slats which make up the entire frame.
These windows can be opened, usually by sliding upward, though some windows can also be slid sideways. These are not as huge as picture windows, or as intricately beautiful as bay windows, but they can turn the house into a home.
7. Jalousie Windows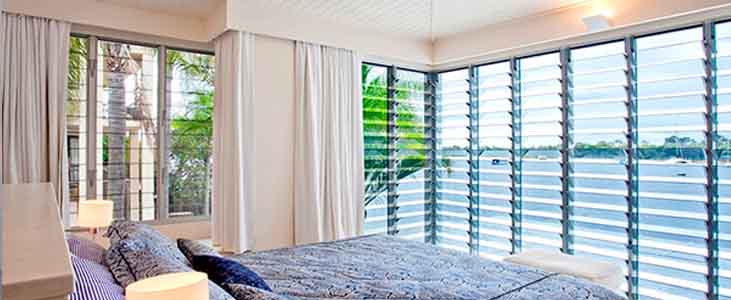 As we live in a place with moderate climate year-round, you can also opt to install jalousie windows. These are made with acrylic materials, glass, metal, or wooden louvers, and are set in a frame.
A handle is fixed to open and close these windows, which open like your window blinds. They are excellent ventilators as they let in the outside air when they are opened.
8. Stained Glass Windows
One normally tends to associate stained glass with churches, because that's where we have seen them the most, probably. But did you know that stained glass is also widely used in homes – for windows, and for partition doors, or doors of bathrooms attached to bedrooms? Of course, in such cases, the glass is very thick and opaque.
You can have stained glass design for windows in your living room or balcony – it will add to the aesthetic value of your apartment. You can also read some apartment balcony design ideas.
9. End – Vent Window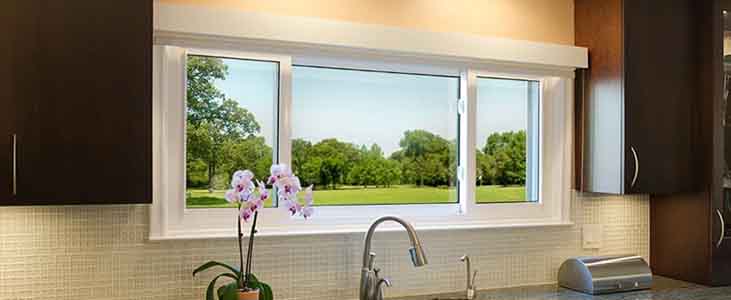 If you have a wide wall in your apartment, you are likely to find an end-vent window, which is again, a sliding type of living room window design.
This window also allows plenty of light to stream in; as it can be opened, you can also ventilate your apartment well. It is also very economical for the builder and easy for the users to operate and maintain.
Treatments For Home Window Design Ideas
Most people get the feeling of living in a fishbowl when they are in an apartment with plenty of large windows. It is very important to have the proper window treatment for your windows so that you not only have your privacy, but also insulate your apartment well – keep out the heat or rain, and retain cooled air for a longer period.
Here are the options:
Thick, blackout drapes to darken the room and keep out the heat and light completely
Transparent curtains that let you see outside, and reduce the light and heat coming in – ideal for monsoon
Layered curtains with both transparent and thick drapes, allowing you to use the one you need
Blinds, which are available in horizontal or vertical types
Mosquito netting so that you can leave your windows open without worrying about getting bitten.
Roller shades offer privacy and energy efficiency, and you can raise or lower them partially
Solar shades that specifically filter out heat, UV rays, and glare
Roman shades – classic and practical, these are available in a range of designs
ALSO READ : HOUSE RENOVATION IDEAS IN KERALA
Importance of Window Grills
Whatever the type of window, make sure that you select a practical apartment window grill design. Grilles provide safety, by preventing intruders and birds from entering, as well as protecting anyone on the inside from falling.
Today a wide range of window grille designs are available with fabricators, and you can install them from the inside. They also have a practical use, that you can hand some stuff on them.
Choosing the Ideal Window Design
In an apartment, your options may be limited as the builder usually puts in the same windows for all the apartments in a building. You can, however, modify its look from the inside without altering the original structure. One of the best ways to do that is to add carved metal or wooden frames. You also have the freedom to use the window treatment as you please, and can create a unique look for your apartment with those.
Are you checking out the best flats in Calicut for superior apartment projects? You have come to the right place. PVS Builders are one of the most trustworthy and reputed builders in Calicut, with some of the best laid out apartments in prime locations. Contact us today to know more!