11 Best Out Of Waste Creative Ideas Ever
Posted on August 26, 2022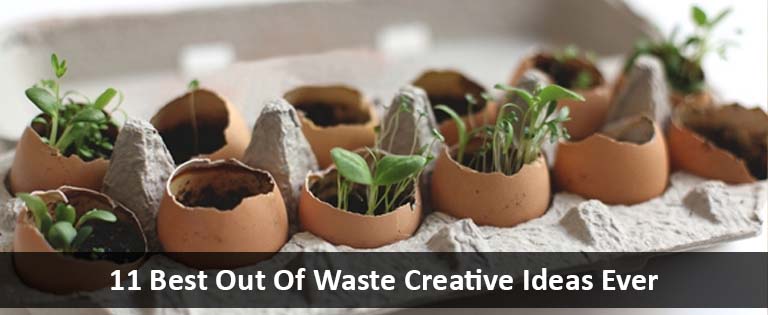 Covid 19, the most recent global pandemic shook the entire world, pulling them back to the four pillars of their home. With a plethora of restrictions people often felt depressed. In fact, during this period many changed their perspective and some made the best out of time through boosting their creativity. One of the refreshing and mesmerizing activity was best out of waste i.e., creative home decor from waste available at home and their habitat.
We can find many waste items at our home and around our surroundings if we just make an attempt. At home, we can find many unused cartons, bottles, damaged items as well as used and thrown stuff. For the majority of people, tackling domestic waste is a challenging task. However, by incorporating creative solutions, the waste can be transformed into something efficacious and appealing. Making crafts out of waste is a great way to reuse unwanted materials, make something more beautiful, and protect the environment at the same time.Not only art and craft enthusiasts, but also those concerned about the environment, can benefit from the idea of best out of waste crafts. Let's peep into some of the creative ideas collected from different people.
What are the best out of waste ideas for the bedroom?
1. Bedside table from an old tire
One of the sustainable yet very beneficial home decors for eco friendly homes from waste is a bedside table using old tires. If you want a bedside table that is both functional and environmentally friendly, you must use an old tyre. This craft is a little challenging because it necessitates prior knowledge of some aspects of building or the assistance of a carpenter. You'll need rope, cardboard or cork, a drill, and glue to make a bedside table out of recycled materials. Attach plywood by drilling and screwing it in place. Cover the wheel with nails and secure the rope to keep it from moving. Attach the legs and test it to see if it can withstand some weight.
2. Bedside lamp using wine bottle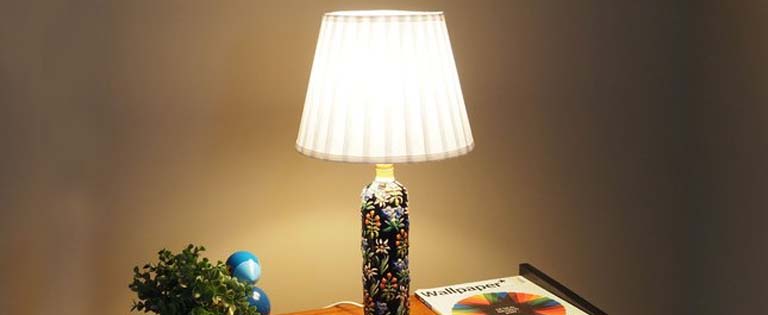 This endeavour may not even cost you a penny. Save your next empty wine bottle, or get one from your neighbourhood, and there you have your base. Analyse your home's electrical supply or disassemble an old lamp and reuse the parts. You might not even have to spend any money on this DIY. You can use one from your neighbourhood or save your next empty wine bottle as your base. Search through the electrical supplies you have at home, or disassemble an old lamp and reuse the parts. You have your free electricity along with the lampshade. If you don't already have any of these materials, you can buy a DIY bottle lamp kit online that comes with everything you need to finish the project.
3. Book-shelf from recycled materials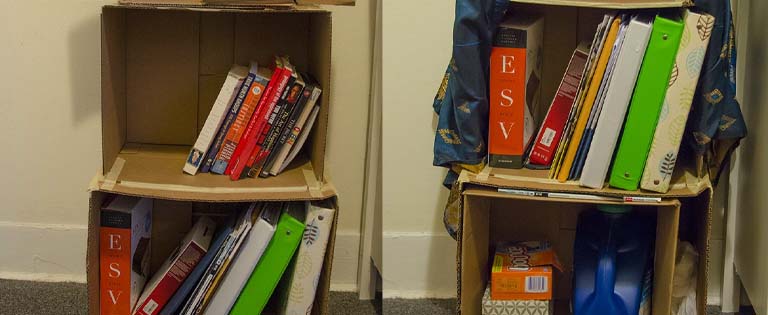 If you want to make a unique shelf out of recycled materials for your bedroom, all you need is an old ladder. You can arrange the books well on the steps to create a completely different look. A ladder bookshelf complements any type of décor and adds a vintage, eclectic touch to any room.
To make this piece of furniture, you'll need to coat the old ladder with varnish or paint to make it look nicer. Then simply nail it to the wall horizontally as well as to the ground, leaving enough space from the wall for the books to stand up and not fall down. It is one of the best out of waste wall hanging which is cheap as well as very useful.
What are the best out of waste ideas for Kitchen?
4. Kitchen organiser using old tin
One of the free of cost yet functional handy decor is reusing old oil or condensed milk tin as pencil holder. You can simply use it if the tin looks good or you can give a small creative DIY like painting or covering with decorative papers or with jute rope. One another easy decorative DIY is glueing tissue papers and painting them. This one is ideal for you if you don't want to spend a great deal on new kitchen organisers.
5. A Beautiful Thali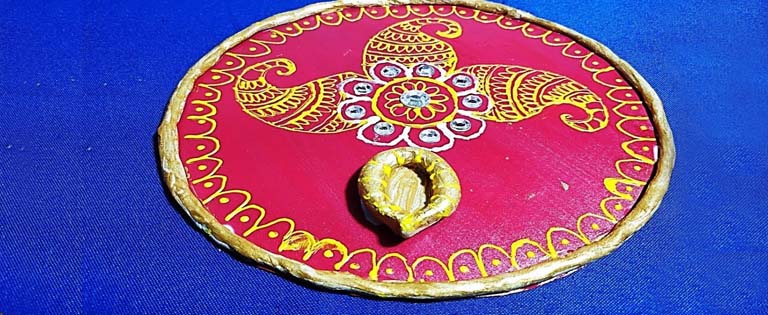 To serve snacks to the guests, a beautiful thali can be created. A steel plate, fluorescent sheet, a pair of small earrings that were lost or leftover, beads, and lace would be needed. The thali should be completely covered in a fluorescent coloured sheet. Make a border out of coloured lace. Place small beads on top of the lace small beads. A lovely thali is now ready to serve snacks to guests. Your guest would definitely seek your help to make one.
6. Tea trays using old newspaper
A stylish and environmentally friendly best out of waste ideas from newspaper is recycled newspaper coaster set, which is an excellent addition to any kitchen. Cut a newspaper halfway through. Now roll each piece on a stick and attach the ends together to form tubes using glue. Take out the stick. Flatten each paper tube and roll it into a circle, holding the ends with glue. Once diy is complete, paint it and let it dry. Make trays out of old magazine papers that have been coated with nail polish to make them semi-waterproof.
7. Cutting Board Wall Art
Don't dump the old chopping board. Paint them or decorate them with nice pictures and hang them on your kitchen wall. You can read about DIY kitchen decorating ideas here. You can also use your chopping board as a notice board by sticking reminders on it or pinning letters or invites. This way, you can make lovely wall art for your kitchen.
What are the best out-of-waste ideas for indoor gardens?
8. Vertical garden using plastic bottles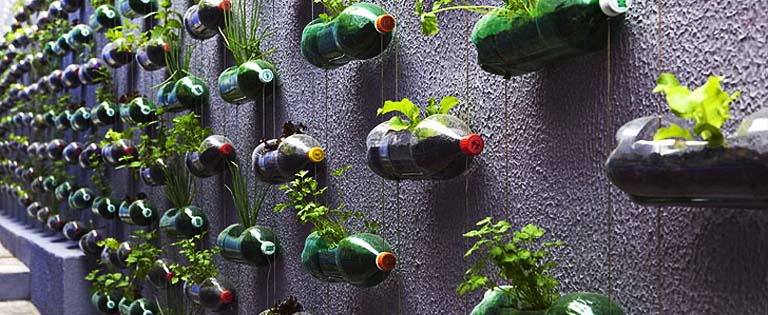 Plastic bottles can be reconfigured for indoor gardens. Cut the bottle in the required shape, paint it, and use it as a small planter. Make a small vertical garden out of plastic bottles of various designs, either on the balcony or outside the kitchen window. Most importantly, choose heavy-duty plastic bottles that can withstand the weight of soil, plants, and water. Make a few drainage holes at the bottom. Additionally, choose a place where sufficient sunlight is available. You can now hang the bottles using wire mesh or welded pipes.
9. Half plastic bottle into garden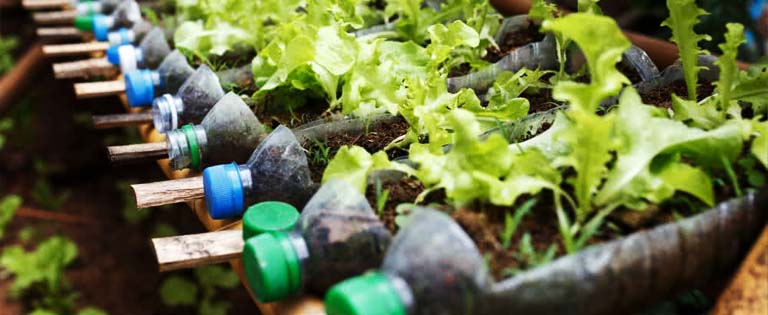 Another smart bottle garden idea is to use only half of a plastic bottle. Split an empty coke bottle in half and place a lovely green plant on each side. You can use a rope to suspend these pots in a row to transform your landscape. You could also try making these cute shape planters out of them.
10. Ideas for Bottle Plants on a Wall
The most common bottle garden design involves encircling the garden with leftover bottles or any other PET bottle. Fill these bottle pots with beautiful flower plants or creepers to create lush foliage on the wall and attach to the walls. You can use plastic bottles to create a whole wall for your garden if you want to be creative with your bottle garden ideas. Fill each bottle with soil and plant a variety of plants to make a garden.
11. Kitchen planter made out of coconut shells
Upcycling plastic reduces the amount of waste that ends up in landfills. Using waste plastic to make something creative for a modern kitchen not only helps the environment reduce waste, but it also allows us to be a little more creative in using our ideas to beautify our garden. So, let's make a planter out of coconut shells and a container. To make one, first, rinse and clean any container of your choice. Take some coconut shells and make sure they are dry and clean. Smooth the outer surface with sandpaper and break it into pieces with a hammer or other hard equipment. Then glue these pieces together, cover the top with jute rope, and finish with a varnish coat. Now you can fill the pot with mud and plant any indoor plants of your choice.
Conclusion
No matter how concerned you are about the environment, it is difficult to avoid using plastic bottles. For instance, India produces more than 1.3 billion plastic bottles daily. However, the above mentioned recommendations can assist you in minimising the amount of plastic bottle litter you throw into our environment and waterways. To maintain sustainability, dwellers of flats in Calicut are making the most of waste recycling.
PVS Builders & Developers is one of the most renowned builders in Calicut and provides some of the most efficient apartments in Calicut and Kannur. If you are looking for flats in Calicut with some of the best features and high-quality amenities then contact us today or visit our website for more information on our latest apartments in Calicut.