Small Indian Kitchen Storage Ideas – How to Organize an Apartment Kitchen?
Posted on September 05, 2023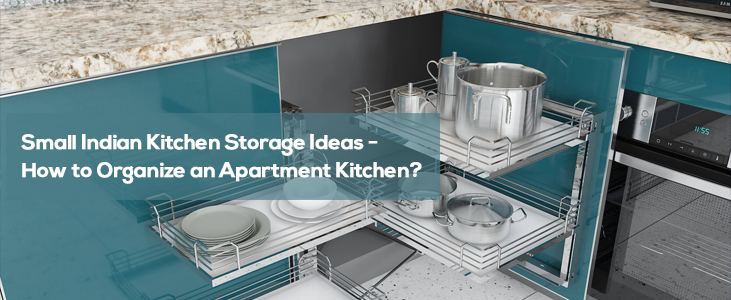 If you live in an apartment, chances are that your kitchen is quite small. How to organize an Indian kitchen is a tough question; storage can be problematic – because in India, our routine pretty much revolves around food, and our cooking style is elaborate, necessitating numerous vessels and ingredients. So here are a few small kitchen storage ideas to help you stay organized and neat. When your kitchen is organized, you can find everything when you need it, and it's easier to keep clean, making it a pleasant place to cook for the family. Also consider some of the modern kitchen interior design ideas.
How Can You Organize a Small Apartment Kitchen?
You need a place for everything, and in an Indian kitchen, it could be a lot of vessels. So first let's look at ideas to store those.
1. Pan Organizer
In India, we have dosa Tawa, chapati Tawa, frying pans, and saucepans that we require in daily cooking. Essentials need to be easily accessible. A pan organizer will help you store your pots, pans, and tawas compactly, and keep them safe – especially if they are non-stick. This is one of the handiest storage ideas for kitchen – and a smart one. Check out small apartment organization ideas.
2. Lid Organizer
With pots and pans come lids! Lid organizers are also available today which helps you deal with this problem neatly. You can mount this on the wall and quickly take one when you need it.
3. Cutting Board Organizer
Any home has at least a couple of cutting boards – especially if you consume meat (or fish) and vegetables. You may also have different sized ones so that you can use a small one for snacks prep or similar. Having all your boards in one place saves space and time, and looks neat as well.
4. Expandable Cutlery Tray
Get an expandable cutlery tray for your cutlery drawer, and organize your spoons, knives, forks, and so on neatly. Why expandable – because you may find it difficult to get one that exactly fits your kitchen drawer.
5. Adjustable Drawer Dividers
Drawer dividers help you properly store ladles, peelers, hand blenders, and the like. You can adjust the size of the partitions according to your needs.
6. Use Your Kitchen Walls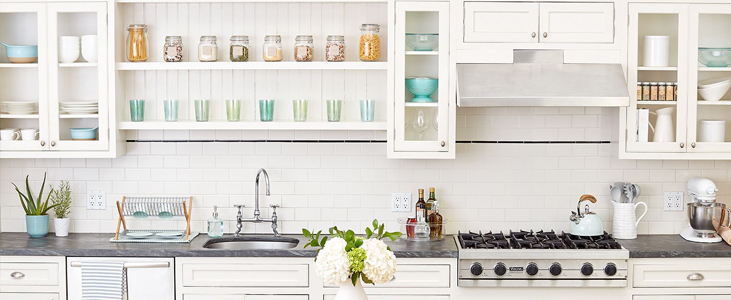 Making use of the walls is one of the smartest small kitchen organization ideas to have. You can buy magnetic strips to mount on the walls to hold your knives, add extra shelves where you can keep cute containers of tea/coffee and sugar, spice racks, and so on. You can also get a wall-mountable stand for your chapati board and rolling pin for easy access. You can also read about the apartment security tips.
7. Pull-out Shelves
Installing a few pull-out shelves is also one of the valuable kitchen storage ideas for small spaces. Instead of struggling to reach the items in the back of the cupboard, you can simply pull the shelf towards you and take what you need. You can also install what is called 'Lazy Susan' which are shelves that rotate fully.
8. Hang What You Can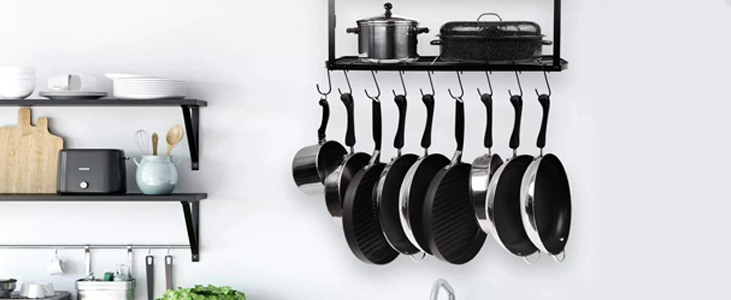 Things with handles like cups and mugs, certain utensils, or ladles with holes, utensils with hooks, etc. can be easily hung. You can install a long rod with hooks, or have an overhead hanging rack for the big pots and pans. You can find all sorts of quirky or vintage wall hooks to give a unique look to your kitchen. You can also install hooks on the inside or outside of the cabinet doors to hang cups, dishwashing towels, and the like. Also consider tips for apartment pest control.
9. Adequate Cupboards
These means don't go berserk with making cabinets and cupboards – unless you have a big family and do a great deal of cooking. If you don't cook huge meals frequently, too many cabinets can make the kitchen look cluttered.
10. Wall Mounted Shelving
A popular and easy option for kitchen storage ideas India is shelves mounted on walls. It makes a kitchen look cozy and inviting. You can use these shelves for your daily crockery as well as essential utensils, spice racks, containers of tea, sugar, and the like.
11. Use Corners
If you are looking for DIY kitchen storage ideas, this is a great one – get creative, and find a good carpenter. Don't waste the corner in your kitchen. Get a custom-made shelf or cabinet for the corner and use it for storing groceries or utensils. Consider some DIY small apartment hacks.
How to Arrange Small Indian Kitchen (Groceries and Foodstuff)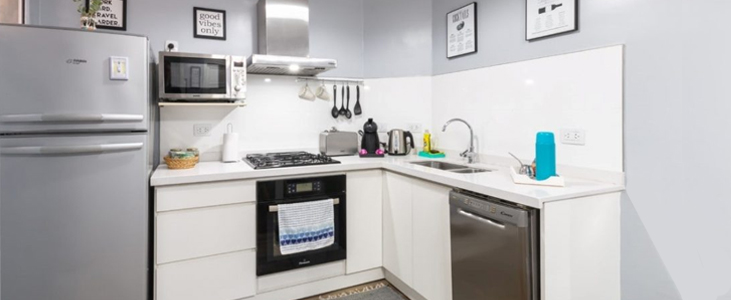 1. Glass Containers for Food Storage
Glass containers look good by themselves, and when you store pulses, cereals, etc, that you need daily, it adds a touch of color to your kitchen.
2. Large Grocery Cupboard
If you prefer to buy your monthly groceries at one go, it is wise to invest in a large cupboard that can store all your stuff. If you don't have space for a ceiling to floor type cupboard, get some overhead storage cabinets made.
3. Fridge Bins
The refrigerator is an important part of the kitchen – from fresh dairy, veggies, and eggs to leftovers and frozen meats, etc. everything goes into it, and it's important to keep it organized. Get a few inexpensive fridge bins and organize all the contents neatly. This helps you find what you need quickly.
4. Side Organizing Racks for Refrigerators
Here's a small Indian kitchen storage idea that you may not have seen or heard much of – you can get magnetic or suction racks that you can stick to the sides of the fridge, and store stuff that you would need in a hurry. Also read some of the small apartment decorating ideas on a budget.
5. Space Saving Rack with Wheels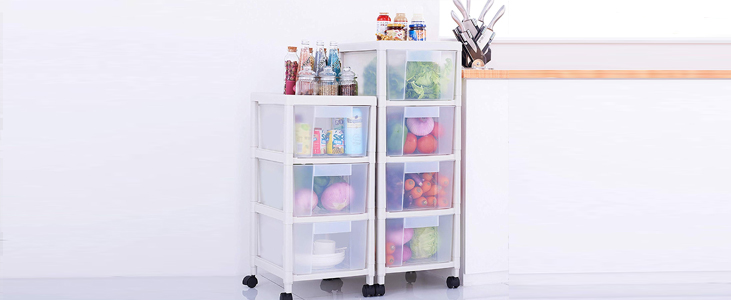 This is an absolute must-have. It's a compact yet spacious rack on wheels that you can use to store your bottles of jam, pickle, honey, seasonings, and so on. You can easily pass it around the table to whoever wants anything from it thanks to the wheels.
6. Cabinet Shelf and Door Organizers
Kitchen cabinet storage ideas can be found in almost every home you go to; a shelf organizer is something you can use to divide your shelf into compartments of the size you want. This ensures that everything is easily visible and accessible.
There are stackable shelves also available if you want the shelves smaller.
You can also fix caddies onto the cabinet doors to hold bottles (sauces, oils, etc.) or grocery items like noodles and pasta.
There are also baskets that can be attached under the cabinet – but they are useful only if your shelves are high. You can store flat objects in this basket. What's more, it can be easily removed and affixed elsewhere.
7. Under the Sink Organizer
Most people are reluctant to store anything under the sink, but in a small apartment, you need to make use of every available space, and not waste an inch. With specially designed organizers that go under the sink, you can store all your dishwash bars, liquids, brushes, scrubs, and more. Consider the common apartment plumbing problems.
8. Broom/Mop Organizer
While technically brooms and mops are not exclusively kitchen equipment, we do have a tendency to store them in the kitchen – besides the fridge, behind the washing machine, or some similar place. But that can look ugly. One of the better things to do is use one of the Indian kitchen storage ideas we have for you – get a mop organizer! It can be easily fixed on the wall, and you can neatly hang all your mops and brooms in it.
How To Arrange Appliances In Small Kitchen
Okay, so now we are done with the utensils and groceries – we still have our appliances to deal with!
1. Ovens
Most Indian kitchens today have either an OTG, or a microwave, or both. Mounting them on the wall is a good idea to save space and increase convenience. You can have both these appliances mounted on a wall shelf, one above and the other below, but with ample space around the appliance itself, and some space between those two.
2. Washing Machine/Dryer
If you want to have both a washing machine and a clothes dryer, it would make sense to get a front-loading machine so that you can mount the dryer on top of the washer. It is absolutely safe and saves space.
3. Blenders/Mixers
In our Indian kitchens, we need our mixers and blenders every single day – it would be a good idea to have a wall shelf especially for your mixer/blender, at a low height so that it is convenient for you and saves counter space. Consider the tips to know about how to compost in an apartment.
We hope this article has given you some valuable ideas to organize your kitchen storage. Do you have any small kitchen storage ideas DIY tips that you would like to share with us? Do write in the comments below!
Are you checking out the best flats in Calicut for superior apartment projects? You have come to the right place. PVS Builders are one of the most trustworthy and reputedbuilders in Calicut, with some of the best laid out apartments in prime locations. Contact us today to know more!
Frequently Asked Questions
1. How should I organize my Indian kitchen pantry?
Use clear containers: Store staples like rice, lentils, and flours in clear, airtight containers to keep them fresh and visible.
Group similar items: Organize your pantry items by category (e.g., grains, canned goods, spices) to make it easier to find what you need.
Install pull-out pantry shelves: These can maximize space in narrow pantry closets.
2. Any tips for organizing small appliances in an Indian kitchen?
Store appliances you use less frequently in cabinets or on high shelves.
Use a designated appliance garage: Keep frequently used small appliances on a countertop or shelf with a retractable door to conceal them when not in use.
Consider foldable appliances: Opt for appliances that can be easily folded and stored away when not needed.
3. How can I maintain an organized Indian kitchen in the long term?
Regularly declutter: Periodically review your kitchen items and remove anything you no longer need.
Label everything: Use labels or clear containers to help you and your family members maintain organization.
Stay consistent: Make it a habit to put items back in their designated places after use to prevent clutter from building up.