Smart Tips For Small Apartment Organization
Posted on July 24, 2023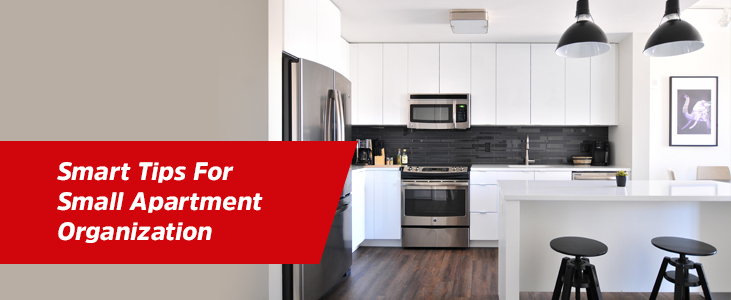 Apartment living is very convenient and provides a great deal of security, especially for families with elderly and young children. However it also gives rise to specific problems, the most obvious being smaller space, and problems with storing all the stuff you've accumulated over the years, and will continue to accumulate. Don't panic, though – all is not lost!
With some creative thinking and help from experts, you can implement some hacks to make space for all your stuff. Here are some storage ideas for apartments in Calicut:
1. For the Living Room
Small apartment organization ideas are mostly needed for the living room as that's where you entertain guests, and the family spends time together.
You can get collapsible furniture like tables and chairs that can be folded and stacked against the wall when not in use – these are usually attached to the wall so there's no danger of them falling and hurting anyone. Folding them away makes your living room appear bigger.
Dual Purpose Furniture helps you hide your stuff; it doubles as a sofa, bench, or stool, with storage underneath.
You can use such furniture to store books, stack old newspapers or magazines, or even footwear – just make sure you have sliding doors for the storage so that the shoes don't show outside.
Make lots of shelves – use them for your books knick-knacks, show pieces and so on.
It helps keep your floors or lower walls uncluttered.
Floating shelves also look impressive, and you can have a couple of them too – they lend an air of sophistication.
You can also make simple and spacious storage high up – using the wall as one side, just get a carpenter to make cabinets or racks with plywood and cover with mica or veneer, and you will get loads of storage space to hide away all the big unwieldy stuff that sometimes even you don't know why you keep in your house in the first place.
This is for stuff that is used very rarely, and since the storage is high up, won't cause any disturbance to you. You can also get open racks made, and buy storage baskets to put your things in – this lends an aesthetic and artsy look to your place – a unique personal look as opposed to the functional modern, commonplace look to flats in Calicut.
If there is no wall between your dining and living space, use an open shelf divider between the two spaces.
This can be used to store books, common medicines, keys, or even your landline phone, TV remotes, and more.
A small table or floating shelf near your main door with a tray to keep all your keys and loose change is not only functional but also looks pretty. Hang a letter holder near it to keep invitation cards.  You can also read some summer decorating ideas for living room.
2. For the Dining Room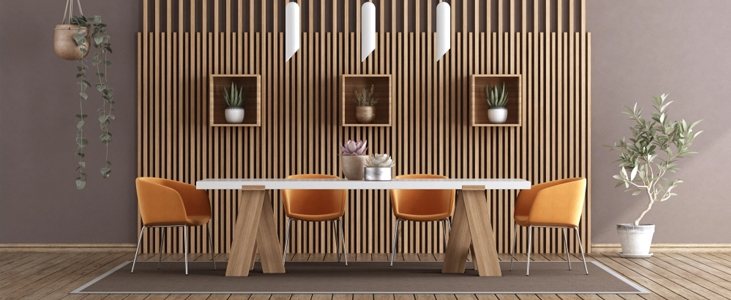 Storage ideas for apartment dining spaces are not too many, because often this space is not separated from the living room properly. However, you can try the following hacks:
You can have a foldable dining table, built into the wall, which has storage shelves, where you can store your pickles, chutney powders, sauces, jams etc., and even some daily use crockery stuff.
If you don't fancy a folding table, you can get a dining table with pull out drawers beneath, or even a whole cabinet attached to it below.
This can hold your kitchen napkins, place mats, cutlery and crockery, and even snacks and accompaniments like those mentioned above. Of course, this will mean limited room for stretching legs, but as you have to endure it only during meal times, it shouldn't matter much. Also take a look at some DIY small apartment hacks.
3. For the Bedroom
Bedrooms are sanctuaries and you need it as decluttered as possible. The last thing you want to do when you head for the bedroom to crash, is to see loads of stuff lying on the bed which you have to rack your brains to figure out where to stash.
So here are some tips for small apartment organization ideas for the bedroom:
The best option for apartments is to have beds with built-in storage. This can hold all your bedsheets, blankets, and pillow cases, and even an extra mattress and pillows.
Also ensure that your bed's headboard has storage – on top especially. You can also get pull out drawers made inside the headboard to keep your reading glasses, medicines, creams, repellents and a couple of magazines as well.
Make shelves high up all around on your walls – like a perimeter. You can store your suitcases and bags, show pieces that were gifted to you and you don't really want but don't have the heart to throw out, and more.
In one corner, install a wooden shelf in an L shape that can hold accessories and/or toiletries, and underneath, install rods on which you can hang shirts, dresses and saris. You can store your special footwear in pretty cane or wicker baskets under these clothes.
Hang a shoe holder on your door – on the part facing inside of course; you can use it to store miscellaneous stuff like accessories, dupattas, ties, invitation cards, stationery, socks, first aid stuff apart from footwear – your house, your rules!
Another option is to hang a laundry hamper made of cloth on the back of your door – you can even make one yourself, from an old bed sheet, skirt or maxi. You can put clothes for washing in this holder instead of messing up the floor.
If you want to get clever and innovative, stack up old suitcases or trunks, and use as a nightstand or bedside table – of course, you can stuff the old trunks with stuff you don't use too often, and keep water bottles, medicines, books, and glasses on the top.
To arrange your costume jewelry, you can create a soft board and cover with velvet – it looks cool as well.
You can also have a top to bottom board of cork for doing this, depending on how much stuff you have.
You can also use bead organizers to store your earrings and nose pins.
A storage bench is a great idea for the bedroom – you can store stuff in the portion beneath, sit on it and have your morning cuppa as you look outside; for best effect, place this near your window.
Consider some low cost interior design for homes in Kerala
4. For Kids Rooms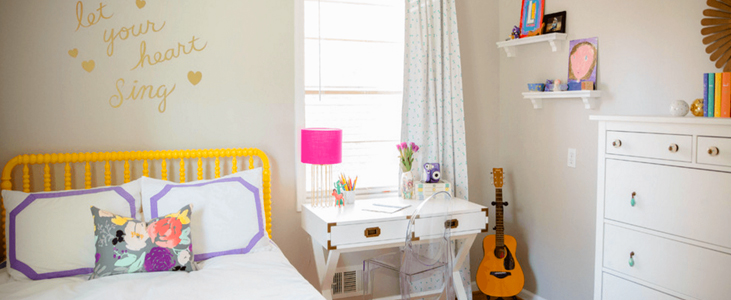 Families with young kids are sure to have a hard time figuring out how to help them organize their things to reduce morning confusion and reduce clutter in their rooms.
Small apartment organization ideas for kids bedrooms include:
Make a soft board where they can pin important stuff like timetables, homework schedules, assignments to be completed and so on.
A pegboard organizer will come in handy for them to organize school belts, ties, badges, watches, and other stuff that is needed every day – they won't have to hunt for it.
Buy storage baskets for storing their toys or sports equipment – and make it a point to get the children to put away their toys in them after they finish playing.
If you have kids who use bicycles, here's a neat idea – suspend them from hooks on the ceiling – it looks very thrilling.
Add hooks to the back of their doors to hang their schoolbags or other school stuff.
Make bookshelves on the walls for their notebooks, reference books and stuff; install collapsible desks which can be folded into the walls, or choose study tables that offer plenty of shelves and drawers so that all of their stationery and books can be accommodated in the unit.
Use drawer organizers that will help them reduce clutter and find things easily.
You can also read some tips to hosting‌ ‌overnight‌ ‌guests‌ ‌in‌ ‌your‌ ‌apartment‌ ‌
5. For the Kitchen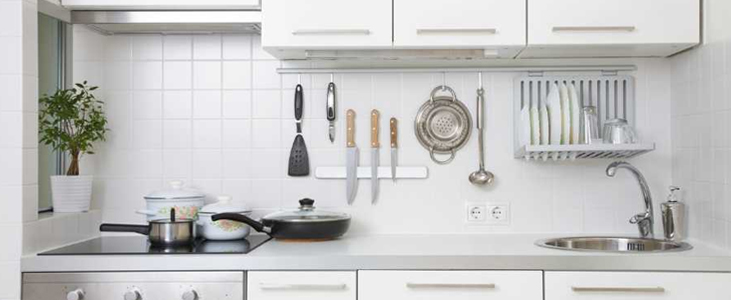 Today we all make modular kitchens in our home, and that takes care of storage in the kitchen for us. Here are some extra tips:
Build small racks on the doors of the cabinets to store small bottles of spices and condiments
Hanging fruit baskets can be used to also store kitchen towels and napkins, onions and potatoes etc.in addition to fruit. Look some modern kitchen interior designs in Kerala.
How Do I Get The Most Out of My Small Apartment Space?
Are you living in a small apartment and sacrificing style and functionality? If so, the time has changed, even a small studio apartment can be converted into an aesthetically appealing apartment. With many attractive window design ideas for apartments, you can transform your limited space into a comfortable and visually appealing haven. Here are some creative ways to make the most out of your small apartment space with attractive window designs.
Embrace Natural Light: Allow an abundance of natural light to flood your apartment by opting for large windows or floor-to-ceiling glass doors. Natural light not only creates an illusion of spaciousness but also uplifts the ambiance of your living space.
Window Treatments: Choose window treatments that enhance the aesthetics of your apartment while serving practical purposes. Light-colored curtains or blinds can visually expand the room, and sheer fabrics can provide privacy without blocking out natural light.
Space-Saving Window Seats: Creating a cozy nook by installing a window seat with built-in storage is an attractive window ideas for an apartment to look spacious. This multipurpose addition not only maximizes your small apartment space but also serves as a comfortable spot to relax or read a book.
Greenery at the Windows: Incorporate indoor plants or window boxes with fresh herbs to bring a touch of nature into your apartment. Greenery not only adds a refreshing element but also contributes to better air quality.
Mirrors for Reflection: Strategically place mirrors near windows to reflect natural light and create an illusion of more space. Mirrors also add a sense of depth and dimension to your apartment, making it feel more open and airy.
Functional Window Shelves: Install slim window shelves to hold small decorative items or display your favorite knick-knacks. These shelves offer extra storage without occupying valuable floor space.
Multi-Functional Curtains: Opt for curtains that serve multiple purposes. Blackout curtains can block out light and noise, helping you get a good night's sleep, while sheer curtains can be used during the day to allow natural light to filter through.
Miscellaneous Tips
Having a lot of stuff, even in shelves, can still make your apartment look cluttered or at least, small. A good idea to negate this effect is to cover up the shelves with doors on which mirrors are attached. This creates the illusion of space.
Even placing wall length mirrors in your living room can create this illusion, and spread the light about.
Of course, these are not the only small apartment storage ideas; but we hope that we have set your creative wheels turning with these ideas. If you are thinking of purchasing an apartment, check out builders in Calicut like PVS Builders who provide ample space for storage in the apartment layouts.
Are you checking out the best flats in Calicut for superior apartment projects? You have come to the right place. PVS Builders are one of the most trustworthy and reputed builders in Calicut, with some of the best laid out apartments in prime locations. Contact us today to know more!