Top Apartment Bathroom Ideas – How to Decorate an Apartment Bathroom?
Posted on January 30, 2021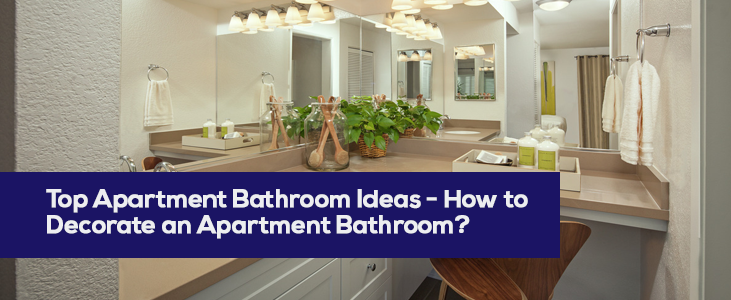 Dull paint, unpleasant grout, weird light accessories that the owner or previous owner installed? Anyone will get shocked while watching their used apartment bathroom. Or perhaps your friends or family might have helped you in decorating the current bathroom during the construction. But it turned out to be anything but decorated.
Now you need to protect it by getting creative. Don't be disheartened thinking too much over apartment bathroom decorating ideas on a budget. You can do a lot of changes with some ideas, temporary installations while also certainly completing some good cleaning.
We will guide you to transform your bathroom into something you will never be ashamed of ever. You can now learn how to decorate an apartment bathroom with this post.
Yes, this season or weekend you can finally invite your friends over for the stay-in. You probably have been putting it off stating various reasons. These transformations will not burn a hole in your wallet nor will they take ages to start and complete. We have painstakingly even found some small apartment bathroom colour ideas.
You can complete the all-inclusive renovation this week when you use some of our ideas from here. These rental apartment bathroom decorating ideas can work wonders!
We have also brought some ingenious bathroom ideas for flats renovation work. Simply choose and use some of our ideas that you feel you will love. Even a handful of these ideas can give your bathroom that needed change. A new breath of freshness. Also check out small apartment decorating ideas on a budget.
1. Start in-depth Cleaning — Start Painting something New on all those Boring Grout
Begin to rub a brush with ample baking soda mixture over all the yellowish and brownish grout. Do this with focus. If you feel that the baking soda rub isn't working much then simply start to paint on the stuff with new grout paints for tiles. One can easily find these on the easy to handle roller brush sets or pen which makes creating a bright white paint layer a cakewalk. You will find more of such small apartment bathroom design ideas below, too. The complete whitish grout can create a huge change in any bathroom. No matter even if you are a Californian Celeb. And don't forget to clean the bathroom thoroughly whenever needed. Cleanliness can bring some value to it.
2. Remove and Replace the Lights that were Hung Before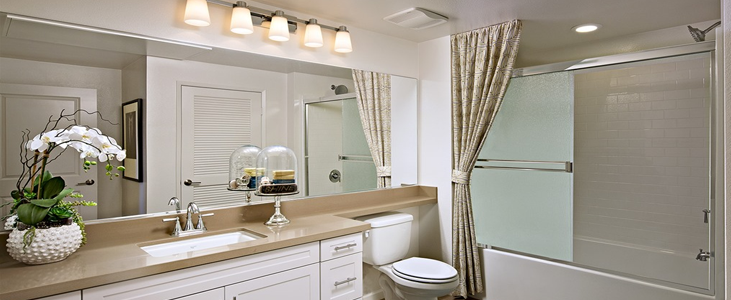 Remove the somber glassy shade standing on the weird curved nickel accessory. Instead, pick up sconces that look appealing to your eyes. Your goal is the classical, minimalistic artsy feel which suits all apartment bathrooms. Especially this step helps where the light is too bright and one will want to include a shade on the bulb. Don't forget to not throw the previous light accessory but keep it somewhere safe. You might need to place it back on the lights of the old apartment bathroom whenever you decide to go live in a new apartment. Below you will read another such innovative apartment bathroom design idea. Also read about some creative bathroom lighting ideas.
3. Perfection is in the Detail
Change the soap tray, pick a non-nightmarish product caddy from online, buy good looking toilet paper stands the ones that stand free looks perfect! Start painting over the areas wherever the in-wall stuff was placed before. Such minute details can mean the difference between a luxurious bathroom or a dirty looking bathroom. Simple changes to the smaller stuff will give you pleasant results.
4. Create Fresh Days with a Shower Head
The smaller changes will transform any apartment bathroom into a luxury lounge feel. But that doesn't mean you have to pick the showerhead which brings the effect like as though one is renting one fanciful motel. When one feels that the current showerhead is not going with the faucets or toilet paper holders, then just spray paint the showerhead. Place the toothpick inside each hole to prevent any clogging of the showerhead. Checkout some tips to save water in your apartments.
5. The Wall Must Match the Tiles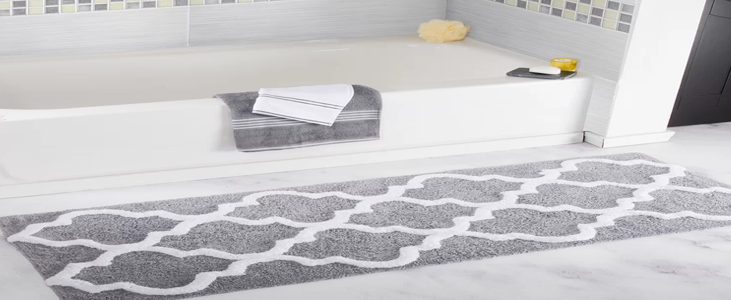 Start to use the painting technique to make those bathroom walls match the classic looking tiles that are placed in the current scenario. You can also buy some suitable wallpaper to match the walls with the tiles. Even if you have some usual looking tiles do remember to change the colour of the walls accordingly.
For instance, if the bathroom tile might be having a yellowish buttery tinge then go for a whitish shade for the walls. Simple isn't it? In the case of the wallpapers, go for a little yellowish touch which brings out the colours of the tiles. Don't use a humid-looking yellow. Most celeb's bathrooms have the yellowish tile that creates a contrasting feel with blackish or whitish touch walls. Also read about the low cost interior design for homes in Kerala.
6. Buy the Luxury Effect with Shower Curtains
Instead of focussing on the smaller details in the shower curtain, look at the shade of the curtain. What is the shade? Even budget-friendly curtains can bring a world of difference in the bathroom. You can also try adding some hook holes on a nice looking folk or folk design towel.
7. Mushy Pleasant Looking Rug to Warm the Feet
Do you know that the rag rug can offer your bathroom the best foot experience? These rug champions add so much brightness and vivid feel to the apartment bathroom. Such rug additions will bring a new character, unlike the ordinary bath mat. Moreover, the rug will easily fit your washing machine whenever you want to clean them. Besides, whenever someone is planning to stay at your apartment just add a chic faux fur rug. Such apartment bathroom decor can add a mega luxurious feel. Also read some apartment trends.
8. Fix the Latest Toilet Seats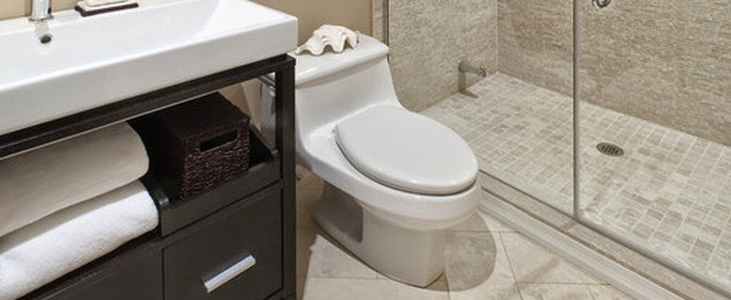 Most of us have read the information regarding this topic but we seldom focus on the thing that needs a change immediately Some of us don't even sanction the existence of the toilet seat. That is because the toilet seat doesn't deserve the minutes of attention that it may get. This scenario will change now hopefully with our guidance. Just look out for any shop nearby that has that trendy wood finish toilet seat. Especially if that seat has the shape that you love. Grab the seat! Trust me this one change will bring a new effect to the apartment's bathroom. Also Get some apartment plumbing problems and tips to fix.
These were the rarest but practical small apartment bathroom decorating ideas. Use these bathroom decorating ideas for apartments and see the change.
Are you checking out the best flats in Calicut for superior apartment projects? You have come to the right place. PVS Builders are one of the most trustworthy and reputed builders in Calicut, with some of the best laid out apartments in prime locations. Contact us today to know more!