How to Light a Bathroom?
Posted on November 27, 2020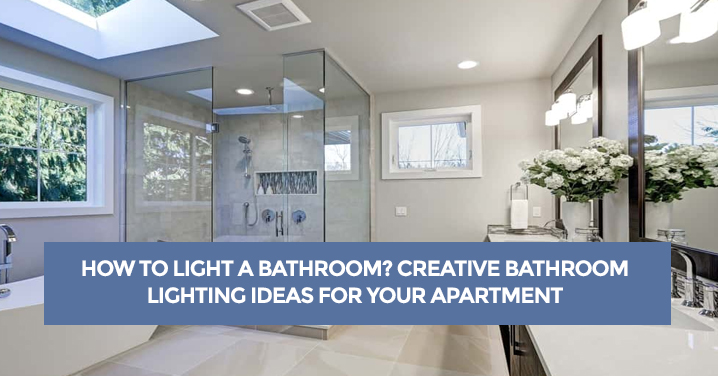 We may not like to say it, but the fact is that we tend to spend a lot of time in the bathroom – gone are the days when our elders used to think of it as a place to spend minimal time, finish one's business, and get out.
Today, we think of it as a place where we can truly be alone, and enjoy some 'me time', reading a magazine, catching up on social media, or even playing a game on our mobiles, leisurely, and then step out.
Bathrooms today are considerably bigger, and aesthetically designed, with beautiful tiles, premium plumbing fittings, and so on. Unfortunately, we often don't pay enough attention to bathroom lighting design like we should.
What most people don't seem to realize is that washroom lights form a major part of the overall design of the bathroom. If done well, the space can be made to appear spacious and cozy.
Contrary to what you may think, there is ample scope for bathroom lighting ideas to take wings.
There are several approaches you can follow, just like for any other part of your apartment in Calicut. Also consider some small apartment decoration ideas on a budget.
Here we present a few ideas – you can take your pick, use a combo, or come up with something entirely new, taking inspiration from here.
Bathroom Lighting Ideas to Consider
1. Go Energy Efficient with LED lights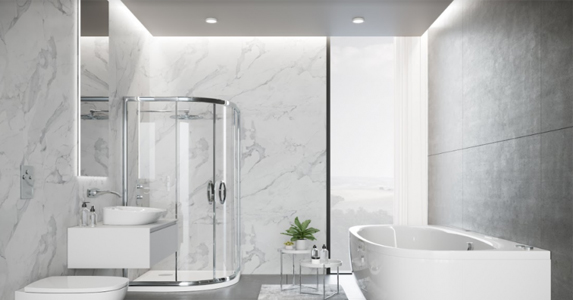 If you are particularly concerned about energy efficiency, LED lights are the most practical of bathroom lighting ideas.
They are also easily available anywhere, low in maintenance, and hassle-free, and hence convenient.
An added bonus is that they are pretty durable too.
Installing bathroom LED lights will render a lean, contemporary, and no-fuss look to your bathroom. Also read about the solar power for apartments.
2. Separate Zones with Task Lighting
You can separate your bathroom into different zones, just the way you do in the other rooms like your living room or bedroom. Also consider some tips for decorating your bedroom.
You can have first a dry area (with the closet and sink), and a wet area (shower).
The dry area can be again divided into the vanity zone and leisure zone (toilet).
If your bathroom is big enough, you may be able to create a dressing zone also in your dry area.
Wash basin mirror lights are especially important, as they help to see clearly during shaving or applying makeup.
You can also have lights that hang down from the ceiling to illuminate the basin.
Bathroom mirror lights can be arranged either on the sides – as wall sconces, or overhead lights, or you can have tiny lights all around it.
You can install softer lighting for your shower area, and even have a movable arm type reading light mounted on the wall near the toilet – so that you can read leisurely.
3. Install Mood Lighting to Create an Ambience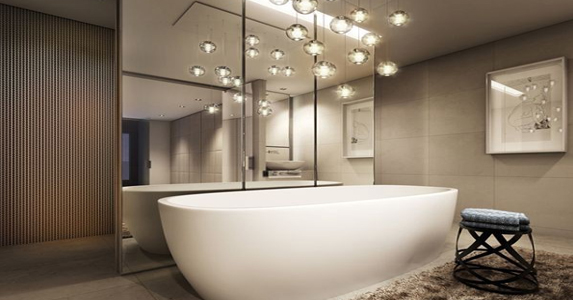 This is perhaps an unusual bathroom lighting idea.
You may wonder whether the bathroom is the place for mood lighting, but it can be done.
Installing mood lighting helps to create an ambience within a particular space, and warm lights – yellow lights in other words – that are soft and cozy, are the best suited for this purpose. Pendant lights are brilliant for this purpose – and if you put these in corners, they really work wonders.
Wall sconces can also help, especially in the dry areas.
Yellow lights are muted as compared to white ones, and there's an inviting, almost ethereal quality to them; they have the ability to bathe the area they light, creating a warm glow. Also check some energy saving tips for apartments.
4. Put in Bright Lights with Dimmers
The bathroom does need to be brightly lit for most of your activities like showering and shaving; in a dimly lit bathroom, you are not likely to be able to do these jobs properly.
However, you don't always want to feel like you are on the stage in a show.
Dimmers help you to control the brightness of light fixtures, and are very useful to have.
Bright lights with dimmers can therefore become your one stop solution for your bathroom – transforming it as per your need and mood.
5. Highlight Profiles with Backlighting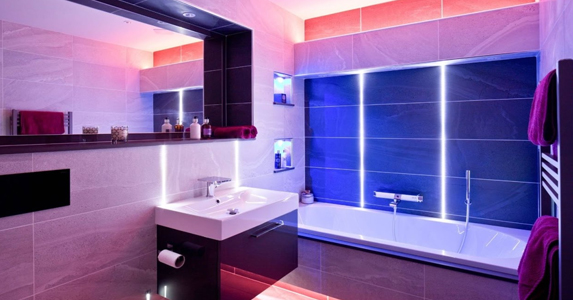 If you want to create a jaw dropping effect in your bathroom, go for backlighting.
Do keep in mind however that this is not the most practical of ideas – it does improve the aesthetic appeal, of course.
Using backlit panels is one of the best bathroom mirror lighting ideas you can consider, apart from the small lights that surround the mirror. Also get some low cost interior design for homes in Kerala.
6. Create Focus Lighting with Recessed Lights
These are simply lights that throw light downwards from their position on the false ceiling for bathrooms; they help to light up the whole bathroom, as it spreads from the top.
Recessed lights help create a bright, happy look, and in combination with mirrors, can create an illusion of spaciousness as well.
Bathroom lights and mirrors when placed in the proper positions, reflect light to achieve this effect.
You can even choose different colored lights and have fun, creating your very own private light show!
7. Layer the Lights
A very eclectic effect of bathroom lighting design can be achieved with layered lighting.
You can create a layered effect of lighting by using accent lights, task lights and all-over lighting.
The last are often recessed lights, providing light to the whole area.
Task lights, as we have seen before, help to light up specific zones depending on the usage.
Pendant lights – those that hang loosely from the ceiling, profile lights and mirrors with backlighting, are examples of accent lights.
Begin with the bathroom ceiling and work your way down, right up to the bathroom vanity lights – and voila! You have your layered light effect. You can checkout some of the apartment ceiling design ideas.
8. Theme Lighting
This approach works whether you want small bathroom lighting ideas, or for big bathrooms.
You could create a layered effect, or use mood lighting, or even layered lighting, but implement a theme – so we are basically talking about fixtures.
Some fixtures also use specific lights, like only LEDs or only warm lights, and so on. Here are some theme ideas, you can come with your own:
Nautical – vintage ship lights
Farmhouse – wooden light fixtures
Rustic – I think its self explanatory
Parisian – filigree, curvy, chandelier type artsy fixtures
Romantic – pastel hues, soft, muted shades
Modern – minimalist, geometric patterns
Arty – fabric sconces, bamboo pendants etc.
Oriental
Metallic – in hues of copper, gold or silver
Points to Keep in Mind
It's all very well that you are now gung-ho about the lights in your bathroom and are bursting with bathroom lighting ideas.
But remember that the paint, tiles, and fixtures, must all belong to the same theme and complementary color scheme as the lights.
You don't want a lot of stuff in there all clashing with one another.
Assess bathroom ceiling designs because it can affect your ceiling light choice.
As far as possible avoid light that falls straight on your head – it won't show you in the best light.
Choose an angle that shows the best side of you.
Ensure even illumination with the proper distribution of lights in the bathroom.
Opaque and frosted bulbs create a softer glow and don't cast shadows – so you might want to consider them. You can also read the latest apartment trends.
Are you checking out the best flats in Calicut for superior apartment projects? You have come to the right place. PVS Builders are one of the most trustworthy and reputed builders in Calicut, with some of the best laid out apartments in prime locations. Contact us today to know more!