Stylish Dressing Table Ideas: Get Your Best Make-Up Game Ever
Posted on January 20, 2022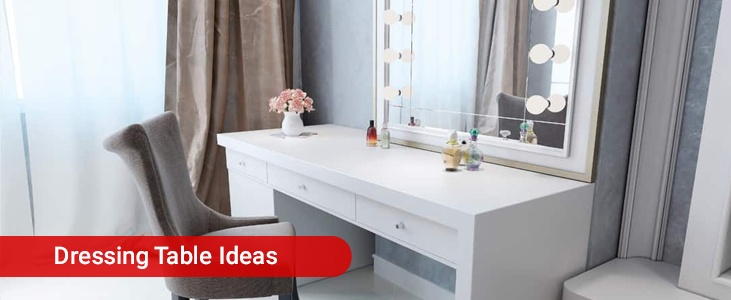 Regardless of your bedroom being spacious or confined, a dressing table should be able to serve your needs both functionally and visually. It is a space where you spend some great time, maybe for makeup, hairstyling, or getting ready for office or events- this is an area where you decide how you should look based on your beauty routine. Flats in Calicut have seen an upsurge in apartment decoration and transformation efforts to make life luxurious and worth living.
However, imagine a situation where the vanity table is messy and looks weird, with tangled up jewelry, cosmetics left open, toiletries, accessories- a pile of things laid around that spoils the beauty of it. This appearance can make your dressing table unattractive. Hence, it is crucial to transform the available space with beautiful makeup dressing table ideas, tricks, and styling tips to let your dresser look and feel luxurious.
Dressing table decoration has become an integral part of house renovation ideas with many experiments being conducted on bedroom vanity dressing table transformation and custom built-in dressing table design techniques.
What is Dressing Table and why do you need one
Dressing Table is an inevitable element of your bedroom furniture, especially the best among your apartment decorating ideas. Your bedroom looks incomplete if you miss this piece of furniture. It has various purposes and uses. You can use it to store private accessories, beauty products, clothes, and various other items. Dressing tables have multiple drawers that let you store things in an arranged way, and add great utility in addition to the elegance of the room. There are various contemporary style dressing table design ideas like foldable dressing tables, mirrored dressing tables, dressing tables with a grand chest of drawers, and so on.
Best Dressing Table Ideas you can go for
Who doesn't like chic interiors with a beautiful dresser in the bedroom corner, bright lights, and a fun color scheme to add to its magnificence? Here are the handpicked dressing table styling tips you can utilize to transform dead space and unused corners into something worthy and interesting at the same time.
1. Gift a visual balance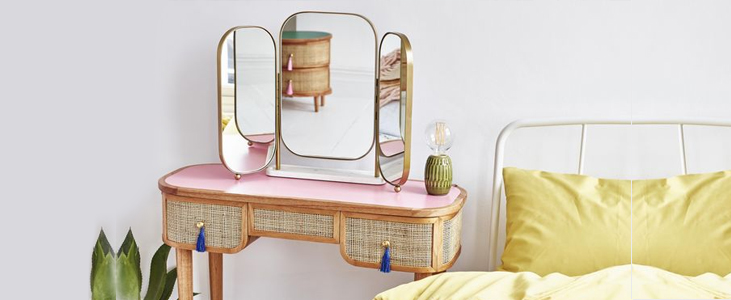 When you have a huge hanging or an attractive piece right on the wall, the dresser can deliver amazing visual balance. When the dresser is beneath a window, then you get natural light and don't require anything particular. You may also use a large vanity mirror to add to the beauty and magnify the space of your room. A piece of artwork or a cluster of sequence pictures can also transform your dressing room with more depth. If you prefer hangings, then ensure that the focal point is at a minimum of half the width when the top of the dresser is considered.
2. Include tall accessories
If you have placed a hanging mirror or a piece of artwork, you can go for adding something tall next to them that can let you zone the space perfectly. If your bedroom has a bedside lamp, then you can have another second lamp. Also, you may go for a pillar candle or a tall plant. It can add more functionality to balance the focal point. It is also advised to go for placing a narrow and tall vase. Faux flowers can favor this system and make the dressing table top look stylish.
3. Make a separation for dressing table and sleep space
Sometimes, your bedroom might also take up a study space and can have a place to pen something for work, and a table with stool to add to the impression. It is great to have a separation between the dressing desk and the space you sleep in. When you have a master bedroom, you can use curtains that make a smooth separation for the effect of two rooms joined into one. Instead of a curtain, you can also choose a floor-standing screen for the separation. A chic bedside table and an elegant table lamp, along with a center mirror can replace bulky furniture, with an ideal color choice.
4. Be choosy about the vintage items
When you purchase antique pieces or vintage items for the interior, this can build a homely feel. However, it is important to be selective so that the room is not clumsy and cluttered. Random objects can destroy the beauty of dressers, and you need to ensure that things are aligned and not messy. Allow a few vintage pieces that can stand out like a grained antique dressing table, or antique vanity table, along with Italian- model golden mirrors, with an elegant background with classy decor made up of white, pale wood, or marble. One or two vintage elements will be more than enough to add to the charm of your dressers.
5. Mural Backdrop can be a vibrant addition
A dressing table is not just a space for makeup, it is somewhere you relax, feel free, and escape from the chaos, where you need to build an inspiring backdrop. Try your dressing table backed with a mural wallpaper, which is surrounded by beautiful nature or an aesthetic scenery far away. You can also pair it up with marble flooring, or pale white and classy creamy walls to add to the elegance.
6. Dedicated Makeup Storage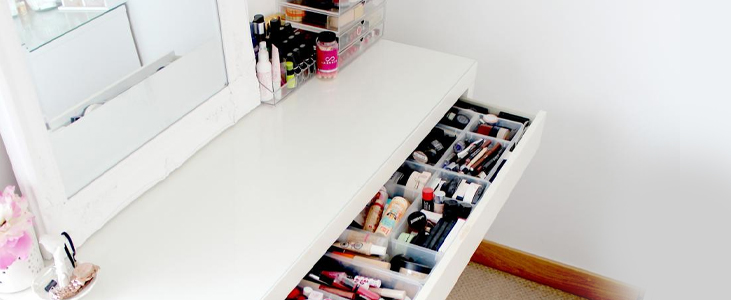 Why do you need to hide those colors and expensive makeup in a drawer? Show it off with a dedicated place for pride over your tabletop. You can choose transparent makeover organizers with multiple sections allocated for palettes, lipsticks, and other items to keep them in order. If you have a clear view, you can avoid spending time in search of various cosmetics. You can also try mixing and matching several organizers together to add to your collection. If you have a habit of removing makeup at dressers, then you will require a place to store the earbuds, remover pads, etc. Get a pretty colored jar, and give the table a more polished look.
7. Go for Makeup brush holders
Brushes are for your face, hence keep them clean and near. Don't get them packed in the cosmetics bag. Good brush holders can show off them clearly and look stylish, saving your pennies too. You can also try a pen pot or other organizer that keeps the brushes upright for easier access. You can also use this to keep your hair accessories and essential vanity mirror if you don't prefer keeping them inside the bathroom.
8. Store your jewelry inboxes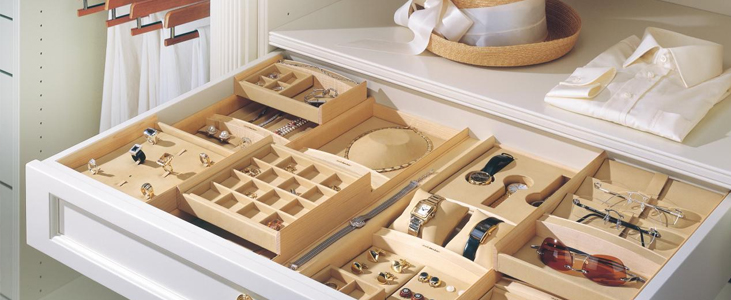 It is always a headache when the time strikes, and you still keep searching for your favorite jewelry pieces among the unorganized ones in the box. To get rid of this, and make things effortless, you can display them in glass cabinet storage space and you can see them very easily. When you have a huge jewelry collection, you can invest in various organizers. Get a jewelry tree to hang the bracelets and necklaces, while using a ring holder to store your rings. You can also store the earrings in a dish or nifty box. When you have a small collection, you can choose an organizer with multiple compartments.
9. Be careful with the lighting
Lighting is a crucial element and the dressing table light ideas are worth implementing in your bedroom spaces. If you are into luxury, then a Hollywood-style wall mirror, oval mirror, or trifold mirror will let your space go well with the perfect lighting, and make the space most glamorous. To add more peace and romance to the space, you can have mood lighting on the ceiling or cool wall light, and also save space for the items on the table. Also, read more about bathroom lighting ideas
10. Take care of the Chair Sizes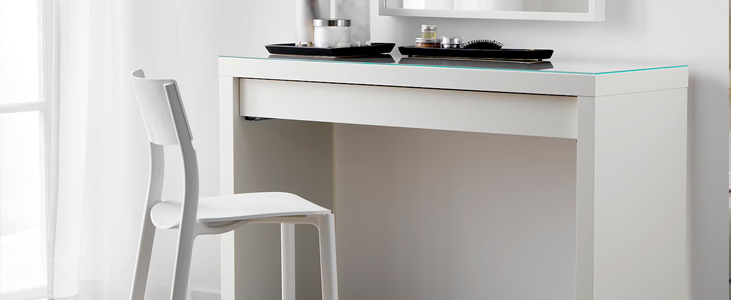 Get a chair with good texture and color to make it a piece of elegant furniture, and most importantly one with an apt size. You can use faux fur to the chair, and feel cozy while you get ready. Your chair needn't be so huge, it can look cluttered. You can also opt for a cute stool rather than a chair. Though you don't get back support with the stool, it can slot easily beneath your dressing table and save a lot of space. Get a velvet stool or upholstered stool to add to the luxurious appeal of the room.
11. Dressing Table Ideas for Small Bedrooms
If your bedroom is small and doesn't have extra space, this doesn't mean that you can't style up your dressing table. There are numerous modern dressing table designs and low-cost interior designs with various sizes and shapes in the market, based on the space you have in the bedroom. Most of them are ideal for compact spaces, and you can maximize the nook and corner with a modifiable dressing table which is completely mirrored along with a big drawer and handle hidden below. You can choose a corner for beautification and opt for focused light to transform the awkward corner bed into a chic dressing table.
12. Use Colors and be Creative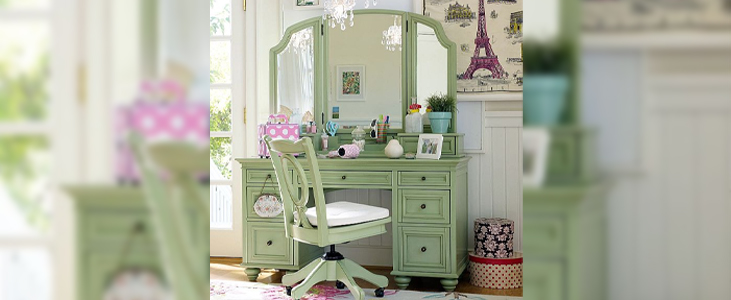 Colors always add to the mind and energy. When the vanity table is colorful, it gives more liveliness and character to the bedroom space. The use of vibrant colors is fun when your dresser is concerned. It can change your mood and give you a positive colorful state of mind while getting ready. You can also revamp a vintage table into desirable furniture and apply a coat of new paint to get an affordable and creative result.
Conclusion
A fantastic vanity table has turned out to be one of the superior concerns while brainstorming the apartment living room ideas. You can add to the beauty and charm of the dressing table with expansive tables, magnifying mirrors, attractive furniture placement, excellent bedroom lighting ideas, upholstered chairs, and comfortable tables. The above tips for decorating your bedroom and dressing table can be helpful for you especially when you have flats or apartments with limited space.
Are you checking out the best flats in Calicut for superior apartment projects? You have come to the right place. PVS Builders are one of the most trustworthy and reputed builders in Calicut, with some of the best laid out apartments in prime locations. Contact us today to know more!