Top Tips For Kerala Style Pooja Room Designs in Apartments
Posted on October 12, 2021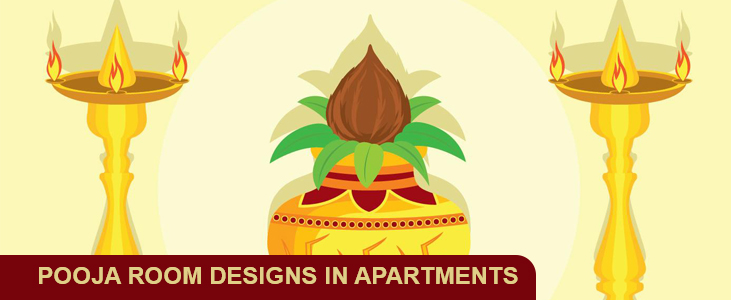 In the present society of family units and little flats or apartments, individuals have no space to setup prayer room. Today's nuclear family setups are confined to smaller areas, and the need for modernized rooms has risen. The small, but elegant Pooja mandap designs have highly been in demand which can be easily fitted into your room corners or hallways.
The Pooja room designs Kerala style can give a traditional outlook with rich temple designs, carvings,  bells, and bright Kerala style Pooja room door designs which are attractive and mind-grabbing to the apartment dwellers. 
Small Pooja mandir designs with a tranquil and peaceful ambiance are trending with the evolution of luxurious lifestyles in apartments. There are many aspects like idols, design, structure, colors, etc, that must be blended appropriately to make the Pooja mandir extremely calm and enchanting. Check out some of the tips for a low cost house construction methods in Kerala
Need for a Pooja Room Where You Live
A dedicated place to pray is also a place for building a positive aura. It spreads peace, positivity and gives you meditative calmness bringing pleasure to your life. To wake up with blessings, and go to bed with the immense satisfaction of witnessing the favorite idols' presence at your Pooja rooms, is a special feeling. Spiritual belongings can also boost your energy and maintain peace of mind.
Prayer room plays an integral part in delivering you the positive powers with its spiritual arena. Worshipping Lord almighty, the supreme power brings prosperity and power to you, with utmost spirituality. Kerala style Pooja room designs are trending with its outstanding beauty and the positive appearance it brings to your apartment spaces. Always remember not to keep the Pooja room space near the bathroom walls or beneath the staircase, which is against the Vastu Shastra.
Why Pooja Room Designs in Living Room is Trending
Gone are the days, we had big spaces for Pooja rooms, the modern exquisite Pooja room for apartments can now be fitted into a little space to embrace the divinity and devotion in your apartments, without losing the charm.
If you are about to choose a mid-sized enclosed pooja room, then you can go for a minimum of 5×7 feet measurement for people to be comfortable to pray together as families or groups. 
Since living room is the place where the entire family comes together to spend time with each other, it is a great idea to make your puja room in there.
For all those people, who live in a small apartment or flat and cannot afford to make a separate puja room in the house, living room is the best alternative.
Also, as all the guests and people from outside the family come to meet you and sit in the living room, they will also get a clear glimpse of the puja room in the living room.
Things to Consider before Pooja Room Design
Here are some important things you must keep in mind before deciding to modify the apartment spaces for Pooja rooms or include Pooja spaces in your apartments.
Ensure that you make good use of the space you have. Instead of going to work on the spaces, have a vision, and if you have any extra spaces left, you can use them simply to modify them into a Pooja room. Else it is better to have strategic ideas to find out spaces for Pooja room constructions.
According to the space available, you can then take the next step of design selection. Depending upon the space, get design patterns, which you can also get an idea through the internet resources or an expert who can guide you well on them.
Let colors speak for your spaces. Even if you have a small space allotted for Pooja, a blend of colors that can partition and highlight the specific area, can be beautiful and seek attention, invoking better peace of mind. Choose colors like Yellow, Orange, White, Green, and Golden to welcome Vastu vibes to your prayer room.
Just like colors, the designs and decor can also reflect your personality and attitude. Choose cool and traditional designs, to decorate your Pooja rooms. Also, be very sure about the direction in which you decide to place the Pooja mandir. It is better to avoid positioning the Pooja rooms to the south. The best position to place your Pooja rooms is to the northeast. If this isn't possible, you can choose between north and east positions too.
Pooja Room Design Ideas for Apartments
The Pooja room designs need not be too expensive or bulky. Even a simple and strategic approach to the Pooja room spaces, with dedicated spaces for placing photos, idols, lamps, and other Pooja stuff can add more refinement to the spaces.
The décor for the puja room can be simple as well as grand, depending on your budget and preference. You can put just a central light and the décor would be complete.
The presence of pooja room in your home or apartment gives positive vibes. So while setting up or decorating a pooja room for apartments , you have to consider some points.
Let us discuss some of the pooja room designs Kerala style here. These pooja room ideas are space saving.
1. A Corner or Alcove: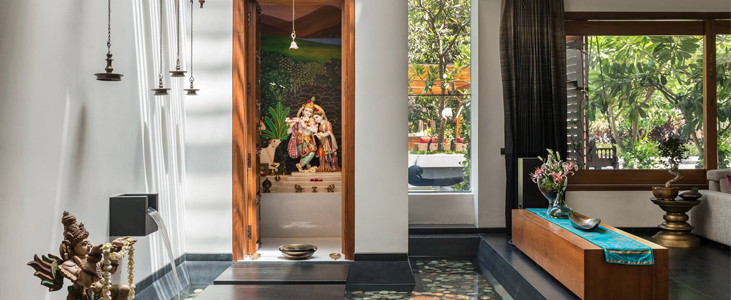 One of the best pooja room designs for apartments or flats having small space ,is to use or utilize the corner that you do not know how to use. There are often corners in your living room or drawing room or any other part of your flat that would otherwise be wasted. You can simply turn that into an alcove and a puja room.
All that you need to do is make a tiny podium and then place the gods and goddesses on top of the podium and your puja room is ready. However, this looks good only when you keep things simple. The alcove puja rooms are not good for hosting too many gods and goddess statues or photos. This will make it look clumsy. Just place one major god or goddess or a pair of god and goddess and dedicate the puja room to them.
Also, another useful idea that must be mentioned here is that you can use this podium as a storage space for storing all your puja ingredients like candles, diyas and prayer books or incense sticks etc. Do not waste this space as with the puja room, the need to store the puja ingredients always comes in. They must be stored in a space where they will be untouched from the rest of things in the house.Wants more information on low cost interior designs for homes. 
2. Puja Place in Shelves:
When you are looking for pooja room designs for apartments or homes that are small and do not have much space in then, puja room in shelves is a great idea.
Just as you put show pieces and things of décor in shelves and utilize the corners of your rooms, you can choose a corner in one of your rooms and transform it into a puja place or room.
The best part of this idea is that when people cannot afford to make a podium and have to arrange the puja room in a really tiny space, rather than making the puja place elaborate and wide, you can expand it in height. Add 3 to 4 shelves in the corner. It is okay if the shelves are not too wide as you will be putting your deities in all these shelves.
The only thing that you have to make sure is that you do not make it too high. You must keep them within your reach. If you want to maintain the privacy of your puja room and do not want to make it open to the outsiders, you can arrange for curtains and hide the puja room from the eyes of the outsiders. Get some house renovation ideas in Kerala.
3. Puja Room in Cupboard: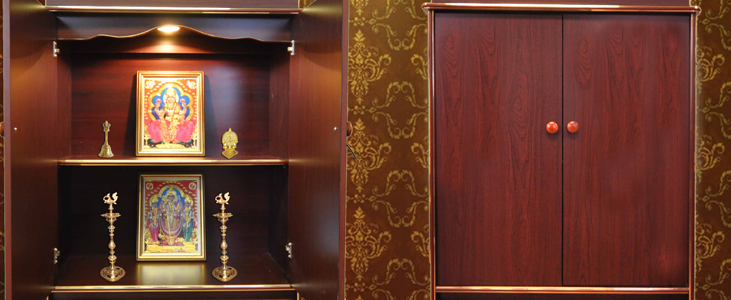 Amongst the many modern pooja room designs, the most innovative one would be to transform a cupboard into a puja room. This is the most favorite and convenient option since you can get it done even in a very tiny space available to you.
There is sometimes only a wall in the flat or apartment where you can place either a chest of drawers or a cupboard and not too many other things.
However, for the puja room, you need a space where you can house all your gods and goddesses, their statues and photographs or all the other important things that you find precious and want to worship.
They especially require a wide and broad display platform. However, if you can arrange them in parallel shelves and put them neatly inside a cupboard, it would not take too much of space and still give you a separate praying area. In many flats in Calicut, you will find this new trend being adopted very well.
You can decorate the pooja cupboard as you wish. Nowadays, many of the carpenters are making special puja cupboards where you can easily keep your deities and the cupboard will look like a temple from outside.
4. Separate Puja Room:
Another of the many pooja room ideas in living room would be to make a separate puja room right within your living room area. For this you will have to use a wooden wall or a false wall and give a corner of your living room the impression of a separate puja room.
You can add beautiful lights and nice tiles to decorate the puja room and give the prayer area a beautiful touch. The more carefully you make the puja room, the more beautiful it will turn out to be.
This is important as the prayer room is supposed to be the place that makes you calm, happy and peaceful. So, when you enter the puja room, you should be content with the place.
Glass covers, false ceiling, glass covers and marble finish tiles can transform any place into heaven nowadays. Go through the options and ask your builder to make these additions to your apartments in Kozhikode. There are some small apartment decorating ideas on a budget that will help you to create your dream home.
5. Puja Room in the Walls:
When you cannot find a suitable place in the house where you can actually make the puja room or if you believe in Vastu Shastra and it says the right place where you can make the puja room is occupied by a wall and you cannot remove the wall due to layout reasons, you can simply convert it into a prayer room.
However, this is possible only if the wall is thick enough. Sometimes the walls are thick and there are spaces for cabinets inside the walls. You can remove a section of the cabinets and create the puja room in there.
If you think that it will take away all of your store space from the cabinet, you can certainly keep as much of the cabinet as you want, right underneath the puja room.
Just make sure that you have ample space for the gods and goddesses in there and the rest you can use for your usual storage space. Also read apartment ceiling design ideas for your new space.
6. Floating Shelves on the Walls: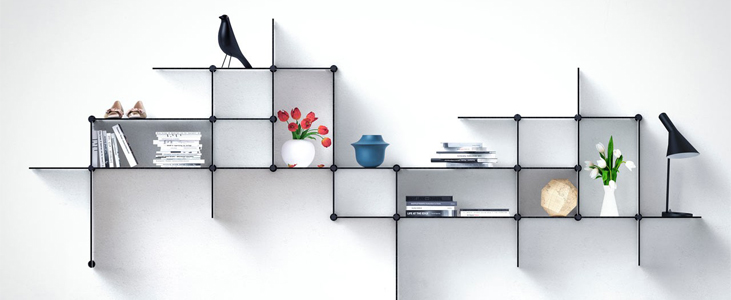 Another similar idea for the prayer room using the walls of your flats in Calicut would be to place the photos or statues of your gods and goddesses on floating shelves on the walls. This is very useful when the walls are not thick enough to make a temple or transform a cabinet on the walls into your prayer room.
Do not make the shelves too thick. Make them just thick enough to hold the photos of the deities and statues of the deities. Uniformity is the key in this case and if all the photographs and the shelves are of the equal size, it will give a stunning appeal to your prayer room. Also checkout some apartment security tips.
Some Useful Tricks for Pooja Room Designing Kerala Style:
Here are various Pooja mandir designing techniques, you can make use of while thinking about space-saving techniques and attractive options.
Avoid cluttering Pooja room space
Clean your Pooja rooms frequently. There are chances of leaving the Prasad from the temples, the leftovers, and packets in the Pooja mandirs. This can be intimidating, it is believed that these can stop the flow of good spirits to your Pooja spaces.
Decorate Pooja rooms with wooden designs
Wooden altars can make the place of worship more ritualistic and brighten the Pooja rooms. Wooden mounted units, dark brown wooden pooja cupboard, Plywood wooden Pooja room door designs Kerala style, Pooja room partitions with wooden panels, are all excellent ideas you can implement while saving spaces and making the spaces look elegant.
Design Pooja rooms with glass
Glass partitions, glass panels, and colored glass are gaining attention in the apartments. Sliding glass door designs, glass-painted Pooja doors, etc. are stylish and give a magical appearance to the Pooja spaces.
Include backlit panels for wall decoration
Laser-cut backlit panels and decorative Jallis for Pooja rooms can make your Pooja rooms look incredible. The dimly lit panels can give a modern finish with a more divine appearance. Be sure to give a warm glow with better lighting facilities and transform your private prayer rooms into feel-good spaces.
Decorate Pooja rooms with accessories
Just like the designs and decorations, the accessories you use in the Pooja rooms are also equally important to give the best appearance. Try to select items like good wall hanging, lamps, wall stickers, paints, Pooja room mat, vibrant colors, pooja essentials, bells, diyas, thali set,  brass objects, wreath, etc. to modify the spaces and give it the best look.
Choose great idols for Pooja rooms
As per the Pooja Vastu, the idols should not face each other. Make sure that the direction of God's face is to the northeast.  Avoid placing cracked or broken statues, replace them with new item, and avoid all unnecessary items inside the Pooja mandir. Make sure that the idols, lamps, and Diya are cleaned regularly.
Add elegance to Pooja rooms with marbles
White marbles are realistic and peaceful. Marble is the top recommended and go-to material as far as the Pooja rooms are concerned. Though this is an expensive option, marble flooring, spaces, walls, or wall-mounted shelves can create the best ambiance of Pooja rooms.
Use metal to decorate Pooja rooms
Using metal decor for Pooja rooms can be a more soulful and scientific healing method. It is believed that the presence of natural metals like Copper, brass, etc. in Pooja rooms can be the best option to absorb the negative energy and gift you with the positive energy in the prayer rooms.
Conclusion:
These were just a few ideas on pooja room designs Kerala style in apartments in Kozhikode. There are no fixed rules as to how you should make your prayer room. You are free to make your own designs, but the traditional Pooja room designs for home Kerala style, are greatly in demand and witness a growing appeal in the interior design segment. Just make sure you keep it simple and clean. If your mind is pure, no apartment is too small to make a prayer room. You can certainly ask the home decorators, Kerala verified supplier and designers to give ideas about how you can utilize your apartment space and come up with a beautiful prayer room in your house. Experts can guide you more on the topic as they are well-versed with the techniques involved in the pooja room design.
PVS Builders is one of the best builders in Kerala, which provides the best flats and apartments in Kozhikode. To make your dream homes, with all your necessities fulfilled, contact us soon.