Top 12 Kitchen Cupboard Designs Tips You need To Know About
Posted on October 23, 2021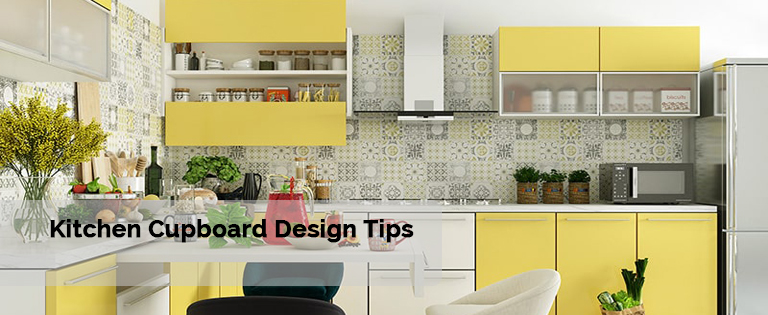 Kitchen cupboard designs in Kerala are nowadays highly different from the traditional cupboard designs. The inhabitants make efforts to build a kitchen with differences that can exhibit creative designs with a glossy finish. As per the customer requirement, the Modern kitchen interior design patterns have flourished to present a high-standard-looking kitchen vibe. Flats in Calicut have been successfjul in considering client demand for an aesthetic kitchen with beautiful interiors and making it pretty with the kitchen cabinet designs framework for a Modern Kitchen interior design.
Kitchen cabinets can represent a high percentage of the kitchen's space and structure. It is very important to choose the best kitchen accessories, automatic appliances, design materials and make the right theme-based kitchen that enhances ample storage with a stunning appearance. Among the essential things you need for a new house, innovative kitchen cupboard designs also play an important role in the current world.
Let's discuss some Small Indian kitchen storage ideas which can let you transform the current kitchen shape with colorful cabinet kitchen designs.
12 Kitchen Cupboard Design Tips
Let's now go into detail about the Kerala Simple Kitchen Design Tips for Small Homes, which can be useful for you to elevate your small kitchen spaces and highlight them with modern designs of kitchen cabinets.
1. Be sure about the material you use for Kitchen Cupboard Design
The material you choose for kitchen cupboard design can depend on the budget and the concept you have in your mind. There are many materials available in the market that can enhance your dream kitchen with an ideal kitchen cabinet. Plywood is the usual material used for the cabinets, due to its affordability and rich feel. If you wisely choose good-quality plywood, then your beautiful kitchen cupboards can exhibit high durability.
Medium Density Fibreboard (MDF), hardwood, natural wood, Polyurethane, Laminated Particle board, etc. are also available for cupboard designs. Try kitchen-material like Marindi, Teak, Sheesham, or rosewood, etc. if you choose hardwood for your cupboard design. The brown wooden kitchen cupboard goes with every interior, and hence hinged oak wood storage cabinet and brown teak wood wooden kitchen cabinet are highly in demand for modern kitchens.
You can also laminate the kitchen cupboard with wood veneers placed above the cabinet boxes that already exist to give it the excellent feel of a brown wooden kitchen cabinet. Modern Indian kitchen space has also been trying the steel-based cupboards to give it a luxurious appearance.
2.Analyze the space and choose your Cupboard style
It is necessary to analyze the kitchen space your homes or apartments have. Based on this, you can choose between various options of cupboard designs available in the market.
The various types of trending cabinet designs include Stock Kitchen cabinets, open kitchen cabinets, Corner Kitchen cabinets, Outdoor Kitchen cabinet ideas, and Modular Kitchen Cabinets, etc.
3. Go for a Handle-less build and design
Multitasking is the modern demand, and hence people go for the most modern kitchen style with the use of textured woods, hi-gloss whitish designs, and ceramics to give modern properties.
The advancement of technology has paved the way for having push open doors, closed doors, handleless cabinets, and many more varieties. You may choose various handleless designs as per their requirement and use contrasting colors along with kitchen accessories to give it elegance.
Don't give too many kitchen elements in the kitchen, this might look plumpy, so it is always best to give space to ample light and small open spaces for storage.
4. Give colors to your kitchen cabinets
Kitchen cabinet colors can also let your kitchen cupboard look absolutely cool, in addition to the drawer front designs. People opt for more broad and cool designs aligned close to the personality of the inhabitants. A combination of colors and plain colors are also chosen by the dwellers based on their preferences.
Based on the amount of light entering the kitchen, you can opt for the kitchen color you use in the kitchen cabinets. Make sure it goes well with the tiles, and the kitchen accessories used. Well-painted kitchen cabinets can be refreshing and give it a timeless finish.
5. Make the Cabinet doors Impressive
The creative doors can be used to replace the existing ones if you are satisfied with the kitchen layout that already exists. You can also try replacing some doors in particular, maybe try with the wall units, a single part of the kitchen as a centralized part to go for unique cabinet doors.
In the modern kitchen, you can choose selective colors for the cabinet doors. The kitchen cabinets have satisfying and most simple designed doors to change the look of your kitchen.
6. Allocate cupboards to store Breakfast items Separately
With dedicated cupboards for breakfast and coffee desks, you can make things to be stored well in specific places such as cups, saucers, coffee machines, snacks like biscuits, etc.
The most trending cabinets have Bi-fold doors to fetch the contents easily from them. You can also make it more convenient with an integrated fridge that can hold milk-like items.
7. Fill Empty space with Beautiful Cupboards
Every small space needs to be considered when we think of a small kitchen. Generally, the base unit cabinets have 540mm depth, and the shallower cupboards have 389mm depth.
Filling empty spaces with the cupboards is the best idea, because the 3feet space left empty below the ceiling might look more disgusting, but feels complete after the cupboards take the space. It can look good and feel good due to the storage capacity. You can also get advice from an expert team to get ideas on customized surface finish and placing of counter space for your kitchens &interiors.
8. Get the Kitchen designs more Curvy and Modern
Gone are those days where straight-lined kitchens made your day. The modern elements of kitchen designs are curvy and more creative. The curvacious kitchen cabinet designs are trending with the introduction of U-shaped kitchens and L-shaped kitchens. Kitchens are not only meant for cooking, it has now been a time to enjoy, share great ideas, and enjoy your life.
The rounded curves of your kitchen cupboards can enhance the looks of your kitchen spaces, with bold and clean designs and an excellent finish to the kitchen cabins. The individuality and attraction of kitchen cupboard designs are enhanced with the curvy kitchen cabinets. Unlike the linear or straight kitchen, the curvy-shaped kitchen designs give stronger appeal to the styling of kitchens.
9. Change your Kitchen to a Pantry style
Pantry-style kitchen-based cupboards are versatile options that stand close to modern living and present a classy appearance at the same time.
The demand for low-level kitchen setup and the current world shopping behavior has created the requirement of this type of cabinets. In addition to the contemporary kitchens and classic kitchen ideas, pantry styles let you take into account the kitchen aesthetics.
With the pantry, you can sync the wooden cupboards and cold slabs, or the deeper and shallow shelves to give a more clear view of the items.
10. Give a Personalized Touch to the Open shelves
Traditional style wall cupboards are no more the cup of tea. The storage spaces come with excellent shelf ideas, and if you own an excellent crockery collection or amazing cook with the habit of having ingredients stored in fancy containers to exhibit and access instantly, then open shelves are the ideal options.
Make your shelves smarter with good sections. Make it look cool with joints, colors, and enough spaces to hold what you require. Give your personalized touches, add a small flower pot or an ornamental garden decoration around to make it look great and give life.
11. Include Vertical Cabinets
Change angles, and believe, you can make your kitchen cupboards super cool than you can ever think of. Place best options like a chimney in the central focus to give more highlights to your vertical cabinet designs.
Based on the height and the size of your kitchen, you may think about placing the vertical cabinets with a modern finish type in the kitchen spaces. Keep in mind that the standard size of a kitchen cabinet is 600 mm in width. It is ideal to keep these in mind while plotting room for sections.
12. Let Shaker-Style Kitchen Make It Bright
The 18th-century magic, and evergreen kitchen design, Quakers now called shakers, consists of decorated ambiance along with furniture that makes excellent functional pieces necessary to lead a simple but unique lifestyle.
It revolves around the concept of bringing light to the darkness and making kitchens reflect the light. Furniture made with light woods like maple and cherry, and bright-colored paintings add to the beauty of Shaker-style kitchens, equally ideal for both traditional kitchen design and contemporary kitchen designs.
Bonus Point: Choose the Best Wooden style finish
To give a more casual, solid, and organic finish to your shelves and cupboards, design them with wood.
The outstanding grain patterns of wood make your kitchen look natural and impressive. Use an attractive collection of wood like walnut, rosewood, oak, etc. And give your kitchen cabinets a neat look, along with good colors and painted panels.
Wood is expensive, but through the introduction of modular kitchen designs have come into existence, wood is the favorite choice for the classy sections of people.
Conclusion
Regardless of designing a brown kitchen cupboard, corridor style kitchen cupboards, modular kitchen cupboard, or solid wood kitchen cabinet, your choice should help you achieve a clutter-free design to be tried in Apartments in Kerala and homes. They utilize the specific available space in the kitchen in the most efficient and smart way. With well-designed cupboards, you can improve the storage and make them look and feel more pleasing.
With the best Kitchen cupboard designs in Kerala, it becomes easier for you to organize the kitchen cupboards, so that you can reduce the time spent on cooking, by clearly knowing what is kept where. Also, when you don't have to search multiple places to get what you need urgently, then kitchen cupboards are time saves and most importantly, life-savers!
Are you checking out the best flats in Calicut for superior apartment projects? You have come to the right place. PVS Builders are one of the most trustworthy and reputed builders in Calicut, with some of the best laid out apartments in prime locations. Contact us today to know more!