The Best Things To Do For Gruhapravesam in Kerala
Posted on September 22, 2021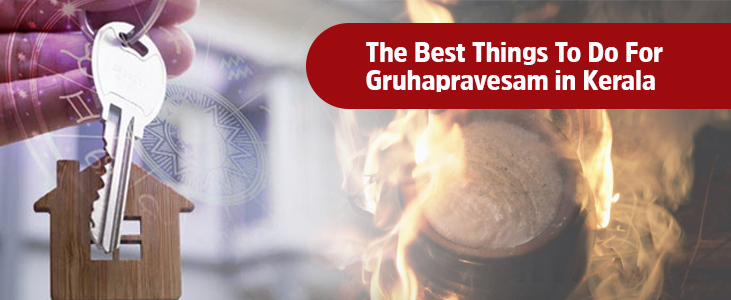 Finding a new home, renovating it, and making it your own has a different joy to you. Especially if you are a new family that is looking for places in the south, flats in Calicut serve the perfect spot. The idea of moving into a completely new place is exciting. And it comes with a lot of thoughts of what you can do with the new place. But before you start making plans about how your entire life is going to be in the new house. There are a few things to take care off. For example, a Griha Pravesh ceremony, the house warming ceremony.
When you are shifting into a new home, you must have a lot of dreams. But nothing should be started before you perform the gruhapravesam pooja with rice powder. This is for your own protection so you do not have any bad vibes ruining your day. There are many Evil Spirits that are lurking around to cause harmful influences. Hence are here to give you an idea of what you should do before you show off your home decoration for your house warming ceremony.
What are the Things to do for Gruhapravesam in Kerala?
When you shift into a new home you make sure that everything is according to the plan. The furniture in your home is perfectly located, and the Entire House is squeaky clean. Nonetheless, another thing that you need to take care of is the gruhapravesam muhurtham that would take place in your house. There goes a lot of planning into making the perfect occasion and treatment during the puja. From catering to the guests to arranging for the puja and havan everything needs to go according to the plan. But that is not all, you will have to make plans before the day of the puja and be wary of Evil Energies. Hence here are some things that will help you manage everything with grace.
1. Check the Vastu
The first and foremost thing that you need before the puja muhurats is to make sure of is that your house is according to the Vastu Shastra. This needs to be done if you want a well-performed housewarming ceremony.  Gruhapravesam in Kerala is something that is very important and needs to be looked into. This cannot be done properly if your Vastu is not right. Not only will it mingle with the vastu puja itself, but it can also meddle with your long-term happiness. Therefore, before you start planning anything for your gruhapravesam pooja, make sure that you ask your pandit about the Vastu puja of the place. Moreover, make sure that you do it after sitting on a Shubh Muhurat. Also, take a look at vastu master bedroom. 
2. Clean your House
This goes without saying, but if you plan to do something as holy as a house gruhapravesam, make sure that it is clean, even it is for a simple puja. For cleanliness is close to godliness and it won't be pure unless it is spotless with holy water. If you just shifted to the house or your Gruhapravesam in Kerala was just after the construction took place, then you need to make the place as clean as you can. Make sure that there aren't any scraps of wood or otherwise in your house. Even the interior decoration must be on point. Do this to the best of your abilities for the griha pravesh. Ensure that before you start looking for apartment decorating ideas for gruhapravesam, you clean it
3. Place House Warming on Auspicious Dates
As per the Indian culture, maintaining a 'subh mahurat' is important for the people and the house owner. It is believed that during this time, nothing bad can happen. For it, you may have to call a pandit and match the astrological charts to find a perfect date. While it is the rig0ht way to go about things, the process may be a little tedious. Additionally, you never know when the 'griha pravesh muhurat' might come. Therefore, it is best to set auspicious muhurats for your house gruhapravesam on auspicious dates.  This way, you will have an excuse to show off your interior decoration, celebrate the festive season, and have gruhapravesam pooja. Also, read
4. Decoration
Gruhapravesam in Kerala is a very important day. Therefore you need to make sure that everything is as clean and as pretty as they come. First, you need to start with the main door decoration as that is where the guests would come from. The sole reason is that it is the entrance to your house and you need to make sure that there is no negative energy coming in for Graha Pravesh. Therefore a well-decorated door or entry point would bring out some happiness to the people.  You can decorate it with a swastika or fresh flowers and tikas in the vastu puja. This tops the list of all the apartment decorating ideas for gruhapravesam. You can also add Ganesh ji and Lakshmi Feet to bring happiness and prosperity into your household. It also affects your quality of living by performing these basic vedic rituals for the kitchen puja. small apartment decorating ideas budget.
5. Make it pretty by adding Rangoli
One good thing about any kind of occasion, be it gruhapravesam pooja or otherwise, is that you can add rangolis. It is a fun way to celebrate your best festive days with colors and some white rice flour. You can make beautiful designs at the center of the house or for kitchen puja. Or you can opt for multiple rangolis if you have a huge living room. Use these rangolis to signify the auspicious area of the house during satyanarayan puja. Use a rangoli to input important information to the pooja or havan area during vastu puja. Another one could be placed in front of the door. Although make sure that you do not block the pathway of the people. This will ruin the rangoli for people might accidentally step on it for the simple puja.
6. Decorate with Flowers
Gruhapravesam muhurtham is just another excuse to bring fresh flowers and Cosmic Energy into your life. You can use many kinds of aromatic flowers in different places to bring out the best of your house. You can use marigold flowers, which are very popular flower garlands for poojas. You can also use water with fresh mango leaf to bring a little green into the house. You can also get lotus and use some of them as floaters during Gruhapravesam in Kerala. A lot of people also include a banana leaf in the mix for auspicious dates.
7. Place a Murti and Prepare for Havan
Now, this is the most important part. Havan and the gruhapravesam pooja is what the entire day is spiraling about. The main reason why most people shifting to new houses perform house gruhapravesam is that the fumes from the havan bring in positive energy and draw away from the bad spiritual energies. Moreover, the lights and the diyas make the house bright and spread the area with happiness and positivity. The same reason stands for lighting lamps in front of God during prayer rituals every day.
8. Dos and Don'ts for this Occasion
Before you start looking up decoration ideas for gruhapravesam, there are some things you need to consider before it. While the entire process of celebrating your incoming to a new home is as enticing as a wedding ceremony. You must make sure that you have everything prepared before and during the gruhapravesam pooja. Therefore, here are some dos and don'ts that help you arrange the best Gruhapravesam in Kerala.
First and foremost, if anything is left to be constructed that you may think can be done after the pooja. Think again. Everything needs to be complete before you throw a gruhapravesam muhurtham. Things as little as windows and door fittings must be finished before you shift or hold the pooja.
Clean the floor with salt water before you start your decorations for house gruhapravesam. You can also use vinegar, salt, and lemon to purify the place properly. The mixture forms a bleach-like solution and gets rid of any unseen impurities from Kerala Gruhapravesam.
Guests' invite list should consist of only the close circle possibly. Inviting too many people may bring in negative forces which might not be good for you or your family. This is not just limited to the pooja but also in the long run.
Every attendee must be pleased with some kind of gift to take home. This brings in a good omen and moreover it is best not to let them leave the house warming puja without a returning gift. You can opt for small plants or sweets or a silver coin as 'shagun'
Most importantly, when you are entering your new home, make sure that you do so with your right foot with rice powder in a copper pot. it should be done followed by milk boiling ceremony for the Griha Pravesham. This is a very old tradition in the Hindu Shastra and it is considered holy and auspicious for the family owner.
Conclusion
Having the kerala house of your dreams is something everyone wishes for. If this wish is coming true for you, make sure you don't pollute it with bad juju and cosmic energy. Hence do your part and arrange for a gruhapravesam muhurtham as a Ritual of gratitude. It will bring you joy and happiness and fill the house with positivity. These tips will help you have a well-performed housewarming ceremony during Satyanarayana Puja with some beautiful rituals.
Are you checking out the best flats in Calicut for superior apartment projects? You have come to the right place. PVS Builders are one of the most trustworthy and reputed builders in Calicut, with some of the best laid out apartments in prime locations. Contact us today to know more!