11 Unique Home Decorating Ideas for Easter
Posted on March 23, 2018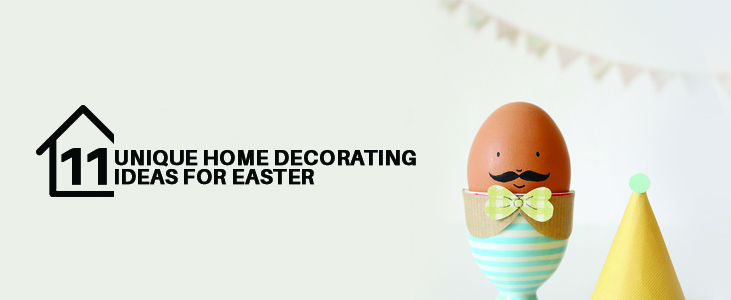 Easter is one of those periods of the year, when your family visits your home and you get together for a lovely weekend. Hence, it is quite a great idea to decorate your home with some lovely seasonal touches and bring the Easter spirit inside. Your home décor can be subtle with only touches of Easter here and there or pronounced and prominent to speak out loud how excited and passionate you are about Easter. Here are some unique home decorating ideas for Easter that are easy and simple and also quite affordable, so that you do not have to spend huge.
1. Hanging Easter Eggs from a Dry Plant:
One of the best and yet subtle Easter decorating ideas is to use a dry plant as a centre piece in your drawing room or living area. You can place it in a pot and keep on a side table or a centre table, if it is not too huge. Hang some Easter eggs from the plant. A great idea to give an Easter touch to this arrangement or décor is to choose Easter eggs that spell EASTER. One egg will spell an E, another will spell A and so on and so forth. The only thing that you need to be careful about is that if your goal is to keep it subtle and not too over the top, you should choose pastel shades or shades that match the colour palette of the room.
2. Decorate Some Botanical Pieces and Bring it Inside:
Find out a corner in the house that is clearly visible and yet does not make it messy for the rest of the room. Bring a little soil and moss and cover the corner and place some small cups and coffee mugs on the soil and moss. Fill in the cups and mugs with small plants, flowers or even bonsai, if you have some in the house. Place some Easter eggs surrounding the cups and mugs and here and there on the soil and moss, as if they are small pebbles and stones. This is a very cool and soothing decoration idea that you can continue to keep, even when Easter is gone. People these days, tries to be very innovative while decorating their apartments in Kerala . So you can also decorate your apartments with some indoor gardens. It will make a fresh look in this easter. For this you can check on Tips To Setup indoor gardens for apartments.
3. A Basket full of Easter Eggs: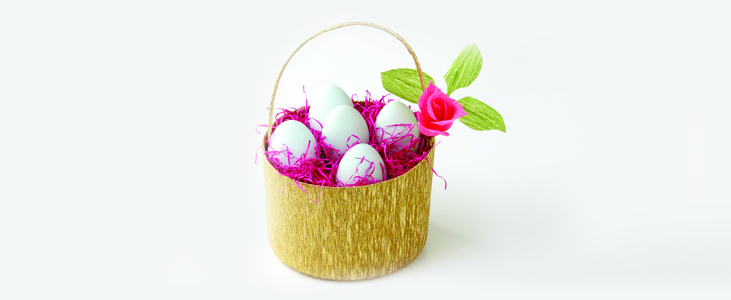 If you have kids and children in the house, spend some cosy time with them and engage them into decorating some Easter eggs in colourful wraps and papers and use them for Easter house decorations. Add ribbons to them and make them as beautiful as possible. Arrange the Easter eggs of different sizes in bread baskets or egg baskets and place them on a table, as your home décor for the event.
When it is time to hide the eggs, take these eggs and hide them in different parts of the houses as well as in the garden and ask your kids to find them. It will be quite a fun to engage your kids in your home décor and let them find the eggs that they have decorated themselves.
4. Easter Chocolates in Candy Jars: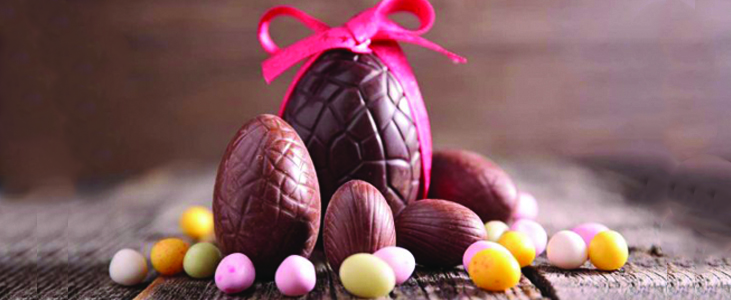 Candy jars are one of the most popular, beautiful and inexpensive decorating materials that you can ever come across. They are clear and they are cute. Buy some candy jars and find out the ones from your store room and kitchen cupboards that you have not used for long and do not plan to use in the near future. Make use of these candy jars by filling them with Easter egg chocolates that come in a lot at the supermarkets for a very cheap and affordable price. Place the candy jars next to each other and voila, you have a stunning, effortless home décor idea.
5. Bunny Cookie Jar:
Placing a huge bunny cookie jar right in the middle of the dining table will make your job of decorating the Easter feast arrangement easy. The best part of these bunny shaped cookie jars is that you can have them filled with cookies and buy them ready-made from the store, or you can fill them with cookies that you have made yourself.
6. Decorate with Egg Holders: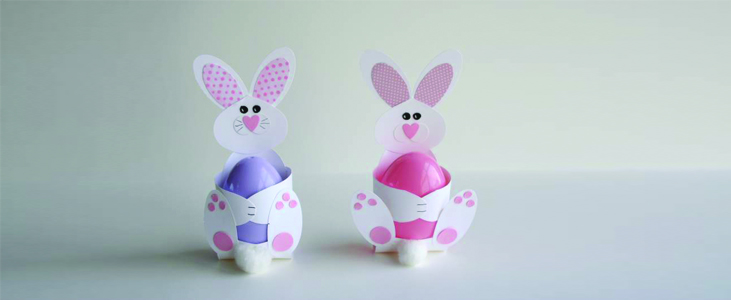 When you are looking for Easter decorating ideas, the egg holders come in very handy. Every house has some egg holders that are supposedly meant for the breakfast table. However, during a rushed daily routine, it is not always that the egg holders or egg cups are used. Hence, their place is in the kitchen cupboard or crockery cupboard as a piece of show. Take these out and place some Easter eggs on them and decorate your Easter dinner table.
A very popular and great feast idea for Easter is to take out your vintage cake holder and place it as a centerpiece of your feast table. You can prepare a pastel shaded cake for your Easter feast and place the Easter egg on the egg holders around the cake stand. Also read low cost interior design for homes in kerala.
7. Egg Shaped Lights:
Using lights for your home décor is a great way to make the home stunning and beautiful, without having to spend a lot of money. During Easter, you will find tonnes of Easter egg shaped lights available in your local markets. They are not expensive at all. Buy one or two and decorate the fireplace or hang them around your window curtains and you are done a great deal.
8. Outdoor Decoration with Old Furniture:
A very unique decoration idea for Easter is to make use or your outdoor space. All that you have to do is take out your old furniture that might be lying in the store or backyard and paint it with some pastel colours and you are all set to make a stunning and beautiful outdoor Easter décor. Place some chairs next to each other on the garden area and place some eggs on the corners of the chairs. Add your flower pots near the legs of the chairs and put a few egg baskets on the chairs to make it even more gorgeous.
9. Flowers in Egg Shells and Egg Holders:
If you are looking for Easter flower arrangements ideas, using small sprigs of flowers and placing them in empty Easter egg shells is a great and unique idea that surely everyone will wonder and envy, why they hadn't tried! You can place the egg shells on the egg holders and this way, the flowers will stay intact, in their place. The only thing that you have to be careful about is that you do not crack open too much of the egg. Just break one end of the egg and push in the flower sprigs.
10. Egg Shaped Flower Vase: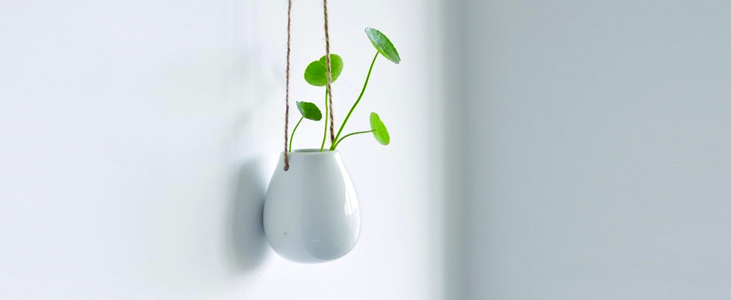 While thinking of Easter flower arrangements ideas, the egg shaped flower vases are also very useful and make your Easter decoration easy. You can buy the clear vases and put a bunch of flowers in them, or if you have some old egg shaped flower vases, you can paint them in some pastel Easter shades like mint green, pale pink, baby blue etc. Flowers can add beauty, festive mood and a stunning decorative feel to any arrangement and setting.
11. Easter Special Crockeries:
The feast plays a very important role in Easter. If you decorate the entire home and pay no attention to the Easter feast arrangement, your décor will simply go in vain. So, take special care of your dining table. You can make egg shaped cakes, Easter egg truffles as well as bunny cookies for the feast, along with others. However, to make the décor even more apt and appropriate for Easter, you can buy or take out your Easter special crockery set, if you already have one. These crockeries are designed with Easter eggs, flowers and bunnies and a lot of festive motifs that will add to the décor and arrangement.
Easter is a very special day , so we can make our home or apartment by small decorations within low budget . It will gives a fresh and clean look. For this checkout  Apartment Decorating Ideas On  A Budget .
Now that you have so many unique Easter decorating ideas, what are you waiting for? Get started and make your home a beautiful Easter setting where everyone will have fun and make lovely memories.
PVS Builders, One of the renowned builders in Kerala offers luxury apartments in Calicut, Kannur and Aluva. To know more details, Contact us at +91 98471 98472