New Modern Pop Plus Minus Designs: All You Need To Know
Posted on March 31, 2022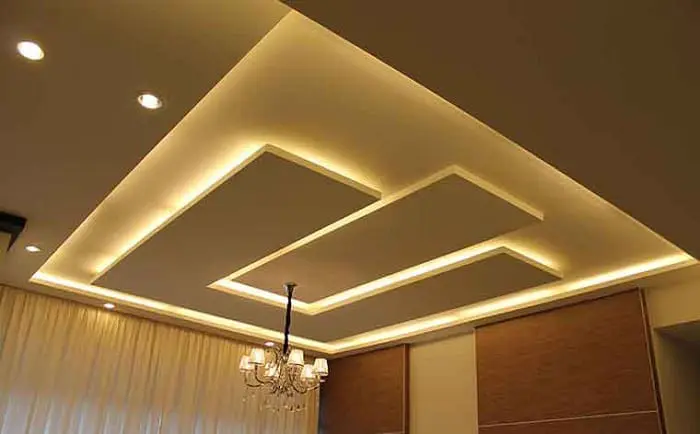 For a long period of time, a room's ceilings were unadorned except for light fittings and fans. The fake ceiling concept, on the other hand, quickly took hold, converting the underused space into a show-stopping feature of the home. New modern pop plus minus design concepts are also all the rage right now in this décor style.
This design denotes a style in which a standard artificial ceiling is embellished with protrusions or tucked parts. It may be done in any style or prominent form, giving it a `flexible complement and unexplainable beauty to any room. 
These designs are typically found in commercial areas with high ceilings and plenty of open space. The fad has recently found its way into houses and bedrooms to provide dimension to any area, no matter how small.
The advantage of incorporating this unique pop design into your house is that it immediately draws attention and adds to the symbolic beauty of the space. This permits you to be more restrained with your décor and furnishings. It also enables users to make the simple layout ceiling design the focal point of the room.
For a long time, pop was only used in office buildings, stores, and other business establishments. However, the new pop plus design concepts have disrupted more than just stereotypes. Pop is now mostly employed in home design and décor.
New Modern Pop plus-minus designs can be seen in almost every contemporary flat in Calicut and across the country. These pop designs are available in low-cost interior design homes in Kerala without compromising on quality. These designs are excellent for home office interior designs as well. You can choose any design for your wall ceiling. Most individuals in modern homes choose these pop designs since there is so much choice now. We'll explore a variety of new and trendy plus-minus pop designs in this post.
So, let's have a look at some of the locations in your home where new modern pop plus minus designs may be used:
New Modern Pop Plus Minus Bedroom Design
Bedroom Pop Ceiling: A new modern pop plus minus design that experiments with various light colours to improve the aesthetic of your bedroom. Your pleasant area will be filled with peace thanks to an exquisite yet minimalistic pop design. This bedroom was built with a relaxing colour scheme of gentle white light and an ivory-coloured wall in mind. The fake ceiling runs close to the walls and has space for built-in light fixtures, making it a superb example of modern décor. The pleasant and peaceful mood is created by the diffused light from concealed cove fixtures. Decorating your bedroom with a fresh modern pop, plus minus the false design, can improve its aesthetics and look. 
A New Modern Pop Plus Minus Design For The Hall
It's easy to overlook ancillary rooms like a gallery or a hallway when planning a home. Contrary to common assumption, a lobby space should be everything but conventional. The foyer features a modern, plus-minus pop style with an exquisite display of lights and swirls on the ceiling. Experiment with different wood colours and wooden frames to compliment the house's minimalist tone. Against the brilliant greens and abstract woodwork, a rustic metal chandelier gives true old-world elegance to the entryway with these apartment ceiling designs.  
For a Kid's Bedroom, a New Modern Pop Plus Minus Design
It's tempting to go back to old-style tropes like pinks and blues when planning children's rooms. A POP design is a way to go if you want to take the room decor up a level and establish a sense of drama off the floor.
For the Dining Room, a New Modern Pop Plus Minus Design
Taking the design to the ceiling is a terrific way to give your dining area a new dimension without sacrificing basic furnishings. To add to the impression of grandeur, the ceiling design may be modified with illumination and fixtures.
Is New Modern Pop Plus Minus Design Affordable?
The cost will also vary based on the size of the area you want to cover and any other fixtures you want to include, such as hidden lighting. These patterns and motifs can be as subtle or as bold as you like.
Now let us look into some of the new modern pop plus minus ideas that can enhance the aesthetics of your space and give visual pleasure.
New Modern Pop Plus Minus Designs
A Pop Design with Yin and Yang
Despite its one-minus-plus design, the modern home appears incredibly beautiful with such spectacular exposure. On the living room ceiling, this pattern is stunning. Its monochrome appearance helps to preserve the location's symbolic attractiveness.
A POP Design for a Film Roll
The pluses and minuses design with colour may be great for creating a relaxing atmosphere in the lounge area. Aside from that, it's quite peaceful. This is a location where you may read a book or watch films. For a lounge space, a film roll pop pattern on the ceiling might be a great fit. It connotes a passion for movies!
Flower-based Pop Design
This may be a fantastic modern pop plus-minus bedroom design! The floral design with pops of colour on the walls appears to be quite lavish. The pastel colours are applied to the ceiling as an extra touch. In reality, its design gives the bedroom wall a luxuriously contemporary appearance.
The Design of a Brick Wall
It's simple to incorporate rustic decor into your home. This design has a trendy pop plus minus feel to it. And this 2022 negative plus pop design is fantastic! The rough texture and pop of the brick wall may draw attention of visitors. Put it on the wall of your living room!
Minus Design on a Modern Pop Guitar
It's exciting to apply a superb living room wall modern pop plus minus design using anything pop! And if you're an artist, the design could be right up your alley. You may draw a guitar on the ceiling of your bedroom.
Tropical Foliage Adorns the Interior of a Boho-inspired Home
Always begin with the tropical leaf formed by the pop from the centre of the ceiling. It should be painted in a bohemian tropical green colour with some pattern on the opposing walls. You may expand the pattern from one corner of the ceiling to the other. In fact, it's the finest plus-minus-pop lobby design ever seen!
Make the Fireplace Resemble the Unit
This is an intriguing concept that you can put into practice. As a result, you may make the fireplaces appear to be part of a unit design. What you may do is construct a unit pattern on the fireplace mantle with pop. Your fireplace design will attract attention. And this fake design with a flash of colour might make it look much more spectacular.
Pop Design with a Simple Layout
For the lobby ceiling, here's another plus-minus pop design! Overcrowding ceilings can be a problem in a well-decorated space. As a result, the simple ceiling plan design may help tone down and balance the décor.
Pop-Art Rectangular
This geometric block pop style is an excellent alternative for tiny areas. This rectangular block pop design is ideal for compact bedrooms or drawing rooms.
The Contemporary Ceiling
It looks particularly stunning when painted white or off white. If you want a dynamic effect, use colourful lighting instead of bright paint, and go with this new contemporary minus-plus pop style.
Religious Pop Designs
You can incorporate such a design if you are a devotee. However, you must remember to adorn the puja room with this divine design. Perhaps you could incorporate the "Om" pattern with the pop on your ceiling behind the idol!
Cut in a Circle
The next ceiling design is this one plus minus the pop! It is not required for full-fledged designs to appear excellent all of the time. In general, the basic designs are seen as being lovely. One of these ideas is a circle carved out of the ceiling with a basic texture.
 These are the major and trendy new modern pop plus minus designs employed in the flats in Calicut. You can even use this as an answer to the question, "How to soundproof your apartment?" Yes, you can easily soundproof your homes with these ceilings. Now that you know what your home or office ceiling should look like, select your favourite pop plus minus design.