5 Best Residential Areas In Calicut
Posted on March 02, 2022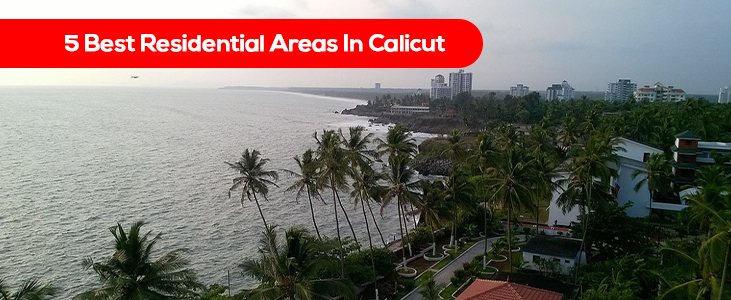 Kozhikode, also known as Calicut is the 'Land of Spices' and popular being the second largest urban agglomeration owned by Kerala. Calicut has grabbed the attention of people worldwide, especially tourists, due to its lush greenery, historical places like Port City, and tropical climate with short summers. The climate of Calicut is perfect to live in, which is why Flats in Calicut has been the favorite choice for homebuyers.
Being a rapidly growing city, Calicut offers high-end accessibility to the dwellers with respect to the industries, amenities, jobs, education, healthcare, and various other services. To many people, working and living in Calicut is the dream, due to the proximity of MNC companies like Kinfra IT Park, Cyber Park Calicut, etc. that makes work and life balanced.
In this blog post, let us take a sneak peek at the best 5 residential areas in Calicut and the significant features that make these places the favorite options of homebuyers in Kerala.
Why Calicut is the best place to live in Kerala
Kozhikode was earlier the capital of Malabar and stood as the major trading point for Indian spices. Calicut embraces the credit of prevailing as the primary center where Vasco Da Gama, the Portuguese explorer, landed in Kerala. The coastal city is an asset and adds value to our lifestyle with all the facilities in proximity.
Being the center of plenty of multispeciality hospitals, educational institutions, high-end road networks, and other amenities, Calicut is also the birthplace of residential projects from Top builders in Kerala. Kozhikode is the ideal place you can choose to live with your family and contribute to a luxurious lifestyle.
The attractions of Calicut start with the gigantic wood yards you can witness along the Kallayi River banks. NH 66 and NH 766 are the National Highways that connect Calicut to Mumbai, and Calicut to Bangalore respectively. Focus mall stands as a pride of Calicut, being the first shopping mall.
Kozhikode is the base for the Indian Institute of Management Kozhikode (IIMK), National Institute of Technology (NIT), Indian Institute of Spices Research (IISR), and National Institute of Electronics and Information Technology (NIELT). The largest medical institute ever in Kerala, Calicut medical college was established in 1957. Kozhikode proudly beholds the tag for the University of Calicut, the largest university in Kerala.
There are various economic factors affecting the housing market like demographics, income, rent, land appreciation, economic price, credit availability, interest rate, loan facility, demand, taxation, etc, which must be looked upon when going through the property for sale. It is important to look into these considerations along with the factors like basic amenities, modern amenities, reasonable prices, etc. to buy homes.
Ready to occupy flats in Calicut and every prime property from credible builders adhere to all these major considerations and makes the real estate investment worthwhile.
Residential Areas in Calicut
Palazhi
Palazhi is the major area in the whole Calicut city. The suburb has been positioned at the heart of Calicut, and post-development of various shopping malls, and other immediate facilities, Palazhi has gained more prominence among the builders, investors, and homebuyers, to finally evolve as the best residential area in Calicut.
Palazhi is only 4 km away from Thondayad in Calicut. Palazhi is also home to the essential healthcare facilities with proximity to Cradle Maternity hospital, Metro International, Cardiac Center, and Metro International Cardiac Center. Being close to the CyberPark Kozhikode, and Uralungal CyberPark, IT professionals find residing in Palazhi comfortable with the best projects like PVS Prestige.
Palazhi has won the hearts of homebuyers all over Kerala and the Ready to occupy flats in Calicut from the reliable and pioneered builders are highly in-demand.
Perumanna
Perumanna is a rapidly growing and urbanizing town located in Calicut, and just 13 km away from Calicut city. This prime location has been tagged as the hub for great residential areas and a beautiful locality that offers high-end conveyance, healthcare, and lifestyle facilities.
Healthcare institutions and hospitals like Family Health center, Family Medical Center, Malabar Hospital, and Starcare hospital are close to Perumanna. The top educational institutions like the White School International and Global English School are located near Perumanna.
The key attraction that drives people to choose Perumanna as the residential option is the land for the best spacious apartment options and residential projects like Silver Springs which offer proximity to the Sarovaram BioPark located at 21 minutes distance, and Cyber Park Calicut, which can be reached in 15 minutes drive. Lulu Mall Calicut takes only a 25-minutes drive from Perumanna.
Pokkunnu
Searching for the best residential areas in Calicut along with the natural beauty of hill viewpoint and lush green in proximity? Pokkunnu is an amazing place that offers all these facilities along with the closeness to Malabar Botanical Garden. The core highlight of Pokkunnu is that it takes only a 30 min-drive to Calicut International Airport. 
The place is famous for the big residential projects like PVS Emerald, growing with the best facilities endowed for healthy and happy living. Healthcare institutions like Baby memorial hospital and Starcare Hospital are within your reach from Pokkunnu.
It requires only a 13-min drive to CyberPark Calicut. The famous educational institutions like Prestige Public School, Zamorin's Guruvayurappan College, and Chanakya Business school are also within the radius of Pokkunnu residential projects. It takes only an 11-minutes drive from Pokkunnu to reach Lulu Mall Calicut.
Eranhipaalam
Eranhipaalam is a quiet location, with the best option for your residential house. The tranquil location serves proximity to the Civil Station Calicut and Passport Office.
Eranhipaalam is a great place to build your dream house in a peaceful location, making it the best residential area in Calicut. The independent houses are common in this suburb, with the best road networks and civic amenities.
The place offers excellent connectivity being located on Mini Bypass road. Homebuyers can benefit from buying properties at a competitive price since the residential plot also offers proximity to the Calicut beach with a Flyover that offers scenic views of fishing villages.
The place has Kozhikode Dt. Co-operative Hospital, and Malabar Hospital to serve you with the best healthcare facilities. It also links with the Calicut Cyber Park with a 14 min drive.
Thondayad
A property in Thondayad can let you enjoy scenic beauty with a favorable locality at your convenience. The place is an amazing residential area for genuine buyers to enjoy living in luxurious apartments. Thondayad is a junction that connects East & West Kerala, and also North & South Kerala.
Being a crucial intersection of Kozhikode city, Thondayad junction is connected to the Vellayil Railway Station and Calicut Main Railway Station. Calicut International airport is only 27 km away from this place.
A metro route under proposal extending from Medical College Hostel to Meenchanda will enhance the conveyance. The major healthcare providers like Starcare Hospital, Baby Memorial Hospital, and Aster MIMS Hospital are close to Thondayad.
The famous shopping malls like Focus Mall, and Address Mall serve all the shopping requirements of the dwellers. The popular tech parks like CyberPark Calicut and UL Cyberpark are within a 6km radius from Thondayad.
Final Thoughts
To choose the best residential areas in Calicut, it is important to make sure that you choose a residential area that offers a comfortable and convenient lifestyle along with the best accessibility to seamless connectivity, natural light, nice locality, and other economic considerations. An excellent property is worth a lifetime investment and all the factors must be carefully looked upon while moving forward with it.
While you are investing in ready to occupy flats in Calicut, ensure that the above key areas are on focus since they give you seamless connectivity and amazing facilities within your comfort with a high rate of appreciation in the asset you hold.