How to Create a Meditation Space in Small Apartment? Top Tips to Follow
Posted on February 26, 2021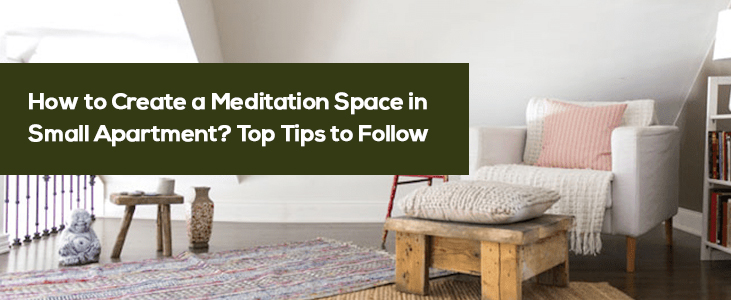 The Need for Meditation
Most of us today lead ultra-hectic lives, which leaves us little time for taking care of our own health, or that of our family's. The pressure at work, not having the right food and not having food on time, bizarre sleep schedules – all these together have given rise to increasing lifestyle diseases like hypertension, diabetes, heart disease, and more. Enough to burn you out, and cause serious health problems. So, what do you do? How will you offset these negative influences in your life? Ask any doctor or life coach, and you will find they all agree on one thing: you need some calmness in life.
Today, most physicians recommend activities like yoga and meditation to improve mental and physical health. 10 to 20 minutes of meditation in a day can help you sleep better, relieve stress, and rejuvenate your mind and body. Also consider the ways to increase home value.
Ideas For Meditation Space In Small Apartment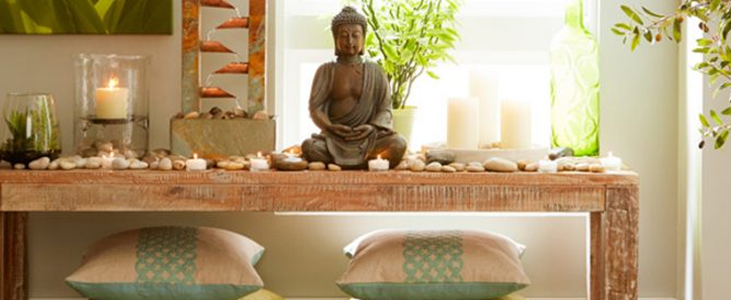 Now, meditation necessitates a quiet, peaceful atmosphere; you may think that it's next to impossible to create meditation space in a small apartment, but it can be done. Wondering how? Don't worry, we are here to help you with smart and easy tips.
1. Identify the Space
Undoubtedly, this is the first thing you need to when you start with meditation room ideas for home. Ideally, look for a space with the least footfall: a corner in your own bedroom is probably the best. But, a tucked-away space in the living room could also work. For apartments with balconies, even that is great.
Any place where you get natural light is great; some of you may not want any light and may prefer a little darkness. Whatever your mind feels peaceful in, include it in your mediation area. Make sure you clear out stuff that may be needed by others, or is usually required for other purposes, and make it clutter-free – and remember to always tidy up the place and keep it clutter-free. You can also check out the advantages of smart homes.
2. Make it Comfortable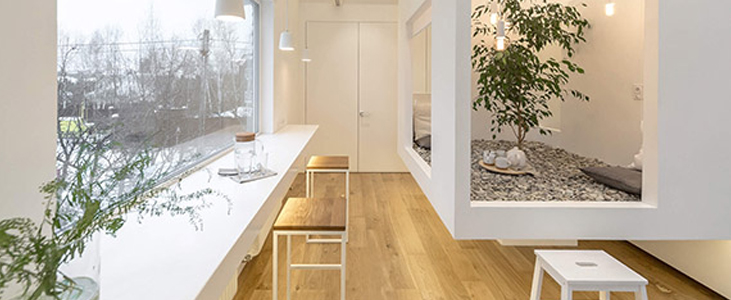 The whole point about meditation is to be peaceful – which won't happen if you are not comfortable. So, meditation space ideas should focus on your comfort.
Use a plush rug, stool, or stuffed 'moda' that can be placed against the wall in a corner.
You can embellish with pillows and cushions for added comfort.
Use light, pastel shades as far as possible when you want to relax and decompress.
If you want to re-energize yourself, throw in a few bright coloured cushions or rugs. Yes, you will close your eyes when you meditate, but when you enter the space, the colours you see will have its impact on your mind.
3. Go Green
Depending on how much space you have, get a few small potted indoor plants. They purify the air, give you oxygen, and help calm the senses.
Spider plants, parlour palms, and succulents are great for meditation spaces. They are powerful life sources and help set the mood.
Having plants in your small apartment meditation space is very useful, as they are good to have at any time, not just for meditation. You can check out the tips to setup indoor gardens for apartments in Kerala.
4. Get an Aromatherapy Boost
This is one of the best small meditation room ideas ever, as it can transform the space, and itself requires very less space.
Essential oils can help you optimize your olfactory senses and get you into the mood you desire to be in.
Rubbing lavender on your wrists or burning a lavender-scented candle, or even using it in a diffuser can help you relax and wind down at the end of a hectic day.
Citric oils are great if you want to bring out the creative genius in you, and feel energized.
If you want to de-stress, peppermint or eucalyptus will do the trick.
You can use it on your shoulder to relax tense muscles too. You can even burn incense sticks if you can tolerate a little smoke.
5. Leave the Windows Open for a While
This will help the negative or stagnant air and energy, or bad odours to flow out, and let in the fresh air; it's especially necessary for a small meditation room.
If there is too much noise outside, you can close the windows after a while, and begin your meditation session. You can also read some low cost interior design for homes in Kerala.
6. Music is the Food of the Soul
It's true! Soulful, relaxing music can help you decompress and relax like nothing else. Fortunately, you can get loads of stuff online. In fact, even a simple search for 'meditation music' will give you dozens of results.
Soft instrumentals, mantra chants, tribal, Indian, Western, of Far- Eastern – you can take your pick. The sound frequencies can help 'cleanse' your home of negative energies, and bring in positive energy that will help you meditate.
7. Don't Bring in Any Gadget
Your meditation space should not have your phone, laptop, or TV. Ditch all your gadgets and unplug yourself from the world for a while.
Blue light can affect your sleep, and also affect your meditation. Even if you put it on silent, EMF energy can silently impact your subconscious, leading to headache, weakening of immunity, exhaustion, and more. Also read about some future home technologies in advanace.
8. Try Crystal Therapy
An innovative meditation room idea is to use crystals.
Crystals are thought to have healing powers; we all know that they have the power to change things.
Modern tech also uses crystals. Quartz crystals power many of our gadgets! To cleanse your energy, use selenite; to have more clarity, quartz is the one you need; and get amethysts to find peace; if you want the negative energy to disappear, use black tourmaline crystal.
You can arrange the crystals around you in a grid, or simply have them in your hands.
9. Try a Small Water Fountain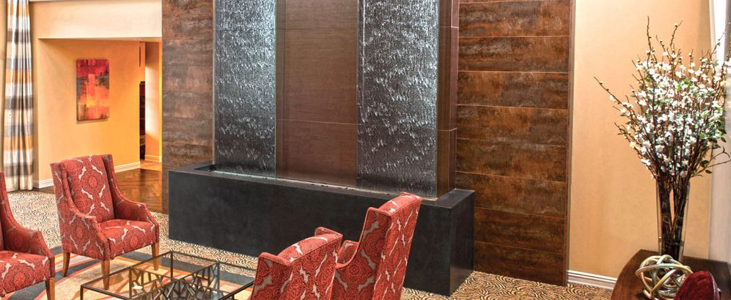 The sound of water flowing, gurgling, and gently cascading from a low height is very soothing to the senses.
Nature has an organic power to heal and put you at ease.
You can bring nature into your apartment, even in a tiny space, with a small table-top water fountain. This will help you infuse harmony into your meditation space. Also check out tips to save water in your apartments.
10. Personalize
Look for chimes and bells that make soft sounds, and hang them in your meditation area.
You can hear faint tinkles when you are meditating, and it can truly help you relax and soak in the serenity.
You can also place a bunch of fresh flowers in a vase near you, on the floor, or on a table. Nothing like natural scents to refresh and rejuvenate the senses in your meditation space in small apartment.
There is no hard and fast rule as to what to do to create a piece of heaven where you can meditate in your apartment in Calicut. Try out different stuff, till you find what really helps you to relax and to rejuvenate as well. Different people respond differently to different stimuli, and you need to find your own. As long as your special space helps you to look inward, reflect, calm down, and find peace – and improve your health in the long run, anything goes. Be sure to practice meditation consistently, so that you can truly reap the benefits of what you are doing.
Are you checking out the best flats in Calicut for superior apartment projects? You have come to the right place. PVS Builders are one of the most trustworthy and reputed builders in Calicut, with some of the best laid out apartments in prime locations. Contact us today to know more!