Top Ways to Celebrate Vishu 2021 in Apartments
Posted on April 08, 2021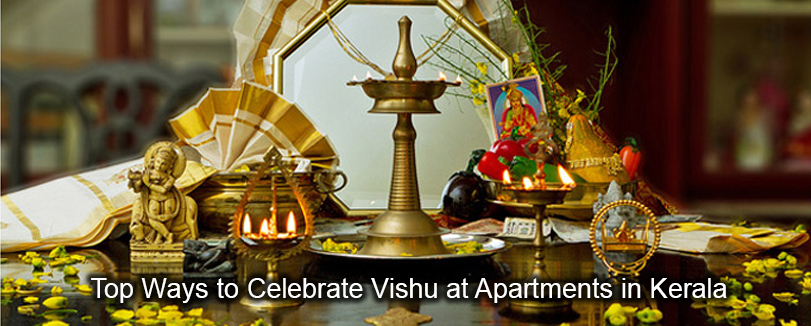 Vishu 2021 is almost upon us; to be precise, this year, Vishu falls on the 14th of April. Vishu – "the festival of lights and fireworks" which is celebrated on the first day of the first Malayalam month Medam that marks the New Year in Kerala.
It is one of the most popular festivals celebrated across the world by Malayalees. According to the Gregorian calendar, this festival always falls in mid-April.
ALSO READ: LOW COST INTERIOR DESIGN FOR HOMES IN KERALA.
Celebrating Vishu is the true reflection of happiness and prosperity as people from other faiths and beliefs come together to celebrate this New Year festival. The preparations are done with much pomp and joy in Kerala and also other parts of the world where Keralites stay.
Nowadays, individual houses have been replaced by multi-story apartments and flats. Thus, celebrating festivals Do you reside in an apartment in Calicut?
In this article, we will show you how you can celebrate Vishu almost as if you were still living in an ancient nalukettu tharavadu. You will realize that there is still scope to have a grand celebration if you plan and make use of the free space you get in the apartment!
Most apartments have common halls or auditoriums where the residents can get together for celebrations. This space can be made use of to celebrate Vishu 2021. During this festive time, it is an occasion where you can bring together all the residents of the apartment and even your close family members.
Everyone can get to know one another better, and celebrate as a big happy family. Read on to get an idea of what exactly Vishu signifies and what celebrations are associated with it.
How to Celebrate Vishu at Home this Year?
Let's tell you the significance of  Vishu before explaining how it is celebrated.
Vishu is the beginning of the harvesting season, and it falls on the first month of Malayalam month, Medam.
It signifies the Sun's transit to the Mesha Rasi (the first zodiac sign of Indian astrological chart).
Vishu is derived from the word in Sanskrit which means 'equal'. Other parts of India such as Assam, Punjab, Andhra Pradesh, Maharashtra, and Bengal also celebrate their New Year on the same day of Vishu, but with different names.
It is said that if your initial step is improper, the coming year will be unsuccessful. So, it is very important to see, feel and speak well on that day.
Begin your day auspiciously so that the coming year is prosperous, healthy, and successful for you and your family.
The traditional Vishukani is the most important ritual of the Vishu festival – and preparations for this ritual often begin a few days in advance.
How To Celebrate Vishu is not really something you are not likely to know; however, how you can celebrate the festival while living in an apartment is something that you may be apprehensive about. And your fears are not unfounded! After all, you have much lesser space in your apartment. But don't worry, we've got you covered.
Vishukani literally means the first things you see on the auspicious day of Vishu. Therefore, the first things to be seen the need to be arranged in the puja room which we will tell you a little further down.
New clothes, Vishu sadhya, Vishu Kani, being together with family and friends, giving or receiving Vishu kaineetam – there is so much to do on this day in your apartment!
ALSO READ: HOUSE RENOVATION IDEAS IN KERALA
Vishukani Like Never Before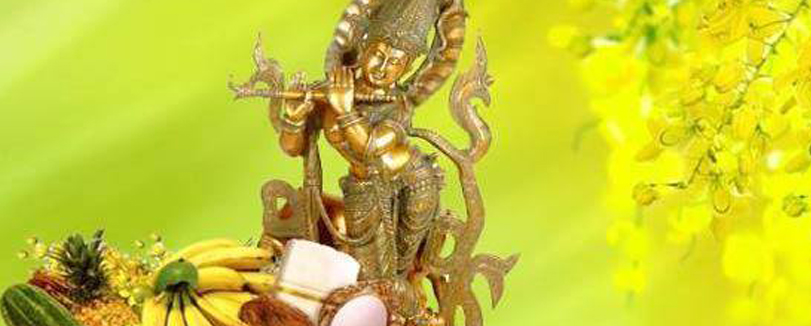 Beginning the day with the sighting of the auspicious Vishukkani is the first step in how to celebrate Vishu at home.
It is believed that Vishu is incomplete without Kani.
To see the Kani on Vishu, the Kani must be prepared the previous night itself by elders at home.
The things to be seen will be arranged in the uruli.
Though there are specific rules for arranging the Kani in the uruli, each family has their own traditions.
The uruli, a bell metal vessel, which is made of 'panchaloham' (an alloy of 5 different metals that represent water, fire, earth, air, and celestial space) is used for the Vishu kani.
Place a mixture of husked and unhusked rice and turmeric in the uruli. Keep all kinds of fruits, vegetables too.
It is believed that placing gold coin, money, gold ornaments will bring immense wealth when viewed first on Vishu.
You also need to place a freshly laundered white Kerala dhoti with golden embroidery.
In many houses, Ramayanam, or other sacred texts are placed along with other Vishukani items arranged in the uruli.
The Vishukani is not complete without Kanikonna flowers, the national flower of Kerala. It is golden yellow in color and you can place it in the uruli or along with the picture or idol of Lord Vishnu.
You can also arrange a beautiful uruli with more Vishukani items like different grains and cereals, betel leaf and arecanut, kajal or kohl, and a pot of water, implementing a lot more ideas in your apartment.
Choose a common room to arrange to prepare all these items for every resident there.
Behind the uruli, a garlanded idol of Lord Krishna along with valkannadi (handheld mirror with a long handle) and bell can be placed.
The eldest person will be the first person to view all these on Vishu morning around 4 am.
The person lights up all the lamps, incense sticks and the coconut cut into halves with ghee too and wake the rest of the members by blindfolding them and lead to Vishu Kani decoration.
In front of Kani, they can open their eyes and view all the things arranged in front of Lord Vishnu.
This is how every Malayalee is supposed to start their day on Vishu to ensure health, wealth, and happiness throughout the year.
ALSO READ:  ADVANTAGES AND DISADVANTAGES OF SMART HOMES
Enjoy the Delicious Vishu Sadhya  
The next important part of the Vishu celebration is the deliciously cooked food known as sadhya.
You could have seen for every special occasion, sadhya will be provided by the Keralites.
It is a combination of many traditional vegetarian dishes which will be served on a banana leaf and eaten with hands – no cutlery.
Enjoy making all those yummy dishes together at your apartment and get the real essence of Vishu.
Enjoy…Burst The Crackers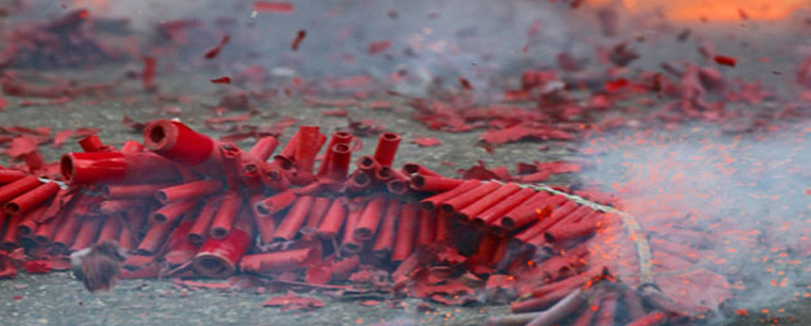 Right after viewing Vishu Kani, let the kids enjoy bursting crackers.
It is difficult to burst crackers when you stay at an apartment.
But you can still enjoy it if every family takes a step forward to burst crackers from a commonplace or terrace.
Make the most of this celebration time with your friends and family.
Make sure, kids must not be left alone as there is a danger of accidents.
Different types of crackers are available in the market days before the festival.
So, enjoy the evenings with other family members at your apartment before the festival itself.
It is a true way to bring everyone together and create a festive and joyous atmosphere.
Games on Vishu
If every family at the apartment is preparing a different Vishu Kani, you can announce the winner of the best Vishu Kani decorated family.
Attractive prizes will add extra happiness to the event.
Also, you can ask each family to prepare a specific dish in the sadhya to know the best yummy dish.
After sadhya, all the families can spend the afternoon together with exciting games for women, men, and kids too.
If there are old-aged individuals, don't forget to include them too.
Watching Malayalam movies will add spice to the whole event.
ALSO READ: HOW TO KEEP TOP FLOOR APARTMENT COOL IN SUMMER?
Best of Vishu – Vishu Kaineetam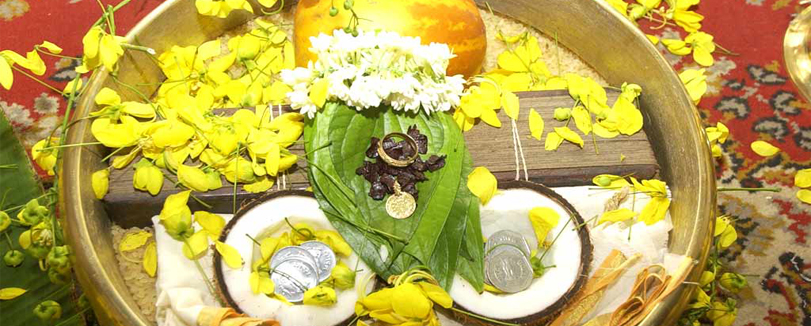 Here is the best of all. 'Vishu kaineettam'. Every person loves this practice at Vishu.
It is believed that elder individuals gift money to the younger ones.
There is no strict rule on the amount of offering.
This is where you will find thrilled and excited people everyone in Kerala.
This is a blessing that is believed by every family.
At your flat in Calicut, let the eldest member of whole families give kaineettam to younger ones. Since there will be more persons, you can fix the amount as Rs 1 as a blessing.
The belief is that if you share the wealth, your wealth will grow in abundance.
Conclusion
Now that you know how to celebrate Vishu with fervour and pomp even while living in an apartment, begin preparing for the festivities! Know that any festivals can be celebrated if you have a mind to do it in the utmost traditional way by bringing all together under a single umbrella. Pass the value and significance of Vishu to the younger generations through us.
Happy Vishu 2021 to everyone.
PVS Builders, One of the renowned builders in Kerala offers luxury flats in Calicut, Kannur and Aluva. To know more details, Contact us at +91 495 2766244, 2766362