A Brief Guide to Home Insurance
Posted on April 26, 2021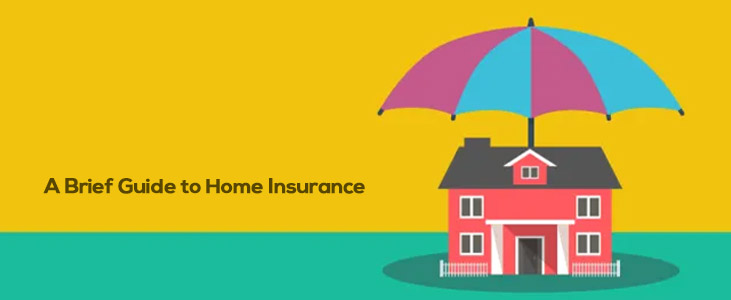 Most of us have some form of insurance – in India, it is common for people to take life insurance policies as a kind of investment, or protection for their families. And obviously, if you have a car or two-wheeler, you would have taken out an insurance policy, as it is mandatory.
So what is insurance, and how does it work? Insurance is a guarantee given by a company called the insurer, to compensate you financially for a loss you suffer – in the case of vehicles, if you have an accident and your vehicle needs repairs – for payment of a specified premium.
In life insurance, of course, this money is released in the event of death or disability of the insured or the end of the term.
Most of us are familiar with all these details. But how many of us are aware of home insurance, and how many of us actually go ahead and insure our property?.
Before we delve into types of property insurance look at the benefits of home insurance, let's first understand what exactly it is and how it works. You can also read about some future home technologies.
What is Property Insurance?
This is an insurance policy for your property – now property in insurance refers to not only your home but also goods, but we will focus on home insurance as that is what is relevant for us.
When you insure your property, in the event of damage, you can get compensated by the insurance company up to the insured amount. Consider different types of home loans in Kerala.
There are several types of property insurance, and we will learn about them one by one.
Different Types of Property Insurances
1. Package or Umbrella Covers
These policies provide a combination of covers in a single policy document to either the owner or renter.
A package cover allows you to cover various physical assets including not just the building but its contents as well, and some personal lines or liability covers. Such a policy is also likely to have some exclusions, so you must read and understand exactly what the policy covers and what it excludes before you purchase it.
Package covers also have some common terms and conditions for all sections and certain specific terms for specific sections.
2. Fire Insurance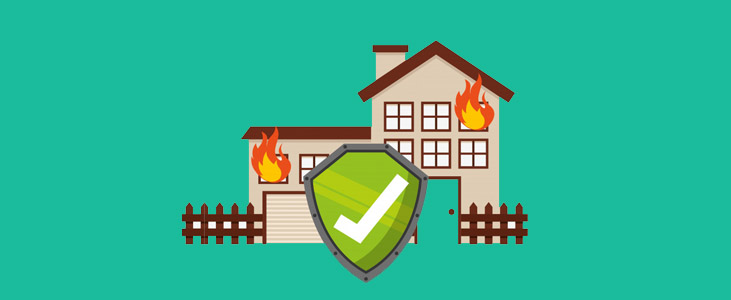 This is the most common type of insurance cover that people take for their property.
This is a standard insurance policy that protects against unanticipated damage or destruction of your home caused by a fire. Apart from homes, commercial buildings, hospitals, places of worship, etc. and their contents can also be covered under this policy.
People can also insure manufacturing units, equipment, raw materials and finished or semi-finished goods, and so on. For the purpose of home insurance, you can cover all the contents of your home; the importance of property insurance can be easily seen now. Also, check out common land measurement units in India.
What It Covers
A fire insurance policy provides a wide range of benefits of home insurance.
Though it says Fire Insurance, it covers damage due to lightning, storms, cyclones, floods, inundation (which happened in Kerala during the floods in 2018 and 2019), landslides, bush fires (all acts of God); riots, strikes, explosions, purposeful malicious damage, strikes; aircraft damage, impact damage; overflow, leakage, or bursting of water tanks, pipes, installed sprinklers; missile testing, etc.
Exclusions
Most policies do not cover a particular amount called the 'excess'.
Losses and damages that occur due to acts of war, nuclear disasters, pollution, contamination, electrical breakdowns, burglary, and so on are excluded.
You can cover natural disasters like earthquakes and spontaneous combustions by paying a little extra premium.
Fire insurance policies for homes can be issued for a period of 1 to 3 years.
3. Burglary Insurance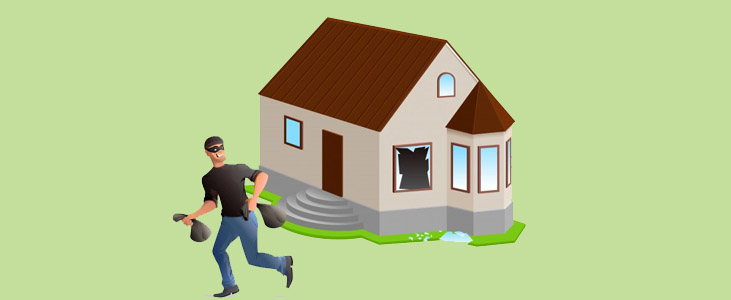 As the name suggests, this insurance provides cover against the risk of your house being burgled; usually, the policy covers the contents of the house like cash, jewelry, securities, and stocks or goods if covered.
The insurance company is likely to have a condition that the valuables need to be locked in a safe or steel cupboard.
The policy also covers damage to your home caused by thieves breaking, or even during attempted housebreaking, to the limit of the insured amount.
In case the insured value is not sufficient, your insurer will only pay proportionate loss, so it is important to evaluate your home and the contents correctly and insure for the proper amount.
You can also add on riots, strikes, and malicious damage, and theft. Also, check out some apartment security tips
Exclusions
Unless you have specifically insured them, burglary insurance will not compensate you for damages to these: goods held in trust or commission; jewelry, antiques, title deeds, business books, and documents; perils of war, riots, and strikes.
It also does not cover any item covered under fire or plate glass insurance;
Loss of valuables from a safe using a key or its duplicate, unless it was handed over under threat of violence; acts involving the one in whose name the insurance policy is, or their family, or employees, due to shoplifting; acts of God and nuclear disasters (these are covered under Fire)
4. All Risks Insurance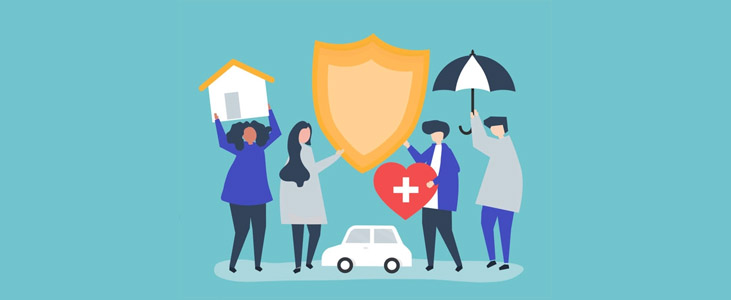 This policy covers portable equipment and appliances, jewelry, and so on, is provided on a selective basis.
The policy design and terms can differ with each insurer. Unlike what its name suggests, an all risks insurance policy does NOT cover everything; it is not exactly free of exclusions.
Exclusions
Exclusions to all-risk policies include the actions of insects, mildew, normal wear and tear, repairs, bleaching or dyeing, and so on.
It also does not cover slight breaks, scratches, dents, or cracks in fragile items; mechanical or electrical breakdowns unless caused externally by accident (though it can be covered by paying an extra premium at the time of purchasing the policy); internal damage or overwinding to antique clocks; government action, perils of war, nuclear disasters; any loss caused by the action of the insured which increased the risk.
Benefits and Importance of Property Insurance
Let's say your home was completely wrecked in a storm or flood; your apartment was broken into and all your valuables were stolen.
Unless you have plenty of cash stashed away somewhere, you may never recover from this ghastly incident.
If you have insurance, however, you will get the adequate financial compensation that will enable you to start life anew: get a new home, or make the requisite repairs, replace your valuables, and so on.
Is Property Insurance Mandatory?
Well, the answer is no. It is not mandatory; just like life insurance, it is entirely your choice.
But now that you have seen the numerous benefits of home insurance, you will agree that it makes sense to have a home insurance policy.
If you live in an apartment, the builder likely took out a building insurance policy at the time of construction. You can check if the policy is still valid; if not, check with your residents' association whether they are interested in insuring the building.
You can always take out an insurance policy on your own apartment. Consider the economic factors affecting housing market.
Factors Impacting Premium for Property Insurance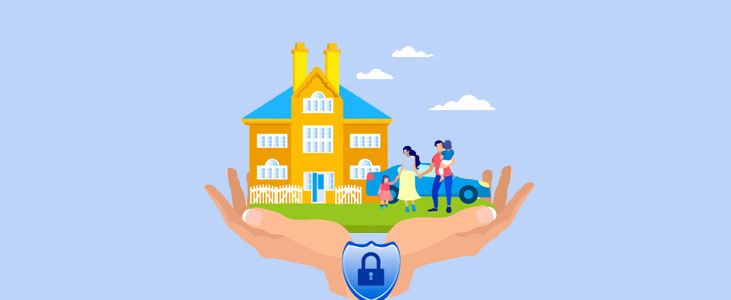 Let's now understand what factors affect the premium for your home? How do companies arrive at the premium amount? In short, these are the things they consider:
Location – Is your home in a flood or earthquake-prone area? You may be charged a high premium.
Age and Structure – if your home is new and structurally sound you have nothing to worry about, but an old dwelling with structural issues is likely to attract high premiums. Also read Apartment Maintenance Checklist to Consider for Better Living
Security – a property with appropriate security systems in place is less likely to be burgled, and hence, you would be offered a low premium and vice versa.
Content – if you have high-value contents inside your home that you want to insure, your premium will be affected on the higher side
Insured Value – the market value impacts the sum insured, which in turn affects the premium. If the value is high, consequently everything else is also high.
Final Words
It always makes sense to purchase insurance for your home, especially if you live in a riskier area; or you can make sure to purchase an apartment located in premium, secure locations, with state-of-the-art security systems in place. Consider the advantages of smart homes.
Always purchase apartments from reputed builders like PVS and enjoy peace of mind.
Are you checking out the best flats in Calicut for superior apartment projects? You have come to the right place. PVS Builders are one of the most trustworthy and reputed builders in Calicut, with some of the best laid-out apartments in prime locations. Contact us today to know more!