Stunning Partition Designs Between Living And Dining Areas
Posted on May 27, 2022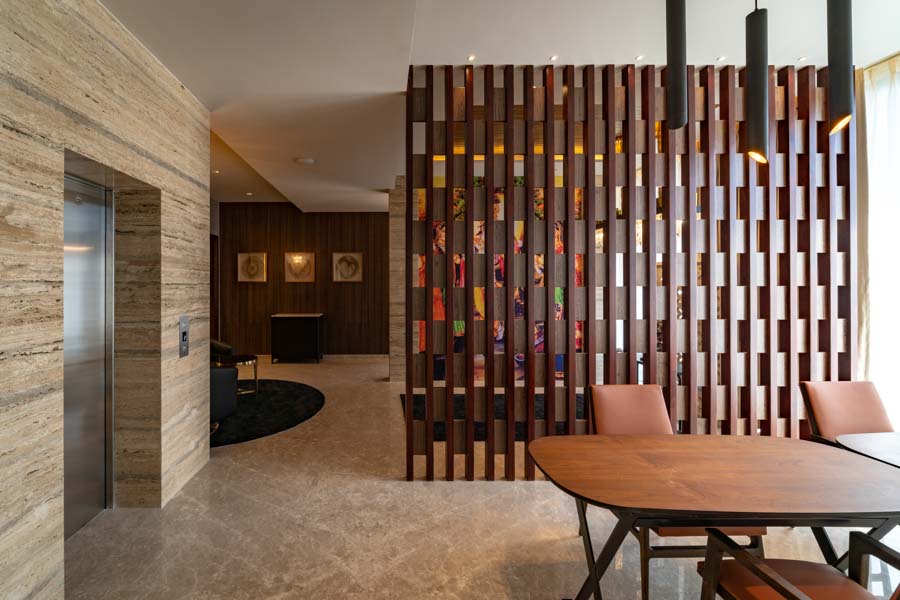 Living and dining areas are the most crucial spaces in any house and designers give them more importance when considering interior design. Designers always want these rooms to be appealing and well-designed. People often prefer to stay in apartments or flats in this fast-moving lifestyle. In metro cities, the plots are costly, and usually, people build houses in small plots. As a result people often prefer apartment living. Smaller flats now often have a common living and dining space rather than separate rooms. To separate these spaces in a creative and innovative way, partitions are used. Contemporary houses are accompanied by open floors and social spaces. As a result, new houses are built with free-flowing spaces with a partition. People living in flats in Calicut often prefer hall partition designs between living and dining. If you are looking for small apartment organization ideas, then this blog is for you. Designers often explore different partition designs between living and dining. Here we are going to discuss different partition designs between living and dining.
1. A Traditional Style Partition in Home Decor
​​For decades, intricate jali work has been a keystone of Indian architecture. By doing the partition, you can include the classic jali pattern into your home décor and stylishly divide the hall from the dining area. Jali is a design element that goes with all types of Indian houses. Jali should be at the top of your listing if you are looking for hall partition designs between living and dining areas. Partitions with the Jali pattern may be used as a basic divider design for the living room and dining hall. Jali divider designs for the living room and dining hall are available in wood-plastic, MDF, stainless steel, and PVC materials. This jali wall is a design miracle when combined with the exquisite décor. Also, read more on low-cost interior design homes in Kerala.
2. A Glass Partition Between The Living and Dining
A glass partition between the living and dining adds a premium look to the apartment and is very cost-effective. If you are one such person who has time to maintain your house, a glass partition is the best option. Glass partition gives a stylish and elegant look to the home decor if it is maintained properly. The stained-glass hall partition is a stunning idea and the colored glass pattern adds a touch of glamour. It's better to go for thick glasses with some pattern. Creating a glass partition is the smartest investment one can make. It separates the living area into two pieces while retaining the space's original elegance. Glass partitions are non-load-bearing and supported by aluminum or wooden frames. Another benefit is that it is easily movable and can be reconfigured according to newer spaces with less mess. Glass comes in different styles.
Frosted glass
Mirrored glass
Etched or printed glass
Laminated glass
Tinted or painted glass
3. Wooden Partition Designs
Wood is a traditional and long-lasting material for dividers. Wooden dividers with some racks or holders or shelves add style and make the space beneficial. Wooden dividers complement a wide range of décor styles and are easy to maintain. A basic partition design for the living room and dining hall is a wooden partition wall. Because Indian homes utilize a lot of wood in their furnishings, a wooden divider is an excellent hall dining partition concept in India. A wooden crockery unit that partitions the living and dining rooms are also effective. While one side with cabinets and shelves acts as a crockery unit, the other side facing the living room functions as a TV unit or a display area for décor elements. Wood is undoubtedly among the most classy and long-lasting materials for dividers. Also, read more about wooden flooring in Kerala.
4. Customised Laminate Hall Partitions Designs
A regular hall partition may not match the design of your room's decor. You may simply customize them from local artisans based on the components and theme of your room. We can create laminated designs matching our room's colour theme and furniture. Modern houses prefer laminated and customized separation with some unique designs and creative artwork. Custom laminations are made of wood and metals. It can be movable and non-movable. Laminations add up the glam and utilize minimal space.
5. Rustic Brick Walls For An Artistic Aura
If you are preferring a vintage theme, it is really incomplete without adding an element of raw brown bricks to make it look all things boho. Apart from being aesthetically pleasing, these brick walls have the additional advantage of being simple to maintain, unlike glass furniture. Including a few niches in this partition, the design will also allow you to incorporate some indoor plants to complete the aesthetic. Adding some antique furniture to the room will make it look appealing. These types of vintage walls are usually a build-up of scraps and low-cost materials. This vintage concept is in high demand not only for houses and apartments but is also implemented in hotels and shops. Decorating it with some painted and recycled tires, cycles, and other elements completely changes the appearance.
6. Contemporary and Artistic Hall Partition Design
Nowadays, laser-cut wood or acrylic panels modify the art form on the hall and dining room partition wall, giving it a distinctive and exquisite appearance. Laser-cut partitions are an exquisite partition design for living room and dining halls in urban homes with minimal décor. They are creative and trendy. When used as a kitchen barrier between the living and dining rooms, the area will have a good light flow. Installing new modern pop plus minus designs with interesting crisscross patterns at the edge of the dining area adds a funky decor element to the space. Traditional and ethnic designs are not preferred by everyone. Especially when many of us live in urban flats with minimalist design. Above all, we prefer contemporary designs that enhance our modern residences.
7. Stone Finish Hall Partition
Stone-finished partitions are available in a range of engineered stone patterns. They show up with a polished finish. They can resist damage and are excellent for high moisture situations. Stone finish partitions are watertight, making them excellent for a hall partition design ideas. The living area's beauty is enhanced by the use of neutral earthy tones, light-toned stone, and wood. The stone walls are easy to maintain and durable. Plain water is enough to clean the wall.
8. Metal Structure as partitions
To create an aesthetic industrial partition look, metal frames are a good option. Metal frames are a great option in the latest trend. The metal cum glass grids can be designed according to the color theme of the interior. It is a simple and inexpensive technique to partition, keeping the rooms connected. A beautifully crafted metal in gold decorates the space aesthetically and gives a glow to the space.
9. Crockery and Bookshelves as Partitions
A crockery unit on one side facing the dining area and a bookshelf on the living area would make the space sophisticated and useful. The cost of building separate units for bookshelf and crockery units can be saved through this. Arranging books in different patterns with some greenery will give a breath-taking look to the living room. It makes the living more lively and cool. In the grocery unit, arranging it with new and trendy glass, plates, and saucers will make the space more elegant. This is most suitable for people who prefer apartment living. Also, read more on kitchen cupboard designs in Kerala.
10. A Half-Wall Partition
A half-wall separating the two areas is a good idea for cozy apartments. It makes the room look spacious and at the same time, the partition can be utilized as a bookshelf or showcase and even can keep some flower pots on the wall to give greenery to the room. Though it lacks privacy, we can bring some privacy by using blinds or beautiful curtains. Nowadays, half-wall partitions are also used to separate the kitchen and dining. Flats in Calicut are designed in such a way that kitchen-dining-living areas are separated by small partitions, especially half-wall partitions used to make the flat feel spacious.
Conclusion
In the last few years, the appearance of Kerala houses and apartments has changed significantly. Massive mansions have diminished in size, not because of a lack of space, but because no one has time to maintain properties the size of football fields. We have more small apartment organization ideas for you. If you want to make your living more lively, you can connect with us for consultation and implementation. The above discussed partition design between the living room and dining room will completely transform the aesthetic of your house!
Are you checking out the best flats in Calicut for superior apartment projects? You have come to the right place. PVS Builders are one of the most trustworthy and reputed builders in Calicut, with some of the best laid out apartments in prime locations. Contact us today to know more!