A Brief Guide On Low Cost Modern Interlock Brick Houses
Posted on May 31, 2022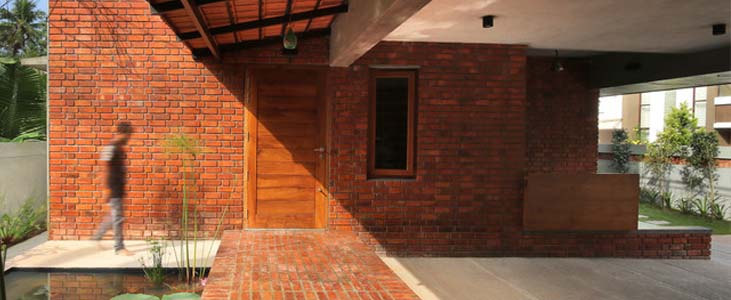 Construction and masonry are typically time-consuming, labour-intensive, and costly. To tackle the difficulties and concerns faced during construction, many construction approaches are being researched and created. Concurrently, construction materials and equipment are being manufactured to improve construction quality while simultaneously reducing time and cost. One such milestone in the industry is interlocking bricks. Modern interlock brick house construction is considered the most unique and cost-effective construction technique in Kerala. Putty can be applied immediately over it, and then it can be painted. It allows you to lower the cost of building walls by up to 40%. These bricks are as strong as regular dust blocks of laterite stones and can withstand heavy loads. As a result, it may be utilised to construct load-bearing walls or multistory structures. These blocks have an earthy tone that looks fantastic once a coat of terracotta-coloured paint is applied. It is preferable to apply water-resistant paint on the exterior partitions. The interlocking bricks can also be used to construct a boundary wall. Applying a thin concrete coating over it would increase its capacity and protect it from rainwater. The modern interlock brick house construction method is being implemented in two-storeyed flats in Calicut. These bricks are as strong as traditional mud blocks or laterite stones and can bear massive weights. As interlock bricks are bigger than baked bricks, they are 2.5 times more expensive.
Making of Bricks
      Sand, cement, and a special type of adhesive are used to make interlocking bricks or compacted soil earth blocks. The sand is first pulverised in a crusher before being blended with three percent cement using a mixing machine. This aggregate is then cut into accurate measurement blocks using a hydraulic press machine to create interlock bricks. After that, the bricks are cured for seven days.
They are available in two widths of 6 inches and 8 inches, and also a range of lengths. Each Interlocking Brick includes grooves and locks on the sides that may be linked together to build a block wall without the use of cement mortar.
Interlocking paving bricks can be sourced almost everywhere, are fast and easy to implement, and are convenient to carry. A production plant for interlock bricks may be easily set up for huge jobs, reducing expenses. It is also highly cost effective to build them with just one person, and since the interlock bricks can be set by one person, this is not a problem. Because it is so simple to lay, it is a simple do-it-yourself job that saves you money over hiring a contractor. Basic bricks need a large amount of mortar. The interlocking bricks are put together 'dry.' It all adds up to significant time and financial savings.
Tips and key points for construction using interlock bricks
For high rise frame structures – Only cement mortar should be used in the first layer, one layer at the window sill level, and the top layer below the roof. The remaining interior wall's first and last layers might be cement mortar. Because plastering is not necessary for internal walls except in the toilet area, pointing can be done after the wall has been built.
For single-storied building ( load-bearing structure ) – To construct a sturdy/strong foundation for the wall, use cement mortar in the first layer above the foundation/plinth beam/slab. Again, cement mortar will be used for the layer at the window sill level, the lintel level, and the top layer beneath the roof.
For two-storied building ( load bearing structure ) – Those who are not pleased with the three layers of cement mortar can add a 75mm / 100mm thick concrete levelling course (only for the outside wall of a load bearing home with more than one storey) at the window sill level, the lintel level, and the top layer below the roof.
For construction of compound walls – Building a compound wall with interlocking blocks is much less expensive. Only the first and last layers of the compound wall require the use of cement mortar.
Advantages of Interlock bricks
Cost-effective – Since interlocking bricks are made of sand, soil, and 10% cement, they can help you save up to 35% more money than normal bricks. The usage of interlock bricks reduces material handling and total expenses by 20-40 percent.
More earthquake-resistant – Ordinary bricks rely on mortar as a support system. In an earthquake, if the mortar fails, the entire wall or structure collapses. Interlock bricks, on the other hand, have their own support system that does not rely on mortar. They successfully assist one another.
Insulation in a hot climate – As they are compressed, there is more mass to the Interlocking wall bricks. They keep the interior of the building cooler in hot areas & residents of buildings will not need to use much air conditioning.
Environmentally friendly – Constructing with interlocking bricks requires less concrete and mortar. If you are preferring eco-friendly house construction, then this is the best option.
Low labour cost – Interlock Bricks need less labour and fewer workers to build them. When compared to convention construction, there is no need to check the water level, saving time.
Quick construction – Curing of interlock bricks just requires 7 days saving construction time.
Durable and need less maintenance – Interlock bricks are stronger and more durable than regular bricks, and they require less care.
Easy to dismantle – If you decide to demolish the structure, it is simpler to collect the interlocking wall bricks without causing damage. It would be more difficult if you used regular bricks and mortar.
Disadvantages of interlock bricks
Not suitable for extreme weather conditions – Since no plasterwork is provided, rainwater may enter the pipes, and become a breeding ground for insects and other unwanted creatures. The disintegration of the bricks may occur as a result of weather activity (especially in the corners). If rainwater penetrates through the gaps, the colour of the brick changes.
Not advised for construction of more than two-storied buildings.
Not suitable for custom designs.
Types of interlock bricks
Concrete interlock bricks
Concrete blocks are light grey, high-density, high-strength blocks with a high load bearing capability. The advantages of concrete interlocking blocks are that they simplify construction and reduce the duration from project conception to completion. The most significant benefit of concrete interlocking blocks is that they do not require plastering. Wall putty may be used directly to create a superfine finish wall building. These blocks can be employed in the construction of high-rise buildings, resulting in considerable reductions in material handling expenses and manpower. Residential projects or up to two-storied structures can be built without pillars and beams due to the superior load bearing capacity compared to standard blocks, resulting in reduced construction costs and schedule. Concealed electrical and plumbing work may also be done on interlocking block walls.
Mud Interlock bricks
Mud interlock bricks are made by hydraulically compressing a laterite soil and conventional Portland cement mixture. The blocks are water cured for 7 days before being sent to the job site. After the wall is built, a coat of weatherproof paint and a thin layer of cement plastering is placed on the outside of the mud brick to strengthen it and keep water out.
Fly ash interlock bricks
Fly ash interlock bricks are manufactured by reusing industrial fly ash waste. Fly ash industrial bricks are also known as eco-friendly building materials and are often employed in the construction of eco-friendly houses. The manufacturing cost is lower because it is made from industrial waste. These do not require plastering because of their unique design and gleaming outside surface.
Conclusion
       Low budget modern interlock brick house construction approach is gaining popularity since it significantly reduces the number of construction materials, construction costs, and construction time. One of the most notable benefits of modern interlocking bricks is that they have vibrant outer surfaces that do not require cement plastering. If you are planning for a modern interlock brick house construction, we have an expert team to help you from design to done. For a free consultation contact us or leave a comment. Our architects can help you with low budget single floor designs.