Christmas Decoration For Apartments In Kerala
Posted on November 21, 2018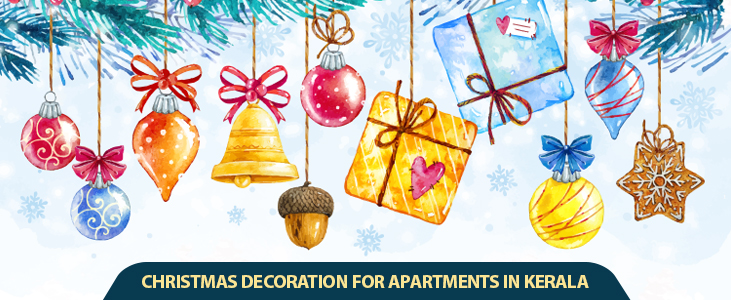 It's that time of the year again! When the white snow coveres the earth and smell of aged wine barrels fill the air bringing in the festive mood. As the world gets geared up for a great holiday and festive season, we have some incredible Christmas decoration for apartments.
Having a well decorated home is a dream that every person has.This is the season to be merry and joyful and celebrate peace and brotherhood of people around the world. With just about a month left for the Christmas season, it's time you started planning your Christmas décor. We know that it's a challenge to take up the christmas decoration for apartments especially in Kerala with the limited space that is available to you. However, you will be surprised to learn that there are plenty of ways in which you can get Christmas decoration for your apartments ready. Apart from decorating your apartment for christmas, you can also check out these low cost interior design ideas for home in Kerala.
Homemade Christmas Decorations Ideas
We present to you some amazing Christmas decorating ideas for small spaces – with a little effort and time, and not too much expense, your home will be ready to ring in Christmas and welcome your guests!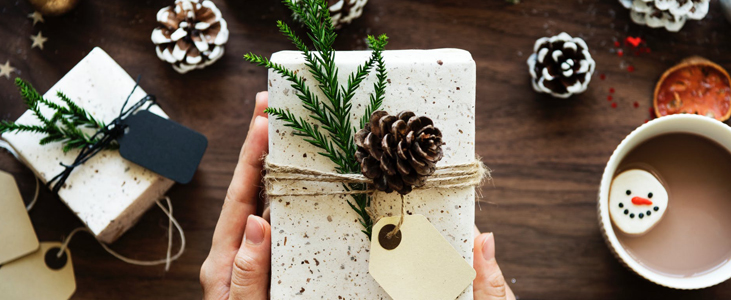 Let the Fragrance of Christmas Waft Through
Create total Christmas ambience – and start with the aroma and fragrance of Christmas. You can buy pot-pourri from the store and place it around your apartment, but what's more fun is to make your own: In a large saucepan, boil a few cinnamon sticks, orange slices, rosemary sprigs (you can also add dried rosemary easily available in big supermarkets) and cranberries (these are also available as the dry variety in dry fruit stores). Allow it to boil and then simmer for a while – keep the pot uncovered so that the heavenly aroma fills your apartment. You can boil it again if the smell disappears. Of course, if you're into baking, baking a few cakes will do the trick!
Make Your Own Cinnamon Scented Candle
Take a biggish candle(it should be at least 6 to 8 inches wide), and tightly wrap cinnamon sticks around the candle, and tie it up with a red satin ribbon. Place in your living room and passage if you can, and light them. The candle will burn slowly, dissipating the fragrance of cinnamon throughout your apartment.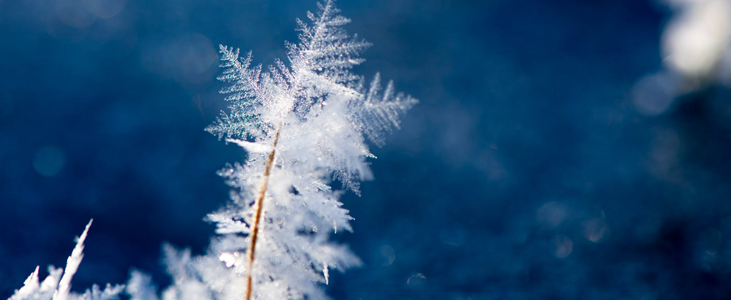 Bring in the Smell of Winter
Hang small twigs or sprigs of pine trees throughout your apartment, if you can find any pine trees nearby. It may be a bit messy but your apartment will have a wintery, Christamassy fragrance, and a rustic look to boot. Here are some summer decorating ideas for living room.
Frosted Windows
Winter in Kerala simply means it's not as hot as April-May! To decorate your apartment for Christmas with a wintery look, you can frost your windows with this neat trick. Before going to the below points you can check out some of the top tipe regarding small apartment decorating ideas on a budget.
You need:
White toothpaste,
Small deep dish filled with water
A sponge
Spray Bottle
Paper Snowflakes – (you can first cut out a cardboard stencil and then draw and cut out on white chart paper)
Make a thick paste with toothpaste and water; gently place the paper snowflake in a bowl of water, and press it when wet on your window glass. When the water drips, gently dab with cloth and remove water. Spray water on the glass; dip the sponge in the prepared paste and swipe the sponge on the glass. Wait till the paste is completely dry, and peel off the paper snowflakes.
Your Main Door
There are plenty of options of Christmas decoration for apartmants that you can do for  you main enterance of your apartment. Make it as inviting and festive as possible; find a colourful wreath and attach some artificial berries on it, and use tape to secure it to the door. Hang garlands down the sides, and lights at the top. You can also burn scented candles on either side on the Christmas eve for a soothing and dreamy effect.
Christmas tree ideas for small spaces
What is Christmas without a Christmas tree? We agree that getting a big pine tree inside may not really be possible in an apartment – and if you live on the higher floors, you can just forget about it. You won't be able to get it into the elevator, and dragging it up the stairs – way too much work. So here are your options:
Buy an artificial tree from a store and assemble and decorate that with ornaments to get a feel of a real tree – for snow, you can place cotton wool. Artificial trees are available in many sizes – check how much space you can spare for your tree, and buy accordingly; don't get too ambitious. 
Try Mini Trees on Tables:
Paint paper cups with glitter paint, fill with mud or tiny pebbles, and place twigs or tiny branches of pine trees and place these mini trees on your tables, built-in shoe rack top, and so on. If you have sprigs or really tiny twigs, you can simply fix them onto pieces of cork (from wine bottles). Paint the cork in bright colors for a festive look, or leave as is for a rustic feel.
Make a Wall Tree:
Take a rectangular piece of Styrofoam and cover it with white or silvery cloth. Cut out a green felt paper in the shape of a Christmas tree and stick on it. To give a 3D effect, you can stick small green tassels inside the tree cutout, and attach tiny beads to represent ornaments – a pretty way to decorate your apartment for Christmas with just a little effort.
Tissue paper tree:
This takes a lot of work, but if you like D-I-Y projects, you'll have great fun doing it. You will need mount board – how many depends on how big you want to make your tree. Cut out the tree – one piece for the trunk, and one for the upper part. Using green tissue paper, cover the upper part fully. Take more tissue paper and cut into strips of different lengths, about 2 inches wide. Leaving aside say 1/4th inch on top, cut the strips from bottom to top close together to make it look like streamers, and attach the top portion with glue on the upper part cutout. Glue the entire tree this way – when there is a breeze, these streamers will flap around, creating an illusion of leaves rustling – and it looks very pretty! Then cover the trunk part with brown felt paper, and stick both parts together. Stand your tree in a corner of the living room where it is visible, or you can hang it on your wall (just insert a strong twine at the top of the tree)
Bottle trees:
A simple idea – fill mason jars with bright pebbles, glitter and water, and place just one branch of a pine tree, and place it around your home – easy and cosy!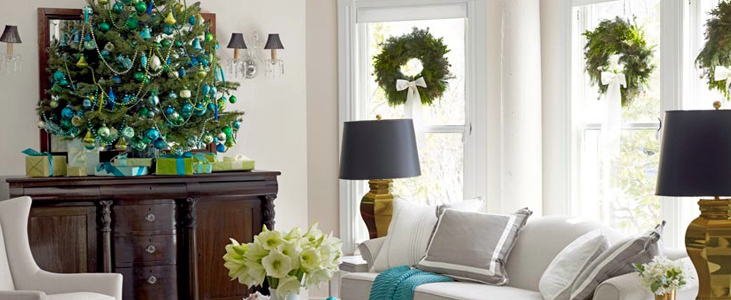 How To Decorate A Small Living Room For Christmas
Your living room will obviously be the focal point of your Christmas décor. Here are a few tricks to get it spruced up for the holiday season:
Hang small pine wreaths in your windows and from the ceiling. These can be store bought artificial ones, or you can make your own; simply twist small branches of pine into a circle, and secure with bright red or golden satin ribbon.
Light up your apartment with fairy lights. To create a winter wonderland effect, use white lights: hang them from the ceiling (use double side tape), make borders for your windows or even your main door. For a 'Wow!' effect, cut out paper snowflakes, and glue them to the wires, so it looks like snowflakes are falling from above. You can also border your TV, hallways, cabinets and so on with lights – use coloured lights in places to break the monotony of white.
Use colourful and shiny ornaments and garlands to hang down from the top of the windows. When the sun reflects off these shiny ornaments, you'll get a mesmerizing effect.
If you have a chandelier in your living room, get some fresh fern or pine branches and place it on top of the chandelier for a green, festive feel.
D-I-Y Centrepieces:
Fill a pretty glass bowl with water, glitter, cranberries (or strawberries) and some greenery
Layer mason jars with different coloured pebbles and add some oil; cover with satin cloth and secure with contrasting ribbons.
Cut out words from mount board, cover with colourful felt paper, and stick to your table with double-side tape. You can arrange miniature wrapped gifts, small bowls or jars with flowers or berries, walnuts, cinnamon and so on. Suggestions for word cut outs: JOY, PEACE, MERRY XMAS, LOVE, and so on.
Wrap a doorway with garland, and attach old Christmas and New Year Greeting cards to it with pins.
If you want a fluid look, keep the Christmas décor in tune with your existing furnishings and décor; it may not be very Christmassy, but will look very classy. You can also check out some of the tips for low cost house construction methods in Kerala.
Experiment with metallic: Silver and gold are two colours that never go out of favour for the Christmas season. It's the time to be sparkly! Decorate your apartment for Christmas with garlands and ornaments of glittery copper, silver, and golden colours.
Cut out snowflakes from card paper (use a stencil) and glue them to twine in a line; using strong tape, attach them to the ceiling of your passage to create a magical winter look.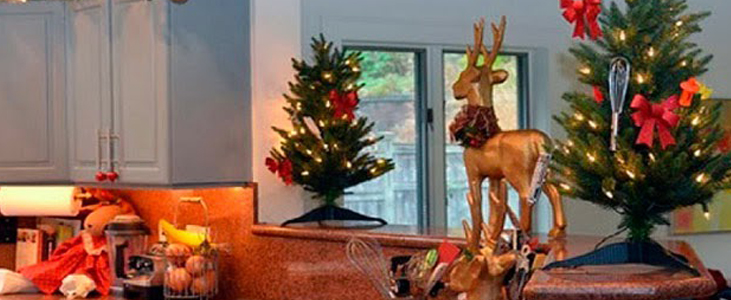 Decorate Cabinets and Kitchen
When you're decorating your apartment for Christmas, don't leave out the kitchen; after all, the Christmas goodies will be made there! Turn your refrigerator into a giant snowman. If it's not white in colour, cover it with white chart paper, or cloth. Cut out black circles of different colours – make eyes, a smiley and buttons from these. Cut out a small orange or red triangle for his nose. Cut two strips of colourful wrapping paper, and glue them slightly slanting from each side towards the centre, to make his scarf. Voila! You have your snowman!
Make giant bows out of satin ribbons (red and green preferably) and glue them onto your kitchen cabinets, so that it doesn't interfere with your routine. You can also do this for your bathroom cabinets. Gluing small pine wreaths to cabinets is also a good idea.
We hope you found these tips useful, and will try at least some of them to decorate your apartment for Christmas – Happy decorating!

PVS Builders & Developers is one of the leading builders in Calicut that provides top-notch flats and apartments in Calicut,Kannur and Aluva. For booking your apartment, contact us today or visit our website for more information