Christmas Decoration For Apartments In Kerala
Posted on August 29, 2021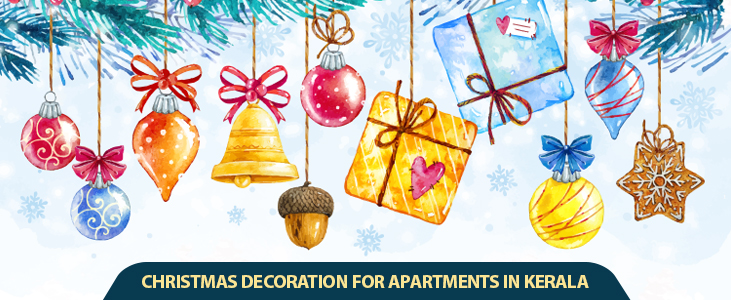 It's that time of the year again! When the white snow coveres the earth and smell of aged wine barrels fill the air bringing in the festive mood. As the world gets geared up for a great holiday and festive season, we have some incredible Christmas decoration for apartments.
Having a well decorated home is a dream that every person has.This is the season to be merry and joyful and celebrate peace and brotherhood of people around the world. With just about a month left for the Christmas season, it's time you started planning your Christmas décor. We know that it's a challenge to take up the christmas decoration for apartments especially in Kerala with the limited space that is available to you. However, you will be surprised to learn that there are plenty of ways in which you can get Christmas decoration for your apartments ready. Apart from decorating your apartment for christmas, you can also check out these low cost interior design ideas for home in Kerala.
Homemade Christmas Decorations Ideas
We present to you some amazing Christmas decorating ideas for small spaces – with a little effort and time, and not too much expense, your home will be ready to ring in Christmas and welcome your guests!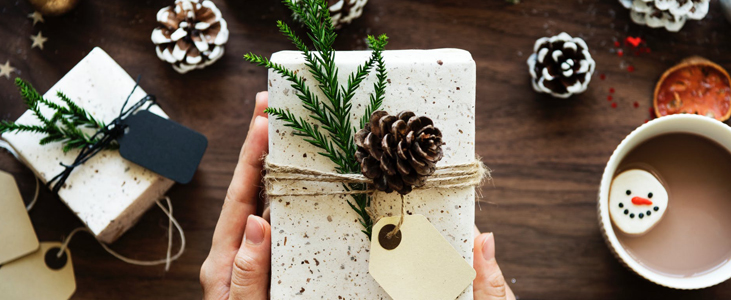 1. Let the Fragrance of Christmas Waft Through
Create total Christmas ambience – and start with the aroma and fragrance of Christmas. You can buy pot-pourri from the store and place it around your apartment, but what's more fun is to make your own: In a large saucepan, boil a few cinnamon sticks, orange slices, rosemary sprigs (you can also add dried rosemary easily available in big supermarkets) and cranberries (these are also available as the dry variety in dry fruit stores). Allow it to boil and then simmer for a while – keep the pot uncovered so that the heavenly aroma fills your apartment. You can boil it again if the smell disappears. Of course, if you're into baking, baking a few cakes will do the trick!
2. Make Your Own Cinnamon Scented Candle
Take a biggish candle(it should be at least 6 to 8 inches wide), and tightly wrap cinnamon sticks around the candle, and tie it up with a red satin ribbon. Place in your living room and passage if you can, and light them. The candle will burn slowly, dissipating the fragrance of cinnamon throughout your apartment.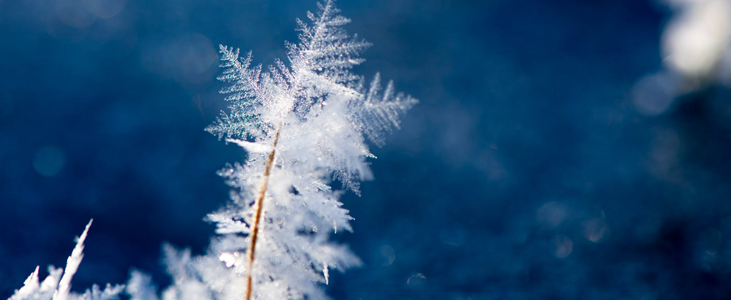 3. Bring in the Smell of Winter
Hang small twigs or sprigs of pine trees throughout your apartment, if you can find any pine trees nearby. It may be a bit messy but your apartment will have a wintery, Christamassy fragrance, and a rustic look to boot. Here are some summer decorating ideas for living room.
If you want a less messy way to make your Christmas in Kerala smell like winter, then try this trick. Use a cotton ball and place it in different sections of the house. Now get cinnamon essential oil and put a generous amount in those cotton balls. It will give you a beautiful scent without creating a mess. You will get the smell of pine trees and have the winter feel without the snow.
You can also create DIY candles by melting wax. Next you will need the essential oil and put it in the melted wax and wait for it to freeze. So, when you light the candle, you will get the warm spice scent.
4. Frosted Windows
Winter in Kerala simply means it's not as hot as April-May! To decorate your apartment for Christmas with a wintery look, you can frost your windows with this neat trick. Before going to the below points you can check out some of the top tipe regarding small apartment decorating ideas on a budget.
You need:
White toothpaste,
Small deep dish filled with water
A sponge
Spray Bottle
Paper Snowflakes – (you can first cut out a cardboard stencil and then draw and cut out on white chart paper)
Make a thick paste with toothpaste and water; gently place the paper snowflake in a bowl of water, and press it when wet on your window glass. When the water drips, gently dab with cloth and remove water. Spray water on the glass; dip the sponge in the prepared paste and swipe the sponge on the glass. Wait till the paste is completely dry, and peel off the paper snowflakes.
5. Your Main Door
There are plenty of options of Christmas decoration for apartmants that you can do for  you main enterance of your apartment. Make it as inviting and festive as possible; find a colourful wreath and attach some artificial berries on it, and use tape to secure it to the door. Hang garlands down the sides, and lights at the top. You can also burn scented candles on either side on the Christmas eve for a soothing and dreamy effect.
The door is the first thing that your guests see when they come visit. Hence it should bring out the festive season from the entrance itself. Also, the door on the ground floor or the 1st floor is what you see first and that is why it should bring in the Christmas spirit. It will add the cheery feeling from the very beginning.
However, if you do not want a traditional look for your door, you can opt for other themes. One of them is a candy-themed party. It will be really appealing for kids and you will have something new to offer. You can decorate the door with pine tree branches for the Christmas look. Next you can add candy sticks and plastic cookies on the door front.
Add a garland and use fake snow to make it appear the whipped cream on the sides. It will give an appearance that something amazing is behind the door, like a chocolate factory. Make sure to match the door decoration with the insides.
6. Christmas tree ideas for small spaces
What is Christmas without a Christmas tree? We agree that getting a big pine tree inside may not really be possible in an apartment – and if you live on the higher floors, you can just forget about it. You won't be able to get it into the elevator, and dragging it up the stairs – way too much work. So here are your options:
Buy an artificial tree from a store and assemble and decorate that with ornaments to get a feel of a real tree – for snow, you can place cotton wool. Artificial trees are available in many sizes – check how much space you can spare for your tree, and buy accordingly; don't get too ambitious. 
For a small apartment, having a huge tree may clutter the place. Therefore, make sure that you keep it minimalistic so that it looks tidy and also produce effective Christmas house decoration ideas.
Another way to go about it is using smaller ornaments to make the tree appear bigger. It will provide coverage and you can use as many decorations without making it look clustered. Usually, the traditional ornaments are rather too big for the small tree. Therefore, what you can do is have crystals and gems on the branches with sparkles and streamers. Next, you can opt for small bags with small gifts and hang them over.
Try to keep the whole setup small and neat in the prime location. This will make your house appear bigger despite the decorations. You can remove the center table to make room for the guests. Instead, you can put in decorated chairs at the sides of the room. Keep the middle area clean and spacious so you invite whomever you want to.
If you to make the house look even better without investing in ornaments, try bringing in the nature into your home. It will be perfect for small houses. This is because, it will bring the outside in your home resulting you to have the illusion of the house being bigger. Additionally, it will make it classy and minimalistic. So how can you do this?
Firstly, clean and organize your apartment and make it as neat as you can. Replace your cushions and curtains with a monochrome color. Single colored themes give the appearance of a bigger house rather than contrasting colors.
Next, add plants to the windowsill, on the countertop, and between the cushions. If it looks too simple, you can layer these with white flowers and red roses. Nonetheless, do not go overboard with the colors. The maximum you should opt for is two contrasting colors and not more than that.
7. Try Mini Trees on Tables:
Another cool way to bring in the holiday season without the giant pine tree is having smaller trees in multiple places. For this all you will need is some paper cups, foam or soil and some plastic toy trees. Now bring out the inner artist and start crafting.
Paint paper cups with glitter paint, fill with mud or tiny pebbles, and place twigs or tiny branches of pine trees and place these mini trees on your tables, built-in shoe rack top, and so on. If you have sprigs or really tiny twigs, you can simply fix them onto pieces of cork (from wine bottles). Paint the cork in bright colors for a festive look, or leave as is for a rustic feel.
Another cool way to bring in the holiday season without the giant pine tree is having smaller trees in multiple places. For this all you will need is some paper cups, foam or soil and some plastic toy trees. Now bring out the inner artist and start crafting.
8. Make a Wall Tree:
Take a rectangular piece of Styrofoam and cover it with white or silvery cloth. Cut out a green felt paper in the shape of a Christmas tree and stick on it. To give a 3D effect, you can stick small green tassels inside the tree cutout, and attach tiny beads to represent ornaments – a pretty way to decorate your apartment for Christmas with just a little effort.
Another way of going about these Christmas house decorating ideas is having a wall reserved for a paper tree decor and gifts. Cut out your paintings and other craft things and stick it on the wall in the shape of a pine tree. Color-coordinate it accordingly. If you want a traditional theme opt for pieces with red and white colors on them.
Bring in the colors of Santa Claus or you can try an antique look with brown paper with red patterns on it. Make the whole thing look like a tree and stick in on the wall. This can be the perfect place for people to come in and place their gifts. This section would indicate the joys of getting a wide range of Christmas gifts and just seeing it will make the children happy.  
9. Tissue paper tree:
This takes a lot of work, but if you like D-I-Y projects, you'll have great fun doing it. You will need mount board – how many depends on how big you want to make your tree. Cut out the tree – one piece for the trunk, and one for the upper part. Using green tissue paper, cover the upper part fully. Take more tissue paper and cut into strips of different lengths, about 2 inches wide. Leaving aside say 1/4th inch on top, cut the strips from bottom to top close together to make it look like streamers, and attach the top portion with glue on the upper part cutout. Glue the entire tree this way – when there is a breeze, these streamers will flap around, creating an illusion of leaves rustling – and it looks very pretty! Then cover the trunk part with brown felt paper, and stick both parts together. Stand your tree in a corner of the living room where it is visible, or you can hang it on your wall (just insert a strong twine at the top of the tree)
10. Bottle trees:
A simple idea – fill mason jars with bright pebbles, glitter and water, and place just one branch of a pine tree, and place it around your home – easy and cosy!
It is an excellent idea if you want to make you Christmas even more happening without spending much. If you want there is another way to go about this. Use beer bottles or mason jars and fill it with green ferry lights. You can also add yellow and green together. Place them in different sections of the house for your Christmas in Kerala. Also read
During the Christmas carol, you can switch off the main lights and just let these stay on. It will give a very candlelight feel. Also, it will create an amazing ambiance and the carols added to that will give you chills. Also read indoor gardens apartments kerala.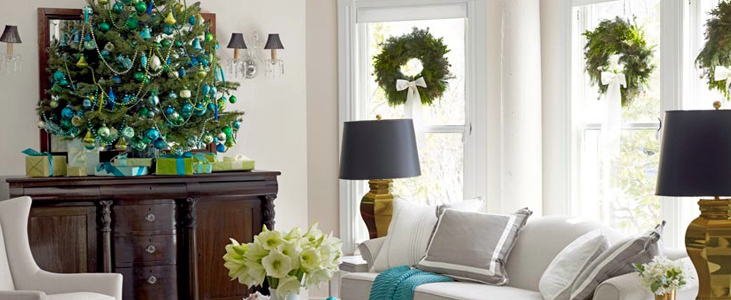 How To Decorate A Small Living Room For Christmas
Your living room will obviously be the focal point of your Christmas décor. Here are a few tricks to get it spruced up for the holiday season:
Hang small pine wreaths in your windows and from the ceiling. These can be store bought artificial ones, or you can make your own; simply twist small branches of pine into a circle, and secure with bright red or golden satin ribbon.
Light up your apartment with fairy lights. To create a winter wonderland effect, use white lights: hang them from the ceiling (use double side tape), make borders for your windows or even your main door. For a 'Wow!' effect, cut out paper snowflakes, and glue them to the wires, so it looks like snowflakes are falling from above. You can also border your TV, hallways, cabinets and so on with lights – use coloured lights in places to break the monotony of white.
Use colourful and shiny ornaments and garlands to hang down from the top of the windows. When the sun reflects off these shiny ornaments, you'll get a mesmerizing effect.
If you have a chandelier in your living room, get some fresh fern or pine branches and place it on top of the chandelier for a green, festive feel.
D-I-Y Centrepieces:
Fill a pretty glass bowl with water, glitter, cranberries (or strawberries) and some greenery
Layer mason jars with different coloured pebbles and add some oil; cover with satin cloth and secure with contrasting ribbons.
Cut out words from mount board, cover with colourful felt paper, and stick to your table with double-side tape. You can arrange miniature wrapped gifts, small bowls or jars with flowers or berries, walnuts, cinnamon and so on. Suggestions for word cut outs: JOY, PEACE, MERRY XMAS, LOVE, and so on.
Wrap a doorway with garland, and attach old Christmas and New Year Greeting cards to it with pins.
If you want a fluid look, keep the Christmas décor in tune with your existing furnishings and décor; it may not be very Christmassy, but will look very classy. You can also check out some of the tips for low cost house construction methods in Kerala.
Experiment with metallic: Silver and gold are two colours that never go out of favour for the Christmas season. It's the time to be sparkly! Decorate your apartment for Christmas with garlands and ornaments of glittery copper, silver, and golden colours.
Cut out snowflakes from card paper (use a stencil) and glue them to twine in a line; using strong tape, attach them to the ceiling of your passage to create a magical winter look.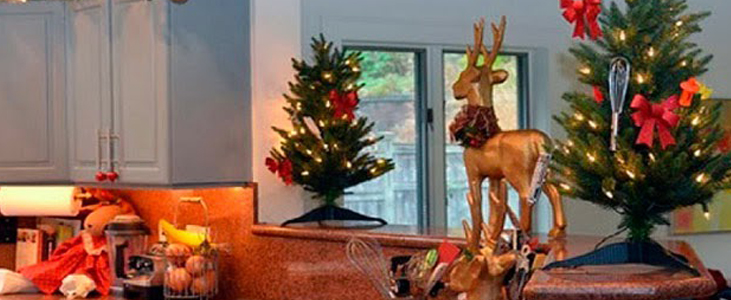 Decorate Cabinets and Kitchen
When you're decorating your apartment for Christmas, don't leave out the kitchen; after all, the Christmas goodies will be made there! Turn your refrigerator into a giant snowman. If it's not white in colour, cover it with white chart paper, or cloth. Cut out black circles of different colours – make eyes, a smiley and buttons from these. Cut out a small orange or red triangle for his nose. Cut two strips of colourful wrapping paper, and glue them slightly slanting from each side towards the centre, to make his scarf. Voila! You have your snowman!
Make giant bows out of satin ribbons (red and green preferably) and glue them onto your kitchen cabinets, so that it doesn't interfere with your routine. You can also do this for your bathroom cabinets. Gluing small pine wreaths to cabinets is also a good idea. Also read modern kitchen interior design ideas.
We hope you found these tips useful, and will try at least some of them to decorate your apartment for Christmas – Happy decorating!

PVS Builders & Developers is one of the leading builders in Calicut that provides top-notch flats and apartments in Calicut,Kannur and Aluva. For booking your apartment, contact us today or visit our website for more information