11 Artificial Grass Wall for Indoor and Outdoor Design Ideas
Posted on July 26, 2022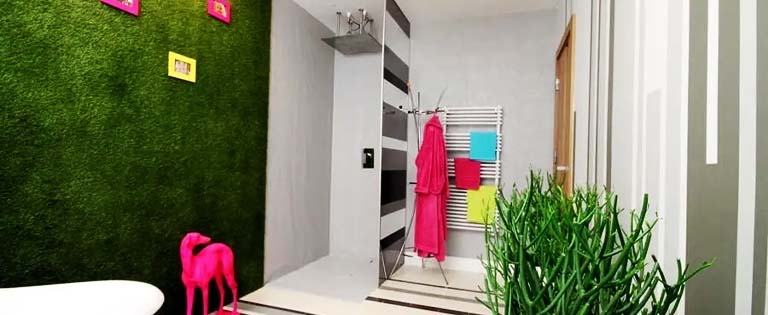 The greenery boosts your health in ways you probably don't even realize. Now in Meteoric life, we spend little time maintaining gardens or growing plants. That's one of the reasons many in flats/villas artificial grass wall designs become popular. They use artificial grass on walls, terraces, and even in lawns. Interestingly enough, artificial grass is much more durable than nature's vision. To attach grass in the walls, the first thing we do is, use cardboard to create a template on the wall you want to attach to it. Then at the back of the grass, attach the template and cut around to its right size.
Living in an apartment today doesn't mean that you cannot have your own garden or a balcony that looks like a garden. However, by using artificial wall grass produced by the experienced and expert team of wall grass, you can turn your balconies into living gardens from each other and change your life. We can see many flats in Calicut have these artificial grass wall designs.
Artificial grass is seen everywhere from football grounds to the home's anteroom. When it comes to interior decoration artificial turf can change the atmosphere of the room brings a natural ambience to the space and is an excellent grass wall idea.
Nowadays installing a green artificial vertical garden, regardless of location is a terrific way to change any space and makes it feel more natural and inviting. There are various benefits and more options are available. Because of these reasons most of the interior designers are choosing artificial grass wall solutions over their living counterparts.
Artificial gardens are made of plastic and it is created as an alternative to living vertical gardens for those who do not have green thumbs. Among other things, artificial grass doesn't require watering, fertilizing and pest control. Artificial vertical gardens are really easy to customize to your space, since you can install and reshape your vertical garden plants any way you want.
There are many advantages for artificial grass:
Most importantly it is very easy to maintain artificial grass. It always looks fresh. Artificial grass will eliminate the extra house chore of watering
Using artificial grass will avoid you from the problem of allergies. Synthetic grass will avoid any allergies in kids or elders.
Artificial grass can last for years.
Artificial grass is a perfect money saving solution for a long-term usage.
It is highly durable.
It creates a cozy atmosphere.
It boosts your mood.
They look real.
In recent times homeowners have started to use various places in home. It is ideal places where grass can't grow. It is flexible, eco -friendly and so much more.
1. Artificial Grass – Foyer:
An unusual but popular choice to place artificial turf in, the foyer can sport this trend in style. You can also move away from the floor and try getting innovative with the wall. Play around with patterns if an entire wall seems like a lot to pull off. You and your guests will feel refreshed as soon s they enter inside.
2. Artificial Grass- Balcony:
The balcony is the ideal spot to start with when it comes to installing artificial turf. Everyone loves having a lot of greenery in their apartment balcony and if it comes with zero maintenance then it's just perfect. It will give you a relief from boring balcony.
3. Artificial Grass: Deck–
Some of you will be lucky enough to have a large deck area and if you want to divide it into zones, then an artificial grass carpet will help you. The seating area can have artificial grass to separate it from the rest of the space. This will definitely give an interesting look to your Deck area.
4. Artificial grass: Kid's play Area-
Artificial grass helps you from extreme pressure and conditions. It is also soft on kids and that makes the ideal option for your kids play area. It is safe and your kids will love playing on it since it gives them a large area to mess around in.
5. Artificial Grass: Outdoor Furniture-
Covering your furniture with artificial grass is a sure-shot way of adding some jive and charm to it, be it indoors or outdoors. You can use artificial turf to cover your couch which will stylish your entire space. Covering the furniture with an artificial turf is all about your imagination and a proper installation of artificial grass.
6. Artificial Grass Rugs:
Artificial grass Rugs offer the same performance on a smaller scale. Synthetic grass makes a big difference in terms of comfort and appearances for small spaces like balconies and porches. Artificial Rugs are durable and can withstand the wear and tear of Everyday life.
7. Artificial Grass: Feature wall-
If you want to create an artificial grass feature wall just install your synthetic turf on any vertical surface to consolidate the botanical essence with a modern yet natural ambiance, beauty, and impactful impression.
8. Artificial Grass: A Grass Curtain–
You can maintain privacy with artificial turf too. It seems to be unbelievable. But yes, we will get privacy by placing a grass curtain. Install a synthetic grass curtain on one side of your open balcony and keep noisy neighbors at bay. You can relax in peace without having to worry about anyone peeping through. Also, read more on modern curtain designs.
9. Artificial Grass: Staircase-
It's a great idea to have an artificial grass wall on the staircase. When comparing the two floors gives a change in appearance and also gives you a peek into what to expect.  You can patch it up with the plants and give an ambience of a vertical garden. Also, take a look at stair design ideas for small spaces.
10. Artificial Grass: Bedroom-
Synthetic Grass in bedroom might just enhance the look of the room without much effort. A panel of artificial turf in any corner will make you feel fresh every time when you enter your bedroom. Also, read more on decorating your bedroom.
11. Artificial Grass: Bathroom-
For some it might look funny, but it is a great idea for the green loving people out there. A full white bathroom can sport a splash of green through artificial grass. The maintenance is low and the wall looks new and fresh.
Artificial turf provides the best way to brighten any dull space by introducing a dash of greenery into that area. If you introduce an artificial grass especially in concrete and in harsh areas it will provide a welcoming feel to it. A great way to show off your products, artificial grass provides the perfect way.
Are you checking out the best flats in Calicut for superior apartment projects? You have come to the right place. PVS Builders are one of the most trustworthy and reputed builders in Calicut, with some of the best laid out apartments in prime locations. Contact us today to know more!