Benefits of owning an Apartment in Calicut by NRIs
Posted on July 04, 2022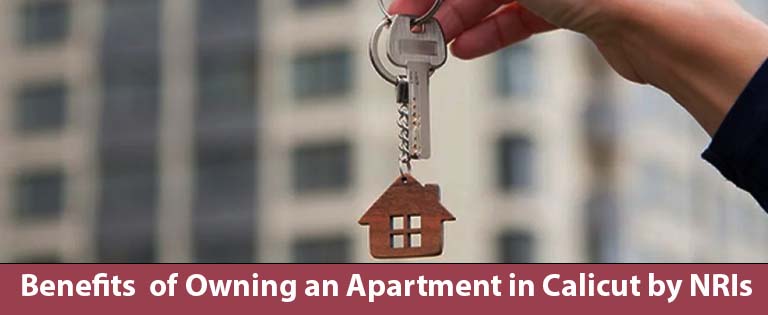 The Motherland is always special to everyone, especially our Home Town. In Earlier times persons sell their ancestral properties to settle Abroad. As time passes, a nostalgic feeling makes them buy a property, especially an apartment in their Home Town. Apartments are the best place for Investment because they can stay, be rented out, or can be sold and you will get healthy returns on Investing in Apartments. Business across the world is weathering a tough scenario due to the Covid-19 pandemic. In times like these smart Investments, and choices are required to reap long-term benefits. Real estate stands out as one of the most stable choices right now, especially in India. That is why NRIs are watching the Indian Real Estate market closely for their next Investment. The number of NRIs are increasing every year and it is obvious that they want to invest either in shares or property. Particularly the southern Indian state of Kerala is having more potential for NRI Investment. 
The Indian Real Estate market has always been an attractive investment destination for the NRIs, especially among the huge population in the Middle East.  As the prices of Real Estate are fluctuating, many people are investing in properties  Apart from residential purposes, they can also use it to get monthly income when they rent out the house.  Likewise, it is also an appropriate investment if you want a property that gives regular income. Most of the NRIs who are in the Middle East aim for investment especially in tier-three cities, for example, Calicut in the South Indian state of Kerala, which is one of the major tourist attractions in India. Most NRI investments in Tier three cities in Kerala like Calicut are driven with a hope to return to their homeland or at least Own a property in their homeland. Some look at it predominantly for Investment purposes, while others buy homes for spending their retirement life.  We need to consider the location of the apartment, as it helps in getting rental incomes and also ensures good returns when sold. 
The coastal city of Calicut is very close to the metro cities like Bangalore and Mysore. Calicut city has a good network of roads.  As per the statistics majority of the Keralites, those who are working in Middle East Countries hail from Calicut, and hence also many people from Calicut are working in IT sectors across US and European Countries. For all these people Calicut is well connected by air route from different destinations. Calicut International Airport and Kozhikode Railway station are located at 1.5 km and 20 km respectively. Calicut city is equipped with many booming IT companies in Cyberpark. Calicut city has prestigious educational institutions Like NIT and hospitals like Calicut Medical College. There are a number of flats in Calicut in different localities. Based on research by various real estate agencies Calicut is considered to be a city where NRIs are considered to be the most popular destination for investment.
Benefits of owning a Flat
Security
The most important benefit we get while residing in the flat is the security we get. We can leave peacefully in the flat without the fear of thieves. Securities will not allow any of the visitors to reach the flat without scrutiny.  There will be CCTV cameras in each corner of the flat. Almost all the new flats coming up are following the concept of a gated community.
Amenities
For a private home, it will be extremely expensive to have a gym, swimming pool, mini supermarket, or a park. But in the case of a flat inside the gated community, it will have all these facilities built. There is no need to spend extra money on these comforts and will be able to enjoy your leisure time with your family. In addition to the above facilities, the flats in the gated community will enjoy other facilities like a community hall/party hall, library, playground for children, laundry, etc.
Lifestyle
In Calicut city, all the apartments are located in prime locations, which will automatically uplift your lifestyle. There will be a Cosmopolitan culture which will enhance the cultural exchange within the community.  This will increase the social togetherness within the community. 
Maintenance
There will be committees in flats to take care of the maintenance and cleaning. Corridors will be cleaned every day.  Waste management in Flats is also appreciable. There will be separate bins for wet waste and dry waste.  All the flats in Calicut are practicing this kind of waste management. The waste management method in all the flats /apartments in  Calicut is Environmental-friendly abiding by the local government regulations.
Size and Budget
The most important benefit of living in a  flat in Calicut is the availability of different sizes of flats according to our budget and requirement. Everyone will not be having a financial background for investing in private houses (individual villas). But in Calicut, there are apartments available in different sizes and budgets. 
An anticipated study shows that Calicut city's Real estate market will contribute above 10 percent of the Current Gross Domestic Product(GDP) by the year 2025, just because of growing employment opportunities in the field of IT and health sectors. NRIs can easily get loans for buying properties if all their paper works are in order. Almost every bank provides a different NRI home loan scheme to them. However, they need to make sure that they are in a position to invest at least 20 percent of the property value which means they will get loans of up to 80 percent of their property value.
Boosting Investor Confidence:
In order to boost investor confidence in the area of accountability, transparency, and reliability from the Developers and Builders the Central Government has enacted an act called Real Estate Regulatory  Authority (RERA). It came into existence in the year 2016, which mainly aims to protect the home purchaser or flat purchaser and also boost real estate Investment. 
In line with the Central Government RERA act, Kerala also enforced the RERA act which is known as K-RERA (Kerala State Real Estate Regulatory Authority).  This K-RERA is an advantage to the consumer, agent and builder in every sense. It builds trust between these entities and all the real estate agents bound to get registered before entering into a deal. The reputed Real Estate builder, PVS builder in Calicut is also registered with RERA.
Some of the benefits of K-RERA
This act has a number of benefits for the buyer, the promoter, and the real estate agent.  These include:
RERA has introduced a standard formula to calculate the carpet area, before the RERA act it was not defined.
Now with this act, the funds raised for one project cannot be transferred to the other project, because as per the RERA act, 70 percent of the funds raised must be deposited in a separate bank account for the particular project. 
As per this act, no builder can demand more than 10 percent of the cost of the flat from the customer as an advance. 
The buyer has more rights in case of false promises.
According to this act, the buyer has the right to know all the information about the project.
Some of the impacts of the K-RERA act:
Dishonest builders will disappear, as they cannot sustain the Real estate market.
Encourages financial discipline in this sector.
As per statistics about two million Keralites are working in different parts of the world and their contribution to regaining the past glory of the real estate market is highly appreciable. Kerala, God's Own Country is a unique destination in India to invest in the real estate sector due to its diverse culture, major tourism attraction, ongoing infrastructure development, and also due to its consistent climatic conditions. Among the cities in Kerala nowadays Calicut is considered to be the hotspot for NRI investment in real estate as it will fetch a good return on investment. Prominent builders in the city include PVS builders are excellently performing in this sector and earned a good reputation from the public due to their reliability and business ethics. Calicut is an ideal destination for NRI investment. Investing a property in Calicut can give you fruitful results.