Top 12 Small Bedroom Cupboard Designs for Flats
Posted on November 21, 2022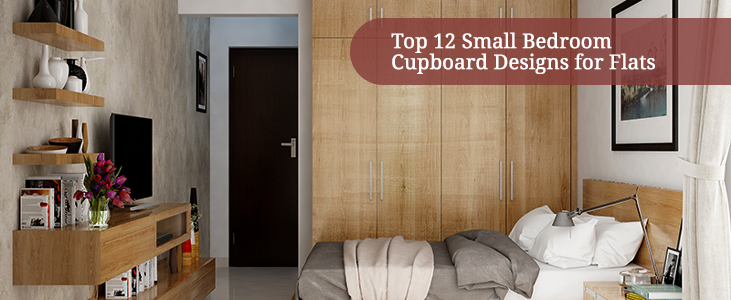 Can you think about your bedroom without a cupboard? Cupboards or cabinets make every bedroom cozy and neat, especially when you consider the small bedroom spaces in the apartments. A perfect bedroom design offers the best storage space to fit all your essential items and accessories. There are many trending designs that the popular Flats In Calicut have adopted for a clean and well-defined bedroom cupboard. Modern bedroom cupboard designs have made cabinets look orderly and neat, making your interiors cozy and convenient. What are the best designs you can adopt for your apartment bedroom cupboards? In this blog, we have come up with awe-inspiring small bedroom cupboard designs to give a pretty makeover to your private spaces.
Most Convenient and Best Small Bedroom Cupboard Designs
Sliding Wardrobe Shutters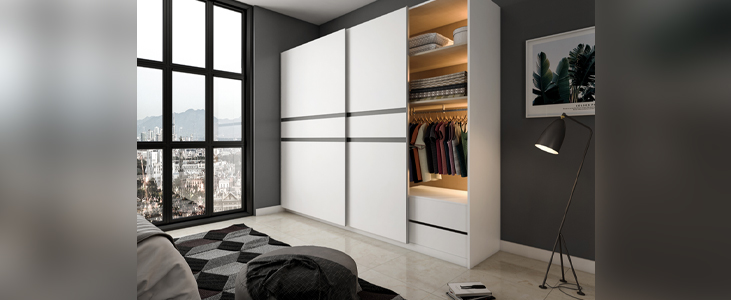 Open wardrobe shutters may consume more space and make it uneasy to access the cupboards. To give it a more convenient touch, you can go for sliding shutter designs, since this opens up without disturbing the spaces. Sliding cupboards can be more attractive when you go for bold colors to highlight them. You may also add sleek designs and stylish patterns with modern style shutter designs which look more stunning.
Beige Wardrobe and a Mirror Panel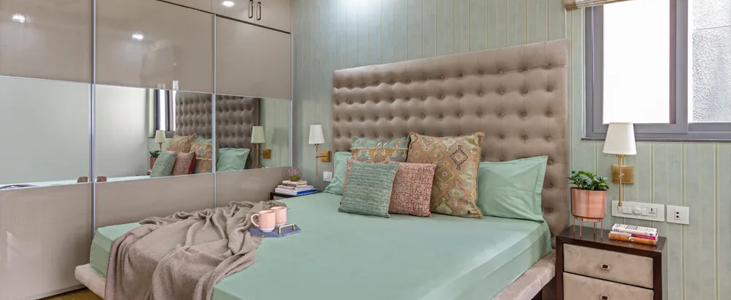 Out of the small bedroom cupboard designs, this design has got its contemporary appeal. Build a floor-to-ceiling kind of wardrobe design to give surplus space to keep your daily wear, party dress, clothes, accessories, bags, and footwear. Why don't you try giving it a layer of the glossy beige laminate sheet? You may also use a mirror panel and install it in the middle to magnify the features of your room.
Floor-to-Ceiling Cabinets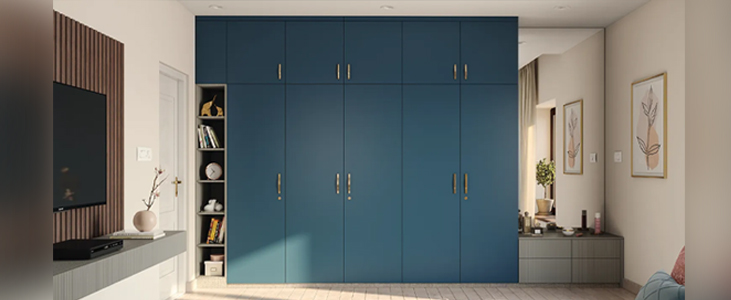 The floor-to-ceiling bedroom cupboards are largely in demand due to the convenience of managing and the space-saving tricks adopted in the designs. You can maximize the bedroom space only with big paneling. When you paint a similar color for the remaining spaces, these cupboards look like a fourth wall. With built-in cabinets, you can neatly transform the rooms and store your essential items. Incorporate shelves, detachable drawers, and rods to give your cupboards a pleasing look.
Also, read more about decorating a bedroom in your apartment
Black Cupboard With Sliding Doors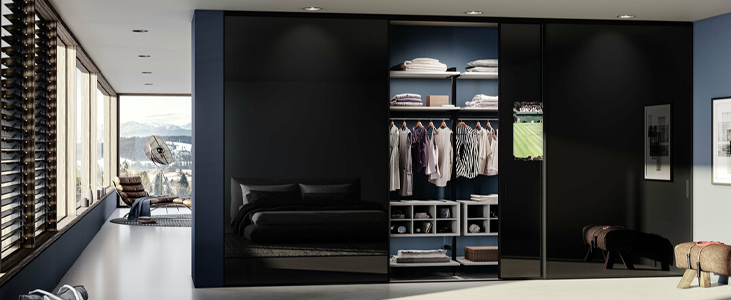 When you include sliding doors for small bedroom cupboard designs, it makes the spaces convenient and accessible. These optimal designs look more pleasing when you add a black finish to the cabinets. Instead of swing doors that consume more space, you can use this sliding door mechanism, and accommodate lofts for ease of access. Black color is a classy pick and gives a contemporary feel to the cupboards.
Luxury Flats in Calicut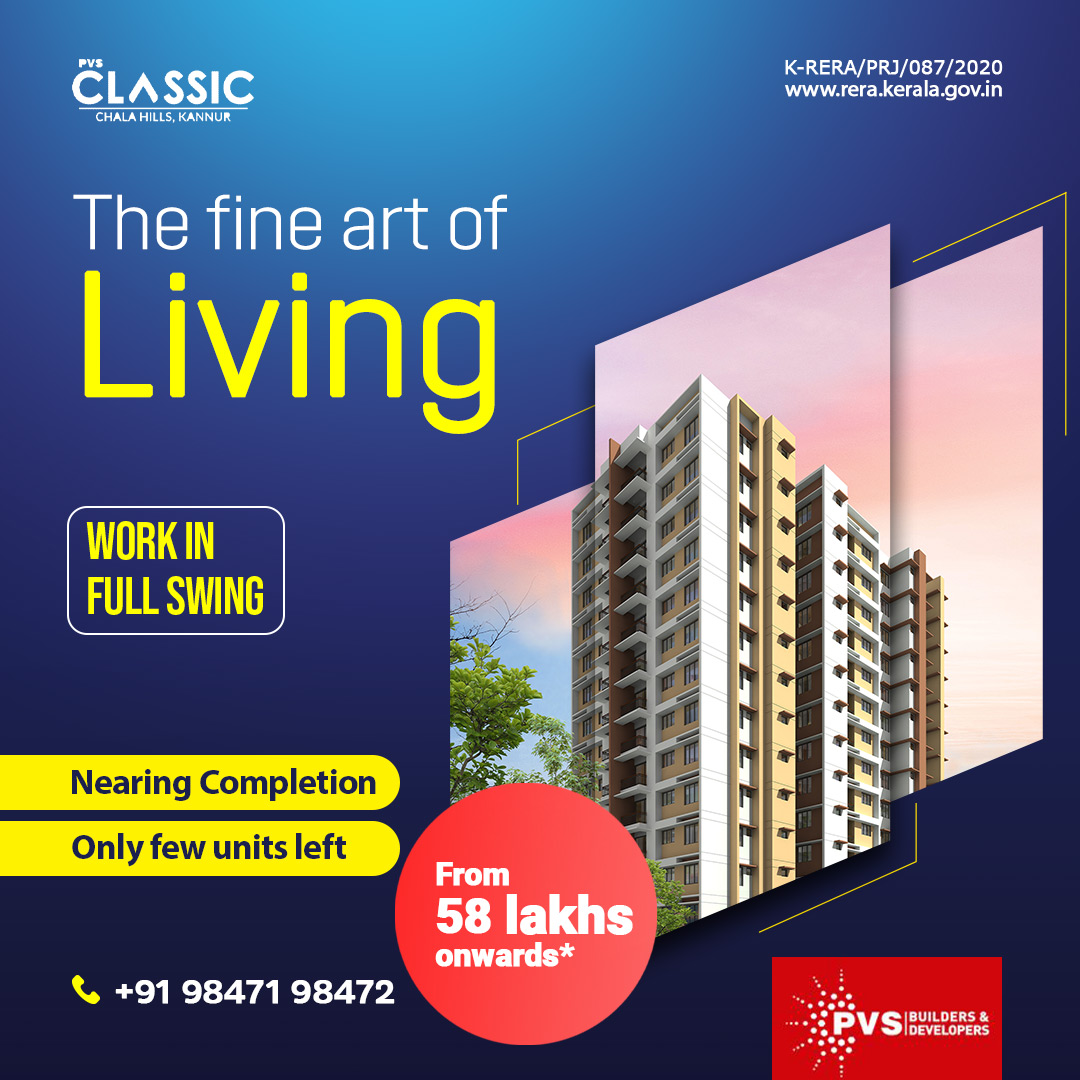 How about waking up to beautiful greenery that mesmerizes you daily?
Feel the beauty in destiny at every corner of your sight here in Kannur Chala!
PVS Classic brings the heavenly beauty of the land that enlight your day!
Open and Semi-open Closets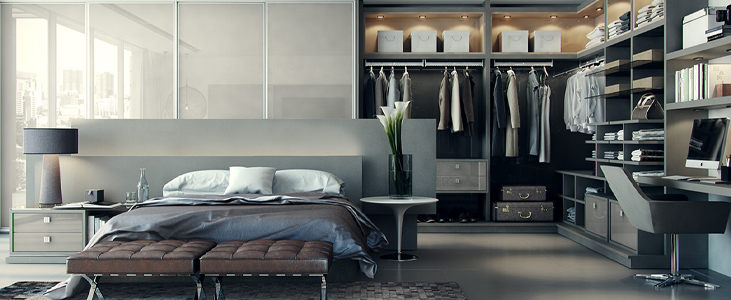 If you crave compact bedroom cupboard designs, with a neat and well-organized structure, you can use an open closet instead of the usual wardrobe style. In this design, you can place all the items in open cupboards. Also, you can go for sem-open shutters which are highly in demand. The open and semi-open closets give natural light and airy space, and you can use it to grab attention with neatly arranged items inside.
White Wooden Cupboard and Dressing Table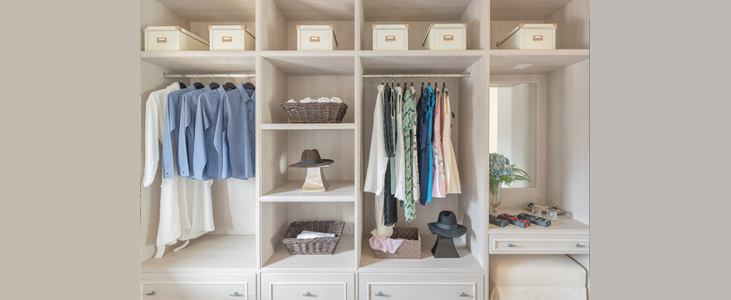 It is ideal when you can make use of the right tone or color shades that build the best master bedroom modern wardrobe designs for bedroom spaces. As discussed, floor-to-ceiling is a go-to option for many apartment residents since they have small spaces to keep their essentials and clothes. Give white paint to your wooden wardrobe and use black handles to magnify its tone. You can make a pastel pink finish to the dressing area near the cupboard. Also, use recessed lighting and keep a mirror that turns the space magical.
Contemporary Slatted Wood Panels for Cabinet Decor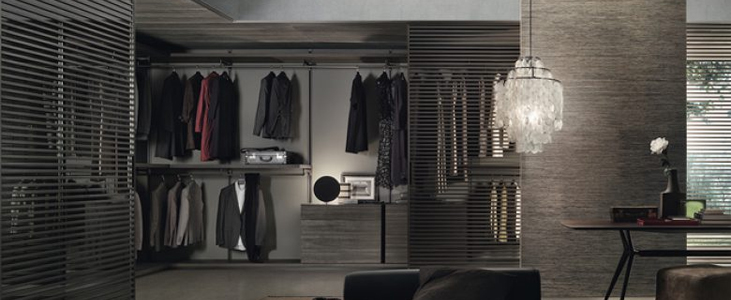 Aren't slatted wooden panels evergreen? They give a touch of tradition and contemporary style to your interiors. Evenly-spaced wooden wardrobe panels can bring light and air to your wardrobe. When you accommodate planks to the shutters, the wardrobe gives a sneak peek into the belongings and the items placed in the bedroom cupboard. You can also use tempered glass that supports cabinet doors if you need to keep the essentials safe.
Behind-the-Bed Fitted Cupboard Designs for Small Bedrooms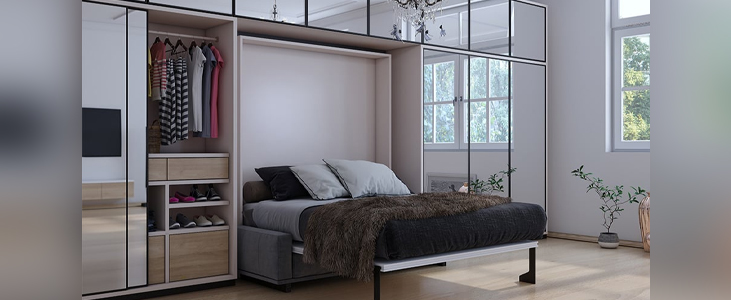 Wardrobe design in wall has been yet another space-saving idea trending these days. These can even turn large bedroom spaces attractive. Your small bedroom spaces can look neat and evenly spaced with these cupboards and custom pieces of furniture settings. Keep a cupboard design behind the bed in the wall space, and deploy many sections that help you with the storage unit. You can make the wardrobe beautiful with a headboard, this gives it an even appearance.
Also, read more about colour combination for bedroom walls
Two-Door Cupboard Design for Limited Spaces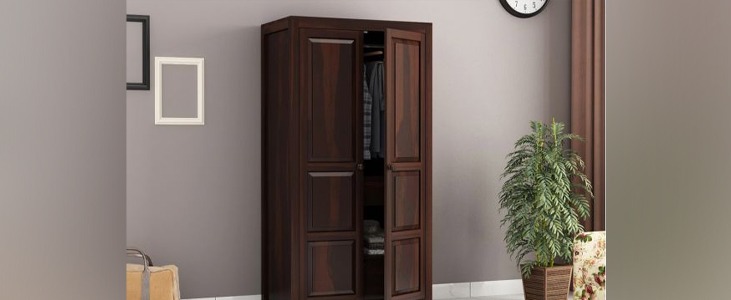 Generally, the designers suggest three-door or two-door wardrobes when we consider the small bedrooms for Indian homes since they are easy to install and don't eat much space. If you use more doors, you can select lighter shades or medium tones to highlight. To give it a better fit, you can also incorporate a sliding door feature into the cupboard.
Wardrobe Fitted Across the Bathroom Door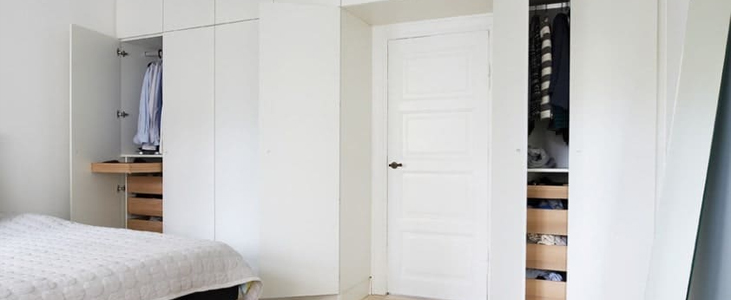 It is exciting when you build ideas that help you utilize every nook and corner of your modern homes effectively. With great ideas, you can make the spaces luxurious and give ample space to store everything you need. What about a wardrobe you can fit across the bathroom door? Isn't it something you can try with all the compact bedrooms? Finally, paint them with light and dark wood combinations to grab a contemporary look.
Wardrobe Attached to Work Desk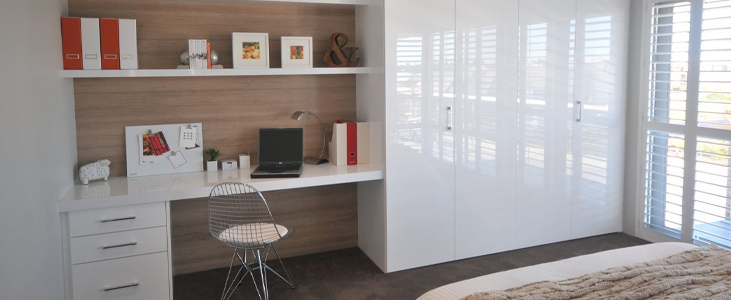 Wardrobes can turn great when you use a work desk attached to them. This is a practical addition to your bedrooms and upgrades the professional functionality of your small interiors. A floor-to-ceiling wardrobe with an attached work desk can look awesome, and save a lot of space. Paint the cupboard with white and brown colors, this makes the view pleasing. Assign various sections for the cupboards to serve different purposes, and keep the bedside table beautiful with table lamps.
Gatsby Theme Based Glass Cabinets
When you use a glass wardrobe, an eye for detail is a must to follow. If you wish to keep all your items neat for a long time, then you should build a mindset to maintain the glass cabinets. A beautiful bedroom can again turn more beautiful with a transparent glass wardrobe, with a golden and matte metal frame. Giving it a Gatsby ecosystem for a glossy finish, with glowing LED lights make the space elegant. To win attention to the valuable items, you can use showcase-style shelves. While you go for a new cupboard design, use a reeded or a fluted glass. You can use brass frames for this pattern. To give it a vintage touch, you may go for a combination of wood as well.
Tips To Sort The Small Room Cupboard Spaces
For small bedrooms, you need to always check for ideas that keep the room organized while not disturbing any activity inside. To maintain the bedroom cupboards undisturbed, and to use them systematically, here are some quick tips you can go for:
Install small shelves in the cupboard. This lets you avoid opening the entire door when you need to take some essential things off of it. This can also help to leave floor space free for items such as laundry bags, shoes, accessories, etc.
You can install a series of small hooks, pegs, or clips to hang your purses, small bags, handbags, etc.
Go for a dresser with many drawers to keep the clothes neatly organized and use whenever needed. However, it can be difficult if you pile all stuff into the drawer, so you can use multiple drawers to classify the items. For example, one is for clothes, while the other is for your socks, undergarments, linen, etc.
A wardrobe with hanging bars and shelves could be a great pick. This can let you hang the pants inside the cupboard. Use a top shelf to keep all the shirts, and use the bottom cupboard section to keep other items like sweaters, blankets, etc.
When you set a tiny wardrobe in the bedroom, you can place your favorite outfits there, to mark the special ones. Get some heavy-duty hooks, of course, removable ones, which you can use to hide or display the clothing based on your preference. Say goodbye to the wrinkled dress or clothes– ensure you use garment cover in case you plan to store them for longer periods.
It is wise to never stuff too many things in the same storage space since this can make the cupboard look untidy and cluttered. Keep things separate from choosing your things and avoid pulling off everything while searching for something.
Wrapping Up
A bedroom looks well-managed when you use cupboards. The wardrobes and cupboards keep everything in place and remove the clutter in any space. You can easily give your bedroom cupboards a systematic appearance with the above-handpicked simple but effective bedroom cupboard designs. You can draw inspiration from the ideas mentioned above and build a beautiful space or give your existing cupboards a stunning makeover. You can also think about having an expert's assistance to revamp or create your bedroom cabinets. Let us know in the comments which of the bedroom cupboard styles mentioned above you liked the most and would love to give a try.
Are you checking out the best flats in Calicut for superior apartment projects? You have come to the right place. PVS Builders are one of the most trustworthy and reputed builders in Calicut, with some of the best laid-out apartments in prime locations. Contact us today to know more!