Top 11 Two Colour Combination for Bedroom Walls
Posted on November 03, 2022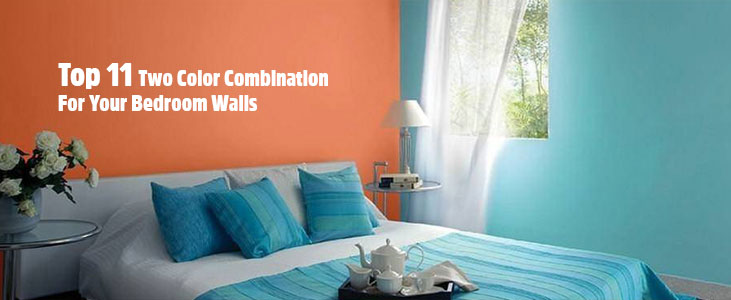 Your home interior design speaks much about your personality and preferences. The bedrooms are especially the places you would love to transform and keep maintained in good colours. Since your bedroom is the best place where you spend quality time in, it needs to be painted thoughtfully.
Many Flats in Calicut have transformed the bedroom walls with various colour combinations making them look more pleasing and elegant. Wish to spend your much-needed me-time in a bedroom that glows with relaxing colours?
Let's discuss the latest two colour combination for bedroom walls that can renovate your house interiors.
Basic colour schemes to use in bedroom walls
Before we deep dive into the trending two colour bedroom wall combination, let's take a glance and the various colour schemes. To make the best choices ever, you need to be well-versed in the broad categories of wall colours. There are two types of colours you can choose for rooms: i) cool colours and ii) warm colours.
The preference for a colour palette for room design depends basically on the purpose of the room. Cool colours consist of blue undertone shades. The blue shade tones like grey, green, purple, etc. belong to cool colours. On the contrary, warm tone can attract the feelings and sentiments like passion, happiness, love, etc. The warm shades are usually yellow tones: ie. Orange, red, brown, etc. Also, read more about Tips for Decorating a Bedroom
11 best wall colour combination you can go for:
Excited to know the best two colour bedroom wall combinations that can keep your walls looking classy and attractive at the same time? Read further to figure out your favourite bedroom wall colour combination:
Baby Pink and Light green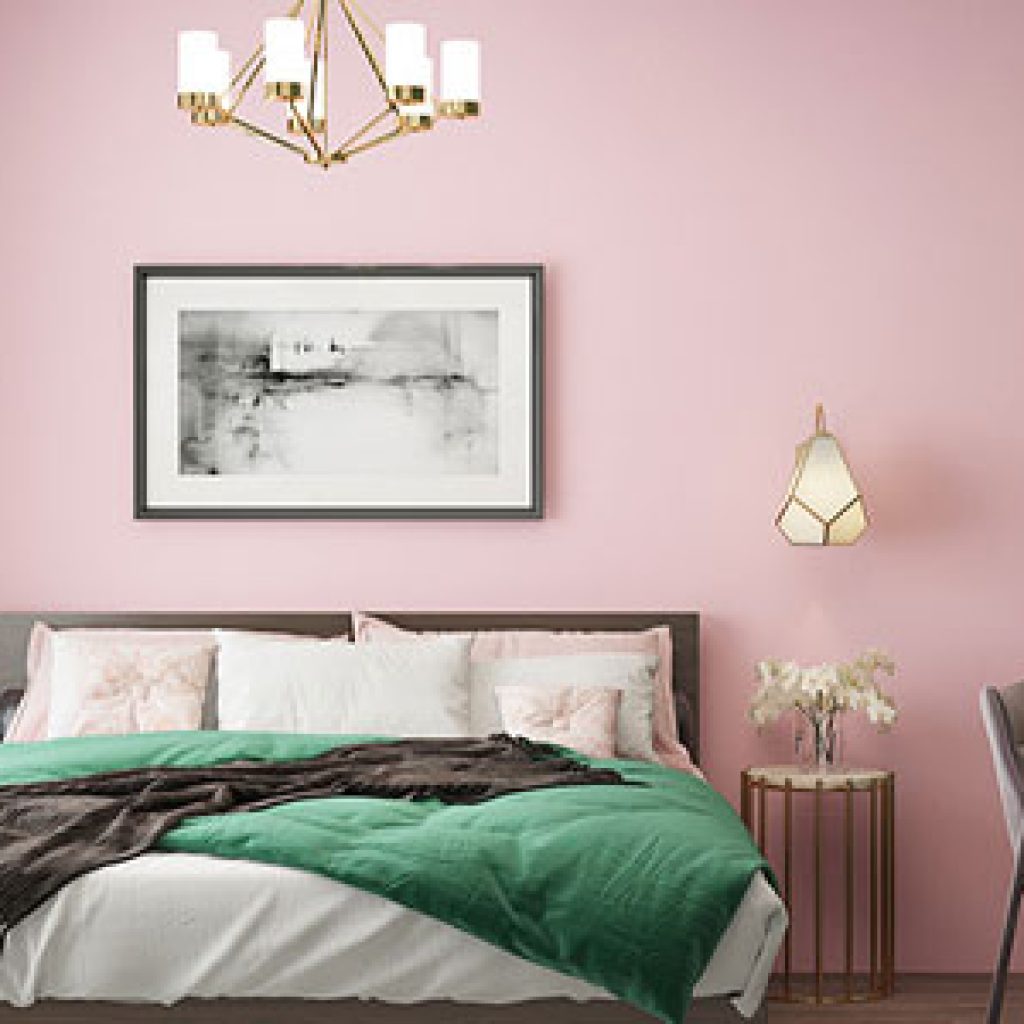 Pink two colour combination for bedroom walls are cute they convert your room into a source of pure bliss. Why not go a bit unconventional and take line green along with baby pink? A bit of the green colour can even make the bedrooms breathe! Green induces a lot of positive energy and a soothing atmosphere, making the interiors serene. This wall colour combination is a real touch of softness. You can add hints of green in the other accessories around like chairs, rugs, pillows, wall hangings, or lamps, that give a perfect balance with the pink scheme all around. Use bright shades like pink for accent walls and try a lime green splash on beddings and furniture if you prefer a different combination. 
Yellow and cream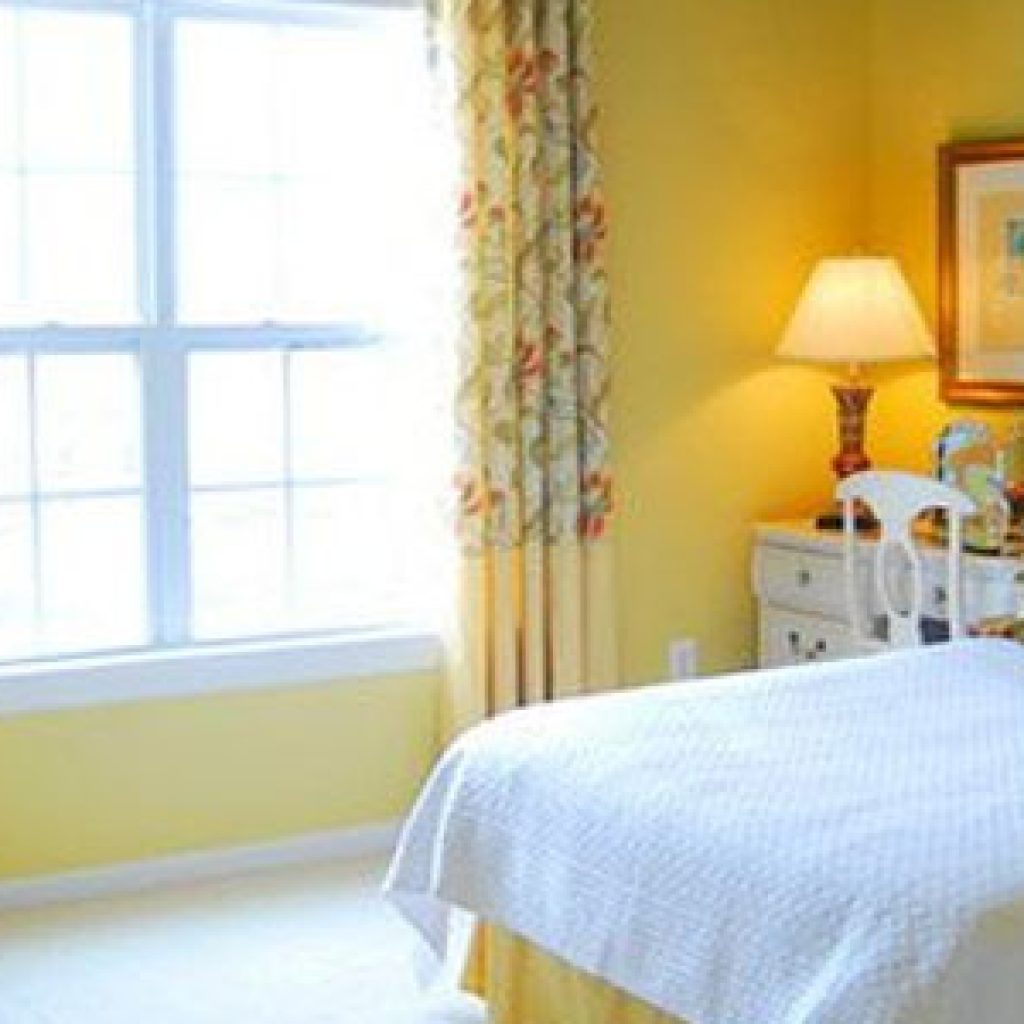 Yellow is a warm shade that gives a lot of positivity, a feeling of rejoicing, and happiness. Being the colour of the sun, it brings cheer to your bedroom and eliminates shadows. Add a cream tone to it and let the rooms radiate a youthful mood. The cream shade is a neutral colour that is an excellent choice with yellow. The cream colour extends the right combination and makes the yellow tone perfectly balanced. You can add minimal decor and personalize the spaces with classy furniture or antique combinations.
Dark blue and white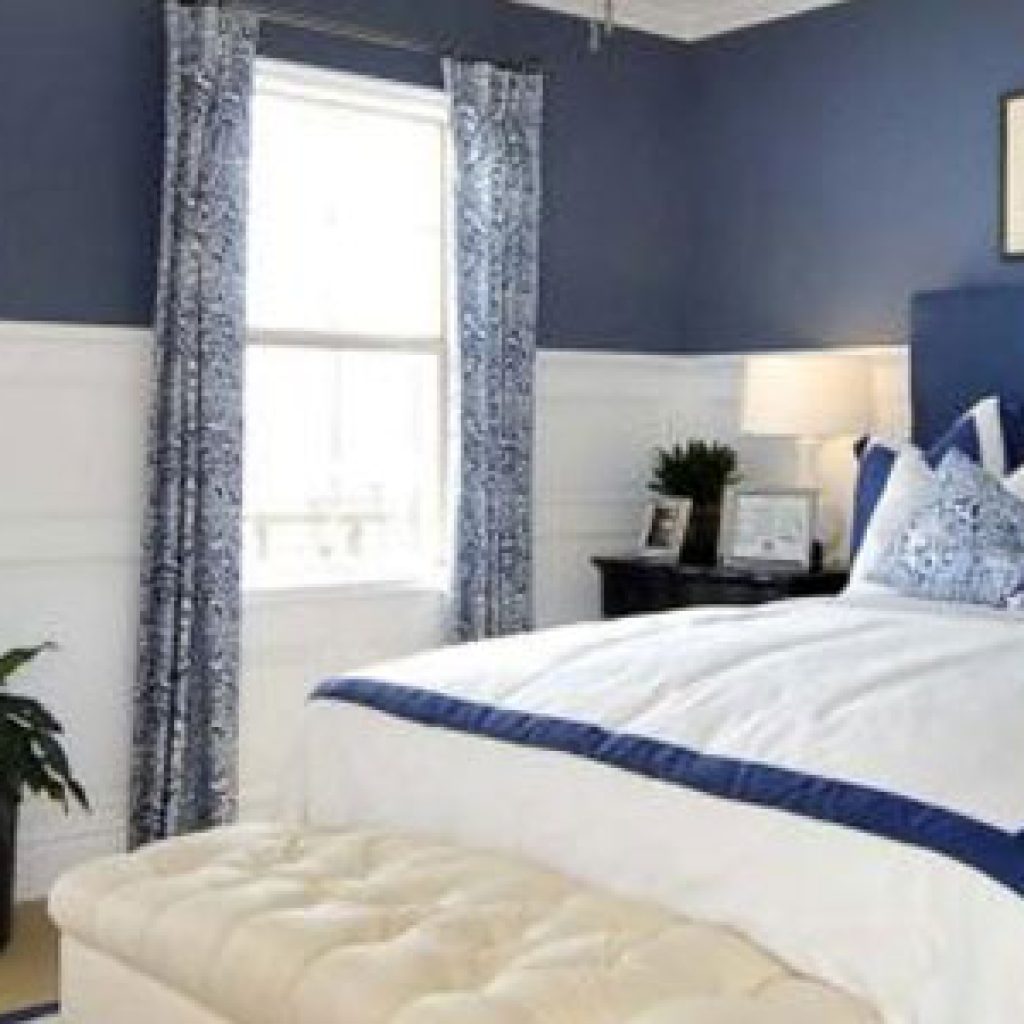 The Colour blue has always grabbed the attention of bedroom walls. When you add a dark blue two colour combination for bedroom walls or a dark shade like Indigo, it can add a more vibrant appearance to your rooms. When you combine this colour with white, it gives a heavenly experience. White colour can also make the room look more bright and spacious. This is indeed a go-well match and there is so much beauty you can add to the room with this pair. These shades complement each other and build fresh, bright, and airy spaces. A glossy navy blue shade can induce great depth and dimension to the bedroom decoration. White magnifies your rooms and makes the colour palettes interesting with splashes of cloudy blue shade. A white canopy bed can pour more into the aesthetic and romantic feel you can gift to the rooms. 
Burgundy and Beige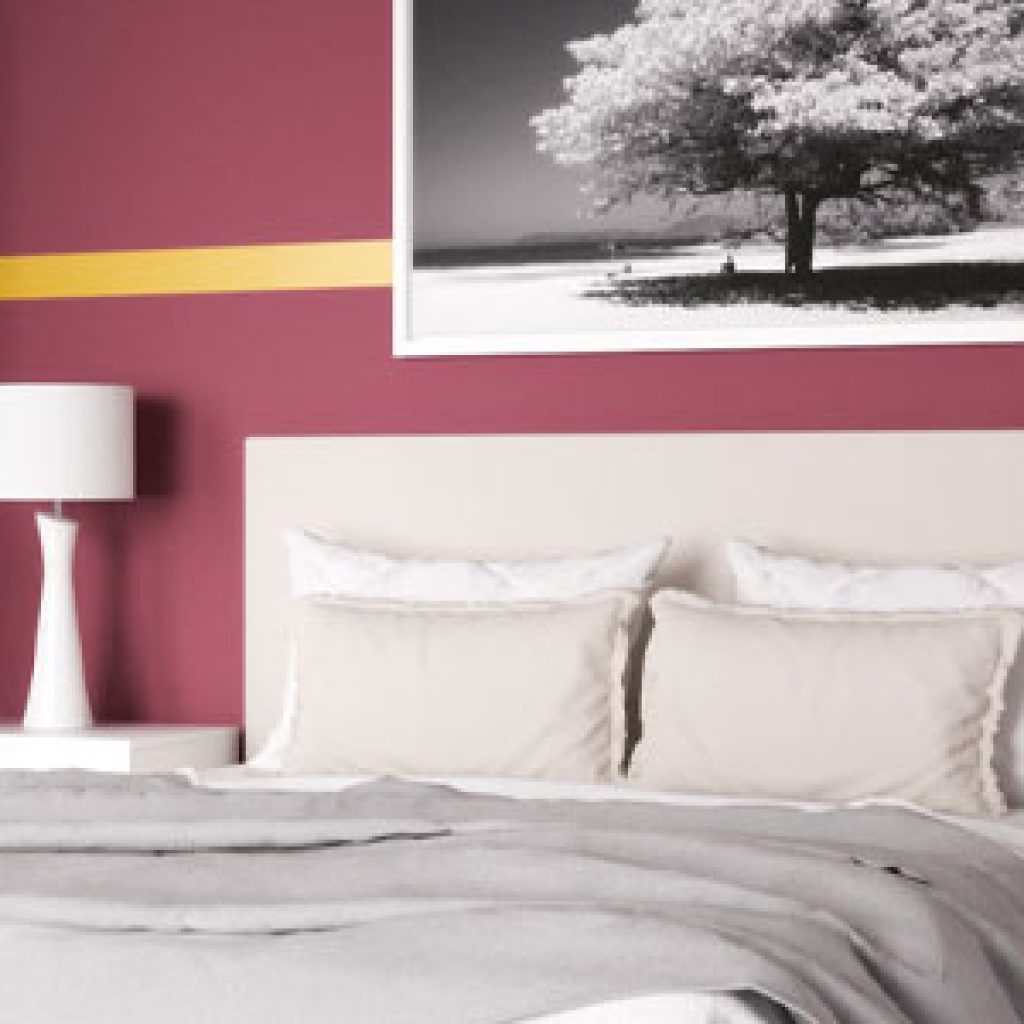 Preparing for a wedding vibe? Burgundy has been high in demand for the past few years since it has added to the romantic experience in the rooms. This colour got its name from France, where they produce iconic Burgundy wine to create glamorous interior home decor. This is a dark red-purple colour and is used commonly in fabric furniture finish; like couches and sofas. It helps you to build a combination of romance to the bedroom with a Beige colour combo. The pair can level up the chemistry between you and your partner. While warm Burgundy keeps you active and excited, the colour Beige can build a pleasing effect on your eyes.
Brown and muted green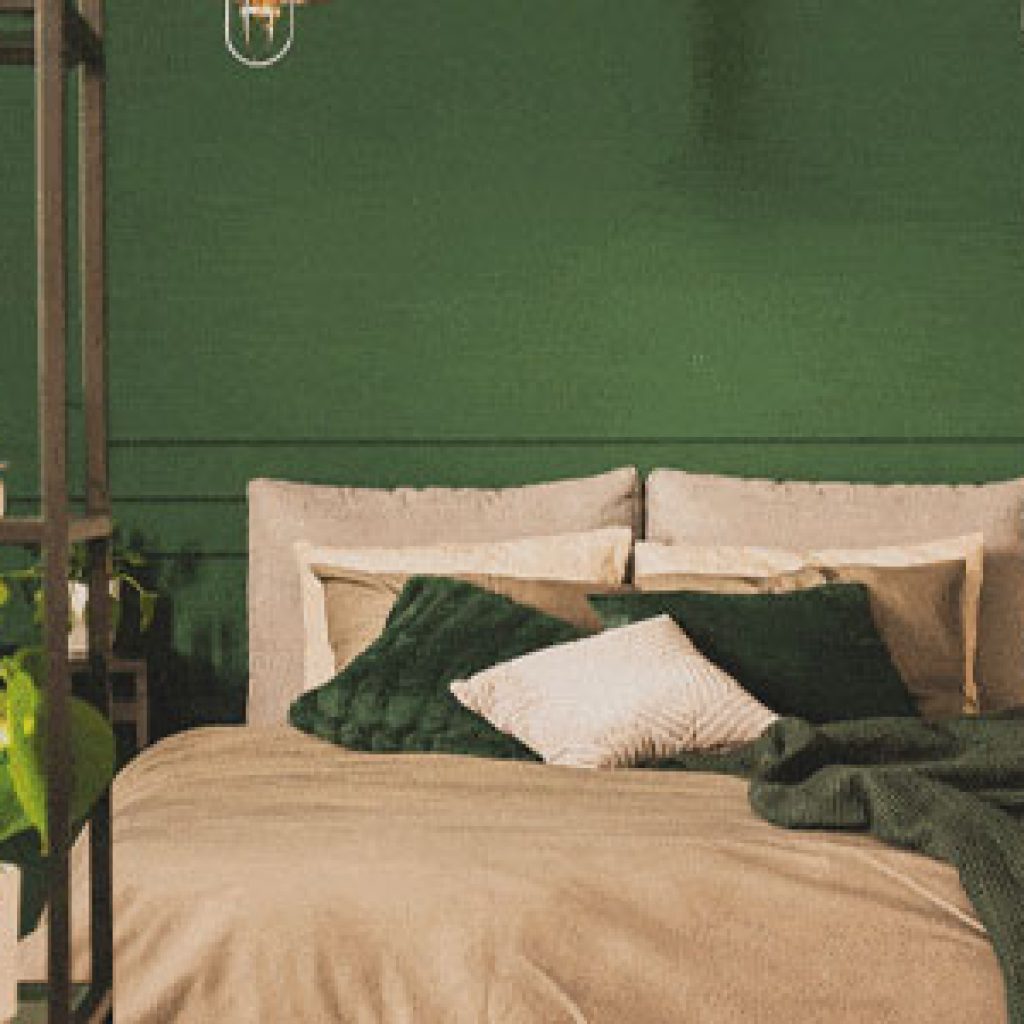 Brown and muted green make a popular colour combination for walls and are one of the most elegant yet comfy bedroom colour ideas ever. The colour green is a prominent shade and ideal for relieving bedroom space when you pair it with almond brown. These two colour combinations create a freshness and airy appearance. Muted green is popular for the natural vibe and fresh look it imparts to the rooms. The almond brown colours and green combinations make up a neutral environment that converts your spaces into relaxing and soothing.
Lavender and off-white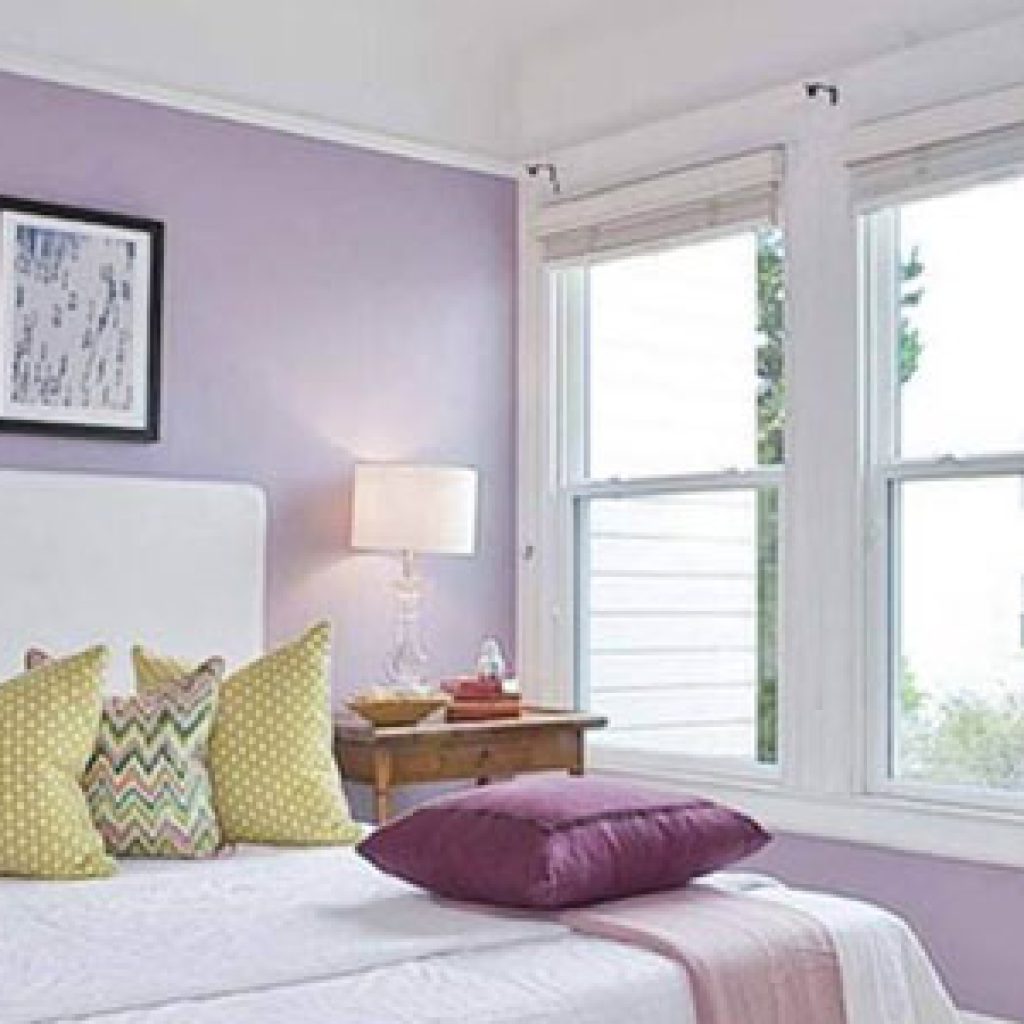 Interior designers nowadays suggest eye-welcoming combinations like off-white and lavender combinations for the bedrooms due to their excellent finish. Lavender has a calm and quiet feel to give a good night's sleep. If you wish to add tranquillity to your bedrooms, turn lavender and white combinations are good options you can go for. This is the favourite colour scheme used in living rooms. Your rooms look individualized with these attractive and rare colour shades. They promote sleep while creating a good aura.
Blue and pale pink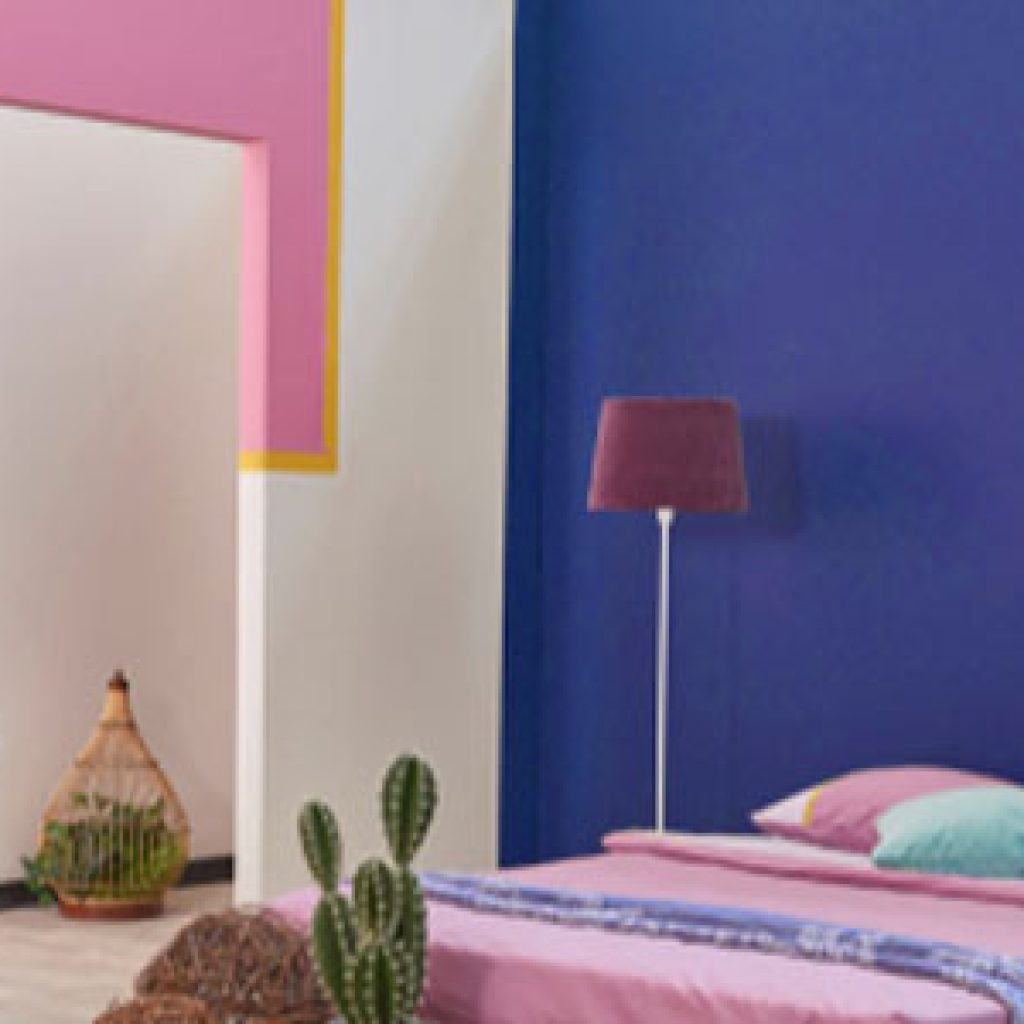 Blue and pale pink colours are ideal shades to help you build awesome two colour bedroom combinations. The pink two colour combination for bedroom walls makes you feel revived. Light pink tones keep you comfortable. If you maintain an optimum balance between the blue and neon pink tones, they turn into a lovely combination. You can brighten the pink wall with a big mint blue circle. Try using circular patterns on the wall opposite the pink wall. You can give it a striking finish with a pink colour combination. Patterns or shades that feature blue and pink can also work perfectly to keep the rooms uniform.
Brown and white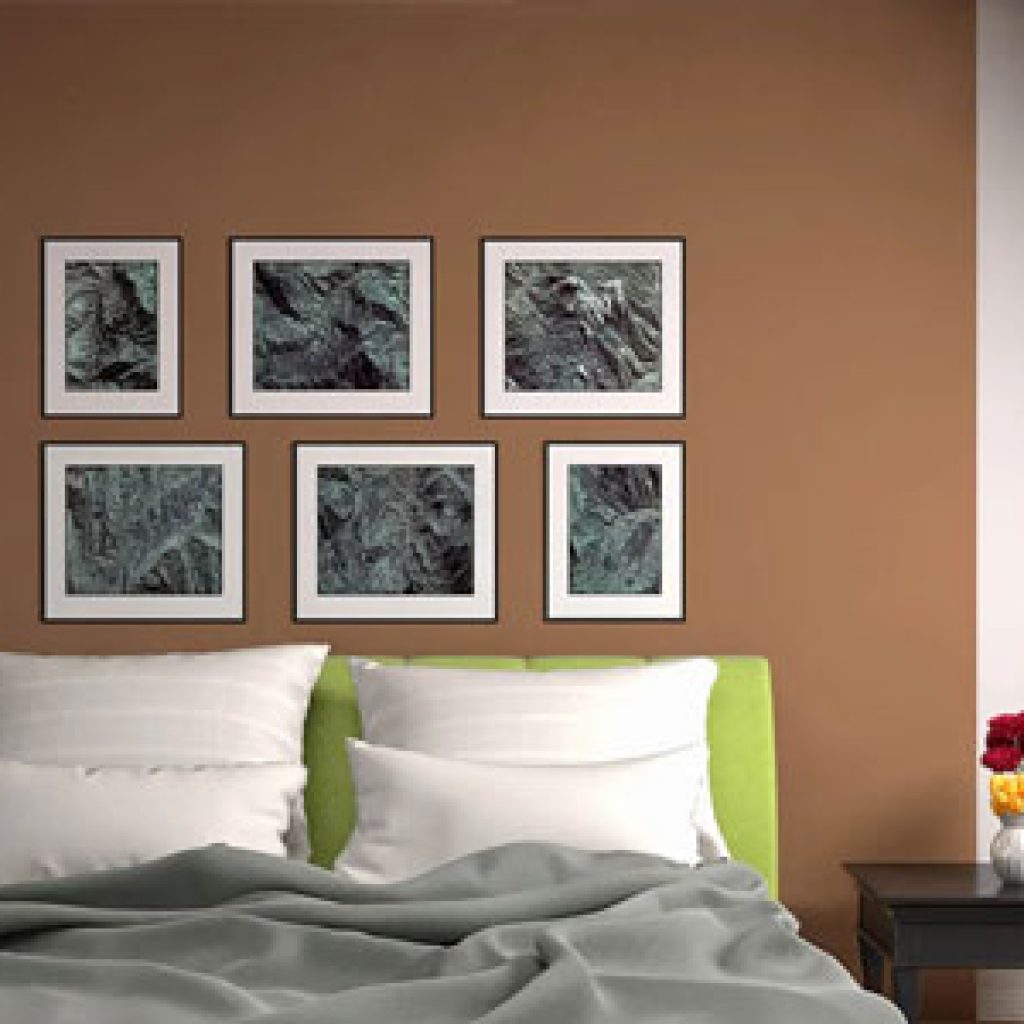 Being a restful colour combo, brown and white colour combination give a romantic atmosphere around. This interesting pair of two colours can offer contrast to the entire bedroom making it pleasing. Brown and the shades like rich chocolate, sift brown or muted taupe, etc. can give your home an equalizing effect. White colour provides more illusion of space and gives muted finishes to the room. You may go for painting the alternate walls with a pop of colour. You can also paint a single wall in textured brown and the remaining walls in white. It would be a visual treat if you go for abstract brown designs on the white bedroom walls. As per Vastu, this combination leaves the people inside in peace. It symbolizes purity and divinity around.
Peach and warm white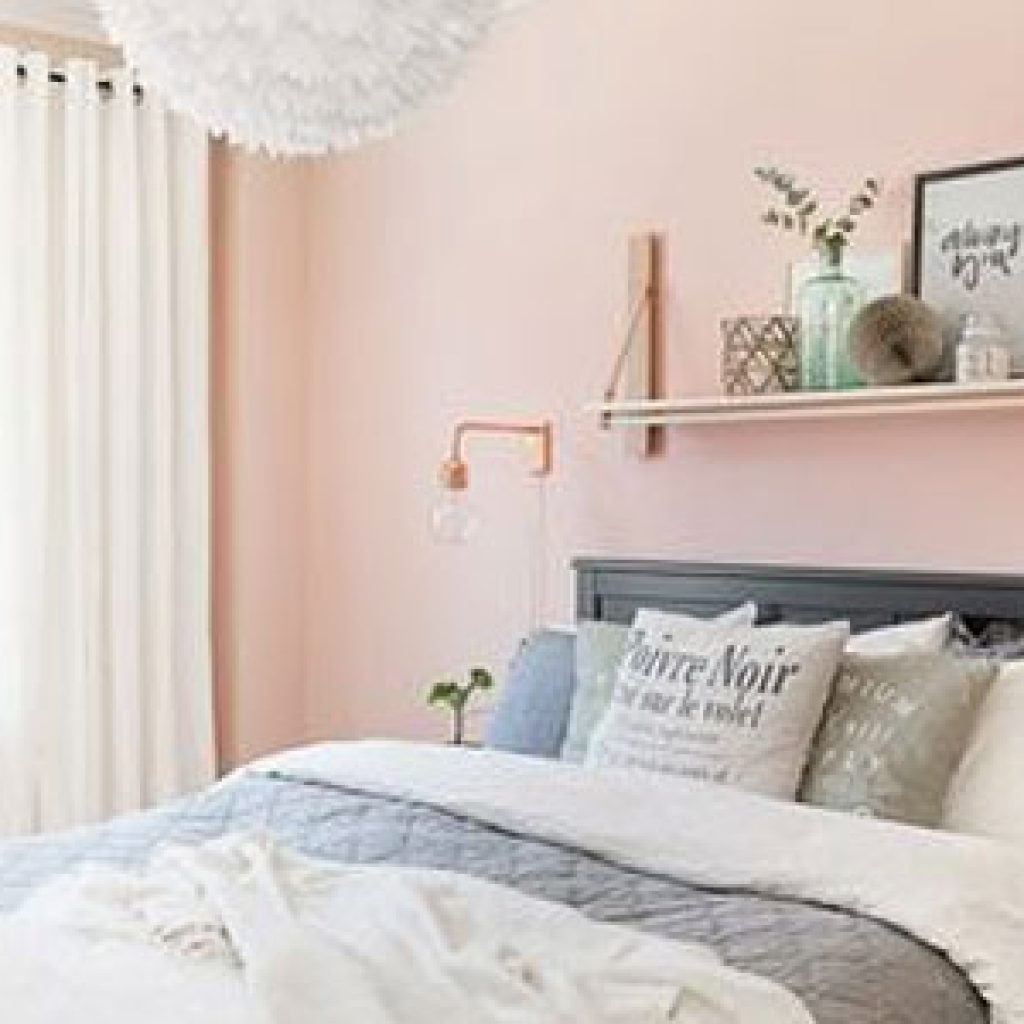 One of the most in-demand colour blends is peach with warm white. This is a classic combination and easy to combine with any other colours. The delicate pair of peace hue walls with a milky white combination gives a touch of elegance to your bedrooms. If you have minimal room decor, this combination is a great idea. You can paint walls using peach white patterns and colour the pillars with white against the peach calls. Incorporate white-tone accessories into your rooms. You can use lamps, bed wraps, photo frames, and white curtains to scale the overall visual appeal.
Grey and pastel yellow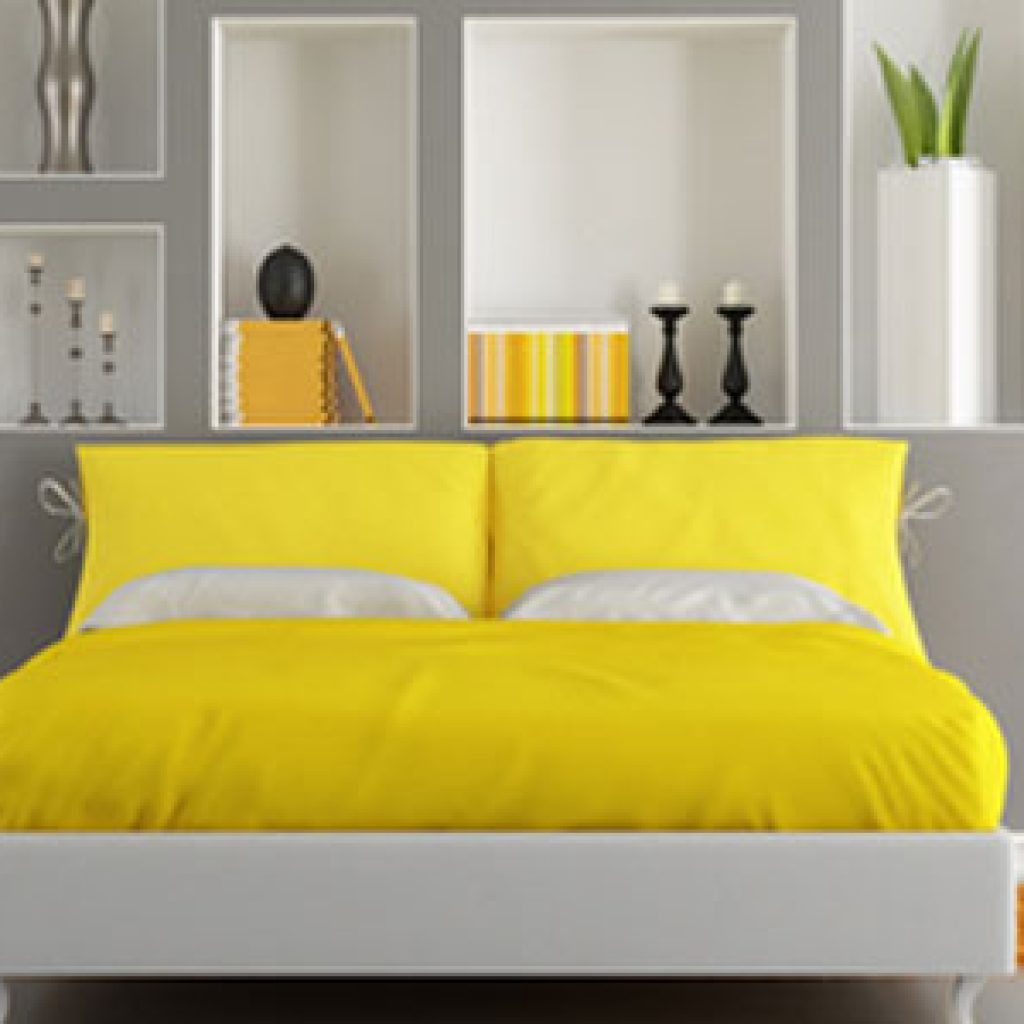 Wish to add more spice to your bedroom? Just keep grey and lift it with a pastel yellow shade to make it an ideal bedroom wall combination. Give two-thirds of the bottom wall a grey shade. You can colour the top one-third area of the wall yellow to build the illusion of ceilings. Give zig-zag, curvy, or straight yellow lines on the pale grey bedroom wall. To give it a contemporary appeal, paint around yellow geometric shapes or patterns around grey walls. You can also choose shade of yellow and grey paint colours to make it look vibrant for bookshelves and soft furnishings.
Red and white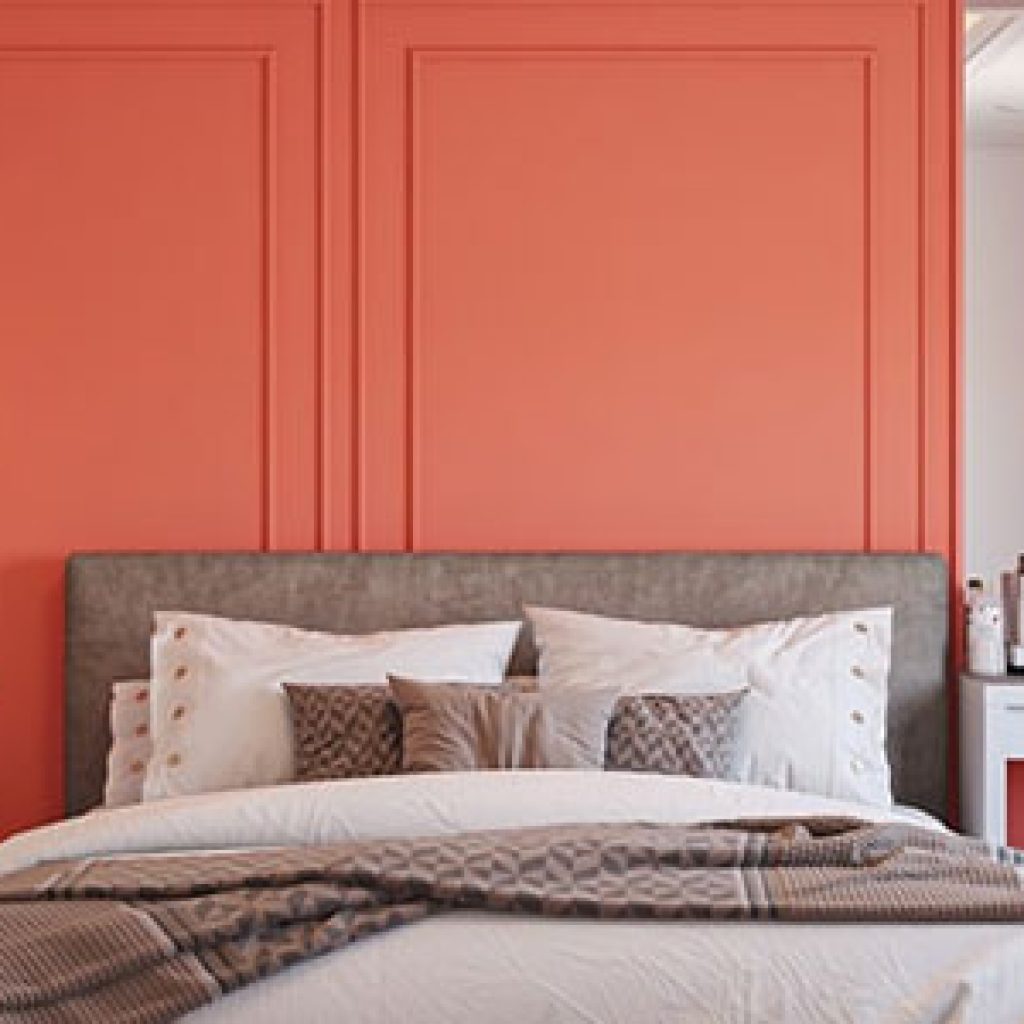 Yet another colour theme that induces a touch of romance and energy, is red. When you use red most subtly, red is a great choice. One should not use red too much in the bedroom as per Vastu Shastra. However, this is a perfect pick for an accent wall with muted white tones. They are the bold colours that magnify rooms. If you don't want to use red for the entire wall, then a white wall with a flower accent painted in red will look neat. Fuse red and white for one part of the wall using grunge texture paint.
Also read more about Low Cost Interior Design
Vastu Shastra guidelines you can follow
As per Vastu Shastra, green and brown make the ideal colour combination since they blend the two major shades symbolizing our nature. Earthy tones of brown and mint green shades are the best for bedrooms in the South-west direction. If the bedroom lies to the North-west, try yellow or grey. For the South and Southeast, shades like yellow or the colour orange work better.
For bedrooms going east, you can work with white, yellow, or blue colour combination. If you look for further options, red is an energizing colour you can use in a limited way. You can combine it with white to ensure it makes subtle colour. Pink walls can create a soothing effect and pale blue or light yellow shades can make the tone most suited for bedrooms.
Take care of decor patterns, room space, and amount of natural light, to pick two colour combination for bedroom walls. To focus on the dimension, you may choose two neutral tones. To highlight the ceiling, you can use a light shade for the top walls.
The Parting Shot
Great two colour combination for bedroom walls positively impact your emotions and sleeping patterns. It is crucial to choose the right colour duo to link it with the emotion you need to express. You can use the two colour pairs in the reading corner, workstation, or vanity area instead of splitting them in half. 
In the blog post, we have presented the most in-demand bedroom colour combinations and have given you an idea of what every combination symbolizes. Which colour combination has made you think would be the best to use in your bedroom? Let's have your favourite two-colour picks in the comments below.
Are you checking out the best flats in Calicut for superior apartment projects? You have come to the right place. PVS Builders are one of the most trustworthy and reputed builders in Calicut, with some of the best laid out apartments in prime locations. Contact us today to know more!