Ideas For Setting Up Home Theatre in Flats
Posted on December 26, 2022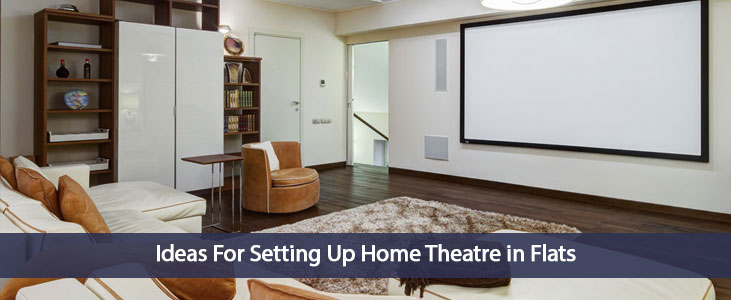 Everyone might not have huge spaces in the house to live in. However, this shouldn't hinder your thoughts of creating luxurious spaces in the apartments.
Home theatre is one such thoughtful choice you can make within the given space, without disturbing the other things that consume most of the interiors.
Many people have already begun to consider building a home theater system for flats in Calicut.
When you can avoid uninformed and expensive plans, you ultimately build your dream theater at home without any complications involved.
Let's read further to explore the key ideas that make the perfect theater setting in your flats and apartments.
Where can you set up a Home Theater?
Firstly, let's gather a few points to think about while you plan to set up your theater at home. The primary factor is to find the darkest space where you can watch the movie with its true vibe.
Choose a space that is away from all light sources including the windows. Once you are ready with the area, make sure it is large enough to hold the equipment and the audience alike.
See whether the TV, surround audio system, and cinema seats fit into the environment well. Don't consider the areas with brick walls or concrete floors if you need an acoustically great atmosphere.
Many people choose to set their theater in the basement, while others would opt for a dedicated home theater room or just the living room.
What would you require for a home theater?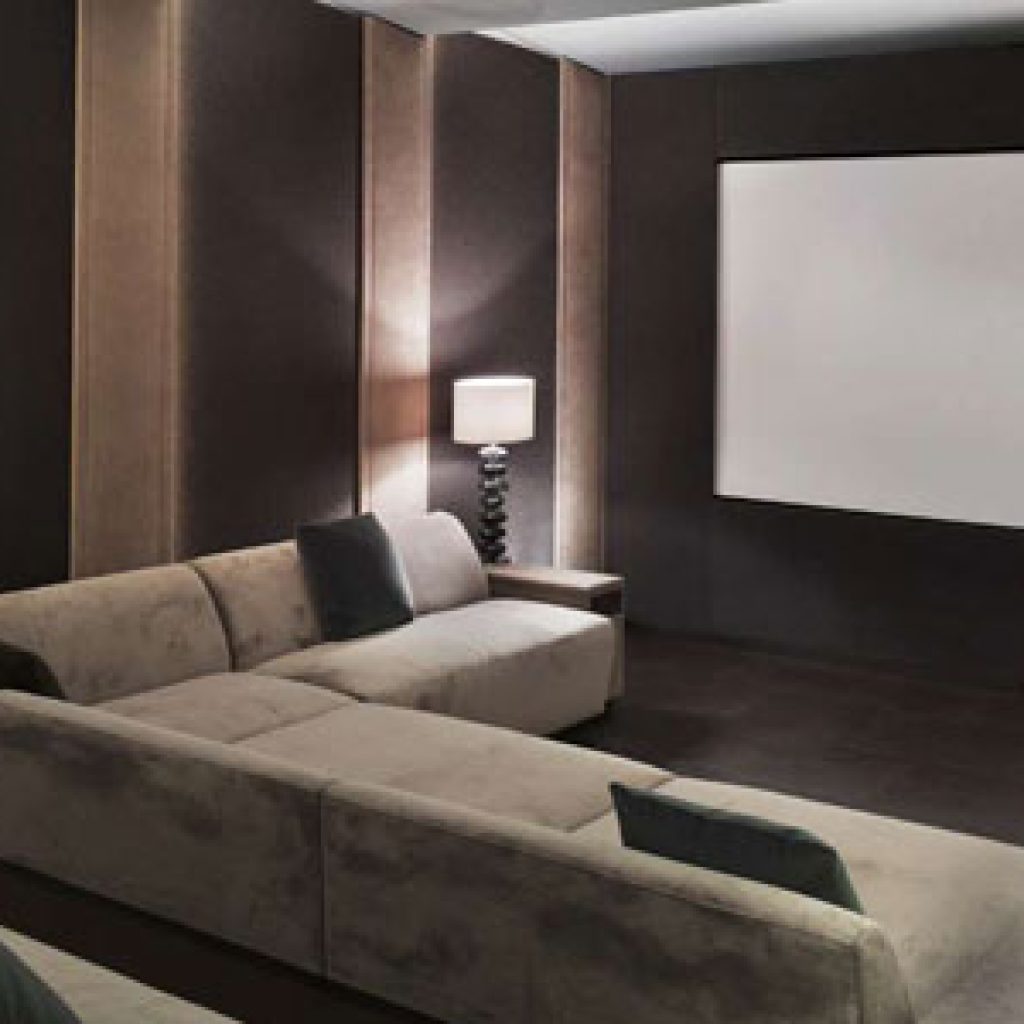 The first thing you need to set up a home theatre is a big television with good resolution, Dolby audio, and a high-end viewing experience. You can browse or get recommendations from your family or friends to decide on the television you can purchase for the best experience.
The next necessity is a surround sound amplifier that offers immersive Dolby audio for effects from movie soundtracks, to make TV shows, web series, or the movies you watch entertaining.
Find a system that has multiple home theatre speakers and rear speakers, which you can place around your room.
Another significant element is choosing the theater furniture, biggest screen, compression technologies, sound speaker systems, and latest acoustic technology, which are the comfiest and keeps you engaged with the screen for long hours.
Also, read more about apartment living room ideas
5 Best Ideas to Set Up Home Theatre in Flats
Just like commercial theaters, you can create advanced display technology for a basic home theatre system to bring your dreams to life.
You need to think about the following ideas and the tips we provide to make sure you set up your theater audio and Dolby digital systems while keeping all your expectations alive.
Shows You Might Watch on the Theatre
Of course, Netflix and Disney Hotstar have plenty of shows to keep your eyes glued. New movies like Avatar: The Way of Water and the Fifa World Cup have been ruling the hearts of people, which can turn exciting with a digital home theater experience.
Your home theatre shouldn't be a sudden decision made out of these occasions which ends soon. It should be set to meet your daily leisure needs, and for keeping, you entertained.
It's not just about picking the best; instead, it is all about understanding what is the theater the best for. Being a flat dweller, you might normally go for a TV to watch serials, occasional movies, TV shows, and sports.
Decide what shows and content you might watch frequently and install the home theatre system based on these preferences.
Tip: Try to upgrade the various parts of the home theatre to adopt the changes in the content and keep you engaged.
Limit the reflective objects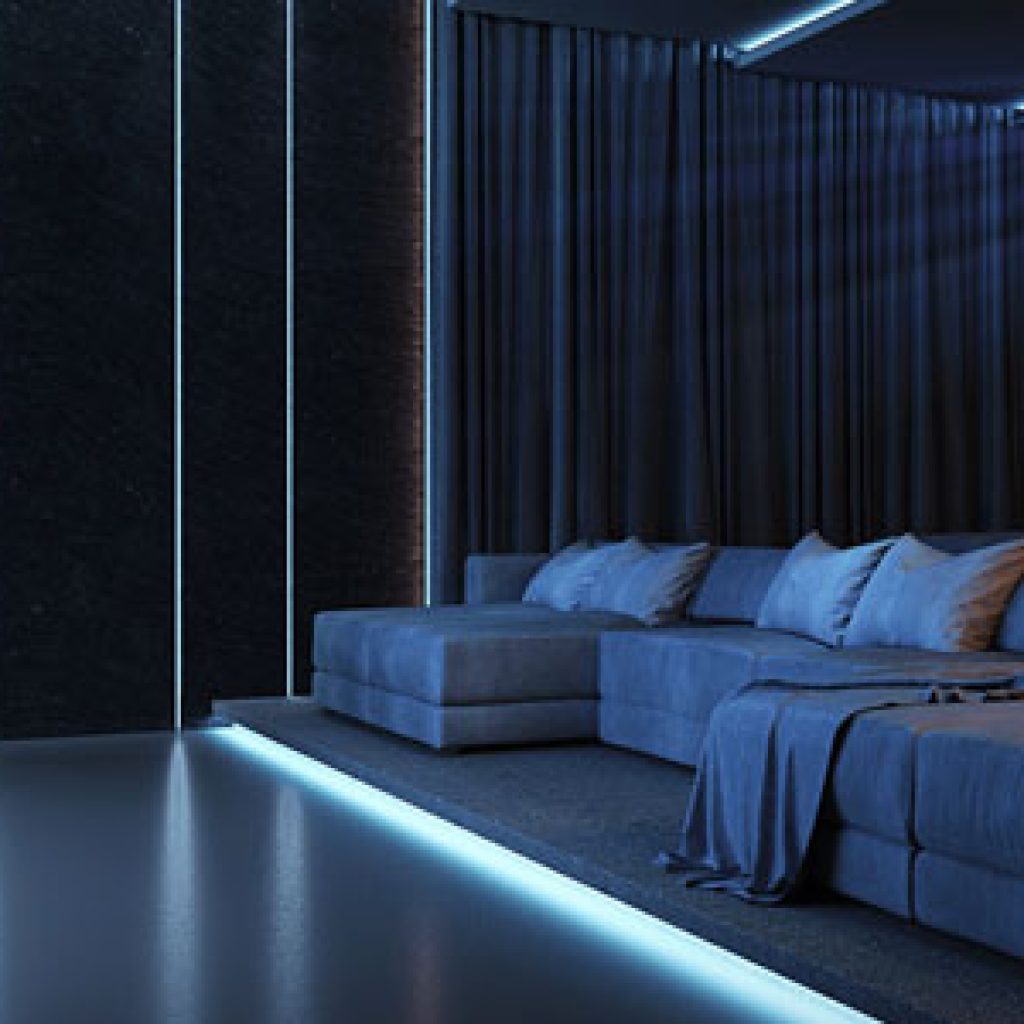 You should avoid anything that could reflect the light to your eyes, and inhibit the screen's good view.
This means you should prefer matte or flat paints that pair well with the sheens. Avoid any shiny hinges, doorknobs, fireplace inserts, excessive lighting, etc. between the viewer and the screen.
If you place reflective objects, consider minimizing their shine with dark spray paints, preferably matte paint.
You can also lightly sand the switch wall covers or outlet covers to lose their glossiness and wipe it well. To finish the process, you can also use two light matte spray paint coats.
Luxury Flats in Calicut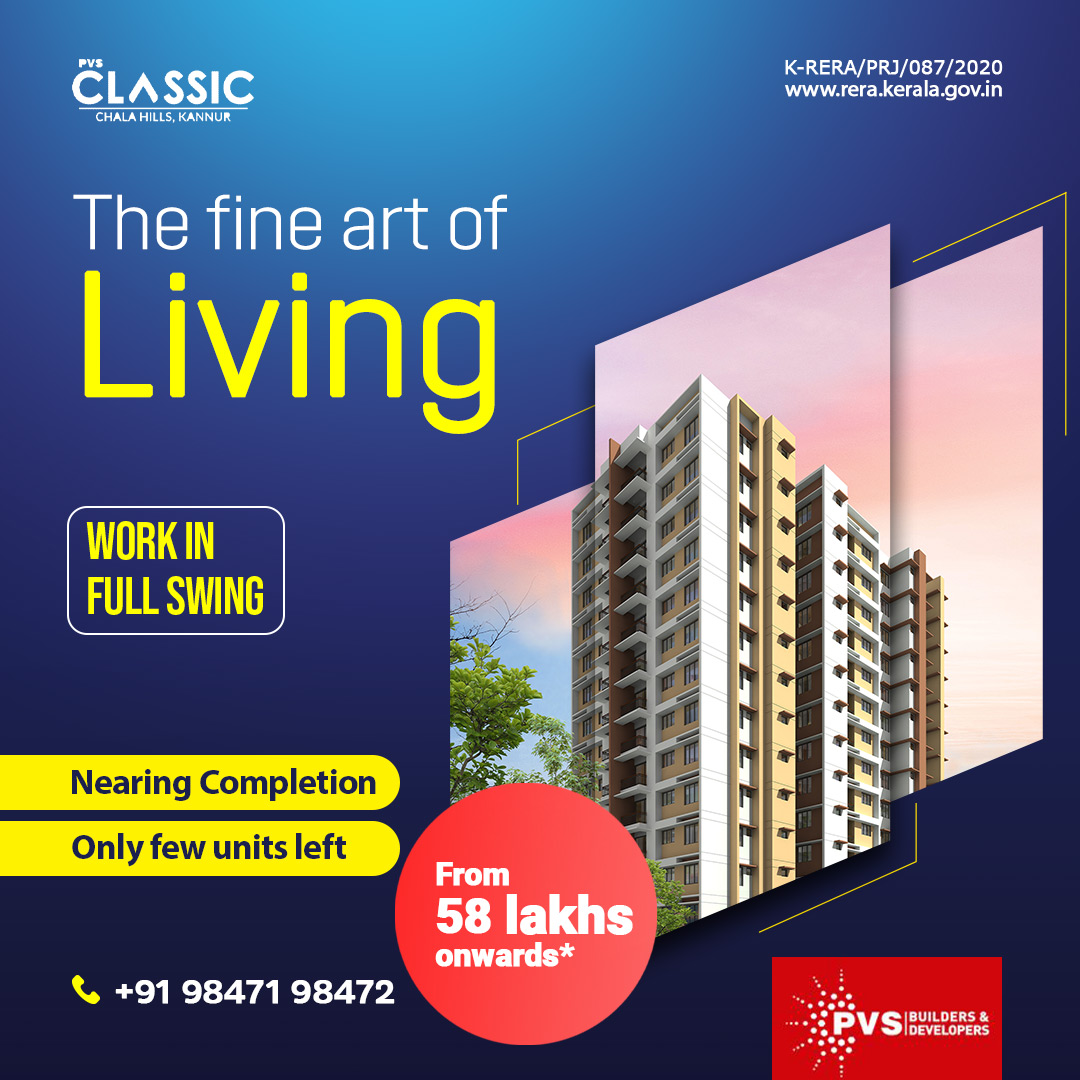 How about waking up to beautiful greenery that mesmerizes you daily?
Feel the beauty in destiny at every corner of your sight here in Kannur Chala!
PVS Classic brings the heavenly beauty of the land that enlight your day!
Manage the space constraints in your flats well
Dedicated home cinemas should be designed keeping space as the major factor well in mind. The only concern is that you should be able to make peace with the space, and your mind should remain relaxed.
Instead of large cuboid speakers, you can also go for incredible brands that offer speakers you can mount or place within your home's ceiling models, or even Bluetooth speakers.
Be sure that you save space in the apartment or your flats. You can either wall mount the television or you can try a film projector equipment to save space.
Wall-mounted or ceiling-mounted TVs are most commonly available in the market. A slot within the slot ceiling that lets your motorized television screen vanish fully into it once you switch off the system is another new normal.
In-ceiling speakers and wall-mounted audio systems help you to extend the audio to the other areas of the house if you wish to. You can make use of false ceilings to hide the wires. Some even hide the projector to get into the ceiling.
Buying smaller and exclusive amplifiers can't serve all purposes. However, an amplifier should be able to adapt to the upgrades and additions in the future, hence it should at least possess the following features: 3 HDMI inputs, an HDMI output, and a capability to link the speaker system (preferably 5.1 or 7.1) and aux audio input if you wish to connect an iPod.
In the future, the theater should serve you with the set-up that allows connection of television, gaming console, computer, projector, and iPod to your amplifier system through USB, Aux, or HDMI.
Tip: Make sure you buy the wired speakers only for the following reasons. One is its cost, since wireless speakers are more expensive, you might opt for wired ones. The other is if you find issues with the compatibility of the sound system when you need to change them to upgrade the amplifiers.
Also, you can deploy RF repeaters that improve the range and amplify the signal that can be located anywhere at your home to carry HD visuals and clearer sound through an HDMI cable.
If a wired HDMI is not your cup of tea, you can have a wireless HDMI and wireless Dolby Atmos, which enables you to control the player and amplifier from anywhere in your home.
Soundproof your Theatre Space well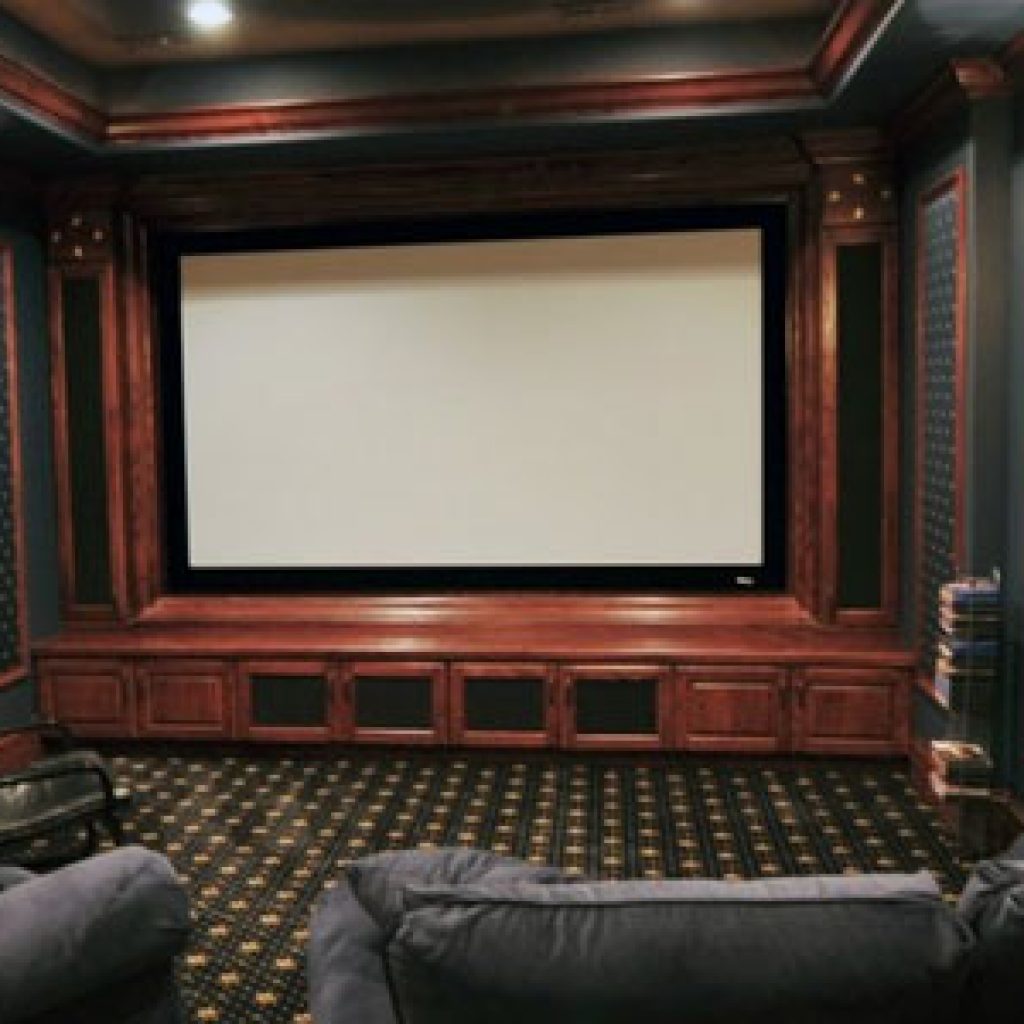 Soundproof paneling is the easiest way to let you avoid the noise around you. You can use an insulating material to control the vibrations from getting transmitted along ceilings and walls. This is known as the decoupling of speakers for an amazing sound experience.
Windows can narrow down the effects your speakers give they let the audio sound escape from the room. Thin glass cannot block noise, however, double-pane windows are ideally soundproof. To reduce the noise within a room, you can make an air-tight seal that surrounds the frame.
Sound-dampening curtains would be another addition to help you create a tight seal for the frame using acoustic sealants. They can eventually help you minimize the escape of noise and make sure you enjoy the cinema-like sound.
If you look for quite an expensive yet quality-oriented technique, you can also buy the amplifier that utilizes LFC, ie. Low-Frequency Containment. It minimizes the undesired frequencies and eliminates the transmission of vibrations into the rooms.
You may also avoid the hard flooring material in your desiccated home theatres – such as tile, wood, or cement, which provide a reflective surface to bounce off the sound waves. Rather, use carpeting that can dampen the sound. You may also use a thick and soundproof base below the carpet for cinematic sound.
If you don't need to deploy wall-to-wall carpeting, you may use soft rubber floor mats or place rugs to cover the reflective points.
Buy these Accessories with the Theatre System
Once you have the core parts of a home theatre system, it doesn't mean you shouldn't think about the other accessories.
You can use the components for dedicated home cinema systems like a universal remote control, a versatile gadget that can scale your hardware settings to control the operations of a projector, television, console, and iPod.
Other things you can use would be a UPS (Uninterrupted Power Supply), or a voltage stabilizer that safeguards the system against quick power outages and power fluctuations.
Another significant upgrade is a foldable screen and VR headset which provide you with an in-depth and immersive audio experience.
You can also take an upgrade from a manual to a motorized system which is another huge investment. A projector with the capability to address HD and has optimal keystone control can let you mount it to get an undistorted image in the display.
Tip: Note that you can mount the projector to make sure that the revolving blades in the fan won't hinder the projection screen.
To Sum Up
A home theatre can offer the best entertainment facility to let you watch anything you need such as a big-screen television series, everyday television shows, and favorite movies with a bit of additional excitement, which the ambiance and the technology can provide.
You can get a movie theater at home with a considerable drop in prices if you plan the above factors well in advance.
You can then turn an apartment into a favorite place with a wired or wireless home theatre system and essential theater accessories, where you can watch your favorite shows with family and friends.
Once your dream theater is ready, add more flavor to your movie room with a pack of chips, popcorn, or your favorite drinks, sit back comfortably, and watch your favorite movies /shows at your home.
Are you checking out the best flats in Calicut for superior apartment projects? You have come to the right place. PVS Builders are one of the most trustworthy and reputed builders in Calicut, with some of the best laid out apartments in prime locations. Contact us today to know more!