Top Ideas For Small Living Room Floor Tiles Design On Flats
Posted on February 02, 2023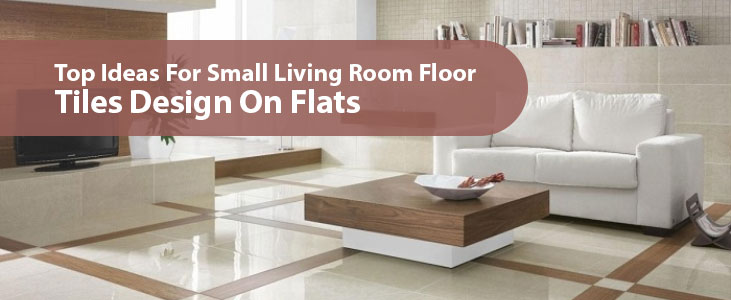 The flooring of your homes makes an integral part that you should think of implementing with time. A wise, ideal, and informed decision gives more elegance to the flooring design of your apartments and flats in Calicut. In modern homes, living room flooring begins from the front door and extends to the family room just similar to a red carpet. Your floor is going to be there for a long time, hence you need to be thoughtful while choosing the design and material for a perfect floor finish. There are many options you can consider while thinking about flooring in apartments and flats. Let's read further to understand the best small living room floor tiles design ideas you can go for in your flats.
Best Ideas to transform your living room floor design
A living room is a place where all eyes get glued it's a place where your guests can realize how well you give importance to the visual appeal of your home interiors. Here are the top living room floor design ideas you can adopt to make them look super-elegant.
Vitrified Tiles to induce a contemporary style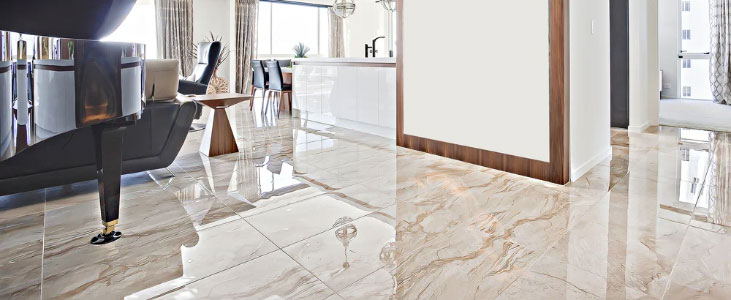 Vitrified tiles are popular for their glossy shine and charm in neutral tones. Usually, the colours you can see these tiles in include cream-white, ivory, light grey, beige, etc. These tiles are in huge demand due to their properties like crack resistance, anti-moisture features, and high durability. Vitrified tiles offer a rich feel similar to granite and marble but are easier to maintain than both of them. The light-toned vitrified tiles appear best in present-day living rooms and give a comfy finish with the right decor and accessories around. Also, the touch of contrasting shades of time can be used in the borders of living room edges that keep the interiors sharp enough.
Tip: A grey theme to the vitrified floors would look stunning. Pale grey tiles having white faded veins can give a perfect finish to a grey-themed living room design. Also, read more about Two Colour Combination for Bedroom Walls
Ceramic & Porcelain Tiles to give a clean tone
The porcelain and ceramic tiles make the best options to implement small living room floor tiles design since they have a long life and are inexpensive options. They offer a chic flair to your rooms when you choose the perfect colour. When your homes have open spaces, these tiles can be used to cover the whole dining hall, kitchen, living room, etc. using a single colour. Light colour tiles can scale the appeal of the rooms with slight natural light and the dark-colored tiles enhance the look of large areas. Modern-day living rooms look the best when you have floor tiles in beige, sand tone, white, etc.
Tip: Dark-shaded grouting between the light-toned floor tiles can make the pattern look mesmerizing rather than a blank flooring design. This kind of floor perfectly suits the idea of geometrically designed interior spaces.
Wooden floors to keep up the evergreen design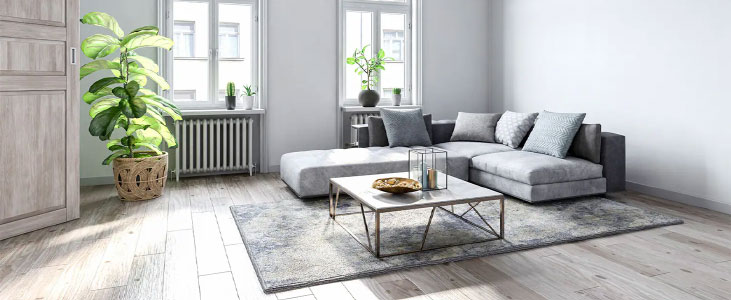 When you are in love with the hardwood and its visual appeal but don't need to worry about the maintenance hassle, you may consider installing wooden ceramic tiles for your living rooms. Try out faux wood, the recent trend in tiles that makes a combination of natural elegance and classy charm of the wood. This is also the highly durable floor design you can think of.
Tip: You may install the tiles diagonally or in layered design against walls, to give a focal point that provides an attraction for the living rooms.
Luxury Flats in Calicut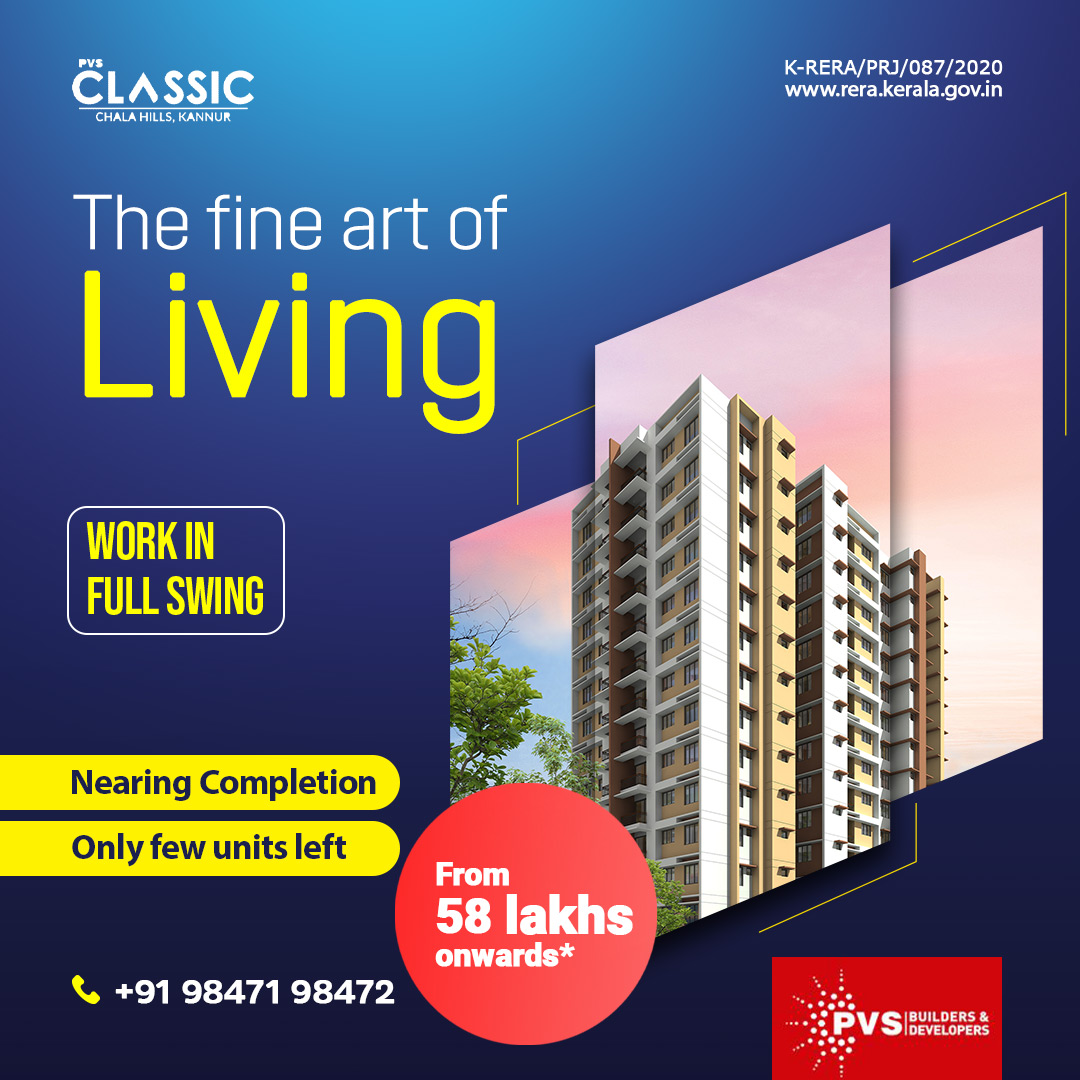 How about waking up to beautiful greenery that mesmerizes you daily?
Feel the beauty in destiny at every corner of your sight here in Kannur Chala!
PVS Classic brings the heavenly beauty of the land that enlight your day!
Marble to incorporate richness and elegance
Nothing like marble attracts the eyes of a guest to your home. Marble living room tiles magnify the luxurious appearance of every home. The slight veins in marble give a natural pattern that keeps the flooring distinct and unique. Marble floors provide the comfort of enjoying a luxurious feel and highly modern design for your interiors. Also, read more about Low Cost Interior Design
Vinyl Floors for an attractive makeover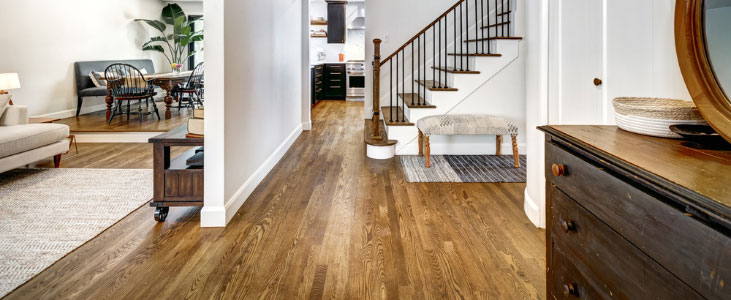 Vinyl floor designs are available in various finishes to provide rich floor design making it cost-effective. The ceramic tiles and faux wood tile floor designs are done in vinyl, which are highly in-demand options in the market. Wooden plank-like design in vinyl flooring gives an organic touch to your living areas making them truly attractive and pleasing.
Mosaic patterns that give a historical touch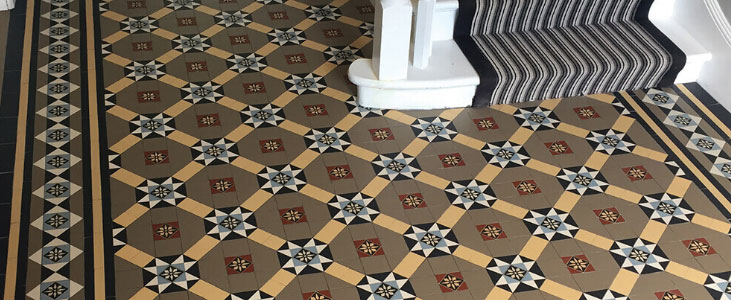 Mosaic tiles have the best patterns that people fall in love with. The designs of mosaic tiles give a marble-like finish while you can witness many artistic patterns that can make your interiors magnified. The mosaic tile tones are usually eye-welcoming. The colour blends of mosaic tiles resemble a historic and classy trend. Also, the mosaic tiles are the perfect picks to keep the fireplace in the living room when you can't use them right on the floor.
Slate tile flooring for a classic finish
Slate is considered to be an old-world floor design. Yet, it is an aesthetically classic and modern living room design you can go for to keep them traditionally glowing. The large slate tiles resembling the mid-century design give a perfect traditional look to the interiors. Pair it up with furniture and hangings that give royal attention. Also, read more about Modern Texture Paint Designs
Granite floorings to make a natural pattern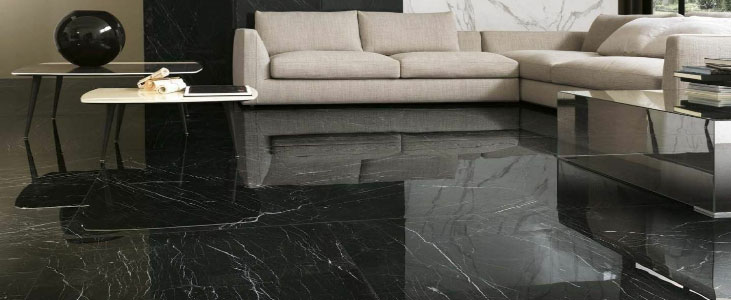 Granite tiles have been the most beautiful and most speculated options you can use for a graceful living room. They have unique designs and provide a bright visual texture to your living spaces with a matte finish. Granite lasts long and keeps the floor beautiful with clean interiors.
Guide to choosing your living room floor tiles
Your small room floor tiles design needs thoughtful considerations that suit the needs, trends and space. Here are some quick tips to let you choose the right living room floor tile design.
If you are impressed with the look but need to avoid a hassle, you can go for ceramic wooden flooring these are highly durable, moisture and scratch resistant. So your floors look perfect for a long time. You can also get ceramic wood that resembles the appeal of a tree. Remember, real wood floors are soft and warm compared to ceramic wooden floors. These hard and cold floors are super-easy to clean than real wood.
Porcelain and ceramic are similar however, porcelain is dense and more porous. For your kids, porcelain is the ideal option since it can bear more action. The ceramic floor is more brittle and more difficult to handle than porcelain. Porcelain is expensive compared to ceramic but offers great durability. These tiles come in many patterns and colours with so many options for your choice.
If you wish to have a modern-looking and slip-resistant style, you can choose slate floors. Slate is great for areas with high traffic. You can clean the floors with a mop and water alone. There are many colours of slate you can buy like green, grey-blue, burnt orange, brown, etc. These floors have poor heat retention hence you can use a rug in the living room. Slate is a bit expensive compared to the other tiles, but offers more durability than ceramic or porcelain.
Mosaic tiles are the most common options for textured or patterned flooring. This could seem odd for your living room, however, it adds art, life, and colour to the living areas. It would be best if you need the room to be simple but need to remain toned. Mosaic is ideal if you are excited to create a design for you that last long. They are slightly expensive and hard to install without an expert. They are difficult to repair when the tiling breaks. Hence you can use it for areas with the least traffic.
Marble is an amazing, elegant, and polish-finish tile you can use in the living room. They are highly durable and designed to withstand heaviness. Marble is available in many colors, making it a great pick for customized tone lovers. Marble is highly absorbing compared to other floor tiles, hence they get stained with time. These are slippery since they are smooth, so be careful of people slipping down. It's not recommended for homes with old-aged people and children. In such cases, you can use a rug that minimizes the chances of falling down.
Vinyl floors are highly impressive tiles you can choose for high-quality flooring. You need not worry thinking about the design that influences the place of laying the floor. Consider only the luxury you wish to experience could be clean rustic vinyl floors with stone or wood etc.
If you need an easy-to-clean option, Porcelain is great. You can wipe the water quickly out, vacuum or sweep the floor regularly, and even damp mop once a week. Porcelain is made with fine materials and clays that burn in high temperatures. Hence these are denser and harder compared to ceramics. They resist stains, bacteria, water, and odor.
Summing Up
Your floor is the first thing on display, no matter how well you keep your house. Right when you open the door, this is the space that strikes the attention of a guest or a visitor. First impressions should make the best memories, hence it is important to choose the best tiles for your living room. Hope the above small living room floor tiles design ideas could give you insights on how to keep the interiors looking smooth and flawless. Which tile design would you prefer for your living room? Let us know your favorite floor tile design in the comments below.
Are you checking out the best flats in Calicut for superior apartment projects? You have come to the right place. PVS Builders are one of the most trustworthy and reputed builders in Calicut, with some of the best laid-out apartments in prime locations. Contact us today to know more!