Best 11 Modular Kitchen Accessories For Flats
Posted on February 17, 2023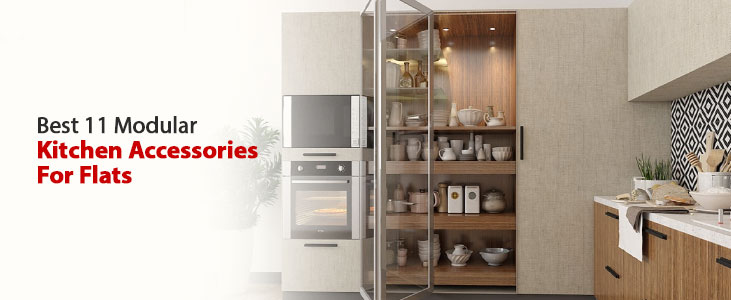 Modular kitchen accessories contribute the best to improving the efficiency, storage, and functionality of your kitchen.
The Flats in Calicut have largely seen new homeowners who largely prefer the adoption of excellent modular kitchen accessories for their kitchen spaces. 
These accessories not only improve the storage capacity but also offer durability when you choose them with the right mix of materials and products.
Since flat residents always look for space-saving ideas, modular kitchen essentials contribute to the best for space conservation.
Read more to know about the 11 best modular kitchen accessories for your flats in detail.
Why Go for Modular Kitchen Accessories?
Kitchens have become more like a place of gathering rather than a place to do your cooking and washing.
A well-furnished, modular, and advanced kitchen must be a dream for most of you.
Unlike the conventional kitchen layout, a modular kitchen includes greatly designed modules, which are manufactured individually, and then assembled together.
Also, the modular kitchen material offers high-end aesthetic appeal and functional values with ease of cleaning process, and a large space to store the essentials.
There's a belief among many end users that modular kitchens are not budget-friendly.
While this statement is partially true, it's wise if you can choose only the ones you need over the unnecessary ones.
Let's help you pick the most required accessories that can make your kitchens in flats look perfect.
Top Accessories for your Modular Kitchen
Many modular kitchen material varieties are available in the market with their merits and demerits.
Also, numerous kitchen finishes ultimately transform your kitchen spaces, in terms of both look and the way they work.
Let's now get on to the various accessories you must have in your kitchen making it a perfect place to cook, gather, and spend time. Also, read more about Modern Kitchen Interior Design Ideas
1. Cutlery Organiser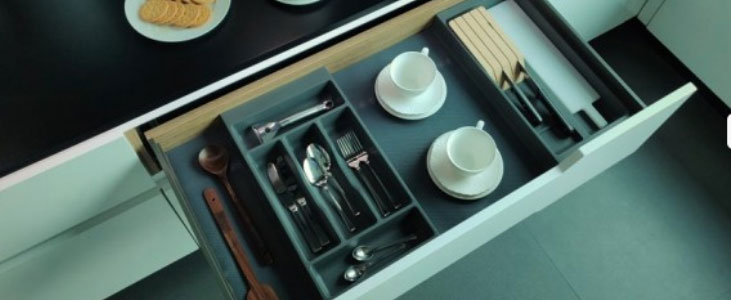 Cutlery organizer incorporates built-in partitions that work well to store small items such as spoons, spatulas, knives, forks, etc.
They should stay close to your cooking area since you need frequent access to all the kitchen tools.
The cutlery inserts are accessible in various finishes to satisfy your desires, these range from PVC, wood, metal, etc.
2. Tall Unit
You can use a tall unit and place it in the corner of the kitchen if you have a moderate space to consider.
This offers great storage space, where you can store the items like dry groceries, large utensils, non-perishable ingredients, and so on.
The tall units are available in stunning designs, while they also appear with doors, slim storage, and pull-out designs to encourage efficient storage.
If you have a compact kitchen, go for a tall unit that extends well from the floor to the kitchen's ceiling.
3. Kitchen Basket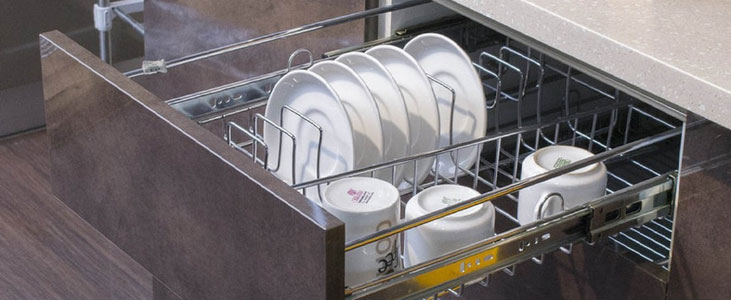 Kitchen baskets are one of the ideal ways to organize your kitchen items such as pots, jars, pans, utensils, etc.
These are available in various sizes that make them suitable for both shallow and deep storage.
The major sources of kitchen baskets include utensil baskets, cup & saucer baskets, and plate racks.
Every kitchen basket has its own load-bearing capacity, so you should avoid overloading them.
Overloading the baskets can disturb the alignment of the channels and cause the drawers to swag.
Luxury Flats in Calicut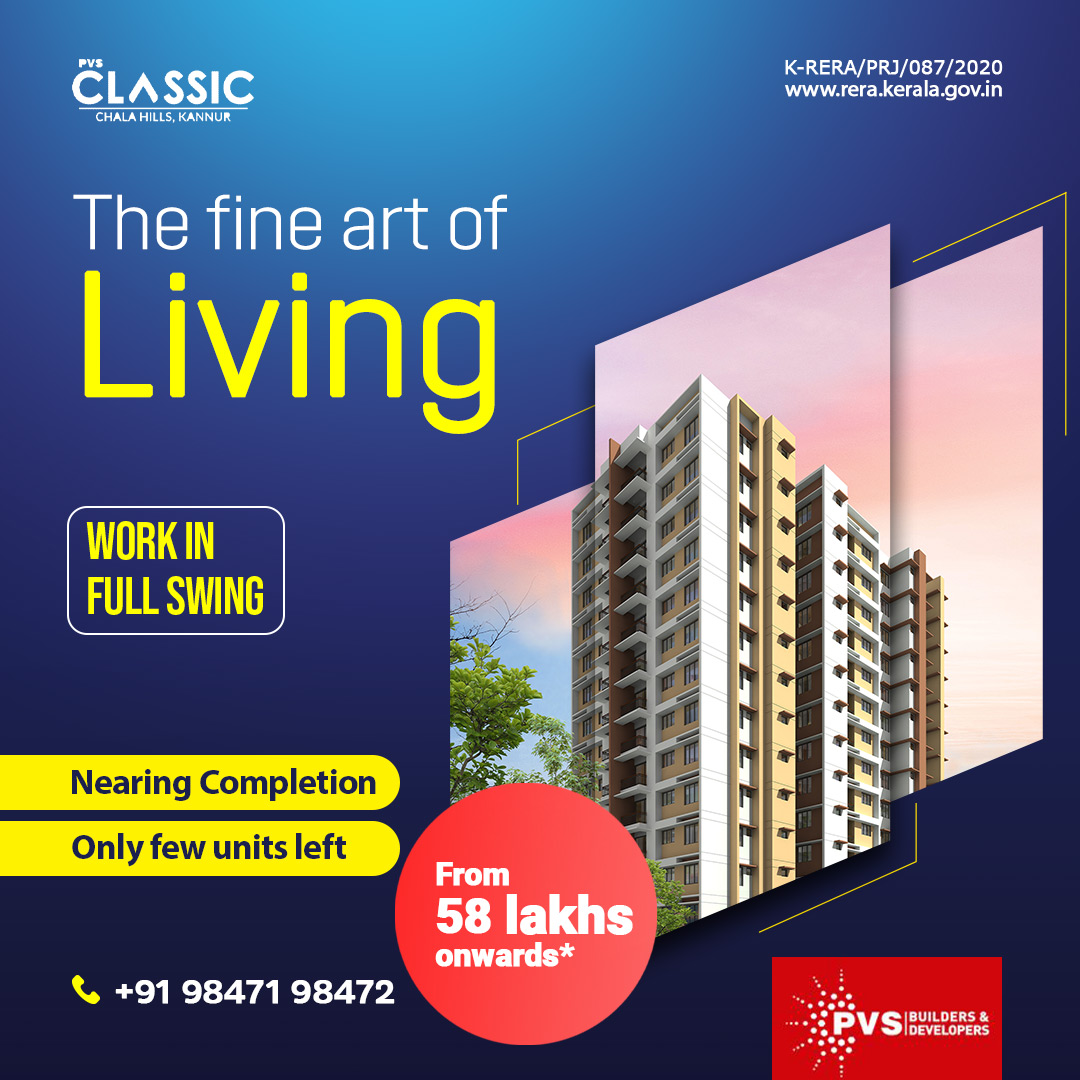 How about waking up to beautiful greenery that mesmerizes you daily?
Feel the beauty in destiny at every corner of your sight here in Kannur Chala!
PVS Classic brings the heavenly beauty of the land that enlight your day!
4. Corner Units
The hard-to-reach edges of the kitchen can be transformed with L-shaped or U-shaped kitchens as an excellent space-saving idea.
The corner units are accessible in various types like L-shaped cupboards, carousel units, rotating shelves, and magic corners.
In conventional kitchen designs, the kitchen corners usually remain underutilized since these are spots considered difficult to reach.
With sliding corner storage units, you can slide in and slide out the storage to make the spaces amazing.
Corner units work best in both lower and upper kitchen cabinets that depend on how you want to organize the objects. Also, read more about Small Indian Kitchen Storage Ideas
5. Bottle Pull Outs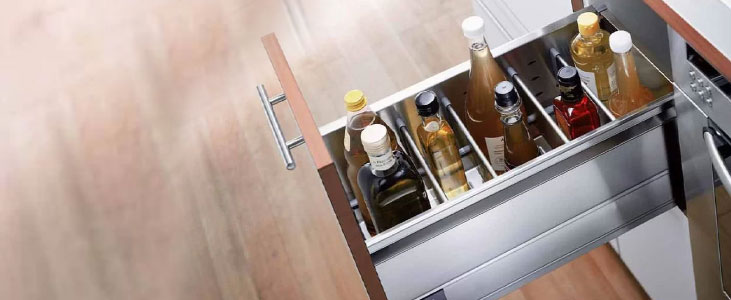 Bottle pull-outs are narrow and consist of 2-3 shelves, which can be used to store essential items such as bottles, plates, cans, oil, juice, sauces, etc.
It is not recommended to store these bottles or cans in open cabinets or on your kitchen countertops since they can clutter the spaces, and invite dust, and grime.
This hardware component is generally made of stainless steel, with anti-rust and anti-corrosive properties.
6. Under-sink units
The area beneath the kitchen sink is usually unutilized, hence considering this area with a unit to store the kitchen cleaning essentials would be a good idea.
This area is always prone to get messy and dirty due to spills, regular kitchen activities, cleaning of utensils, and various other chores.
In such cases, you can do the following:
Place a cabinet door beneath the sink to hide this area from view.
Utilize this spot to store your kitchen towels and cleaning supplies for regular use. Install racks and other accessories for under-sink as required.
Keep a dustbin holder inside your kitchen cabinet door which can hold the garbage bag and make the floors hygienic and clean.
7. Rolling Shutter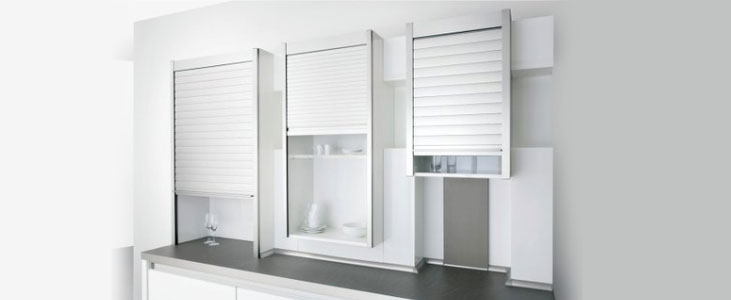 Allocate an area to store all kitchen appliances -enclose them with a rolling shutter that you can open either horizontally or vertically.
These are aesthetically beautiful choices for both your offices and homes.
They can not only be used for storage purposes, but also for small ovens, crockery, air fryers, and so on.
It offers storage and security to your kitchen items. With its DIY installation, you can match your requirements and install the shutters according to your preferred style.
Maintaining these shutters is normally easier and it saves you time to clean them.
You can also usually stop the shutter to make the view hassle-free for you.
8. Midway Systems
If you need modular kitchen accessories which are fixed on the backsplash of your kitchen, midway systems are ideal for you.
These included hanging cups, hanging glass holders, saucer holders, or multipurpose racks.
The midway systems enable you to enlarge and magnify the kitchen space and gain seamless access to everyday kitchen tools.
The easy-to-clip racks or cupboards can be included, eliminated, or modified as per your convenience of work.
All the most-utilized objects are within your reach with the advanced, modern, and chic midway systems.
9. Plywood
One of the most popular kitchen cabinet materials is plywood which makes the space look authentic and stylish.
Pasting many layers of veneered wood and pressing them together using resins produce plywood.
Plywood is normally durable, hard, and can withstand the excess weight.
It is extensively found in modular kitchen materials, flooring, paneling, cladding, and interior works. Also, read more about Kitchen Cupboard Designs Tips
10. Pull out baskets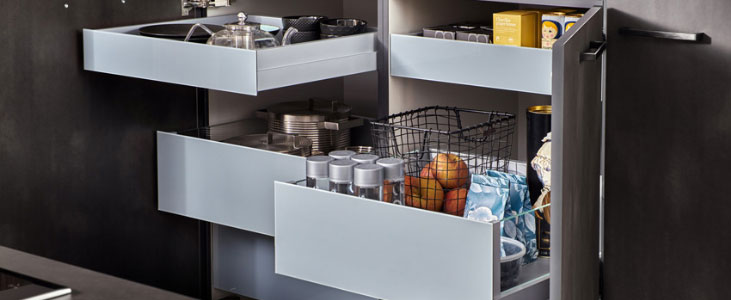 Want to look for something that fits your deep and shallow storage needs?
You can consider differently sized units or drawers for them. Some pull-out baskets are available with cutlery organizers and plates.
They open up to the full length, therefore the stuff kept inside is completely visible once you open it.
Remember that every pullout basket has a particular loading capacity, which avoids overloading.
Too much weight can impact the alignment of drawers, which eventually leads to sagging and quick defects.
The accessories or hardware parts of the modular kitchen incorporate rollers, telescopic channels, and hydraulic hinges.
Make sure you don't go for rough use, as else the hinges and channels would get strained.
This wouldn't let the cabinets open and close appropriately.
You can use pullouts as a basic mini pantry where guests can help themselves in the case of a busy kitchen.
11. Waste bin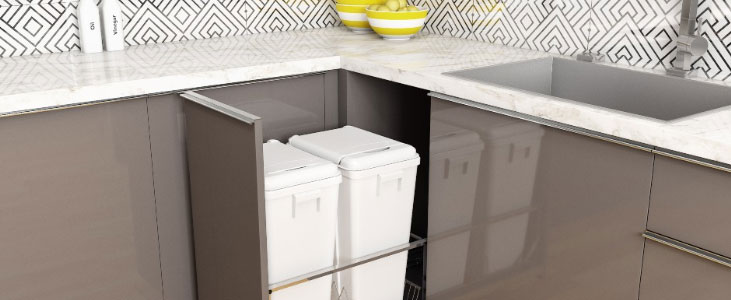 A pull-out bin unit that provides the cleanest approach to classify and store trash is the best addition you should have in your modular kitchen.
You can combine this system with the under-sink unit which lets the waste bin pop out once the door is opened.
Using a pull-out chopping board beneath the counter, and a slot along which you can place the trash dust bins located in the drawers below, are all the advanced types of waste bins you can use in a modular kitchen.
Summing Up
Due to the functional efficiency and the visual appeal they offer, the modular kitchen models are highly impressive.
These allow the residents to change the way the kitchen looks with designs, space-saving ideas, and modern accessories.
To build a customized modular kitchen, the above accessories can help you with their ease of management and functional efficiency.
It's time to choose your preferred accessories right before the renovation work starts, for a seamless and splendid modular kitchen finish.
PVS Builders & Developers is one of the most renowned builders in Calicut and provides some of the most efficient apartments in Calicut, Kannur, and Aluva. If you are looking for flats in Calicut with some of the best features and high-quality amenities then contact us today or visit our website for more information on our latest apartments in Calicut.