Best Roof Railing Designs of a House in Kerala
Posted on May 02, 2022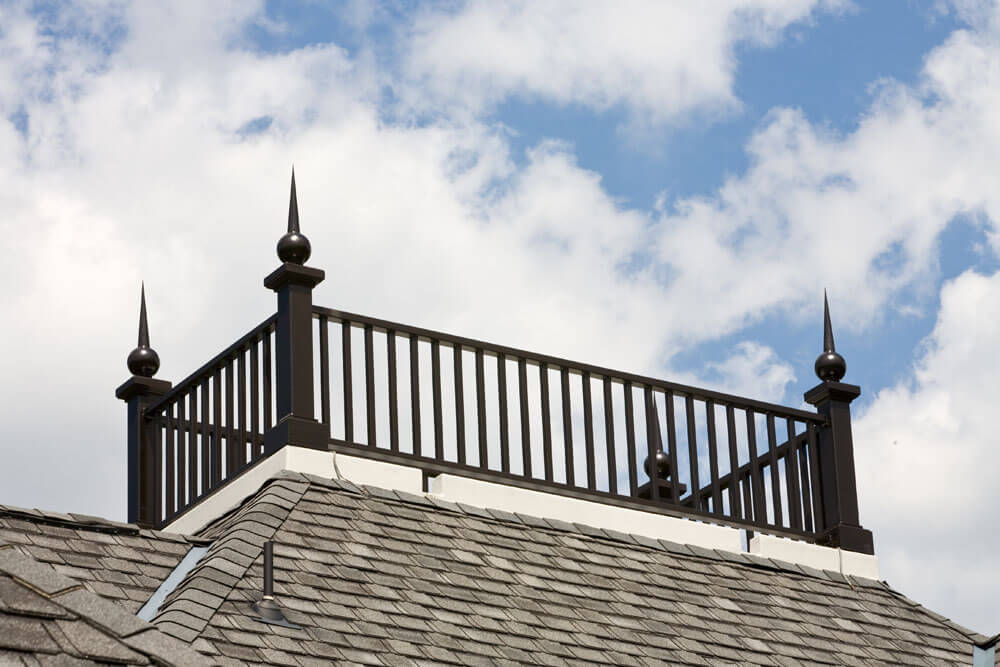 The railing has a high-level security role in a home, serving to prevent occupants on balconies and raised terraces from falling or experiencing a tragic accident. However, these security components also function as decoration for the façade, making it more fascinating and adding a visual aspect that makes it more appealing. Railings can be made out of a variety of materials, including steel, mild steel, wood, iron, glass, or even concrete.
Flats in Calicut feature these distinctive roof railing designs that add to their visual charm. This post will undoubtedly assist you in learning more about the greatest roof railing designs for a house in India. Here is a list of the top ten home rooftop terrace design ideas in India. Designs for the roof can enhance the appearance and bring aesthetics to the entire building.
Why is Roofing Important?
The roof is the most significant feature of your home since it protects you and your family from a variety of hazards. Rain, wind, hail, and snow are deflected by the roof. They also help to keep the house warm during the winter and cool during the summer by capturing the majority of the sunlight and providing insulation.
It is critical to have top-notch roofing that not only looks nice but also performs well under seasonal stress when it plays such a crucial function. It should be able to tolerate seasonal fluctuations and their consequences. Thus, among many ideas for roofing, the roof railing designs of a house in India are the most unique and safest way to design your rooftops and balconies.
Best Roof Railing Designs of a House in India
1. A Combination of Tradition and Contemporary
The use of stainless steel railings with tempered glass sheets is a traditional combination that never fails on a modern façade, producing a robust railing with a visual lightness that makes it a favorite of many designers.
2. Design According to the House 
Constructing a railing according to the architecture can create some beautiful roof railing designs on a house in India. The railing, which is constructed of sheet metal and has a basic construction, follows the same architectural lines as the house's composition, giving it the appearance of being an essential part of the façade.
3. A Design that Functions
A functional design to enhance the beauty of the railing is a perfect idea for the roof railing design of a house in India. The tempered glass sheet and the basic black metal construction offer a utilitarian, clean, and well-maintained look.
4. Designs Made Of Metal
Designs made of metal can serve as solid roof railing designs, which are more durable as well. A stunning metal-based railing's geometric visual game works hand in hand with the modern architecture of a well-defined volume of the home, which blends textures in an appealing way on its front.
5. With a Classic Appeal
Beautiful traditional wooden railings may not only beautify each of the residence's balconies but also safeguard their occupants, enabling them to enjoy the magnificent views of the surroundings while being secure. Also, read more on wooden flooring.
6. Totally Natural and Rustic
Roof railing designs that are made of natural products like wood and other things can make the home look more rustic and beautiful. Using local timber, natural designs provide a rustic railing and provide a lovely tropical home with a lot more fascinating personality. This is a true beauty! Also, read more about eco-Friendly House Construction
7. Combination of Mixtures
The railing combines a section of concrete painted in a reddish tint with a piece made from a sheet of tempered glass, creating a stunning design that protects inhabitants on a balcony while also looking great. A combination of many colors and tempered glasses can make the railing look unique.
8. Light
A simple metal railing that serves both a safety and an aesthetic function is used to create a light protective structure. This is a perfect railing design for a subtle appearance.
9. A brick foundation
These railings form little brick buds that shelter each of a multifamily building's balconies, giving the architectural composition a lot of flairs. As a result, the homeowners' homes become extremely safe and secure.
10. Glass Railings
What better way to include a safety rail into a state-of-the-art design than with a strip made completely of tempered glass or a set of glass panels, which helps to preserve a clean and well-maintained composition? When people think of "glass" railings, they usually think of something that looks nice but may not be able to withstand the elements. Glass railings are made of robust, 12-inch tempered safety glass, stainless steel, and high-quality aluminum, ensuring that you have secure, long-lasting guardrails.
The Advantages of Roof Railing
Families with young children or the elderly, in particular, can be safe with roof railings.
Providing safety in a stylish manner instantly increases the value of your house.
The roof railing designs can resist strong wind loads and harsh temperatures without breaking or harming the structure, making them ideal for both indoor and outdoor use.
Glass railings are ideal for outdoor balconies since they do not deteriorate over time.
There's no better way to avoid falls and improve safety without blocking a lovely vista.
It can withstand harsh weather conditions.
Durable materials can be used for a strong railing design.
They enhance the appeal of traditional homes.
These railings can be used as design elements for stairs as well.
These roof railing designs are affordable.
A balcony or rooftop railing is not only a crucial security element for our houses, but it can also improve the beauty and feel of the outside of your home with the proper design and material. The overall design of the house, whether modern or conventional, as well as the railing's capacity to survive adverse weather conditions, may all play a factor in picking the best material for your stairs, house front, or balcony railing system. Thus, the roof railing designs of a house in Kerala can help you create unique and stylish rooftop ideas that can increase safety and reduce the risk of falls. Roof railing designs are very common in today's world as they add to the value of a beautiful home.
Are you checking out the best flats in Calicut for superior apartment projects? You have come to the right place. PVS Builders are one of the most trustworthy and reputed builders in Calicut, with some of the best laid out apartments in prime locations. Contact us today to know more!