Why Should You Buy Property In Kerala Pre Launch ?
Posted on November 25, 2016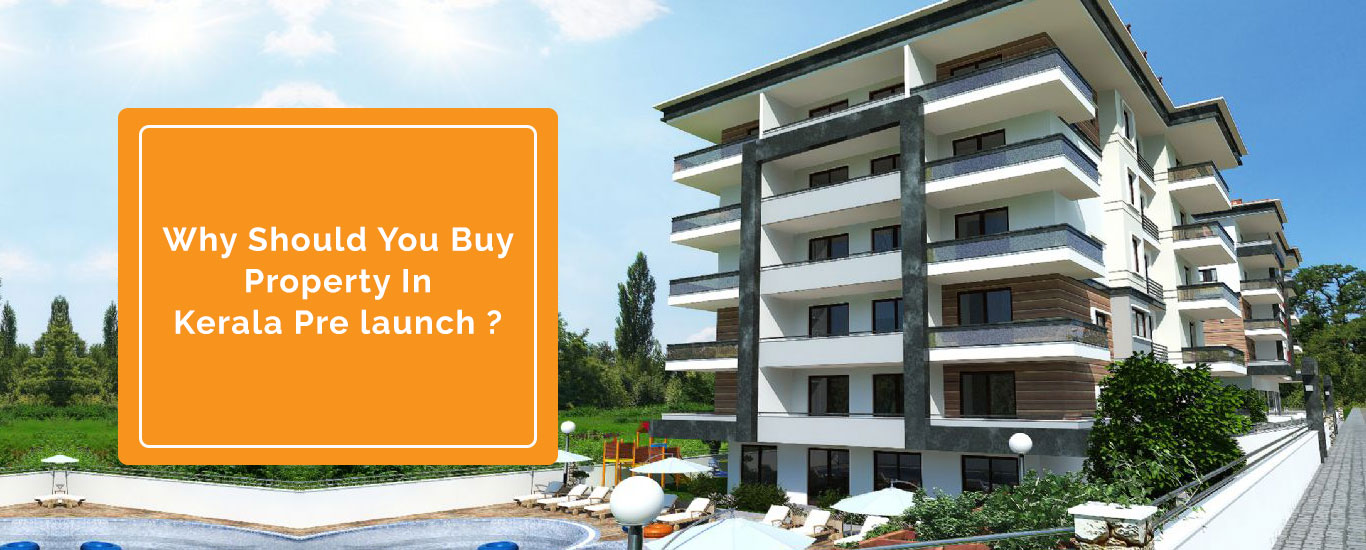 Kerala is said to be the abode of God .
There is a lot of peace and divinity in the environment of Kerala and every individual dream to own small space in this region of the country.
With the ongoing extensive pace of development and modernity, there are several new schemes and projects launched to make the comfortable living for people of all levels including the lower middle class to the upper middle-class and a richer section of the Kerala society.
To realize this Kerala pre launch property program is in action in different cities of Kerala under different banner names and liberating prices.
Buying any kind of new launch property is one of the dreams of every individual and with tremendous development, there are many new projects proposed in every locality of Kerala.
There are many pros and cons related to buying property in Kerala pre launch.
The low prices are the major attention seeking and attracting offer to all the buyers but there are several other major benefits in buying pre launch projects in Kerala.
Customers get more choices to choose from in addition to that easy loans are available and discounts of around 20-30% also attract the attention and make the choice of buying a property in the early pre-launch state a better option as compared to when buying a property later at high rates and with limited choices and no discounts.
Buying a property in the first place also gives you a chance to add a personal touch to your destined and to be home as per your taste.
Kerala real estate is a major hub for those seeking a real time investment in property. The Kerala pre-launch has a major impact on the Kerala's real estate business it has given a chance to investors and end buyers a chance to make better choices at a reasonable cost.
There are many types of residences under the pre-launch in including apartments land/villas projects and much more as per the investors and consumer's need.
Often due to unavailability of the desired type of flats or apartments we miss the opportunity to grab our dream home but with this pre-launch scheme in Kerala it is easy to select and lock your desired property at the very initial stage.
There're many trusted brand names in the arena of the apartment and flat booking in Kerala where you can realize your dream of buying an apartments in Calicut, Kannur and all over Kerala.
The pre-launch pattern of attracting the customers is not limited to any specific area it is spread all over the area including properties in Trivandrum, properties in Cochin, Kalamassery and all other densely populated and developing regions.
Buying a property at an early stage also has a benefit of choosing the locality and the amenities available around the area. In reality, no one likes to live in an isolated abode with the market, hospitals and everything at a miles distance hence choosing the property also gives you the liability to choose the desired location.
There is the wide range of villas flats and houses to choose from including the properties available in Kochi, Ernakulam, Kozhikode, Idukki, Kollam, Kottayam, Malappuram, Pathanamthitta, Thrissur & Palakkad.
There is often a misconception that these discounts are liable to only a certain section of buyers but it's not true these even apply to buyers of all the calibers.
Someone who wishes to take a home loan and rich investors is all invited to relish the benefits of the Pre-launch scheme.
In addition to the monetary benefits, this also gives the buyer choice to get the house or any property as per the desire and get its interior and exteriors in a way he/she wants.
Buying an apartment in Kerala pre-launch is one of the most lucrative offers for all those who wish to enjoy the flat living.
There are 2 to 3 BHK flats available all over Kerala under different trusted brand tags. Living in a flat gives you extra benefits of low maintenance, safety and much more thus to enjoy flat living with more benefits early booking in pre-launch is the best option.
Other benefits include one can manage to look out and verify the legal titles, clarify the final charges. One more added benefit is that the consumer gets time to arrange for the final cash and one can even plan installment payment, this is one of major benefit for the consumers who do not have the cash ready with themselves but can manage installments or home loans.
Thus buying a home in Kerala pre launch adds great possibilities for the middle-class families who dream of a magnificent and comfortable abode as per their requirements and budget.
We don't buy homes or property daily so it's a crucial investment for all thus it is necessary to keep yourself aware of best discounts and quality of service product we are being offered. Pre-launch investments are also more suitable to compare the market.
There are different brand names available in Kerala real estate which offer pre-launched projects include NOEL builders 3 BHK luxury apartments, flats, villas. Tata housing development company, Nucleus-Villas & Apartments – Live life and PVS Builders Calicut and many more.
All the banners in competition provide innovative and more advanced facilities to attract the consumers and become popular among all so as to increase chances of investment and more business.
There are many upcoming real estate projects are a Confident phoenix, Bellatrix 3 luxury apartments. There are many amenities in the proposed apartments including WiFi connectivity, swimming pools, automated shoe shine, 24 hours security, centralized gas system, sewage treatment plant, 1 KVA generator, children play club , social gathering yard, playground, parking, lifts, servants, and many other attracting facilities.
These amenities are available as various different set packages by the company under which you buy property.
Several properties are also designed in an eco-friendly manner that all the amenities provided are keeping in view the sustainable development and the lightning sheds and look of the proposed housings are in accordance with the environment With increasing concern towards environment these homes or apartments add a new trend to the notion of housing and comfort.
The initial investment for these may be high but later on, these are more cost efficient and power saving as well as different and comfortable.
So for all those people who wish to experience the greenery and pleasure of being near nature in their homes this kind of homes are best suited.
Conclusively buying a dream home is a big deal and all the decisions should be taken with careful verification. Investment in property is a one-time investment and it should be taken with proper introspection and effectiveness. So to achieve the dream of humble and peaceful abode book now in Kerala pre-launch to fasten up ties with developing Kerala. Also you should focus on the hidden dangers when you buy a house in Kerala. It is one of the important thing.
With increasing pace of development and growing population, there is increasing competition, increasing hopes and joys in the eyes of all the citizens in Kerala.
Hurry up to confirm your home in peaceful and divine Kerala because the house is a place where your life exists, so make it your own way, in your own terms and that too in your own limits because such offers don't come daily.
PVS Builders & Developers, one of the renowned home builder in Kerala, who have completed and successfully delivered luxury flats in Kannur, Calicut & Aluva since 1991. Contact us for our ready to occupy flats in Kannur, Kozhikode & Aluva.