Overview
floor plans
Specifications
Amenities
Availability
Location
Current status
Basic Details
| | |
| --- | --- |
| Land Extent : | 110 Cent |
| No. of Towers | 3 |
| No.of Floors : | G + 3 |
| Total Flats : | 69 |
| Type: | 2 Bhk ( 817 Sqft , 906 Sqft ) 3Bhk (1131 Sqft) |
PVS Green Valley
PVS Green Valley Smart Homes is a unique project that has been planned to spell absolute indulgence. Meticulously designed to meet all your needs while keeping the cost within your reach. It ensures that you enjoy the refreshing gust of fresh air and greenery. A range of functional, affordable and stylish homes.
BUILDING PERMIT NO - BL NO -382(2014-2015) DT 13.3.2015
CIVIL
All structural RCC works shall abide to the IS 456.
All outside walls using laterite/cement blocks & inside wall cement blocks/bricks.
FLOORING
Entire flooring with Vitrified tiles.
DOORS
All door frames are hard wood.
All door shutter are moulded skin door.
WINDOWS
Windows of aluminium casement with MS Grill.
ELECTRICAL
Electrical-Adequate points for light
fan and plug points with concealed copper wiring
Three phase connection with independent KSEB meters.
KITCHEN
Stainless steel sink on black granite counter
Gazed tiles dado up to 2 feet above the counter
Provision for washing machine in kitchen.
TOILETS
Toilets wall glazed tiles up to 5 feet height
Concealed piping.
MASTER BEDROOM
Master bedroom with provision for A/C.
LIVING ROOM
Living room with provision for TV & Telephone.
PAINTING
Inner walls finished with emulsion
External walls with water proof cement paint.
SAFETY
All round compound walls with security cabin
Fire fighting equipments as per KPBR service rule.
RECREATION
Association room
Fitness Centre
Recreation room
CONVENIENCE
Common toilet for each block.
Washroom for each block.
Lifestyle
Fitness Centre
Association Room
Recreation Room
Security Cabin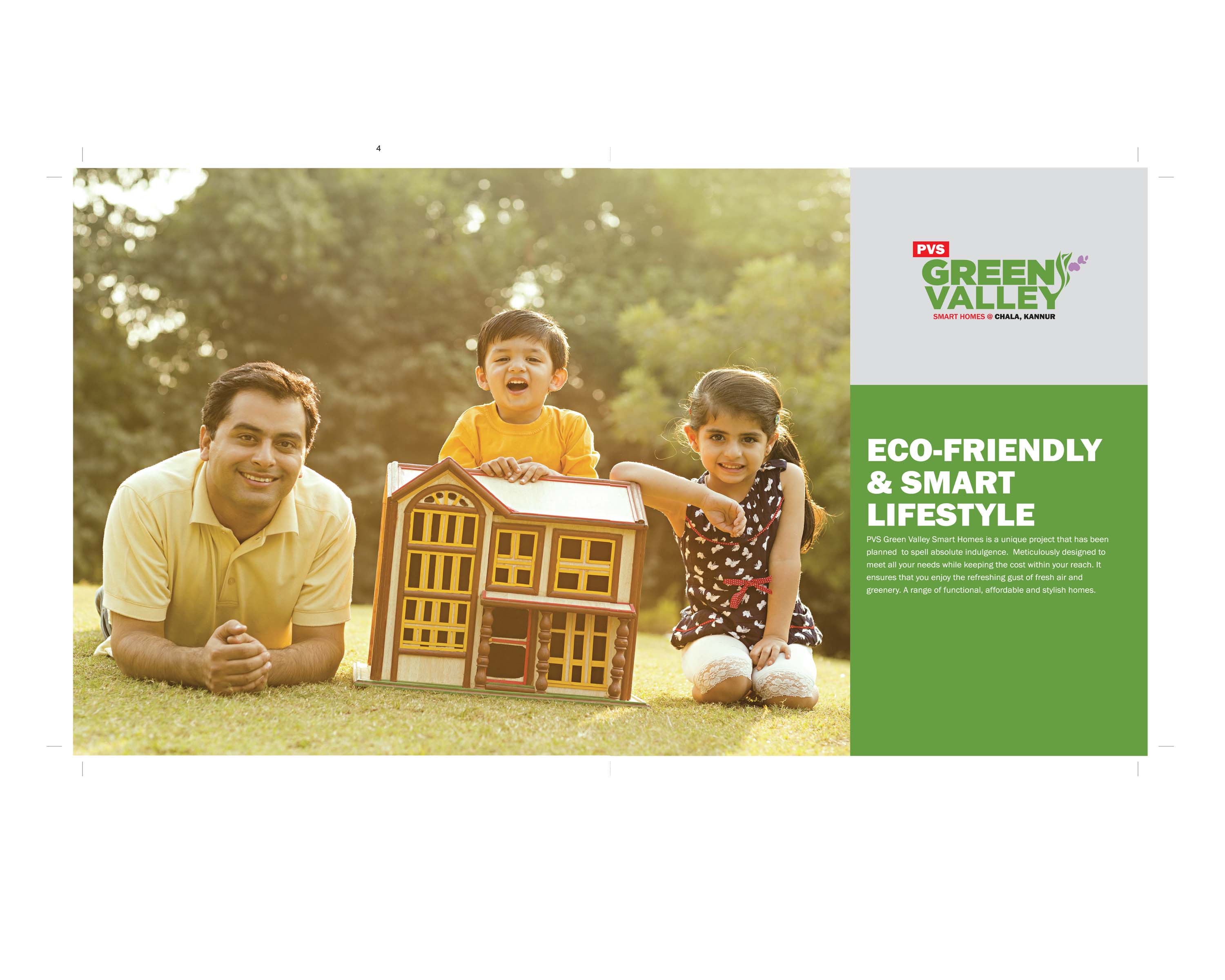 ---
PVS Green Valley, Chala kannur
Block- A
1  Available
0  Reserved
22 Sold
| | | | | | | |
| --- | --- | --- | --- | --- | --- | --- |
| Floor | 1 | 2 | 3 | 4 | 5 | 6 |
| Ground Floor | Sold | Sold | Sold | Sold | Sold |   |
| 1 | Sold | Sold | Sold | Sold | Sold | Sold |
| 2 | Sold | Sold | Sold | Sold | Sold | Sold |
| 3 | Sold | Sold | Sold | Available | Sold | Sold |
PVS Green Valley, Chala kannur
Block- B
1  Available
0 Reserved
22 Sold
| | | | | | | |
| --- | --- | --- | --- | --- | --- | --- |
| Floor | 1 | 2 | 3 | 4 | 5 | 6 |
| Ground Floor | Sold | Sold | Sold | Sold | Sold |   |
| 1 | Sold | Sold | Sold | Sold | Sold | Sold |
| 2 | Sold | Sold | Sold | Sold | Sold | Sold |
| 3 | Sold | Sold | Sold | Sold | Available | Sold |
PVS Green Valley, Chala kannur
Block- C
0  Available
0  Reserved
23 Sold
| | | | | | | |
| --- | --- | --- | --- | --- | --- | --- |
| Floor | 1 | 2 | 3 | 4 | 5 | 6 |
| Ground Floor | Sold | Sold | Sold | Sold | Sold |   |
| 1 | Sold | Sold | Sold | Sold | Sold | Sold |
| 2 | Sold | Sold | Sold | Sold | Sold | Sold |
| 3 | Sold | Sold | Sold | Sold | Sold | Sold |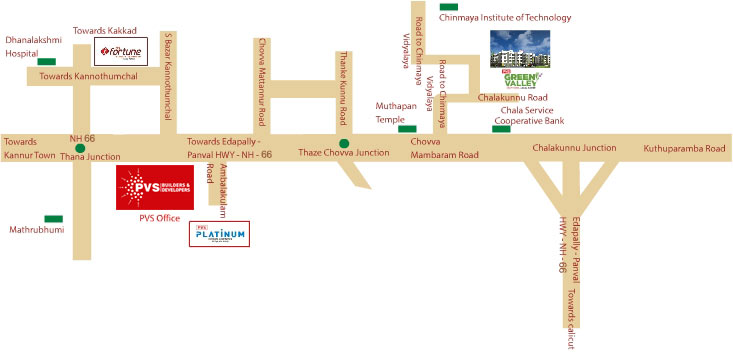 Easy Access
| | |
| --- | --- |
| Chinmaya vidyalaya | 500 m |
| Railway station | 3.3 km |
| Proposed airport | 26 km |
| Govt.Polytechnic | 3.7 km |
| S.N. College | 3.2 km |
| Genesis super speciality hospital | 2.1 km |
| Sadhoo merry kingdom (amusement park) | 1.5 km |
| Places of worship | 600 m to 2.8 km |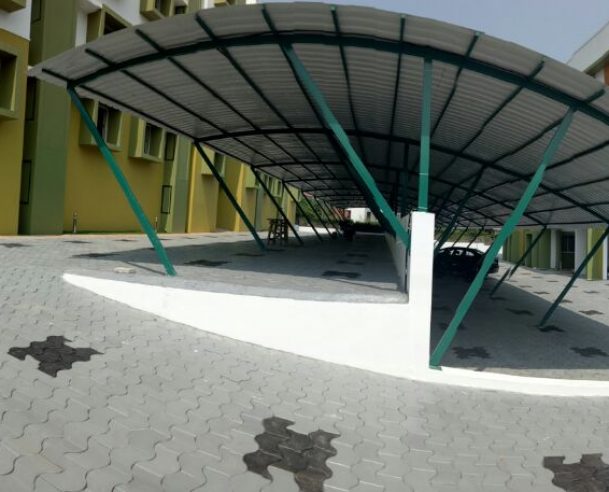 As on 01-12-2017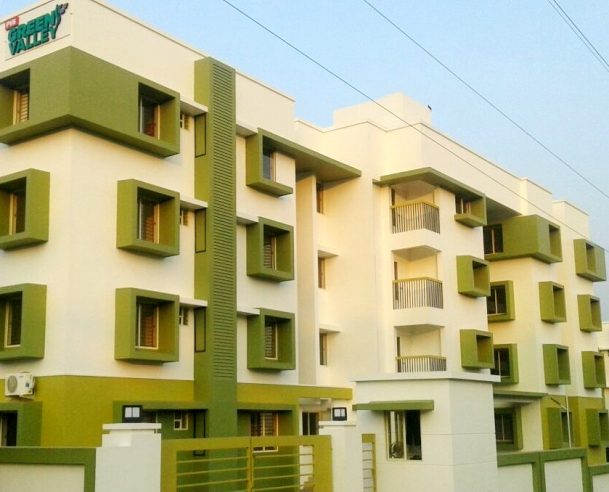 CHARGING OF 250 KVA TRANSFORMER BY KSEB WAS SUCCESSFULLY DONE ON 17.11.2017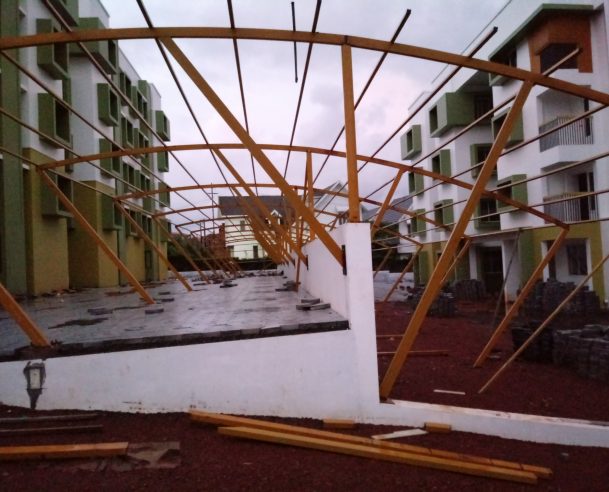 FABRICATION & FIXING OF CAR PARKING TRUSS IS NEARING COMPLETION 01-10-2017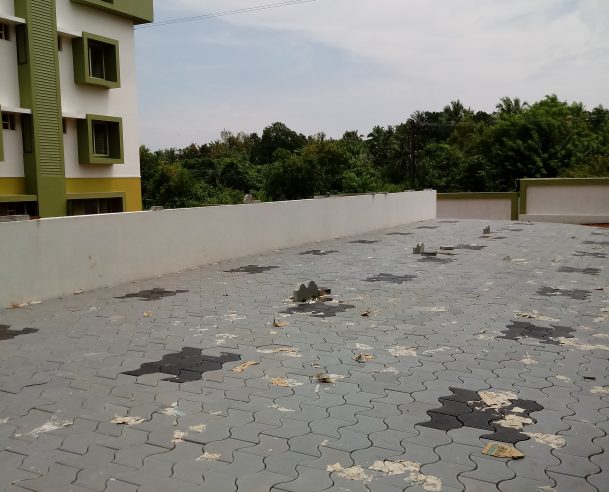 EAST SIDE OF BLOCK A (CAR PARKING AREA) 06.09.2017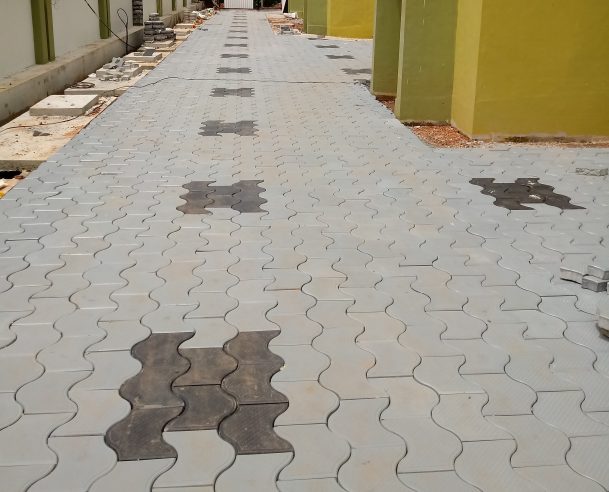 INTERLOCK BLOCK LAYING - 50% OF THE TOTAL AREA COMPLETED 06.09.2017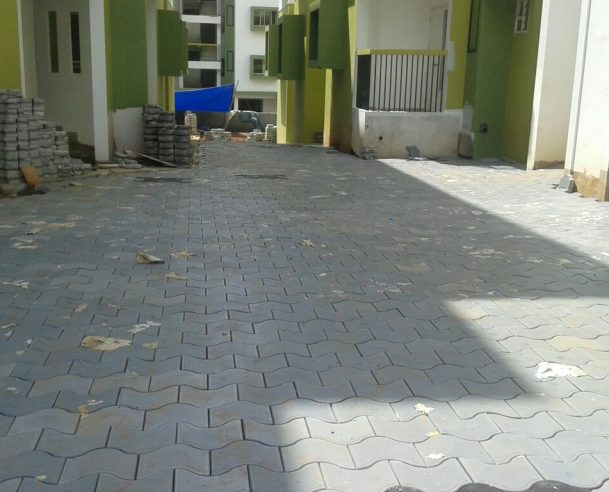 INTERLOCK LAYING IS COMPLETED - AREA BETWEEN BLOCK A & B 01/08/17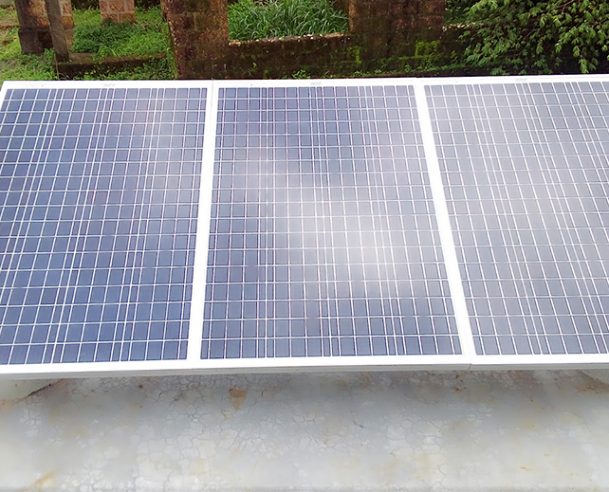 INSTALLATION OF SOLAR PANEL COMPLETED 01/08/17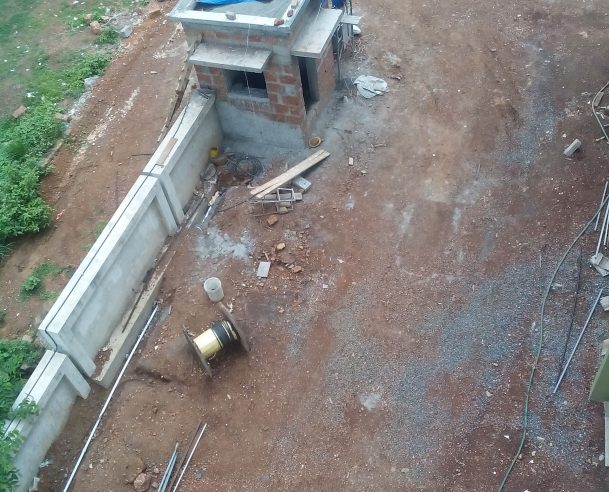 MAIN ENTRANCE PORTION AS ON 02/06/17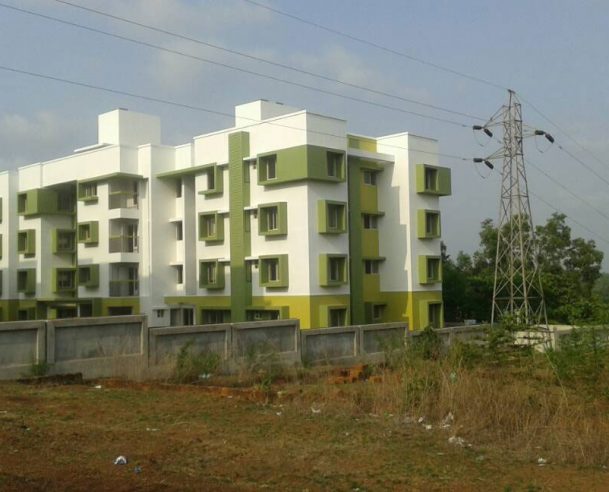 BLOCK C CURRENT STATUS ON 04.05.17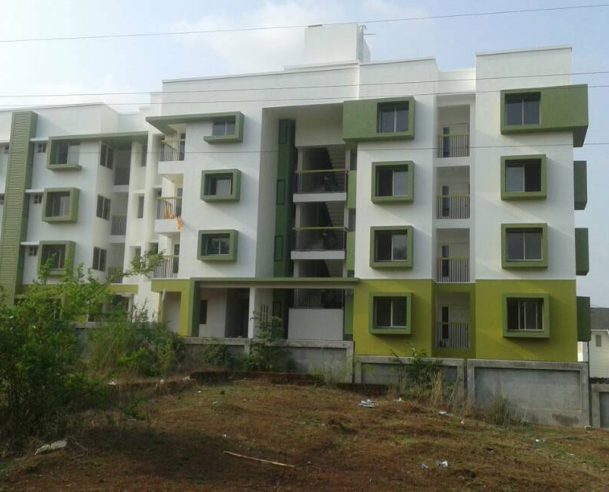 BLOCK A CURRENT STATUS ON 04.05.17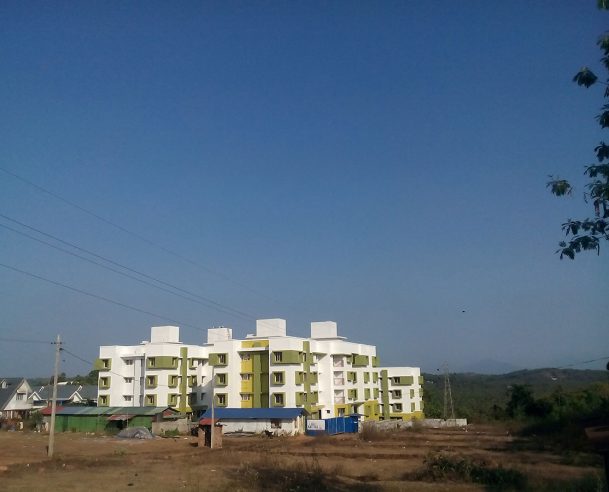 CURRENT POSITION AS ON 02.02.2017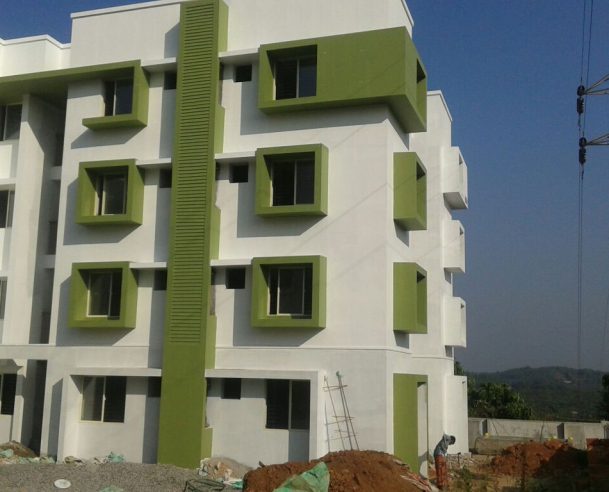 POSITION OF BLOCK C AS ON 02.01.2017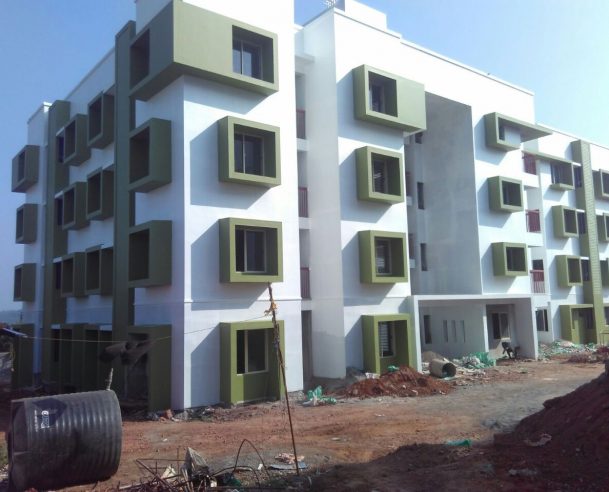 POSITION OF BLOCK B AS ON 02.01.2017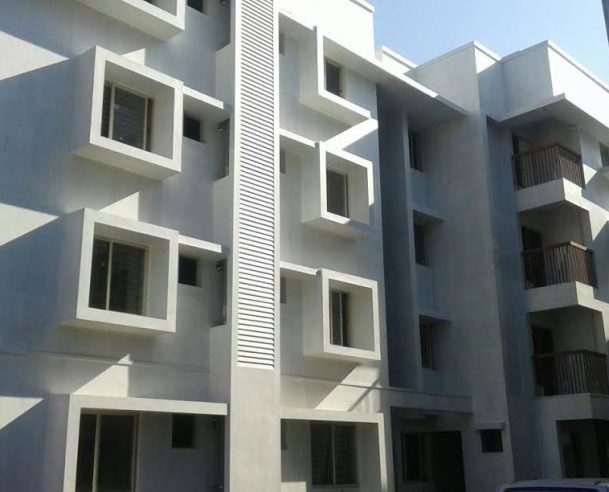 Block B- south side view (Nov 2016)
STP (Nov 2016)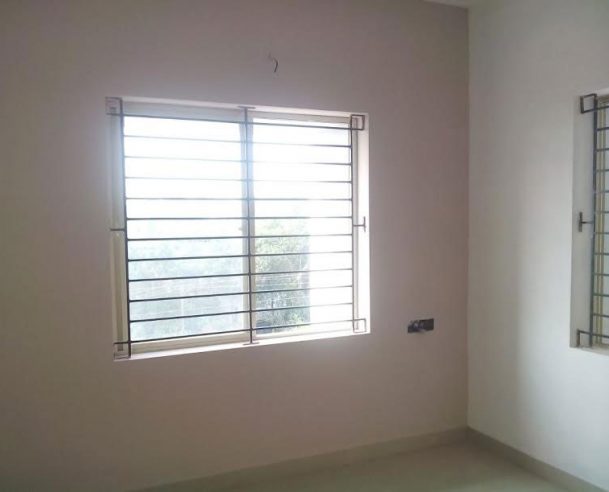 Interior Painting - (Nov 2016)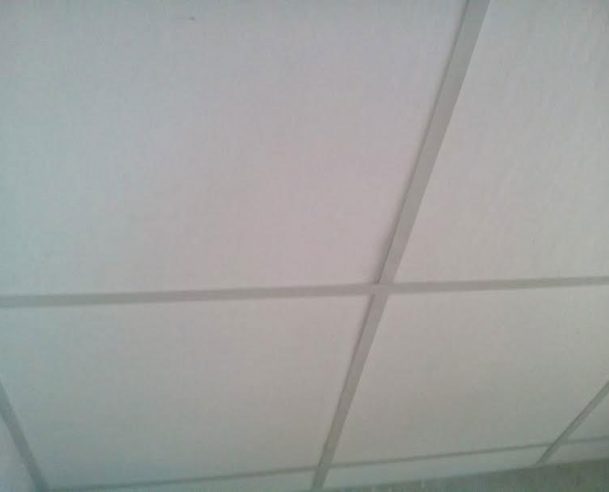 false ceiling in toilet (Nov 2016)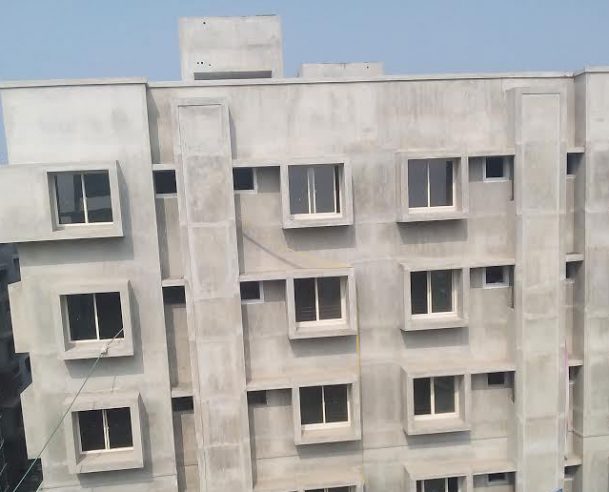 Block B - East side elevation (Oct 2016)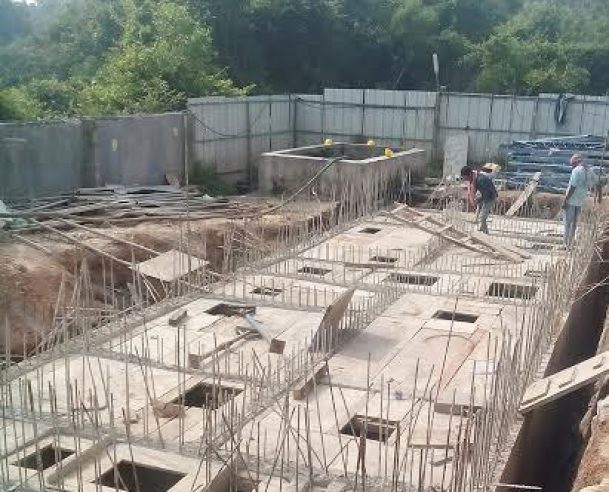 Shuttering for cover slab of STP (Oct 2016)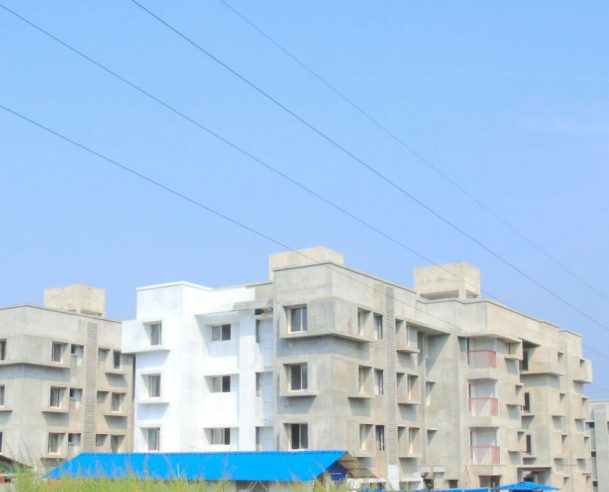 Block A - Exterior painting (base coat) (Sept 2016)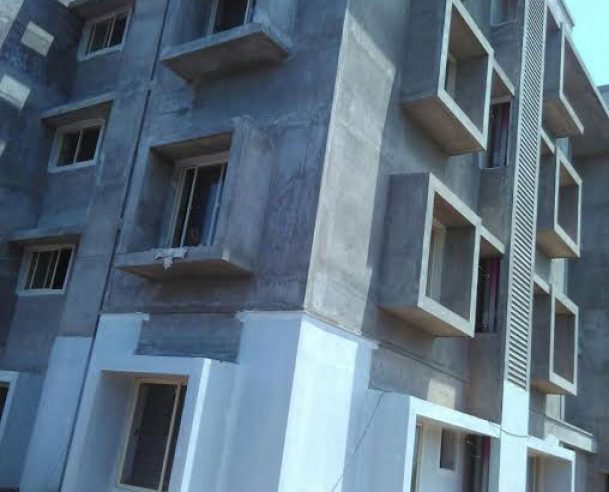 Block A - Exterior painting (base coat) (Sept 2016)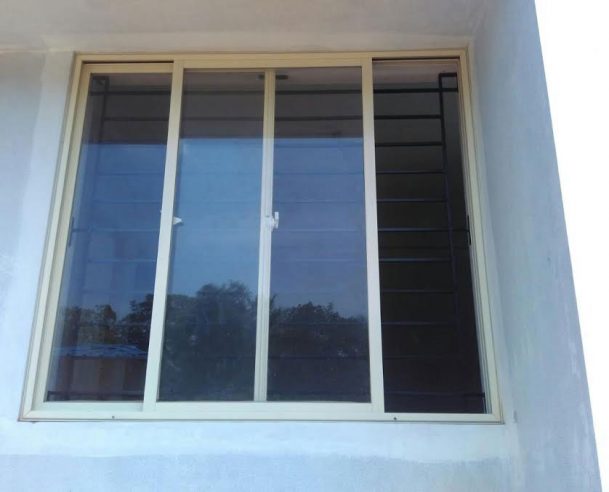 Block C - Fabrication of sliding aluminium windows is in progress (Sept 2016)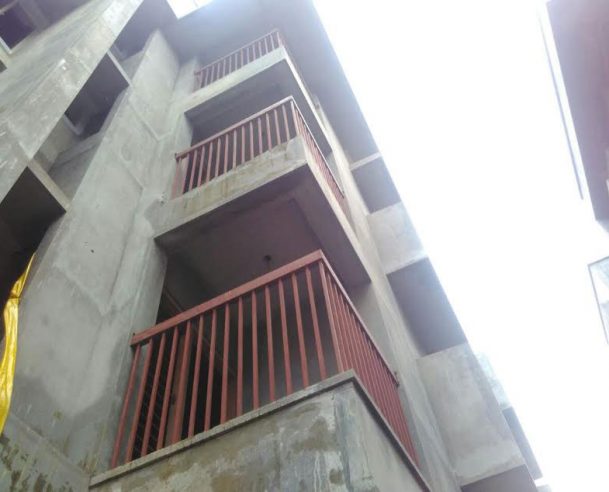 Block B- Fabrication and fixing of grills and balcony handrails is nearing completion 3-9-16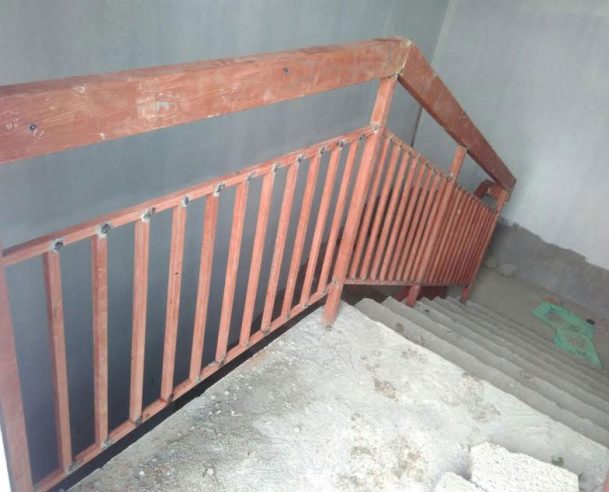 Block A - Fixing of staircase handrail- completed 3-8-16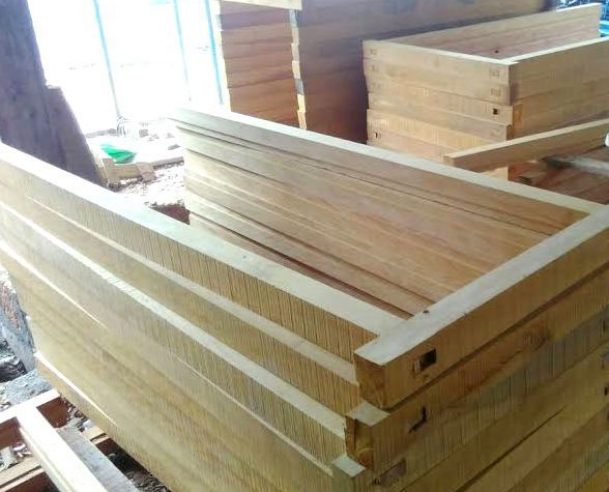 08-06-2016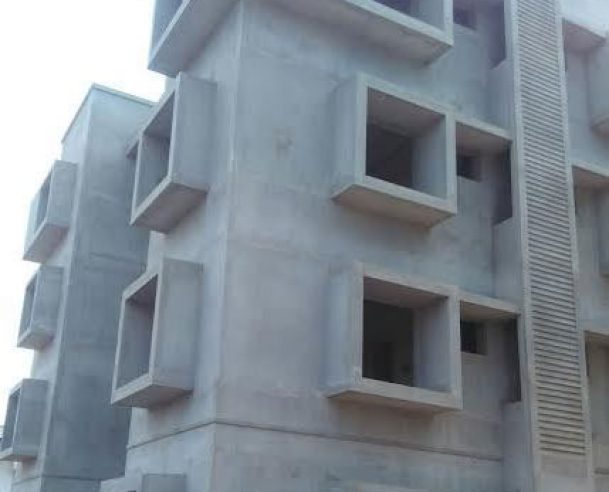 Block A: Plumbing- internal concealed plumbing work and wasteline pipe laying completed from ground to second floor;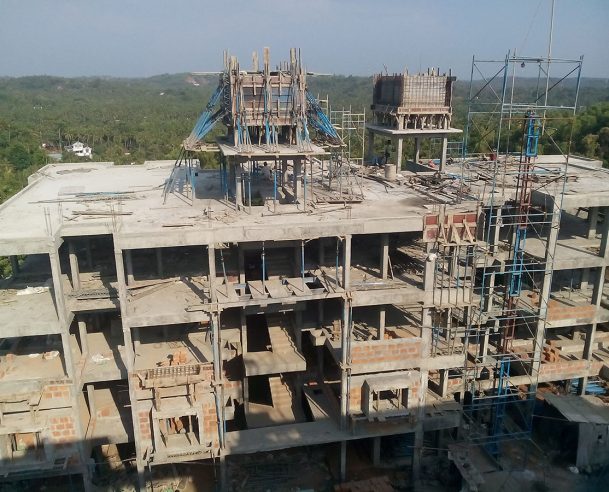 C BLOCK WATER TANK CONSTRUCTION ON 06/04/2016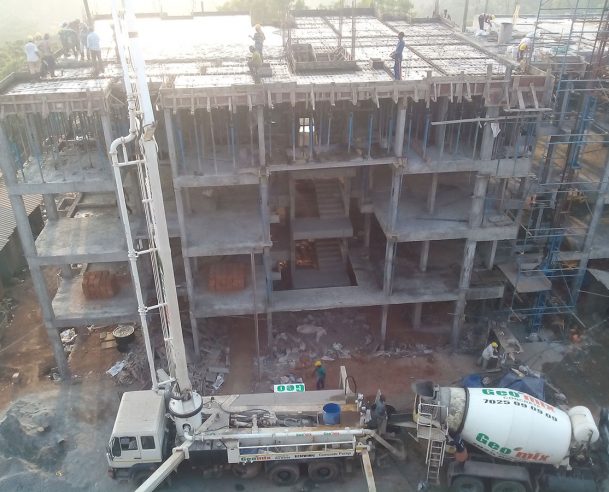 STRUCTURAL WORK OF 3 RD FLOOR C BLOCK COMPLETED- 09-03-16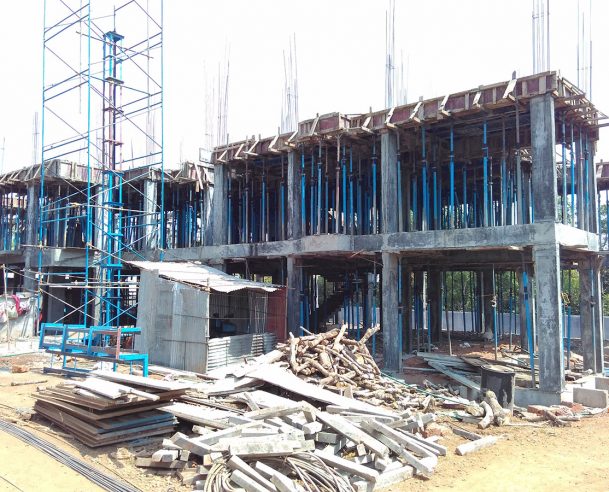 BLOCK C STRUCTURAL SECOND FLOOR COMPLETED - 04/02/2016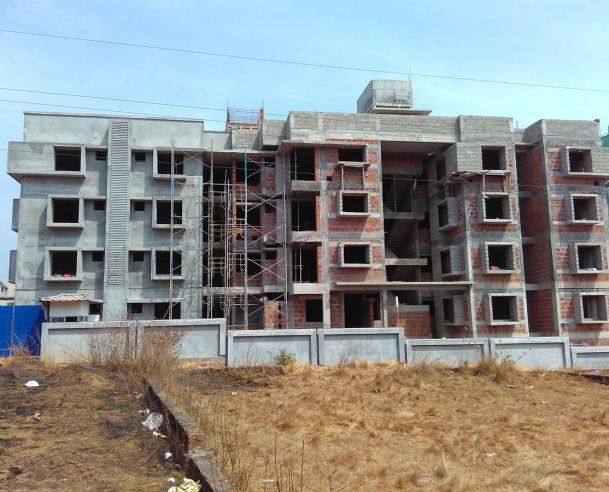 BLOCK A FRONT VIEW AS ON 04/02/2016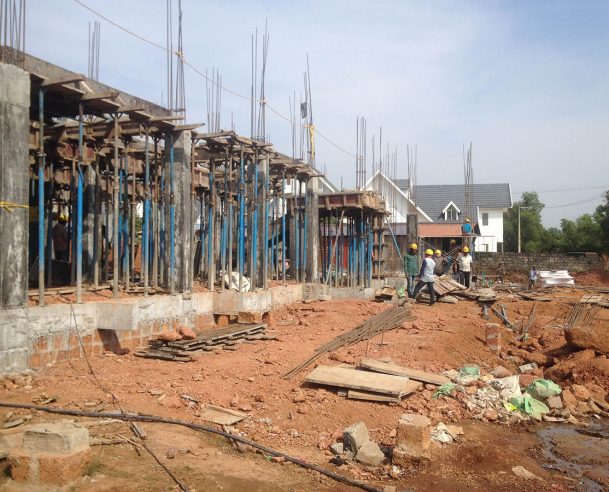 STRUCTURAL GROUND FLOOR COMPLETION ON 06/01/2016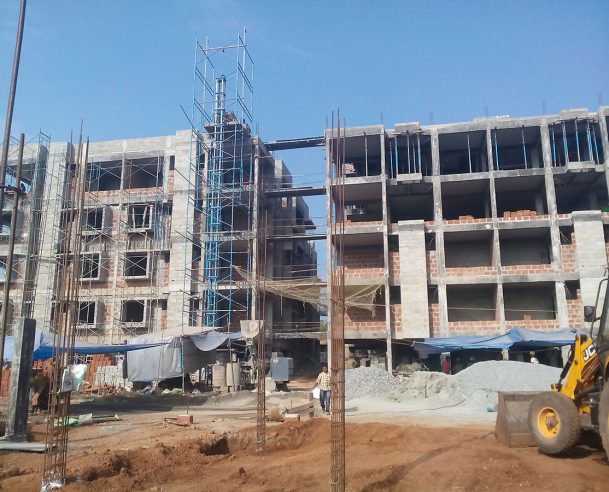 STRUCTURAL WORK AT B BLOCK COMPLETED 27.12.15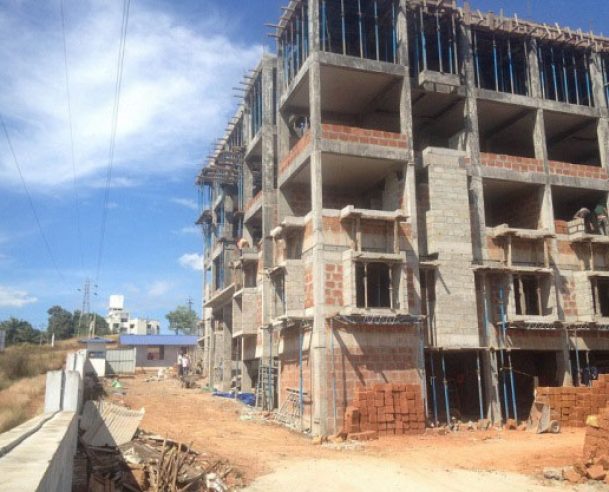 3RD FLOOR STRUCTURAL WORK COMPLETED ON 02.12.15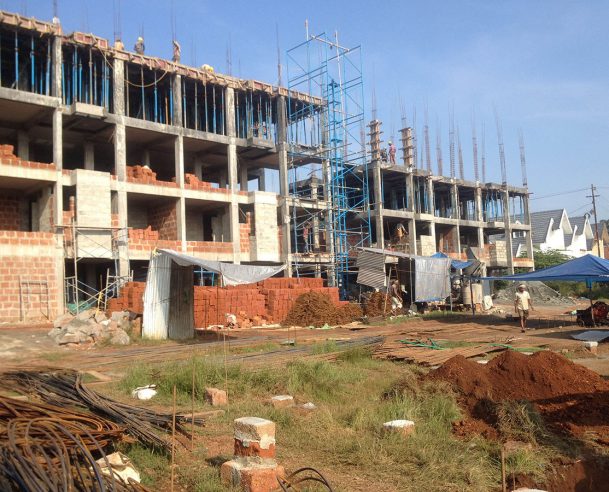 BACKSIDE VIEW OF BLOCK A &B 07/11/15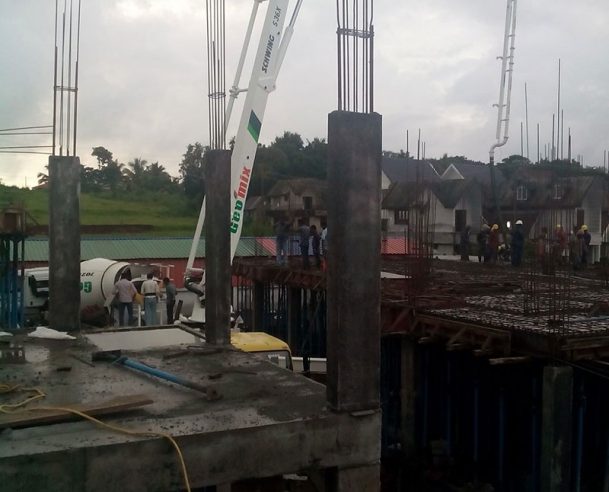 WORK IN FULL SWING 35% STRUCTURE COMPLETED 12/10/15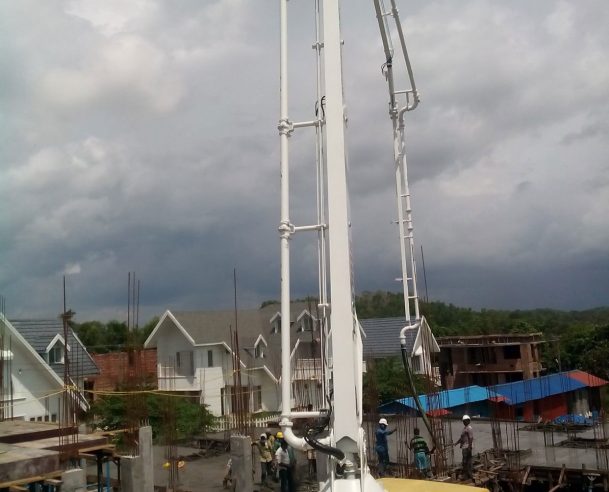 WORK IN FULL SWING 35% STRUCTURE COMPLETED 12/10/15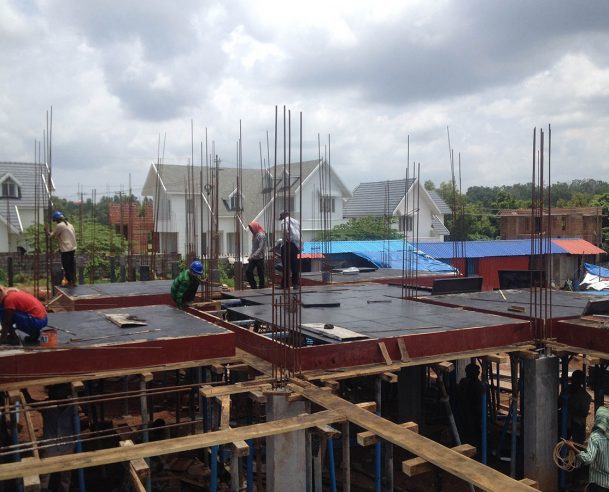 FLOOR SLAB WORK 01.09.15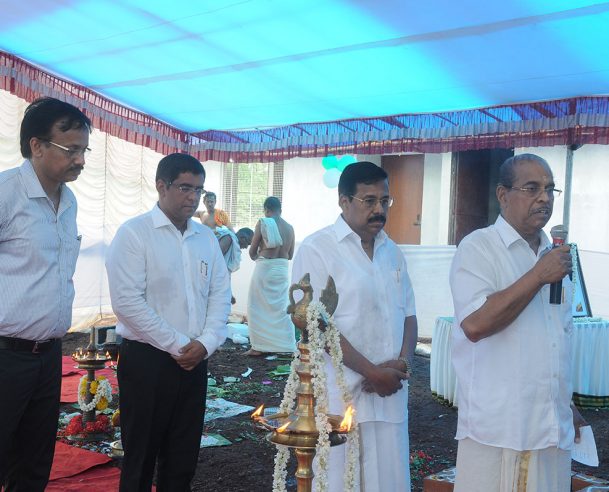 P.V.CHANDRAN,KTC GROUP CHAIRMAN ADDRESSING THE GATHERING 26.06.15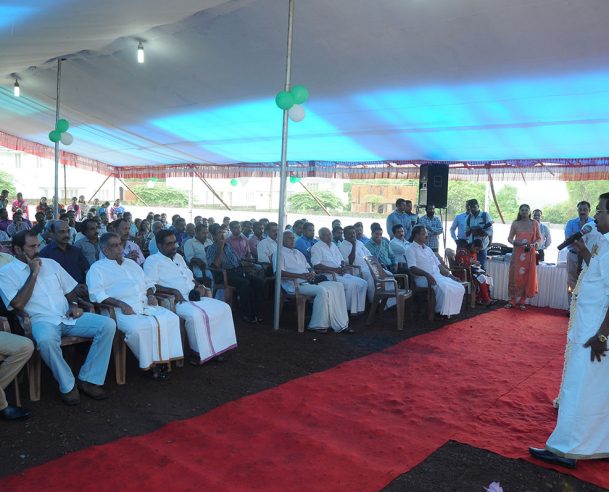 P.V .GANGADHARAN MG.PARTNER ADDRESSING THE AUDIENCE 26.06.15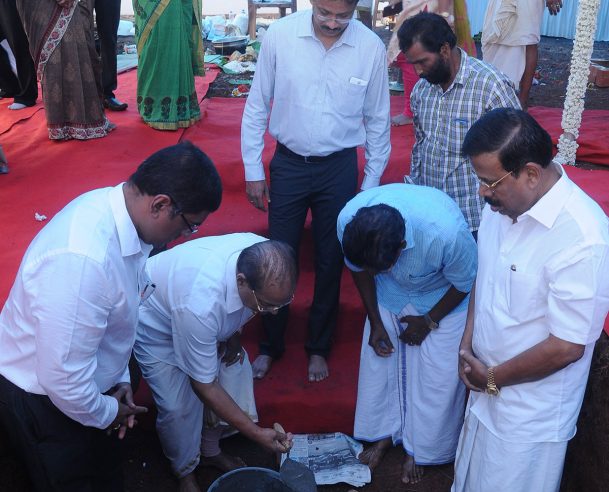 FOUNDATION STONE LAYING BY P.V. CHANDRAN ,KTC GROUP CHAIRMAN 26.06.15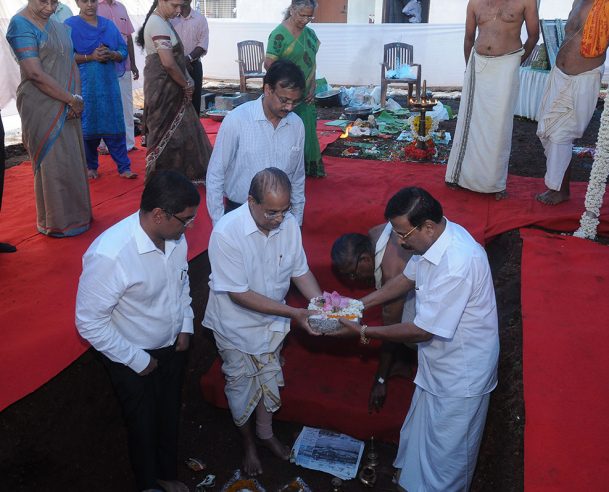 FOUNDATION STAGE 26.06.15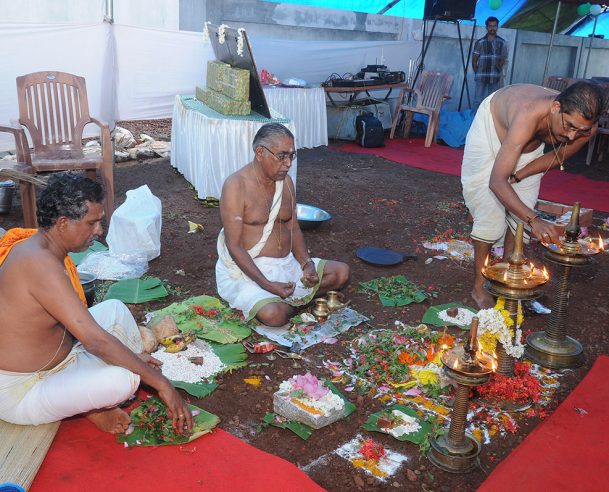 BHOOMIPOOJA ON 26.06.15