Overview
floor plans
Specifications
Amenities
Availability
Location
Current status
Basic Details
| | |
| --- | --- |
| Land Extent : | 67.38 Cents |
| No.of Floors : | G+ 13 |
| Total Flats : | 75 |
| Type: | 2 Bhk ( 922 Sq.ft ,936 Sq.ft , 945 Sq.ft ) 3 Bhk (1136 Sq.ft, 1226 Sq.ft,) 5 Bhk Duplex ( 2451 Sq.ft) |
PVS CLASSIC
Kannur is a magnificent miniature of the picturesque state of Kerala, a place with a resonant past, myths and legends around. The cradle of many colourful folk art and music, Kannur is said to be the ancient port of Naura. The district itself which shares much of the natural grandeur has been a key contributor to the cultural, religious, political and industrial legacy of the state. Kannur before the country's independence had its social, political and cultural life shaped up by the local rulers,foreign trade links as well as the imperial powers like the Portuguese and the British.
With the western ghats in the east, Kozhikode & Wynad districts in the south, Arabian sea in the west and Kasaragod district in the north, Kannur district is bounded by a wealth of natural charm. Blessed with natural beaches, hill stations, rivers, backwaters, historical monuments and religious centres kannur was hailed by the celebrated traveller Marco Polo as the great emporium of the spice trade.
The PVS Classic site which spreads over an area of 67.38 cents is located at Chala - a census town situated 8 K.M from Kannur City which lies on the Kannur - Tellicherry National Highway.
The predominant wind direction is from south west to north East. Sloping terrain with a striking view to the captivating beauty of Chala, the plot satisfies the needs of the site to design an apartment which is both appealing and site specific.
BUILDING PERMIT NO :BA NO - C/8205/15 DATED 01/06/2017
Registration Number: K-RERA/PRJ/087/2020
FLOORING
High quality vitrified flooring

Anti –skid ceramic floor/wall tiles in bathrooms .Wall tiles up to false ceiling height
KITCHEN
Granite kitchen counter with Glazed tile dado up to 2 feet

Stainless steel sinks with drain board

Water purifier point & Adequate power points in kitchen

Provision for washing machine
CIVIL
Civil-All RCC works as per IS: 456
All outside wall are in laterite masonry/cement block
Inside walls in single brick masonry/cement block
DOORS & WINDOWS
Hardwood main door with safety chain, peep hole & decorative handle.

All door frames in hardwood

All inside door shutter of moulded skin type

Powder coated aluminium windows with MS grill

High quality joinery & accessories
PAINTING
Internal walls finished with emulsion

External walls with exterior emulsion
ELECTRICAL
3 Phase connection with independent KSEB meters for each apartments

Concealed wiring using PVC conduits

Provision for TV & telephone in living room

24 hr stand by generator for elevators, common area & essential lights in each flat restricted to 500W

Electrical provision for A/c in Master Bed room

Electrical & plumbing provision for wall mounted geyser in Master bedroom toilets
SANITARY FITTINGS
Branded white sanitary wares

Branded CP bath fittings with shower, towel rod & soap dish .
WATER SUPPLY
From ground water source and KWA water through sump and over head tank.
SECURITY / SAFETY FEATURES
Surveillance camera in the ground floor common area

All round compound walls surrounding the community

Standard fire safety features
RECREATION
Caretaker's room
Association room
Library room
Home theatre
Fitness centre
Indoor games
CONVENIENCE
High speed Elevators
Common toilet
Sewage Treatment Plant
Car parking for all flats
Provision for TV in living room
Intercom facility
Provision for Broad band internet connectivity
Provision for telephone in living room
Electrical provision for A/C in Master Bedroom
24 hr stand by generator for elevators, common area & essential lights in each flat restricted to 500W
PVS Classic, Chala Hills, Kannur
16 Available
0 Reserved
59 Sold
| | | | | | | |
| --- | --- | --- | --- | --- | --- | --- |
| Floor | Type A | Type B | Type C | Type D | Type E | Type F |
| 1 | Sold | Available | Available | Sold | Sold | Sold |
| 2 | Sold | Sold | Available | Sold | Sold | Sold |
| 3 | Sold | Sold | Available | Sold | Sold | Sold |
| 4 | Sold | Sold | Available | Sold | Sold | Sold |
| 5 | Sold | Sold | Sold | Sold | Sold | Sold |
| 6 | Sold | Sold | Available | Sold | Sold | Sold |
| 7 | Sold | Sold | Available | Sold | Sold | Available |
| 8 | Sold | Sold | Available | Sold | Sold | Sold |
| 9 | Sold | Sold | Available | Sold | Sold | Sold |
| 10 | Sold | Sold | Available | Sold | Sold | Available |
| 11 | Sold | Sold | Available | Sold | Sold | Sold |
| 12 | Available | Sold | Available | Sold | Sold | Sold |
| 13 |   | Sold | Available | Recreation | Recreation | Sold |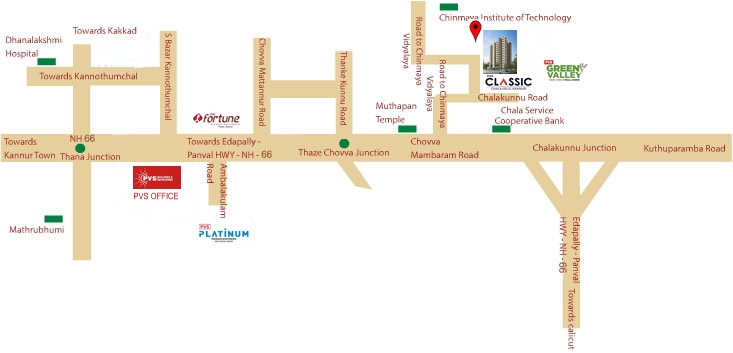 Easy Access
| | |
| --- | --- |
| Chinmaya vidyalaya | 500 m |
| Railway station | 3.3 km |
| Proposed airport | 26 km |
| Govt.Polytechnic | 3.7 km |
| S.N. College | 3.2 km |
| Genesis super speciality hospital | 2.1 km |
| Sadhoo merry kingdom (amusement park) | 1.5 km |
| Places of worship | 600 m to 2.8 km |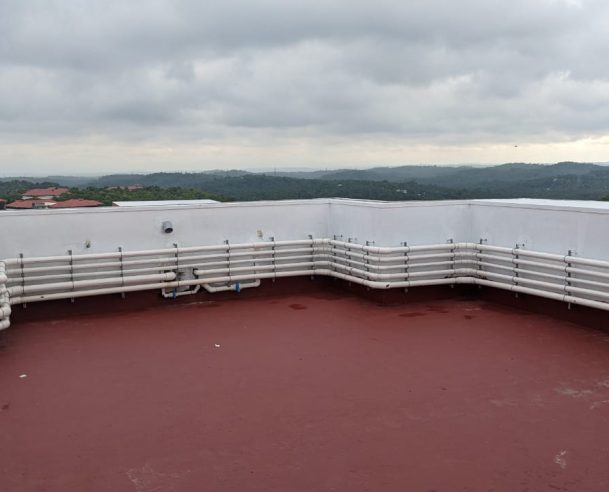 TERRACE FLOOR - ROOF TOP [30-06-2023]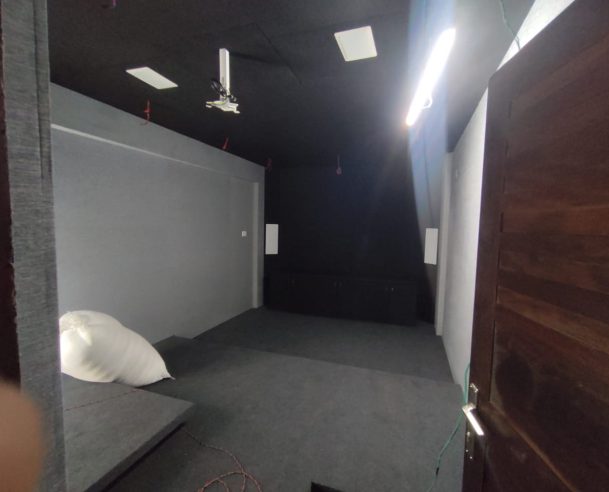 HOME THEATER [30-06-2023]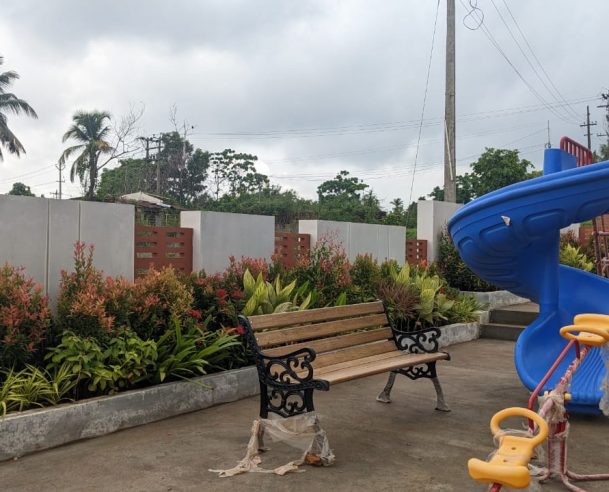 CHILDREN'S PLAY AREA [30-06-2023]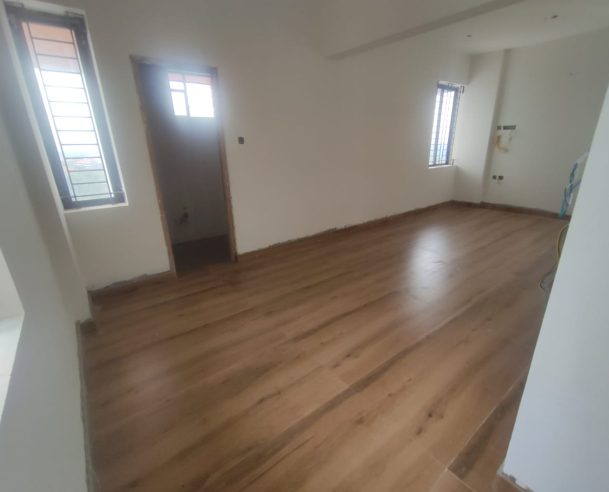 ASSOCIATION ROOM [30-06-2023]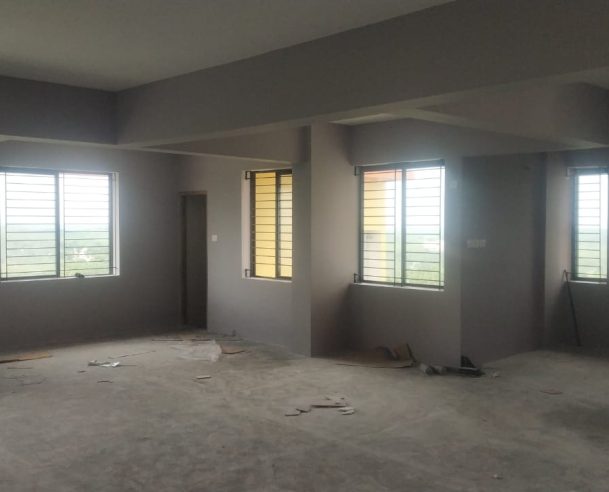 RECREATION ROOM [30-06-2023]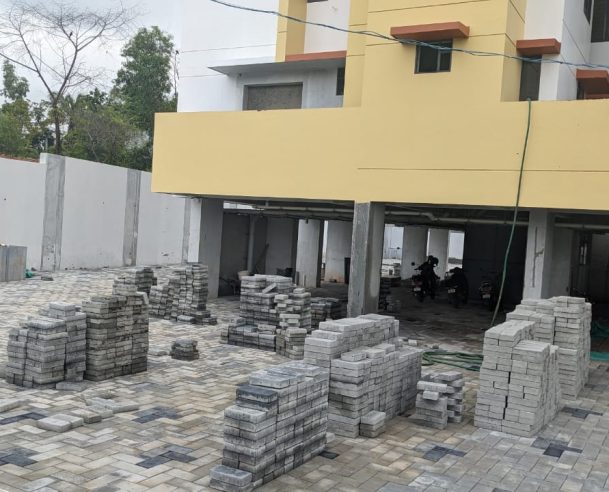 INTERLOCK PAVING IN PROGRESS - WEST SIDE [30-06-2023]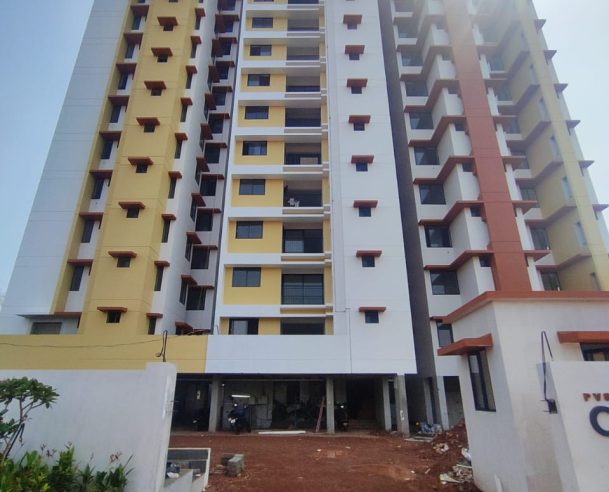 SOUTH SIDE ELEVATION [31-05-2023]
LANDSCAPER [31-05-2023]
INTERLOCK PAVING IN PROGRESS [31-05-2023]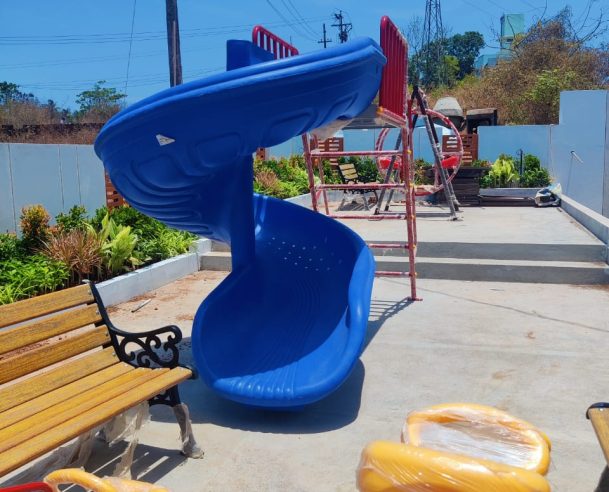 CHILDREN'S PLAY AREA [09-05-2023]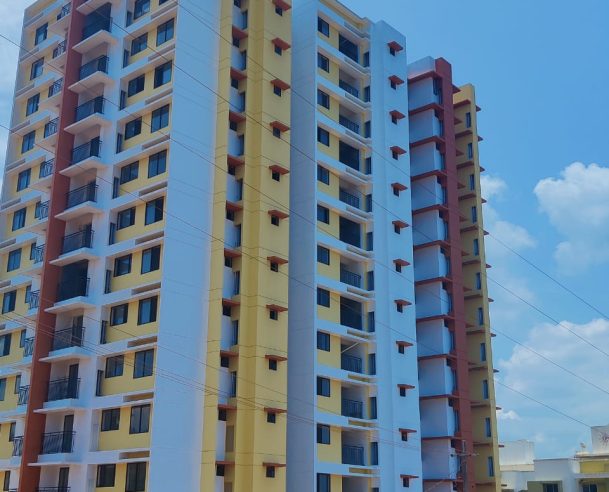 ELEVATION [09-05-2023]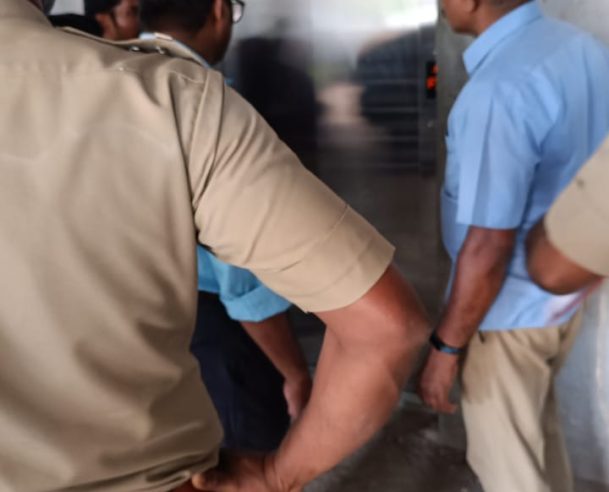 INSPECTION FOR FINAL FIRE NOC HELD ON 28-04-2023
CHILDREN'S PLAY AREA [30-04-2023]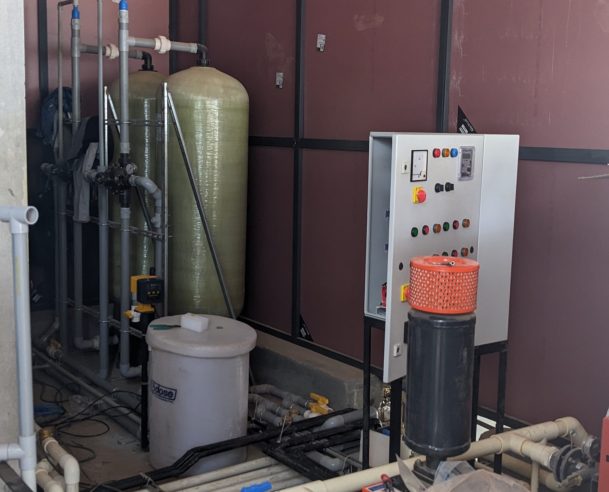 STP PLANT ROOM [31-03-2023]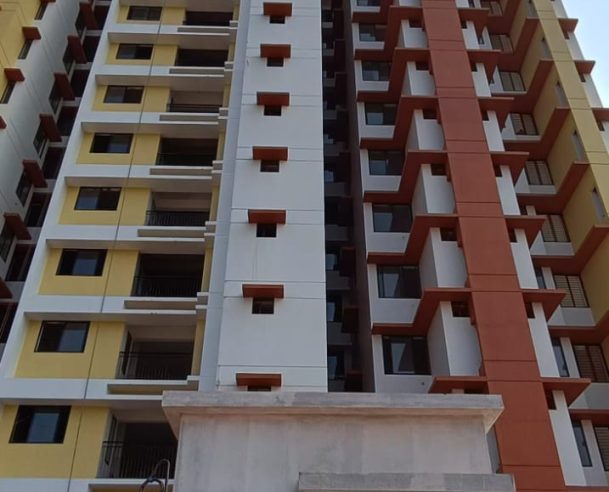 SOUTH SIDE ELEVATION [31-03-2023]
INSTALLATION IN STP PLANT ROOM [28-02-2023]
JET BLACK GRANITE COUNTER IN KITCHEN [28-02-2023]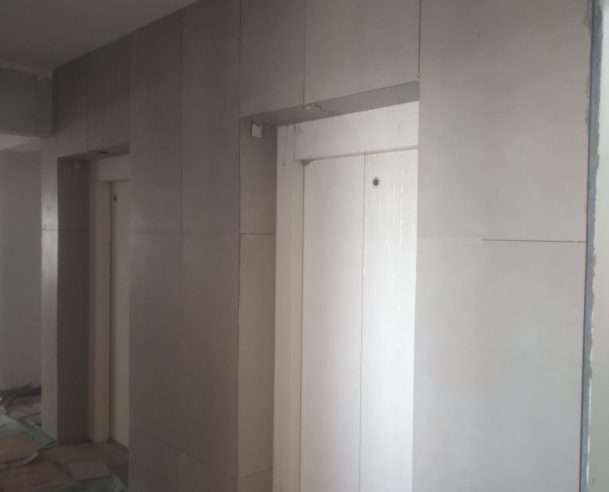 LIFT CLADDING IN 12TH FLOOR SCALED [28-02-2023]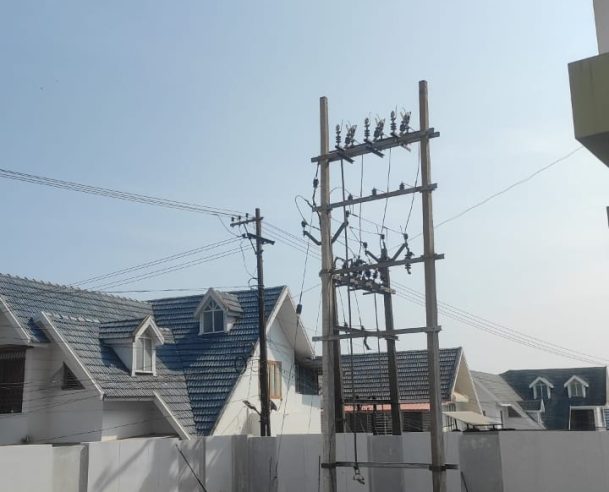 DP STRUCTURE INSTALLED BY KSEB [31-01-2023]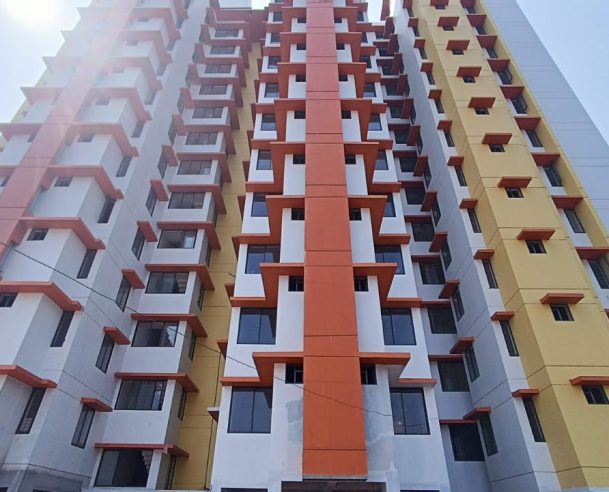 NORTH SIDE ELEVATION : 31-01-2023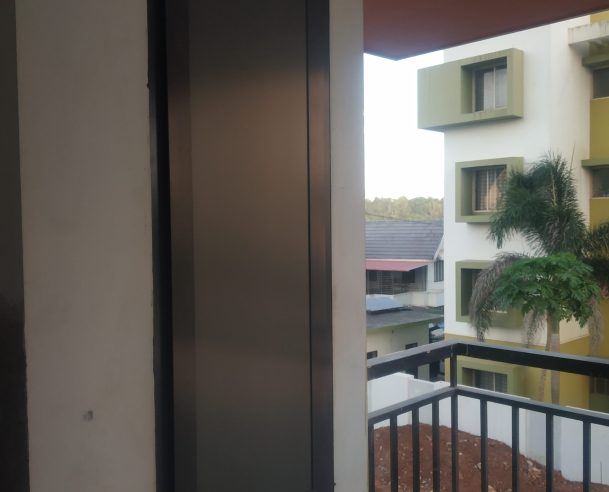 DUCT DOOR FIXING IN BALCONY [31-12-2022]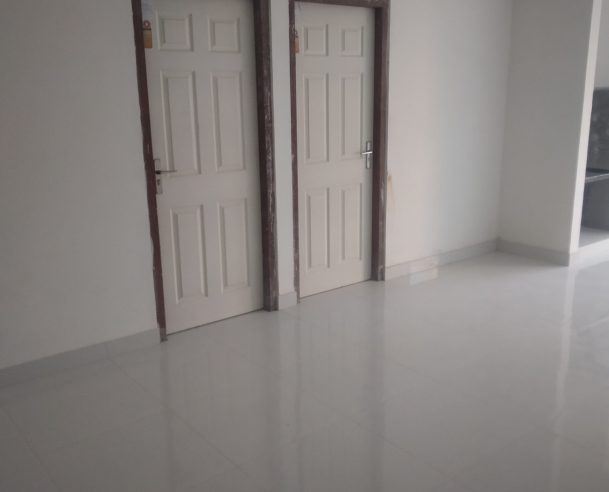 FIXING OF INTERNAL DOOR SHUTTERS [31-12-2022]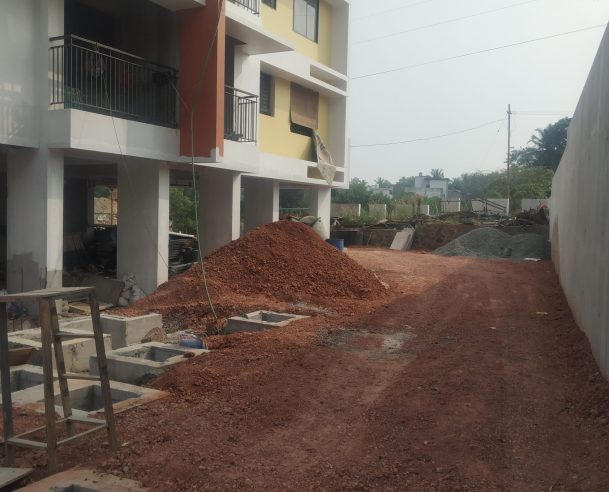 YARD WORK IN PROGRESS [30-11-2022]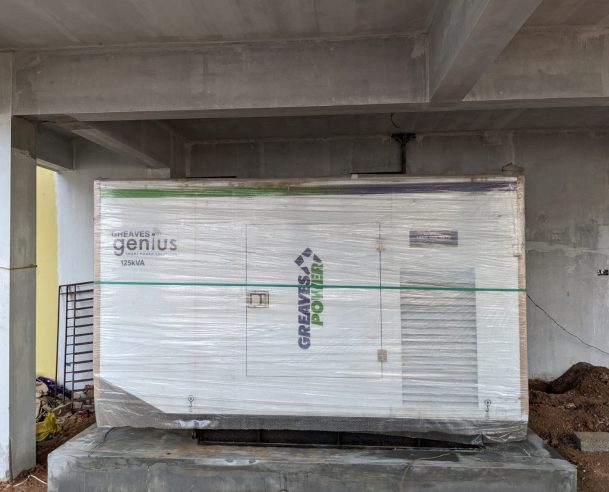 DG SET [30-11-2022]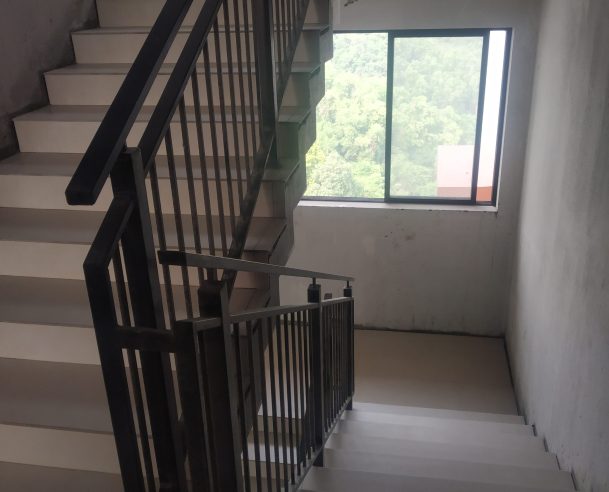 FIRE STAIRCASE TILING WORK - 12TH FLOOR [30-11-2022]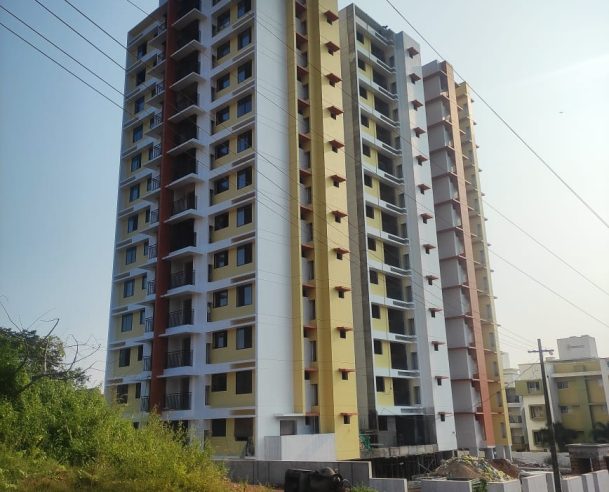 ELEVATION : 31-10-2022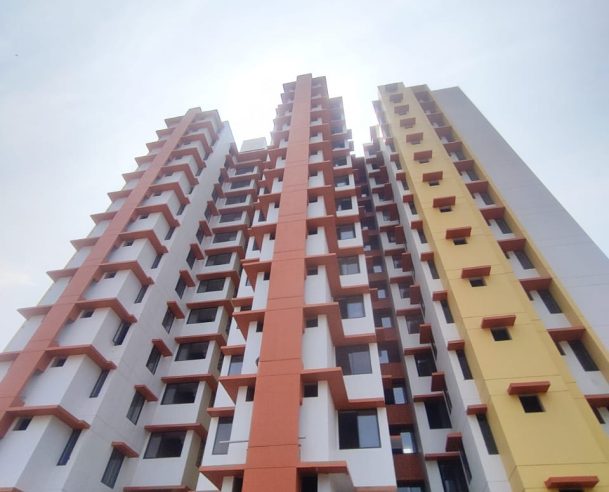 NORTH SIDE ELEVATION : 31-10-2022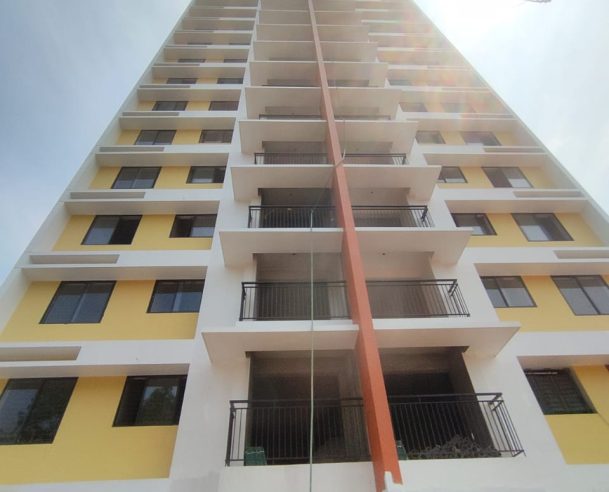 WEST SIDE ELEVATION : 31-10-2022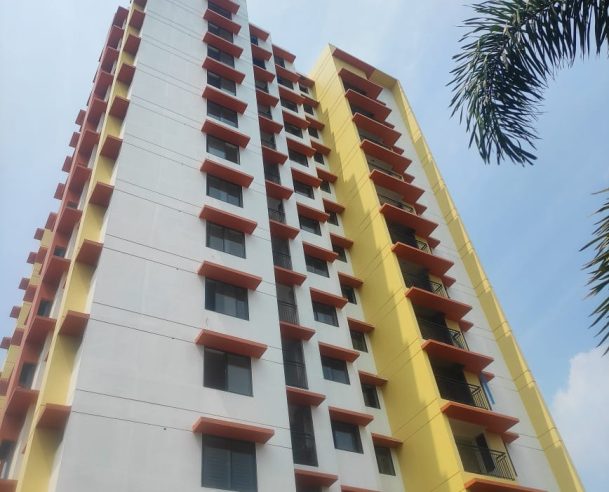 EAST SIDE ELEVATION : 31-10-2022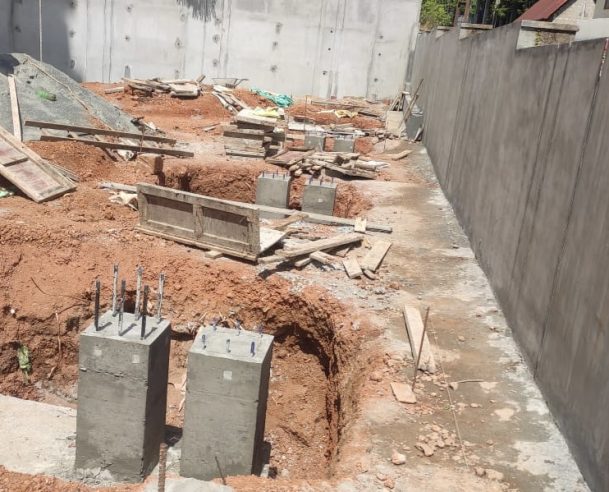 CAR PARKING FOOTING WORK IN PROGRESS : 30-09-2022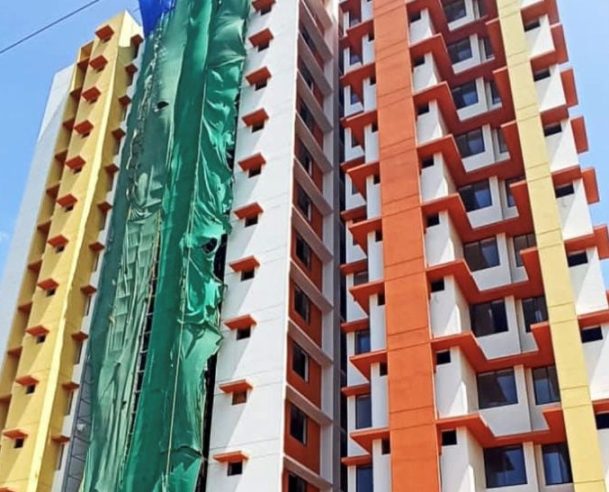 SOUTH SIDE ELEVATION VIEW : 30-09-2022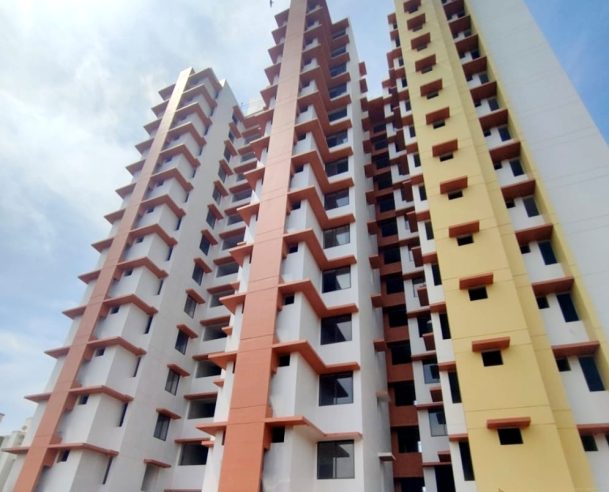 NORTH SIDE : 30-09-2022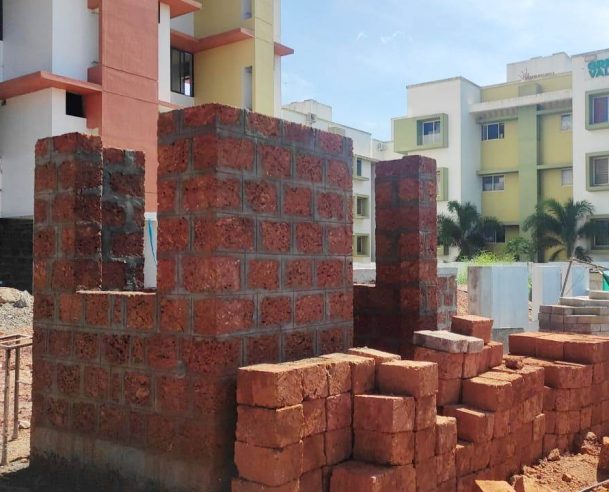 SECURITY CABIN WORK IN PROGRESS : 30-09-2022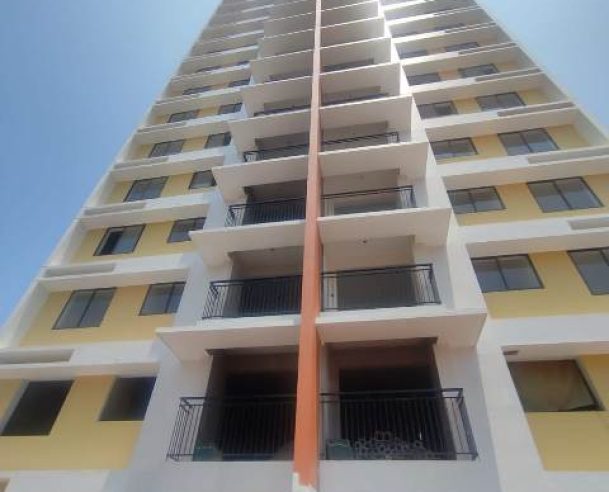 WEST SIDE ELEVATION : 31-08-2022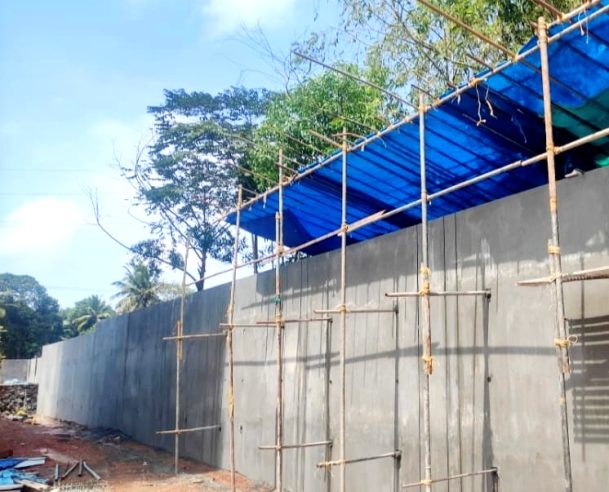 WEST SIDE COMPOUND WALL : 31-08-2022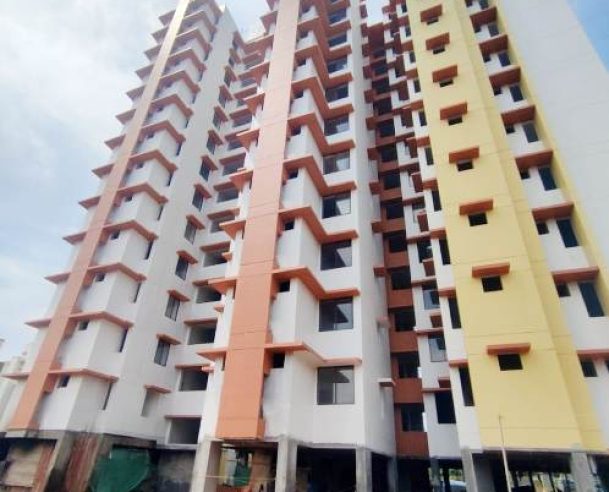 NORTH SIDE - ELEVATION : 31-08-2022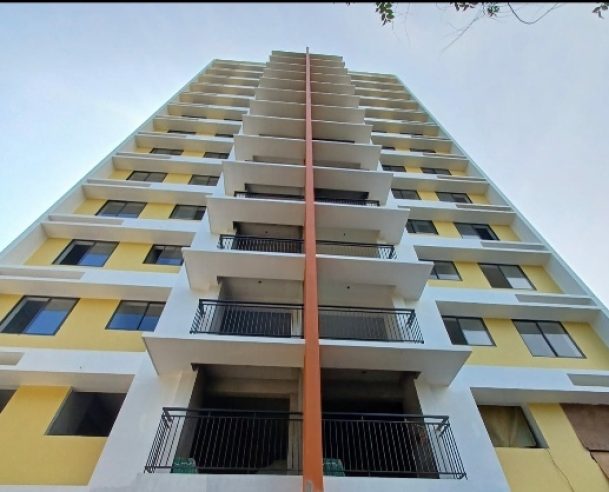 WEST SIDE ELEVATION VIEW : 31-07-2022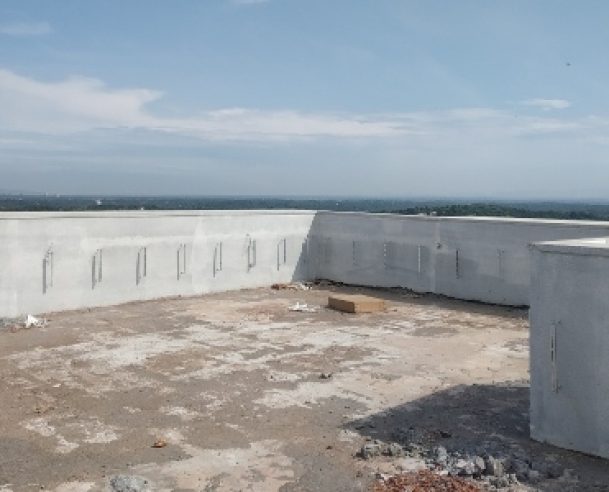 RAIL FIXING FOR PLUMBING RINGMAIN IN TERRACE FLOOR : 31-07-2022
NORTH SIDE ELEVATION VIEW : 30-06-2022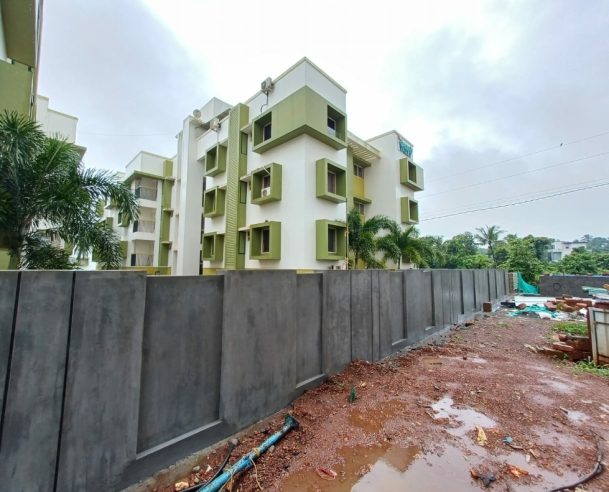 EAST SIDE COMPOUND WALL : 30-06-2022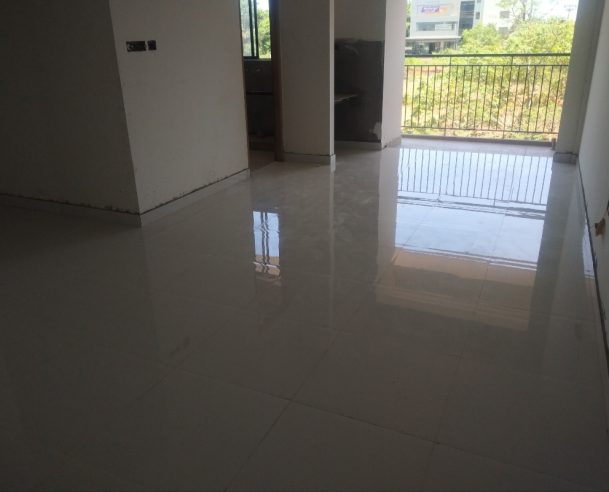 FLOORING WORK IN PROGRESS : 30-06-2022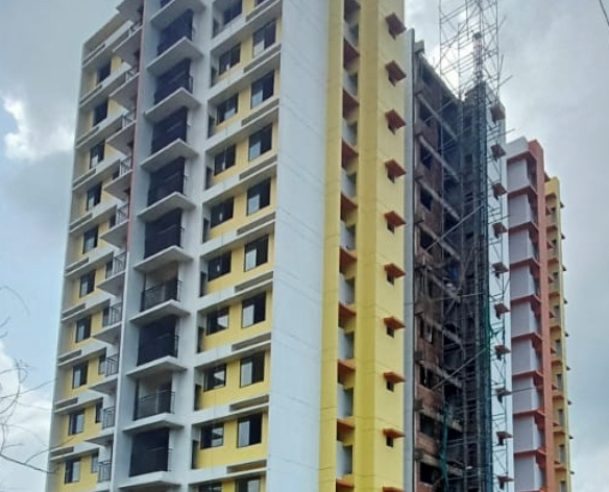 VIEW FROM APPROACH ROAD : 31-05-2022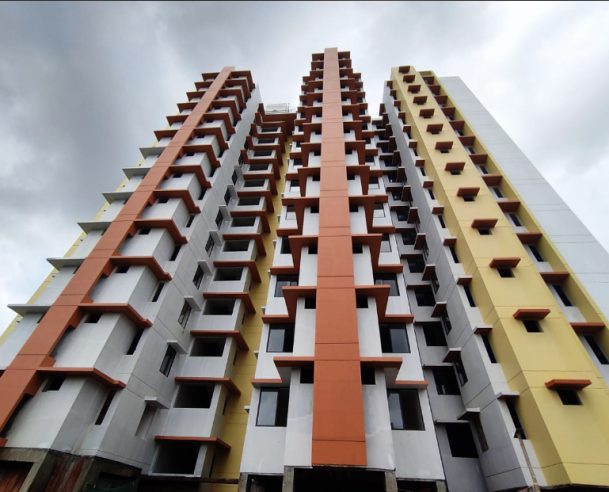 ELEVATION : 31-05-2022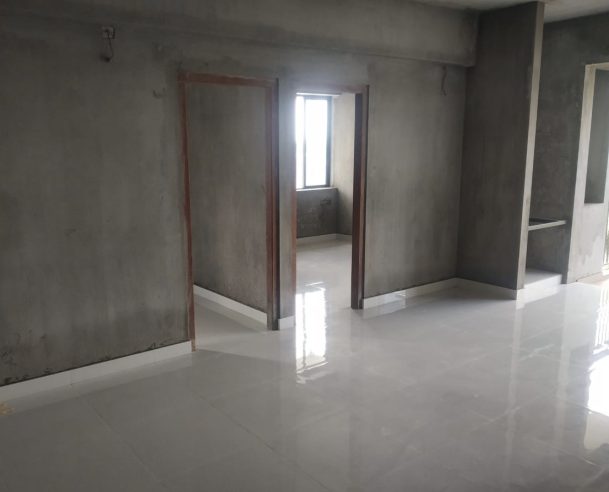 FLOORING WORK IN PROGRESS : 31-05-2022
INSTALLATION OF PASSENGER LIFT IN PROGRESS : 31-05-2022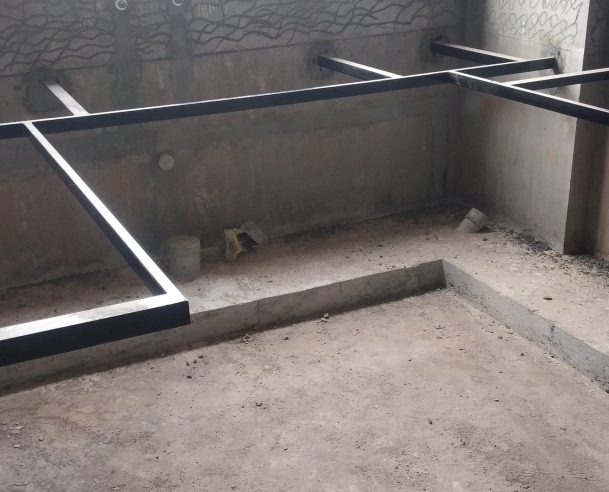 KERB IN KITCHEN : 31-03-2022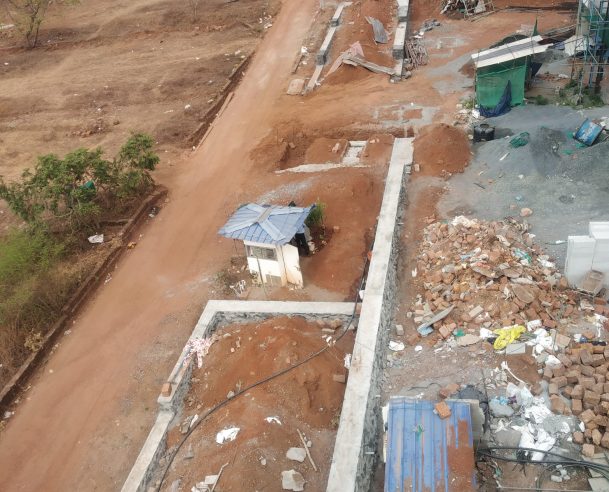 RANDOM RUBBLE MASONRY AT SOUTH SIDE : 31-03-2022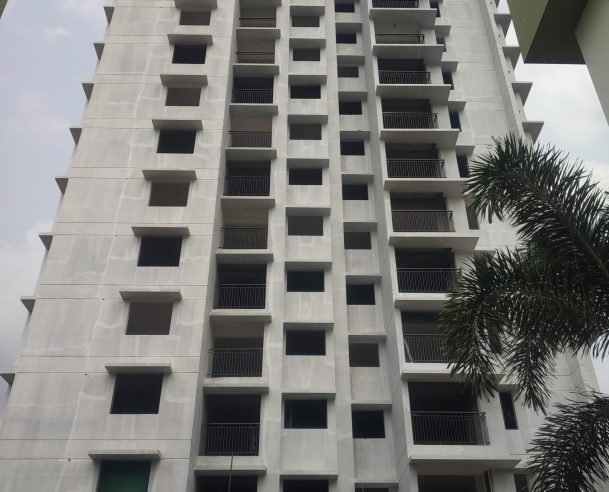 MASONRY FOR EAST SIDE COMPOUND WALL : 31-03-2022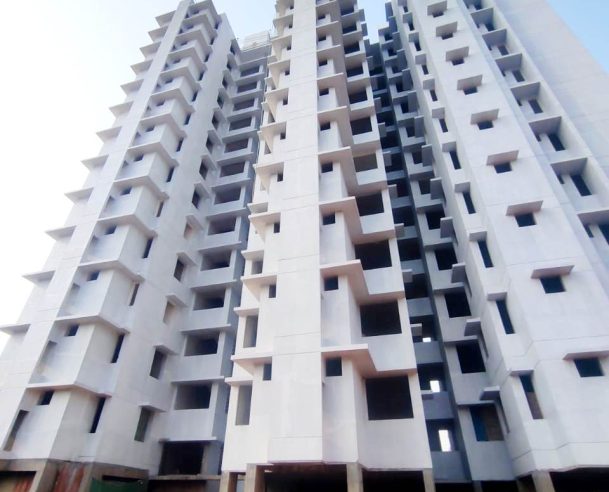 NORTH SIDE ELEVATION : 28-02-2022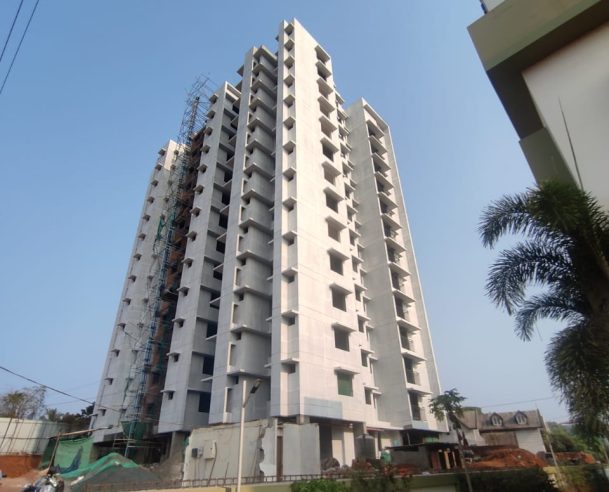 SOUTH EAST ELEVATION : 28-02-2022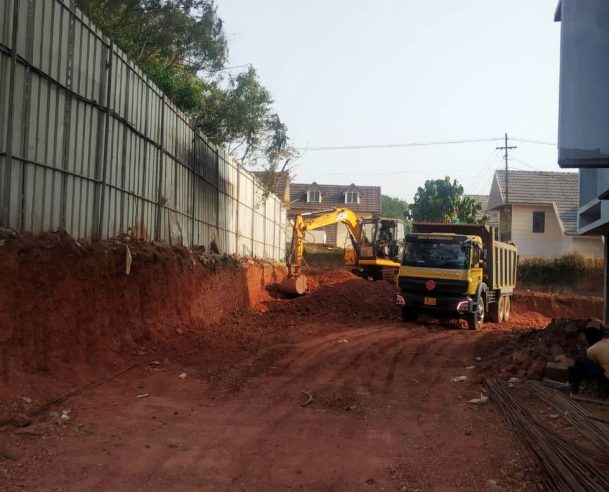 YARD LEVELING : 28-02-2022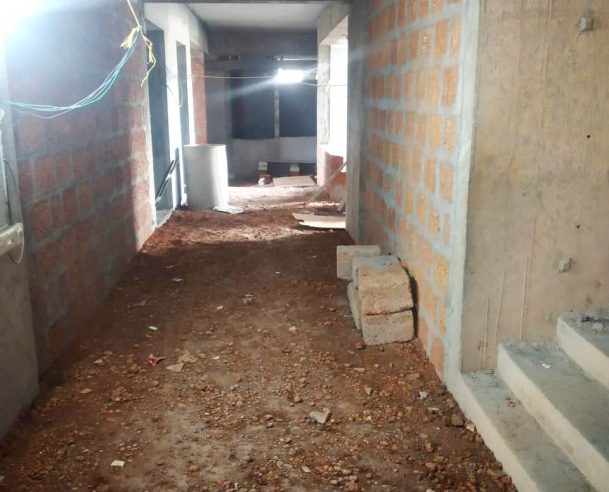 GROUND FLOOR LOBBY : 28-02-2022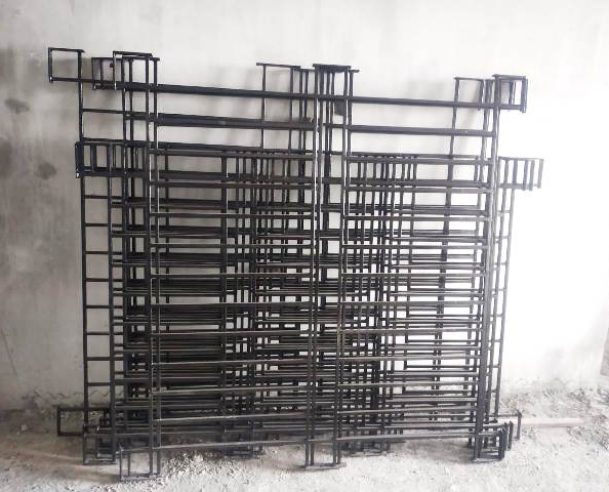 FABRICATION OF WINDOW GRILLS : 28-02-2022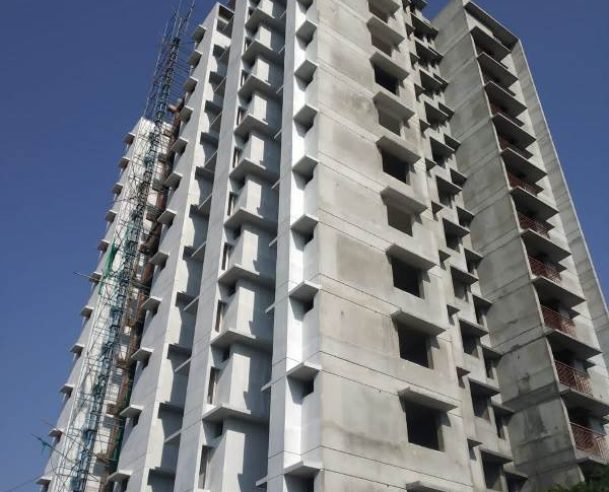 EXTERIOR PLASTERING COMPLETED : 31-01-2022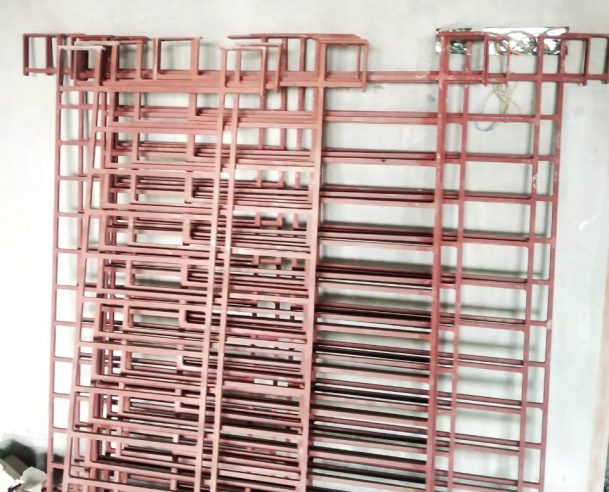 FABRICATION OF WINDOW GRILLS : 31-01-2022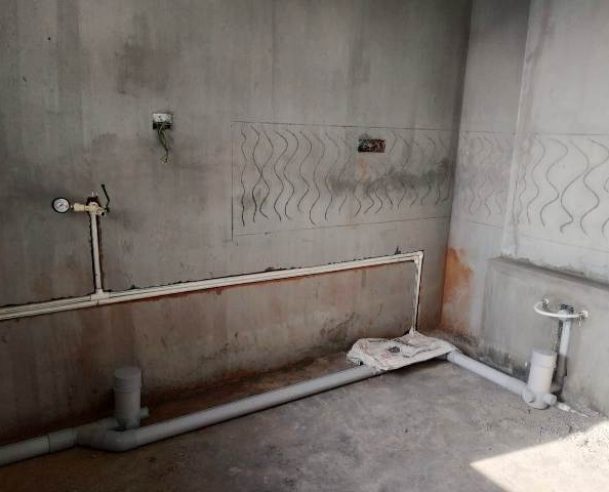 PLUMBING WORK IN KITCHEN : 31-01-2022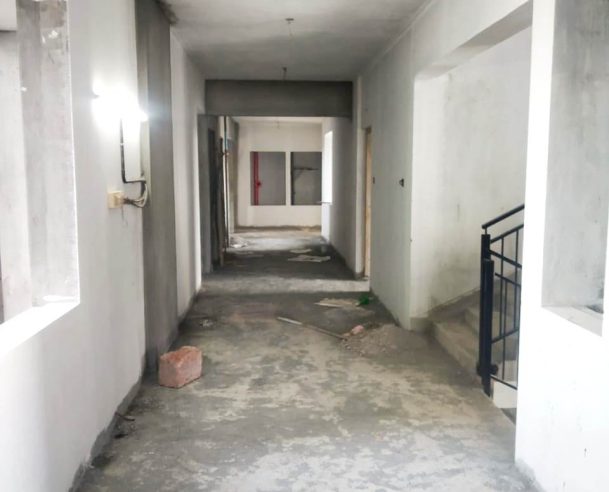 LOBBY : 31-01-2022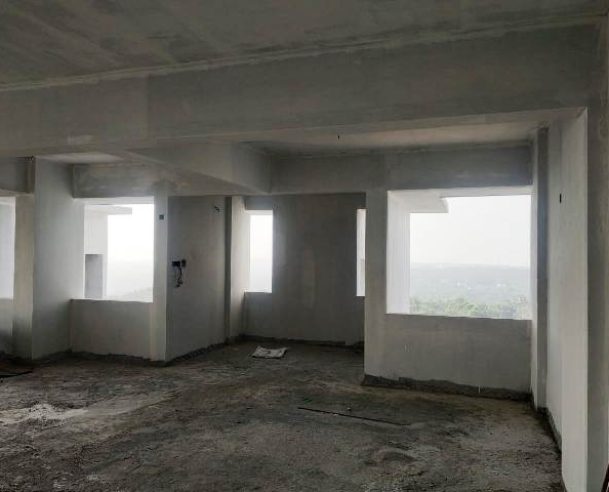 RECREATION AREA : 31-01-2022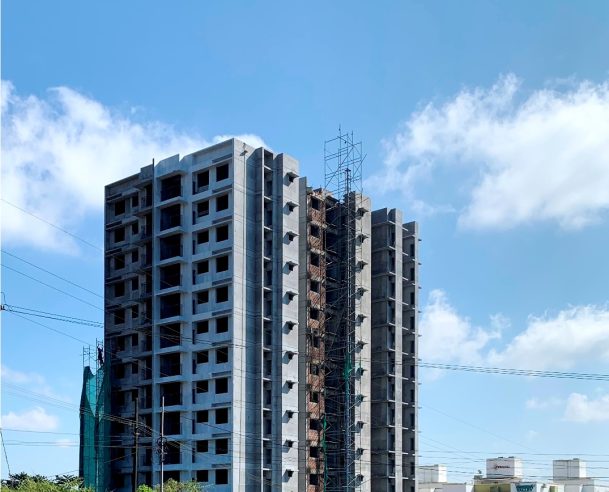 ELEVATION : 30-11-2021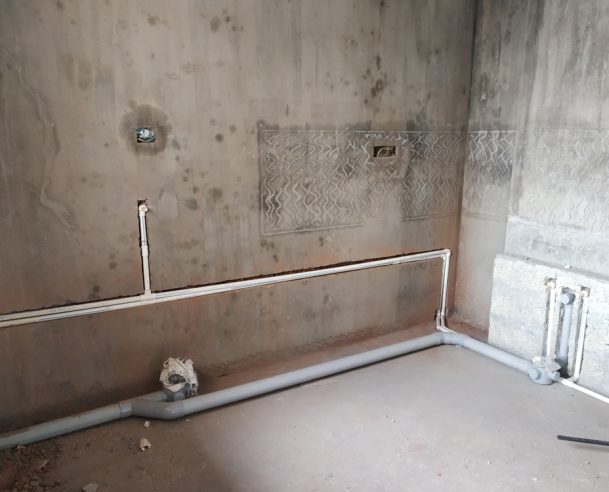 PLUMBING KITCHEN - WORK IN PROGRESS : 30-11-2021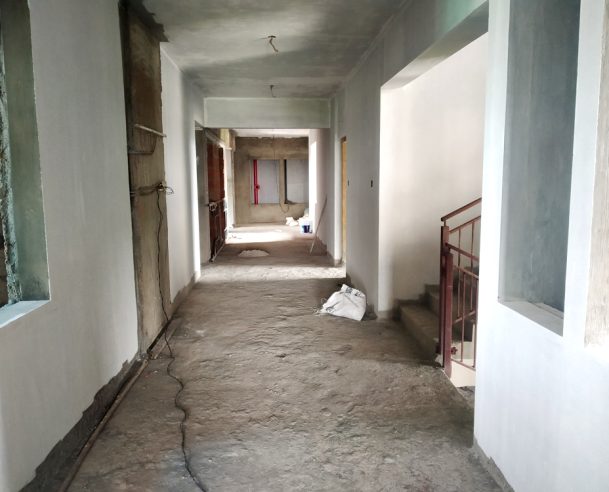 10TH FLOOR LOBBY : 30-11-2021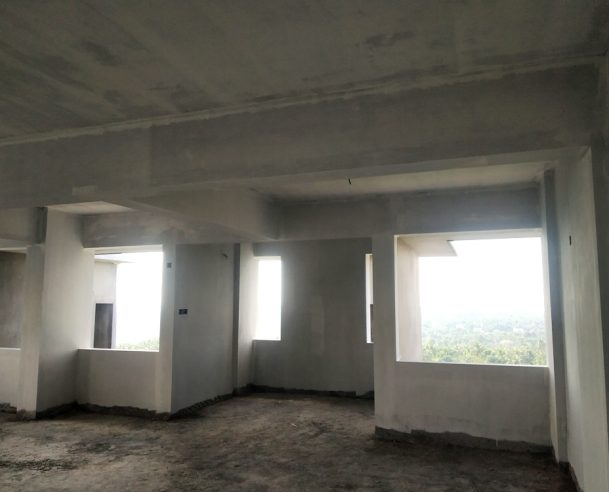 RECREATION ROOM : 30-11-2021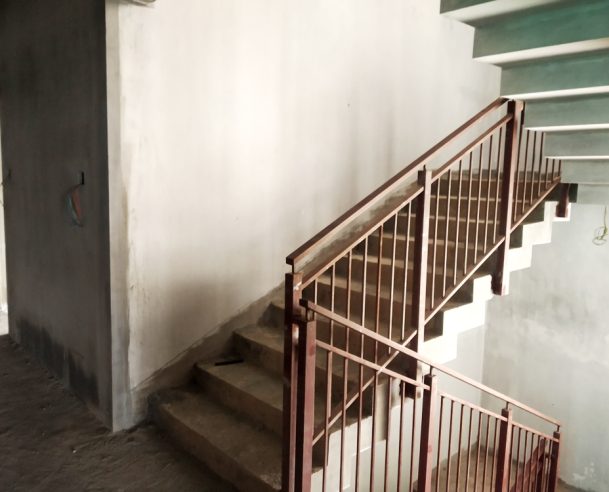 MAIN STAIRCASE : 30-11-2021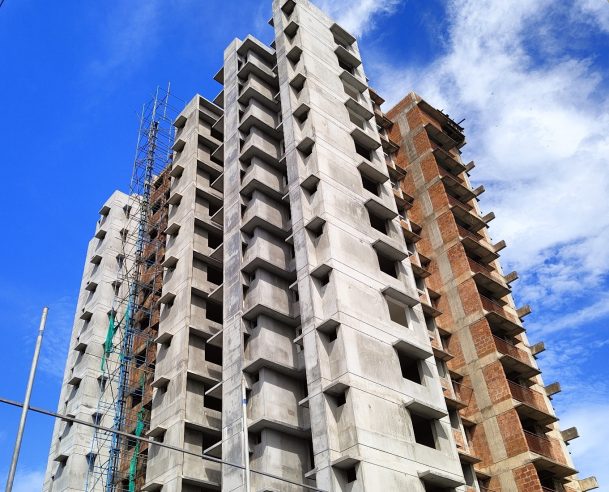 SOUTH EAST ELEVATION : 30-11-2021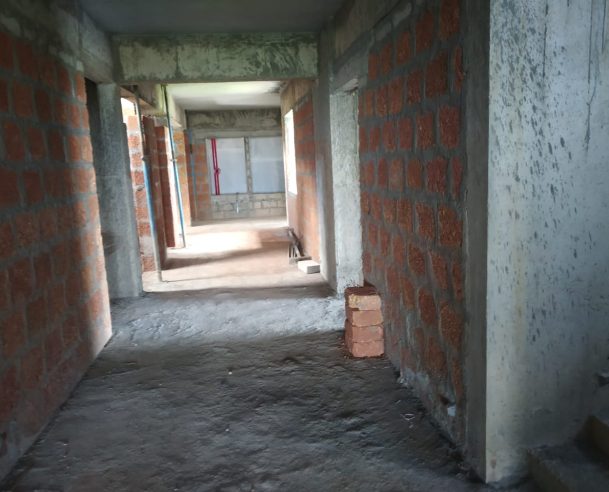 13TH FLOOR LOBBY : 30-09-2021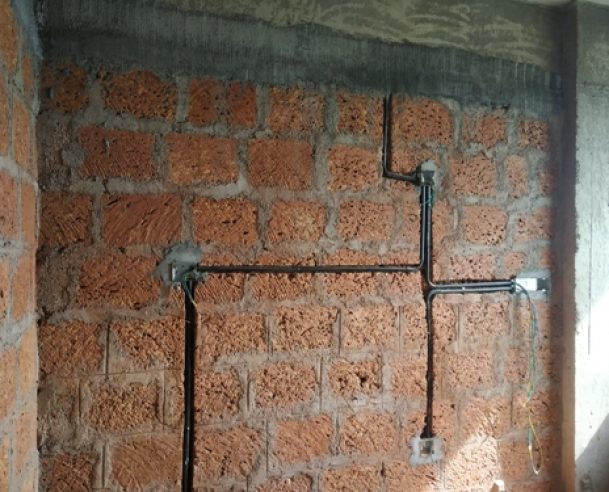 ELECTRICAL POINT WIRING IN PROGRESS - 12TH FLOOR : 31-10-2021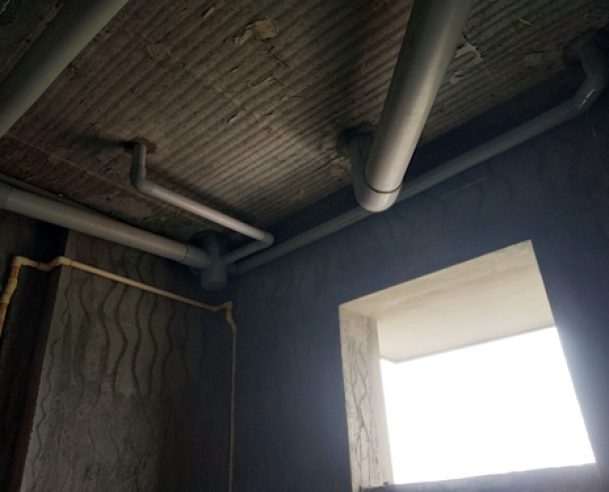 PLUMBING WORK IN PROGRESS- 2ND FLOOR : 31-10-2021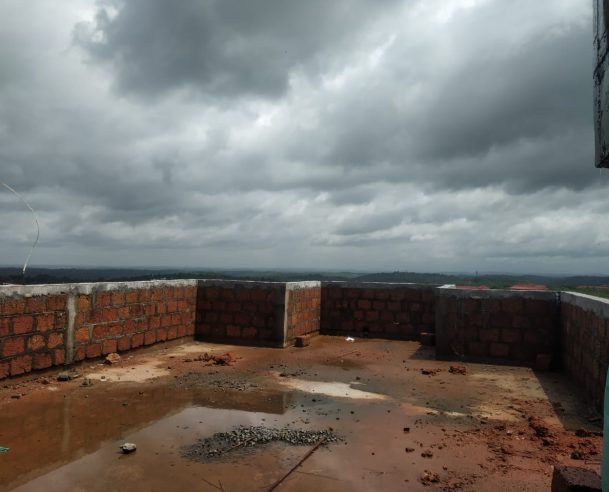 TERRACE FLOOR : 31-08-2021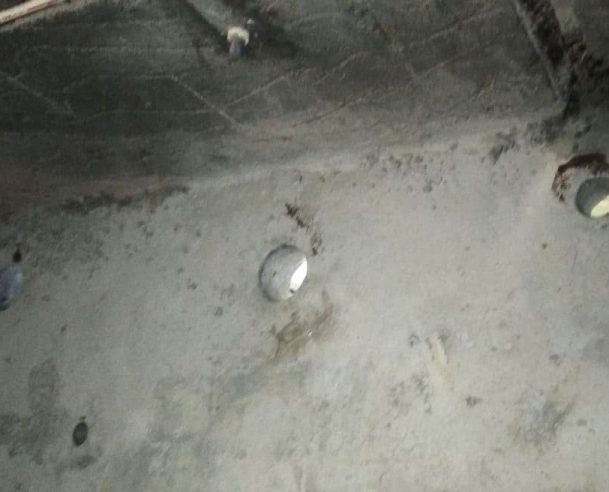 CORE CUTTING WORK IN TOILETS : 31-08-2021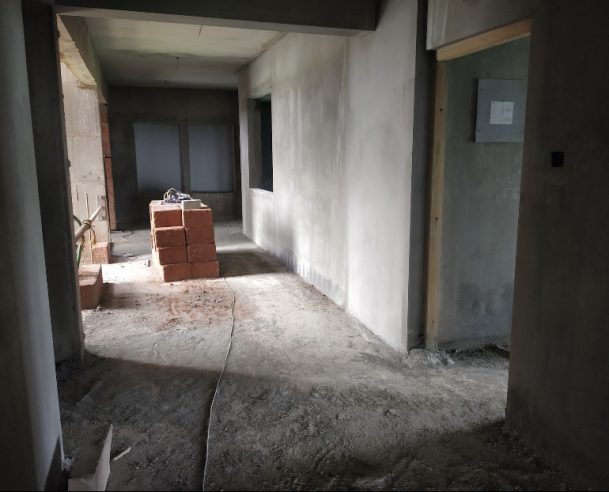 7TH FLOOR LOBBY : 31-07-2021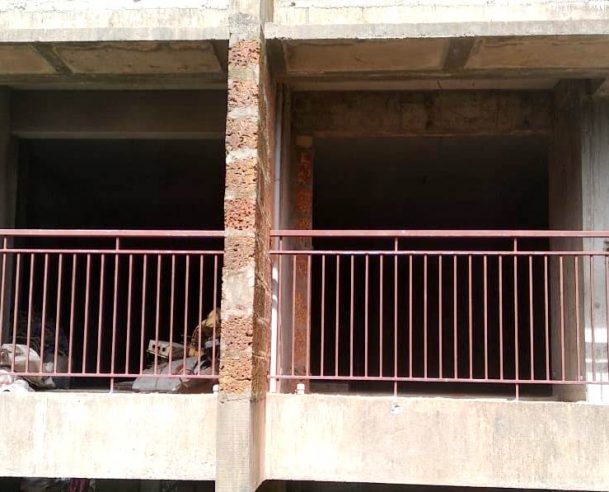 FIXING OF BALCONY HANDRAILS : 31-07-2021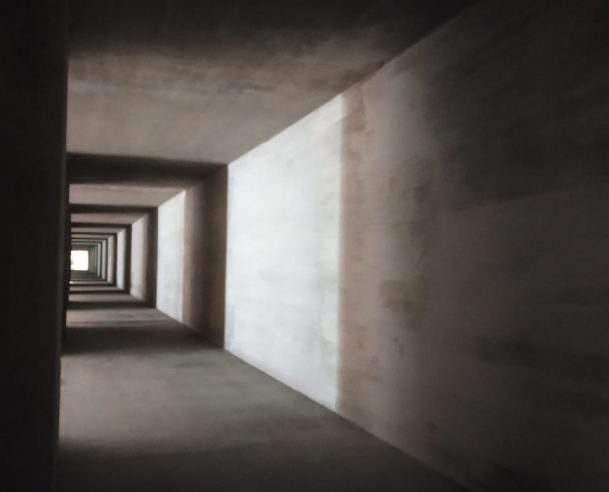 FIRE DUCT : 30-06-2021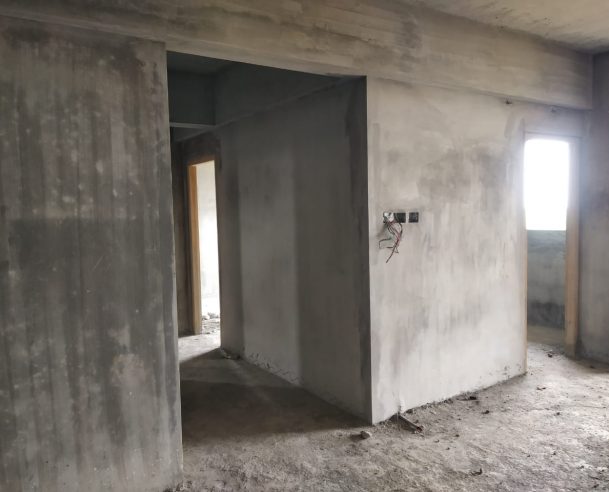 INTERNAL PLASTERING - 7TH FLOOR : 30-06-2021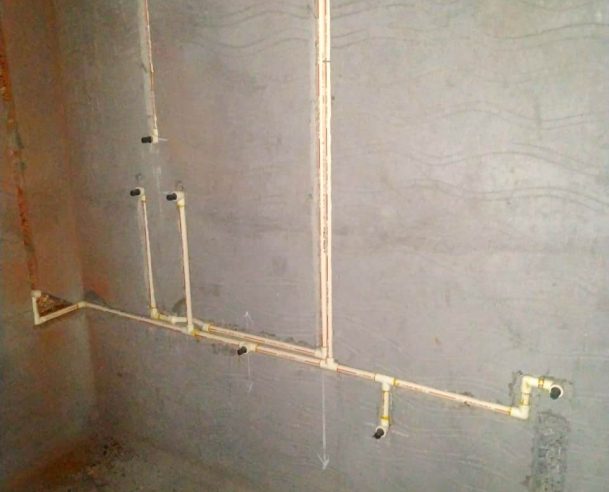 CONCEALED PLUMBING WORK IN TOILETS (2nd FLOOR) : 31-05-2021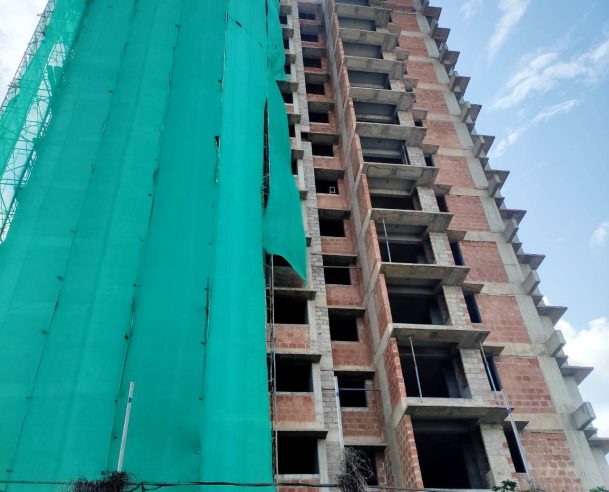 EXTERIOR PLASTERING ON EAST SIDE IN PROGRESS : 31-05-2021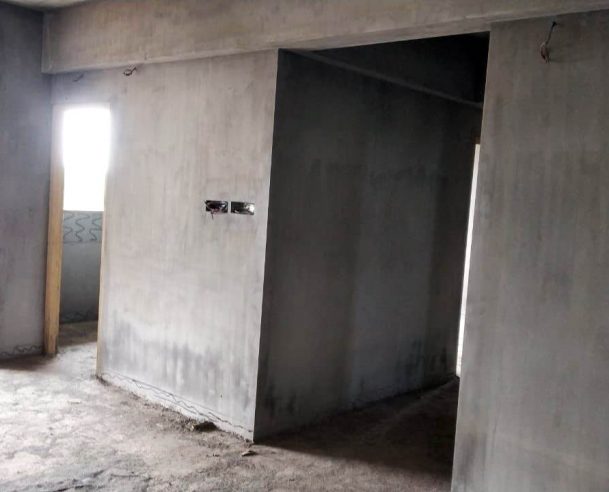 INTERNAL PLASTERING IN 6TH FLOOR : 30-04-2021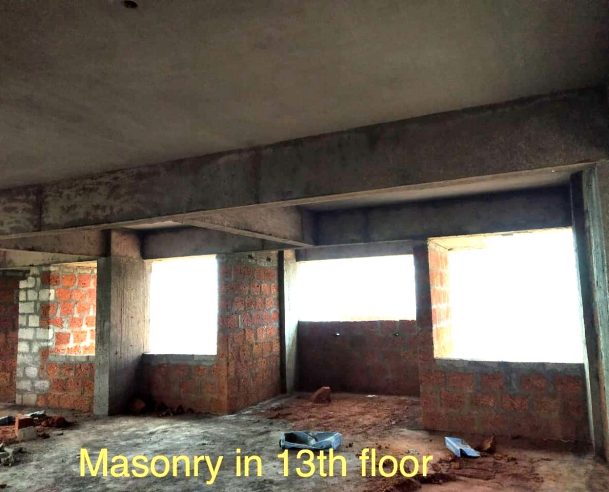 13TH FLOOR WORK IN PROGRESS : 30-04-2021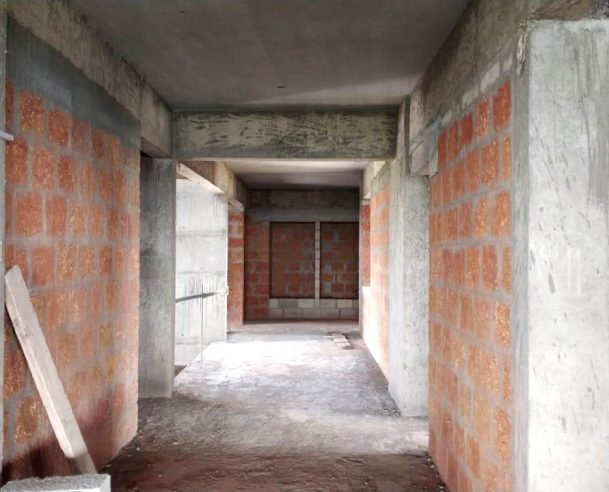 11TH FLOOR LOBBY : 31-03-2021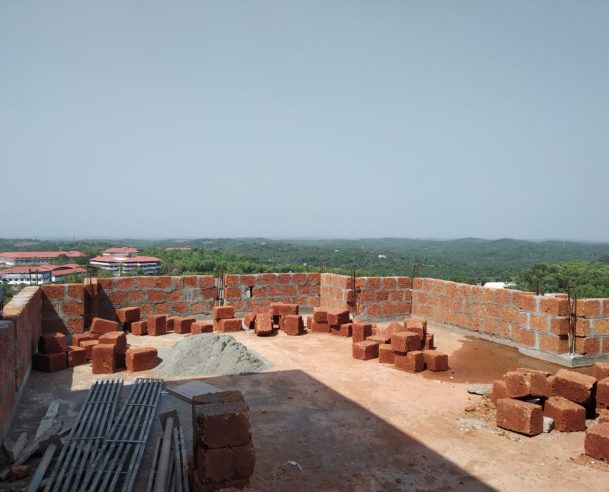 TERRACE FLOOR WORK IN PROGRESS : 31-03-2021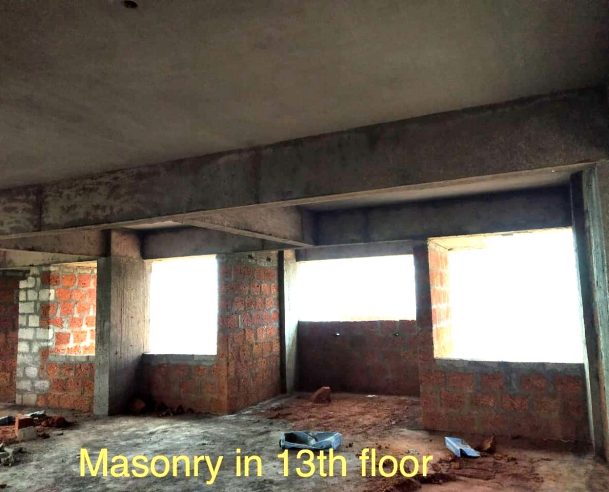 MASONRY WORK IN 13TH FLOOR : 28-02-2021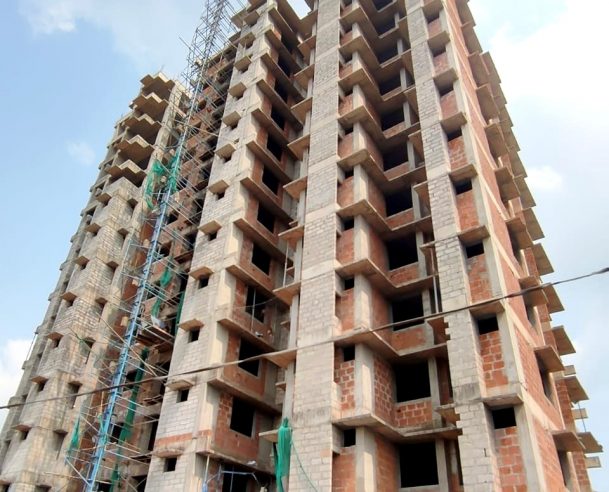 ELEVATION : 28-02-2021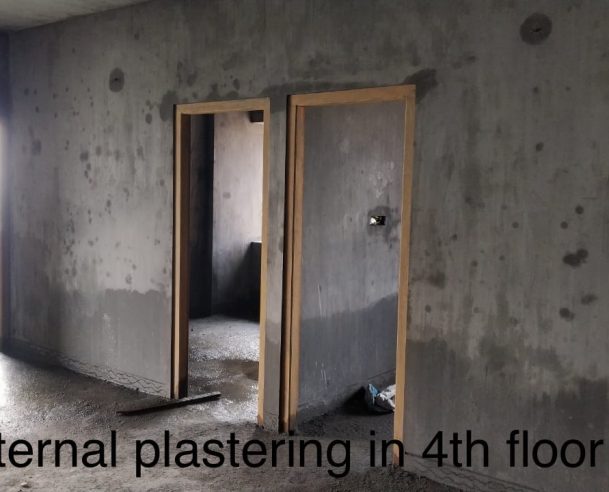 INTERNAL PLASTERING 4TH FLOOR IN PROGRESS : 28-02-2021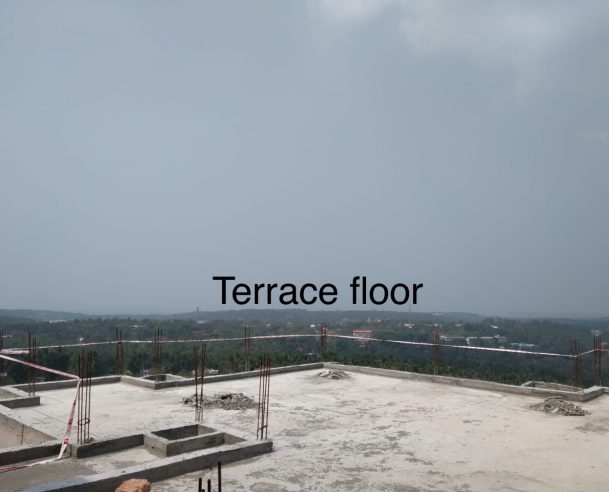 TERRACE FLOOR : 28-02-2021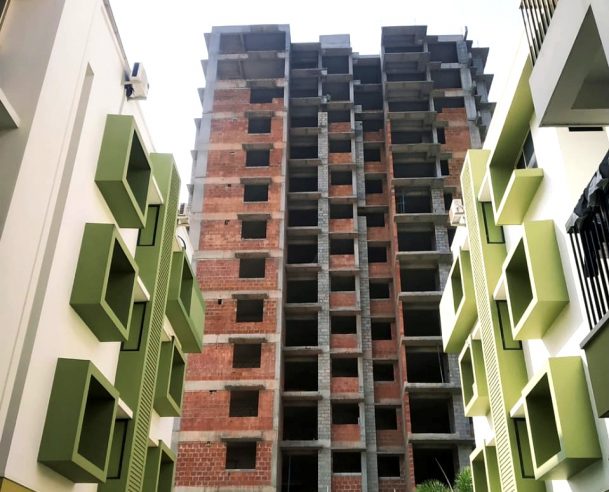 ELEVATION EAST SITE : 31-01-2021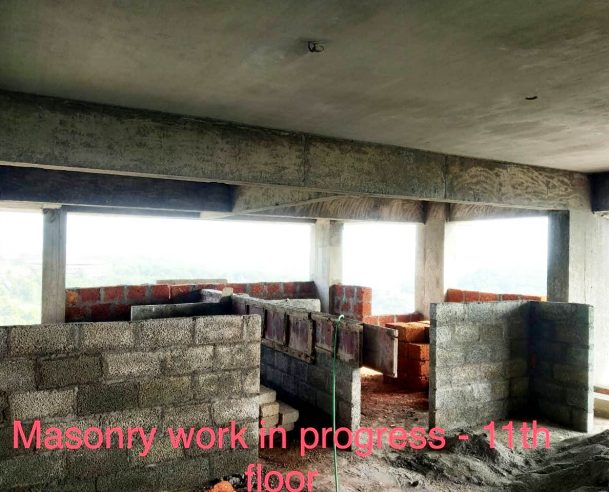 MASONRY WORK IN IN PROGRESS - 11TH FLOOR : 31-01-2021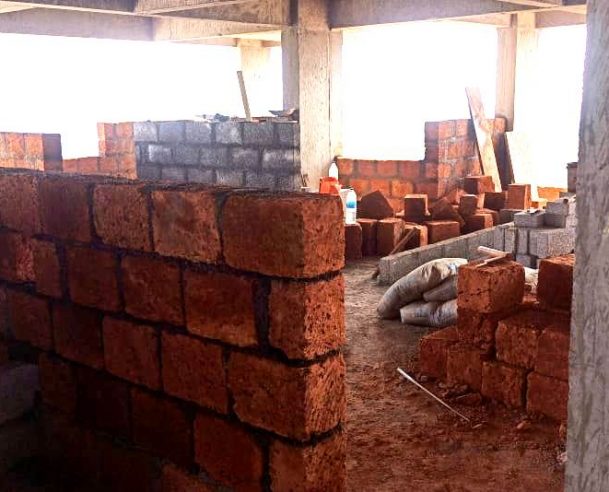 MASONRY WORK : 31-12-2020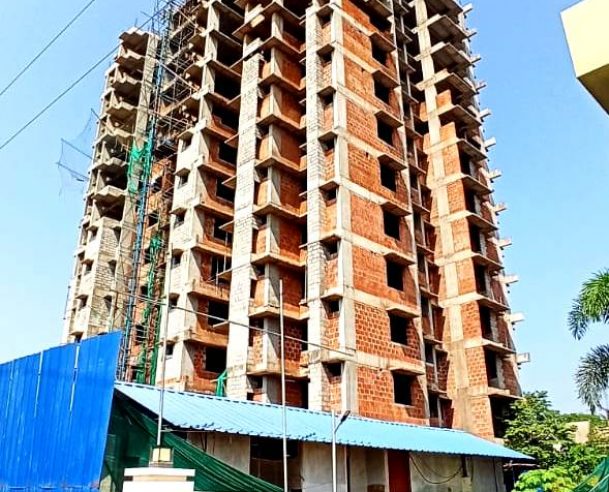 ELEVATION : 31-12-2020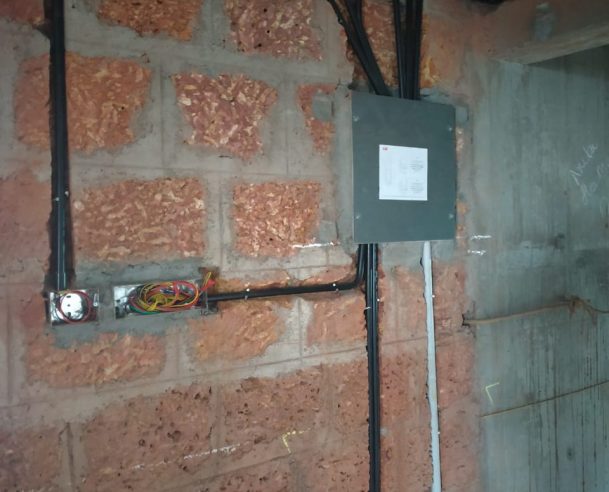 ELECTRICAL POINT WIRING 4TH FLOOR FLATS : 30-11-2020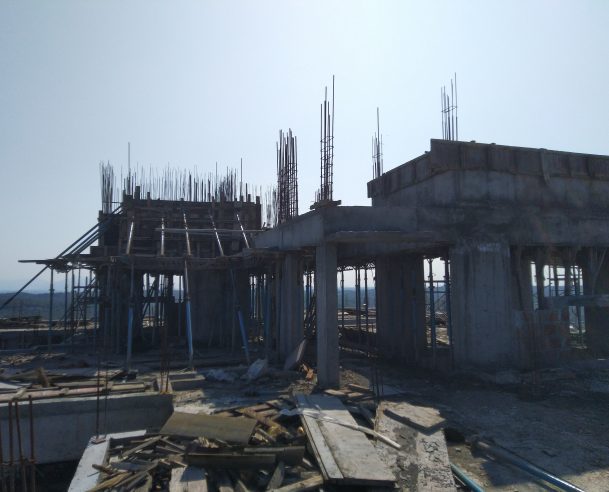 TERRACE FLOOR : 30-11-2020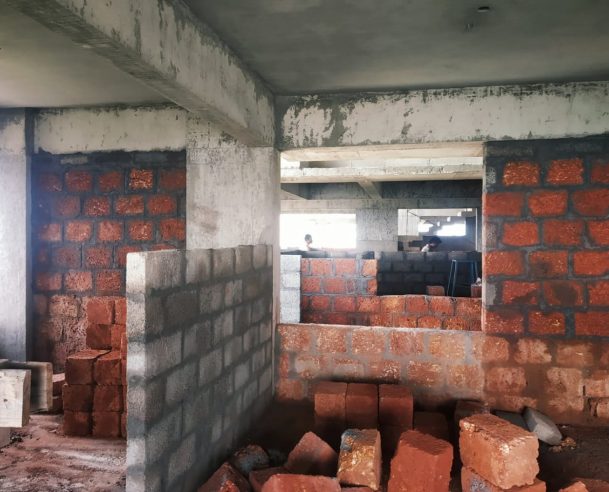 MASONRY WORK 6TH FLOOR : 30-11-2020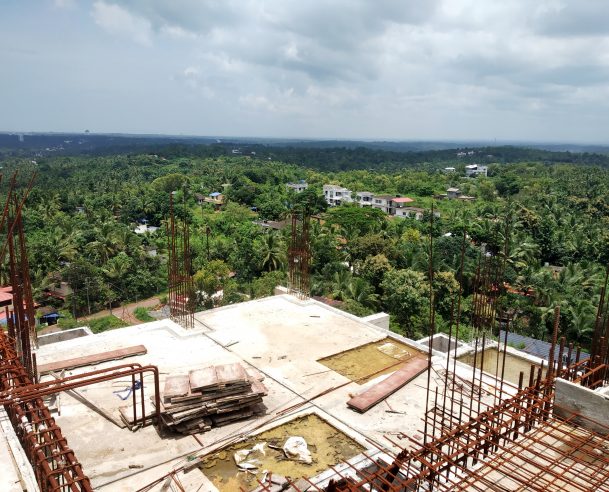 STRUCTURAL WORK FOR 13th FLOOR ROOF SLAB (TERRACE SLAB) : 31-08-2020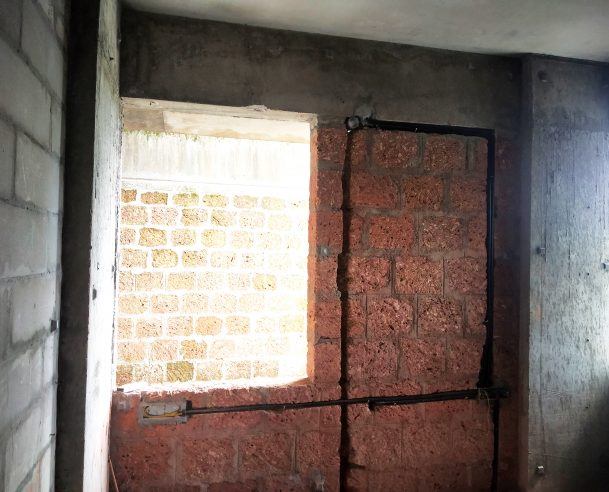 ELECTRICAL POINT WIRING - 1st FLOOR : 31-08-2020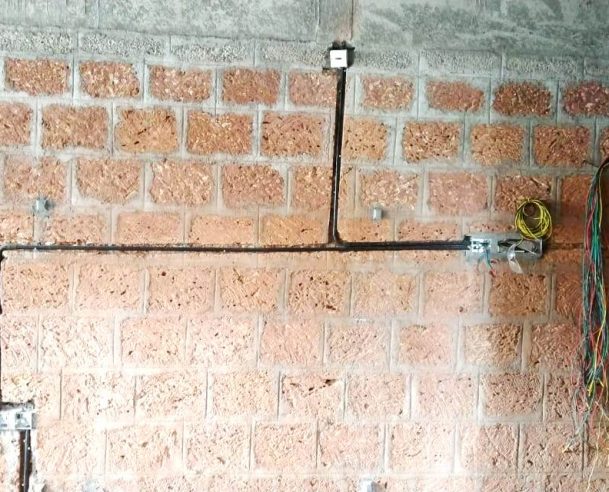 ELECTRICAL POINT WIRING IN FIRST FLOOR FLATS : 31-07-2020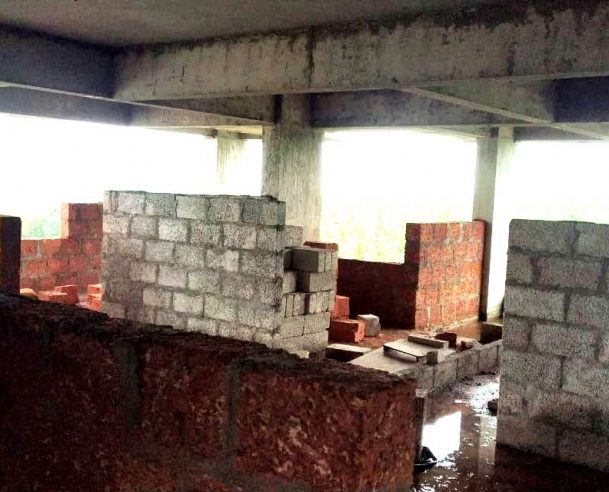 MASONRY WORK IN 5TH FLOOR : 31-07-2020
13TH FLOOR COLUMNS : 31-07-2020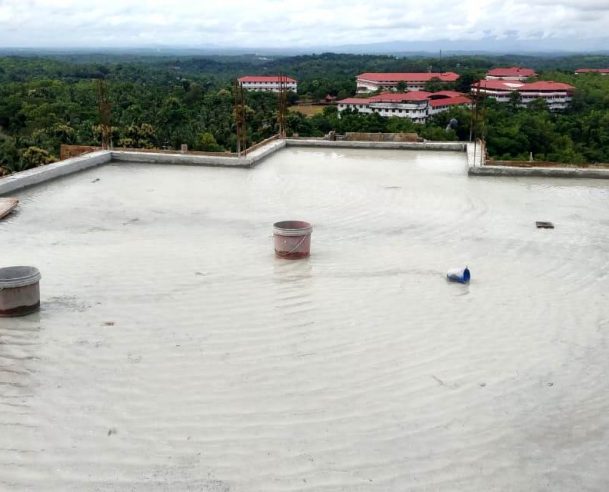 CONCRETING OF TERRACE FLOOR SLAB (FIRST PORTION) COMPLETED : 31-07-2020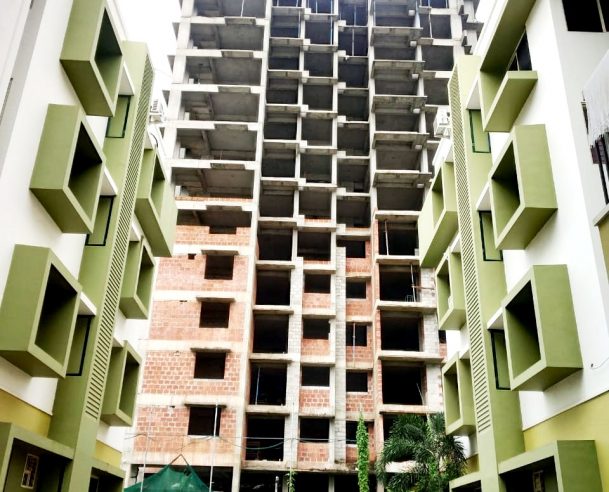 EAST SIDE VIEW : 30-06-2020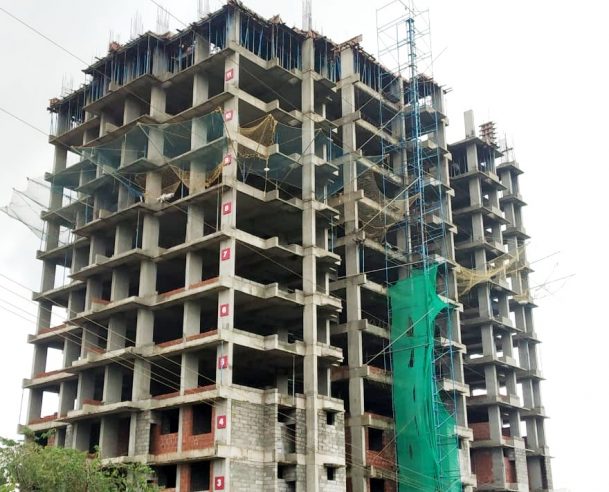 ELEVATION : 30-06-2020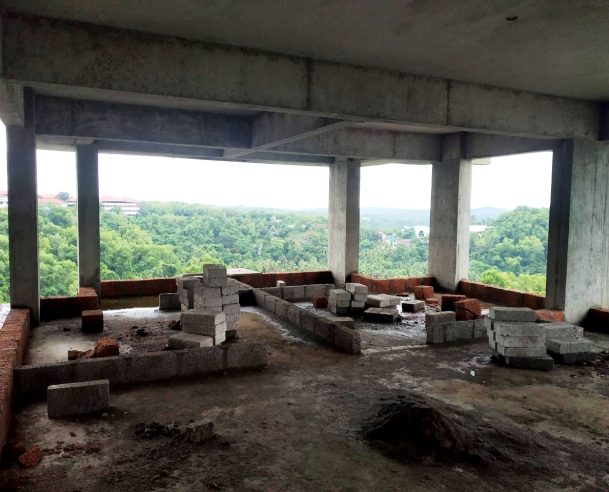 MASONRY WORK IN 5TH FLOOR : 30-06-2020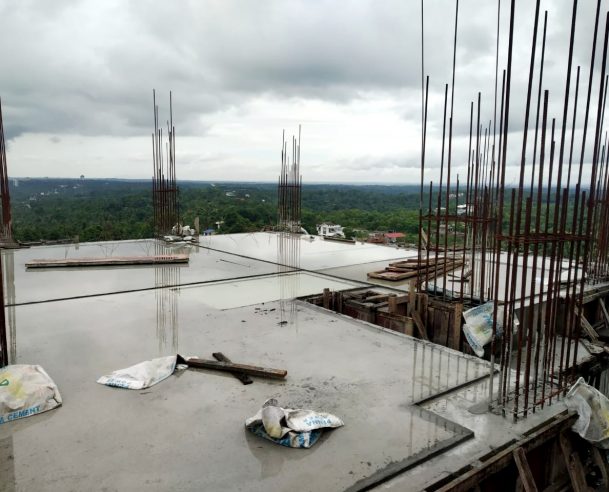 12TH FLOOR ROOF SLAB CASTING COMPLETED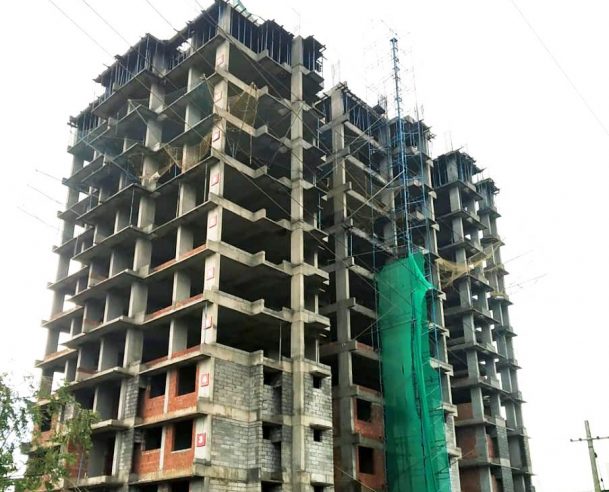 ELEVATION : 31-05-2020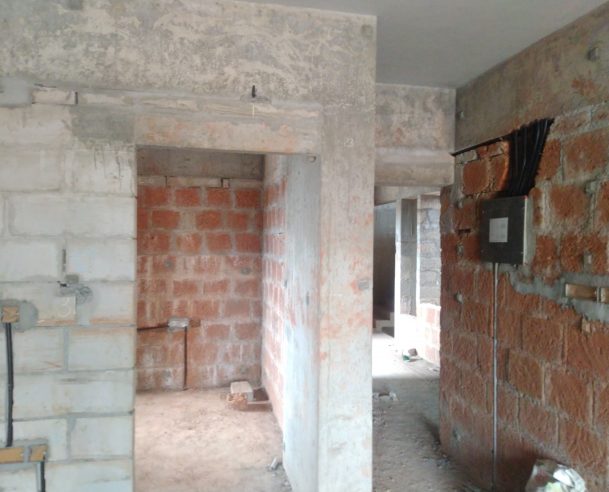 ELECTRICAL POINT WIRING ONGOING IN 2ND FLOOR FLATS : 29-2-2020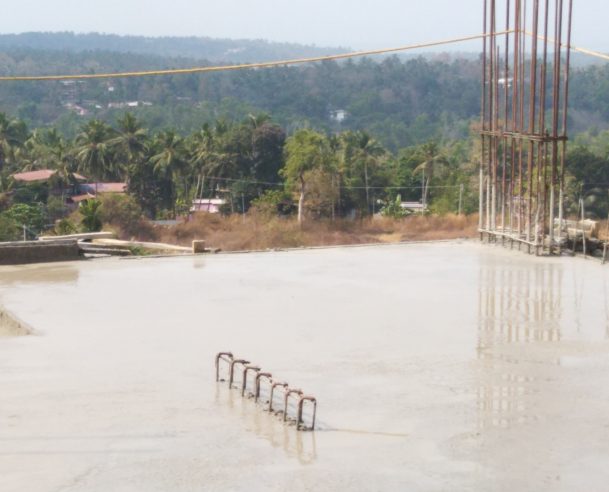 CASTING OF 11TH FLOOR ROOF SLAB COMPLETED : 29-2-2020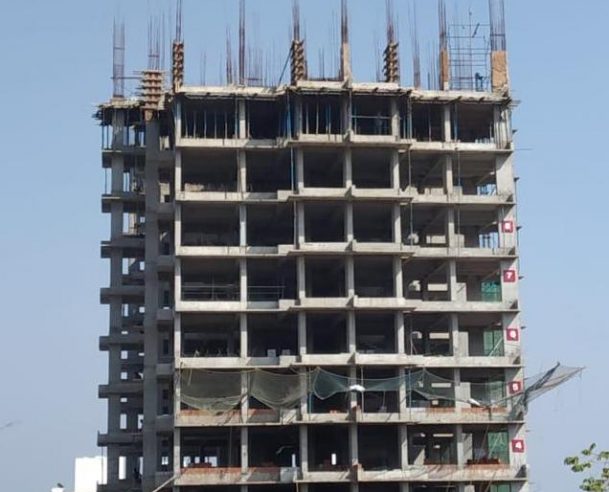 WEST SIDE ELEVATION : 29-2-2020
AS ON 31-01-2020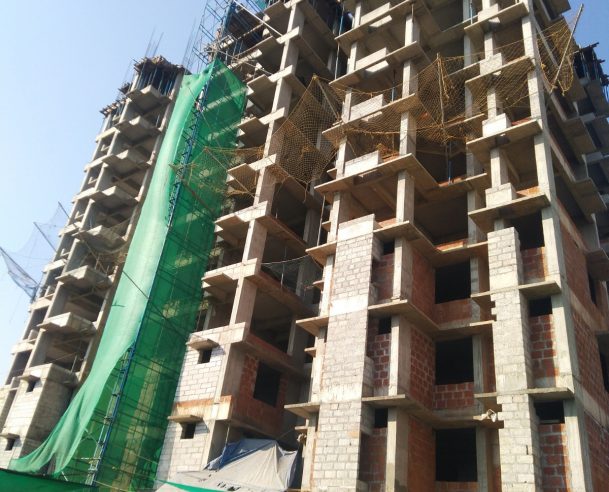 CONCRETING OF 10TH FLOOR ROOF SLAB COMPLETED [31-01-2020]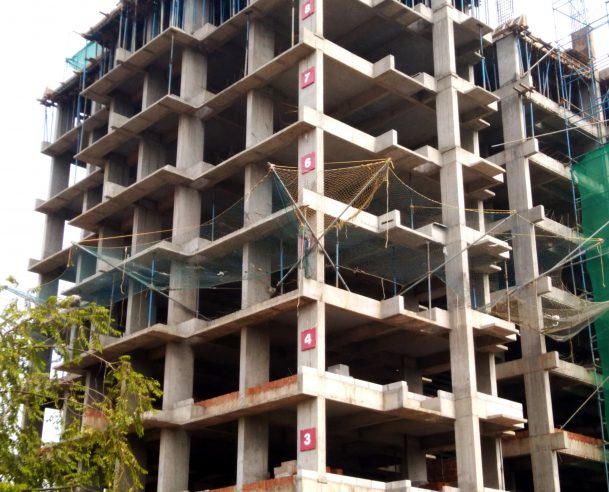 AS ON 31-12-2019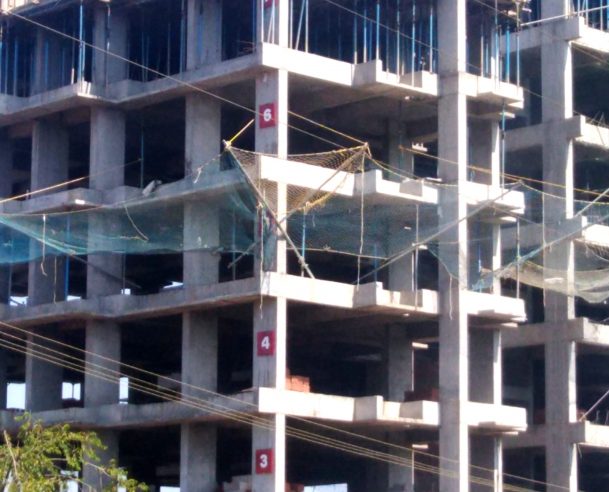 AS ON 30-11-2019
AS ON 30-11-2019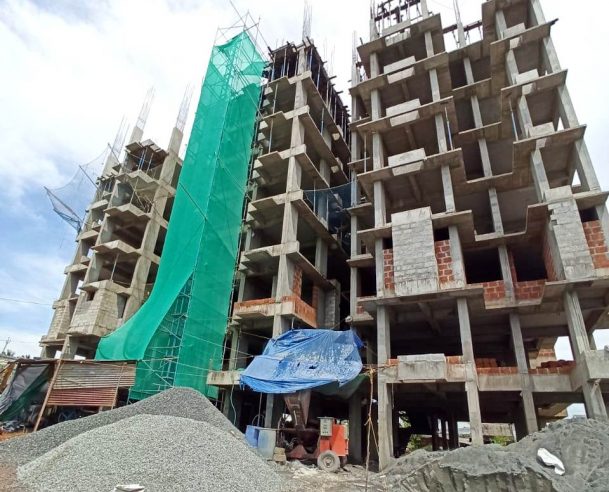 REBAR CUTTING, BENDING AND TYING FOR SEVENTH FLOOR ROOF SLAB, BEAM AND COLUMNS [31-10-2019]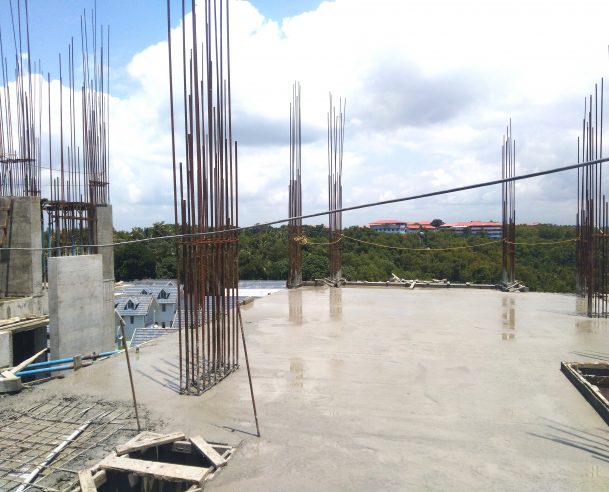 CONCRETING OF SIXTH FLOOR COLUMNS (90% COMPLETED) [30-09-2019]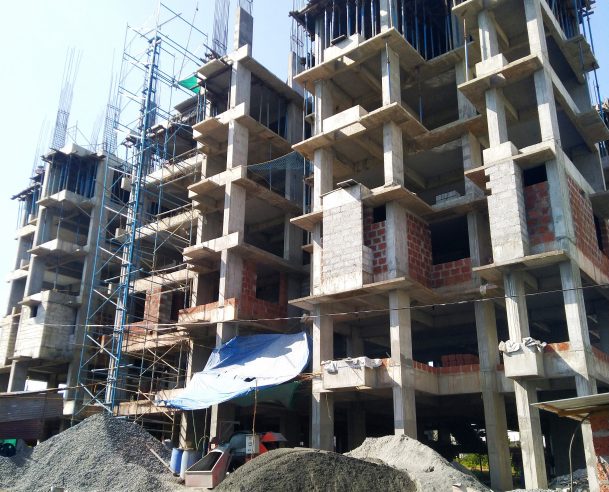 REBAR CUTTING, BENDING AND TYING FOR SIXTH FLOOR ROOF SLAB, BEAM AND COLUMNS [30-09-2019]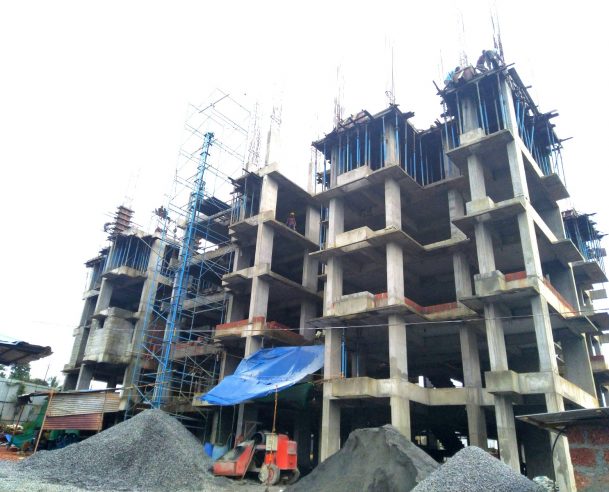 CELING PLATERING - THIRD FLOOR [31-08-2019]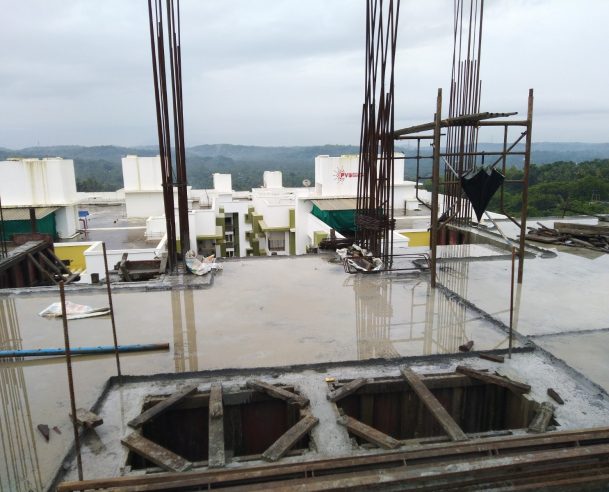 CONCRETING OF FIFTH FLOOR COLUMNS (70% COMPLETED) [31-08-2019]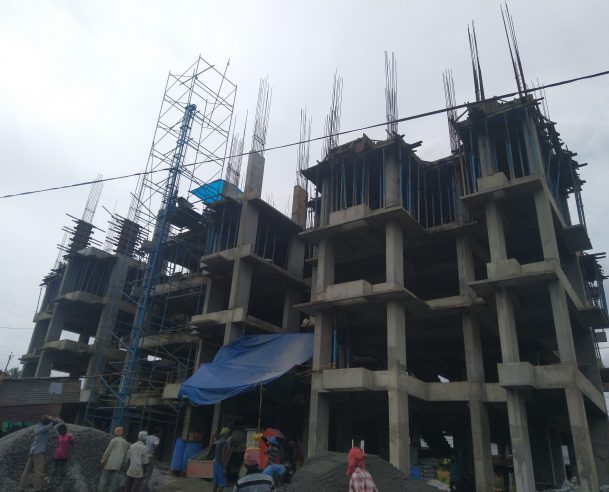 AS ON 31-07-2019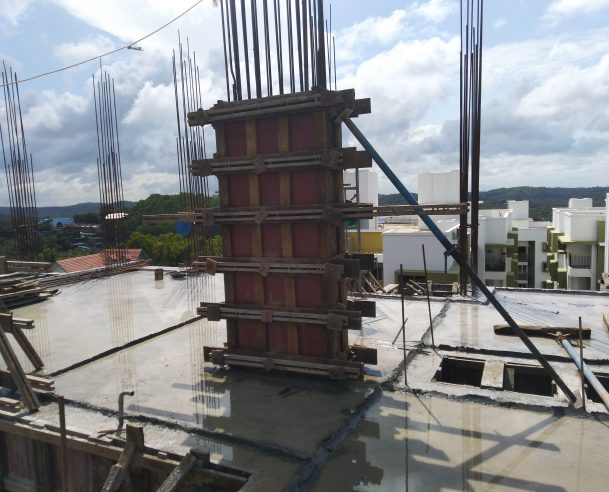 AS ON 31-07-2019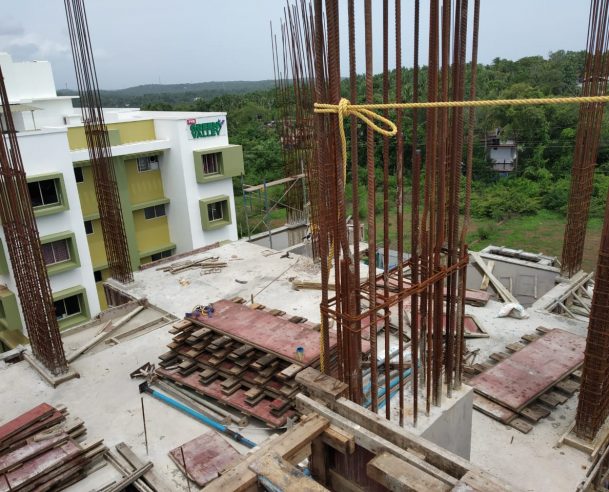 AS ON 30-06-2019
AS ON 30-06-2019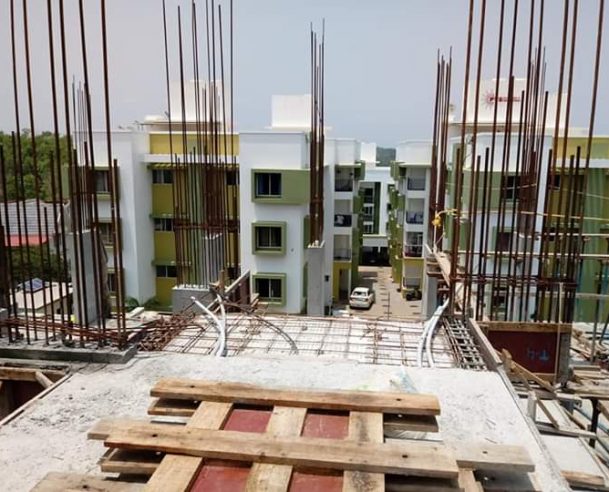 CONCRETING OF SECOND FLOOR COLUMNS 100% COMPLETED [30-05-2019]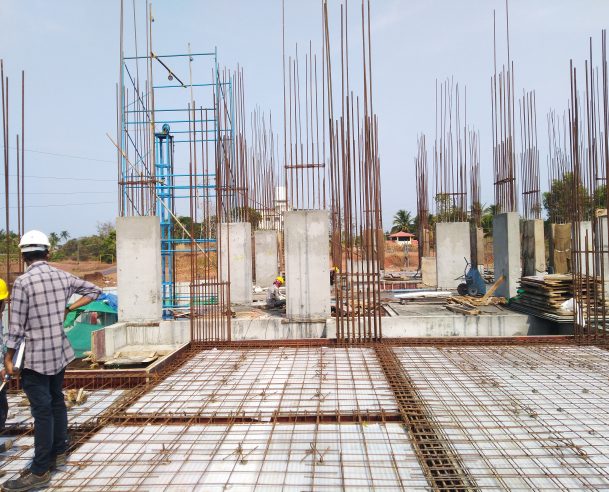 CONCRETING OF SECOND FLOOR COLUMNS (58% -32 OUT OF 56) [30-05-2019]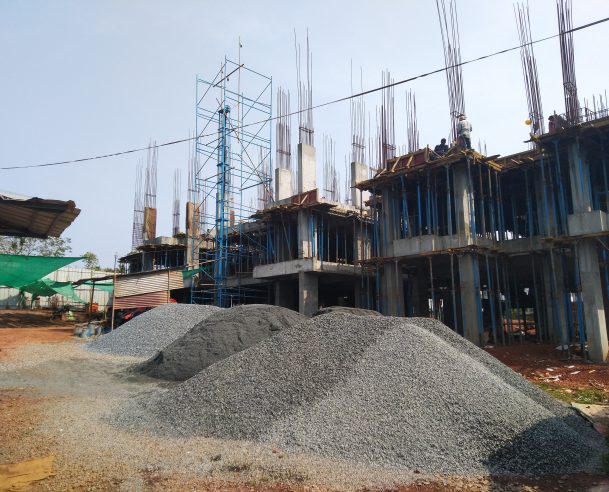 CONCRETING OF FIRST FLOOR ROOF SLAB 70% COMPLETED [30-04-2019]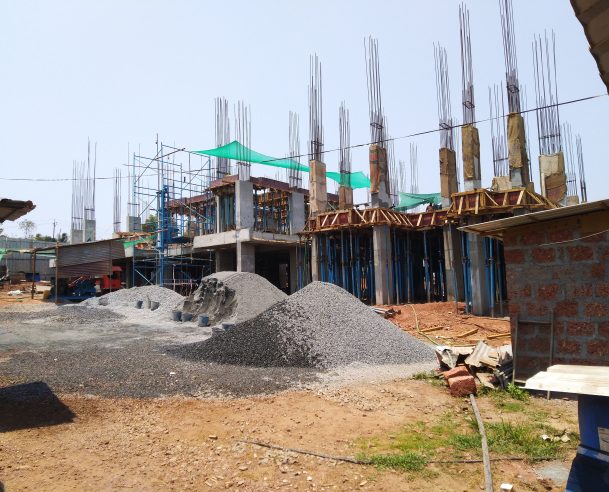 SHUTTERING WORK FOR FIRST FLOOR ROOF SLAB & BEAM 30% COMPLETED [31-03-2019]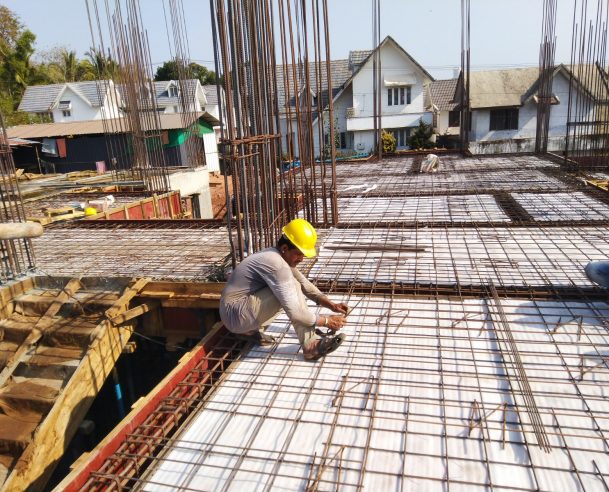 CONCRETING OF GROUND FLOOR SLAB 40% COMPLETED [28-02-2019]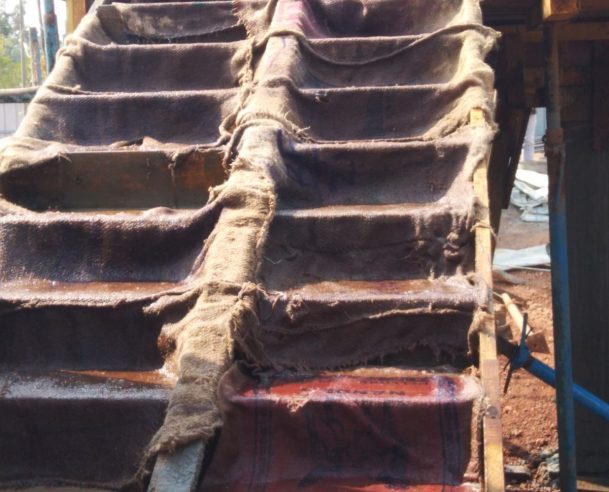 AS ON [31-01-2019]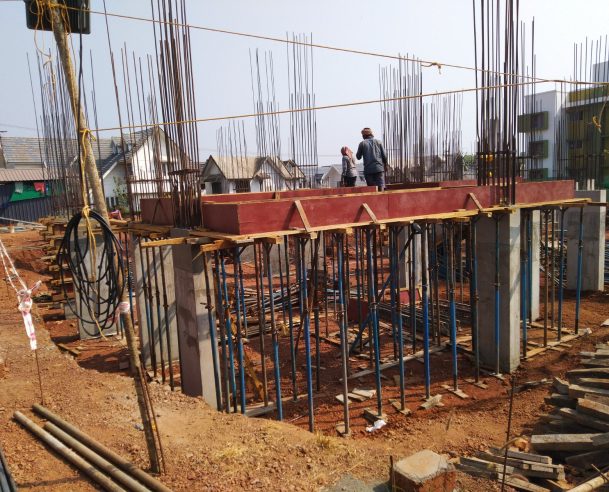 STRUCTURAL 1ST FLOOR WORK IN PROGRESS [31-01-2019]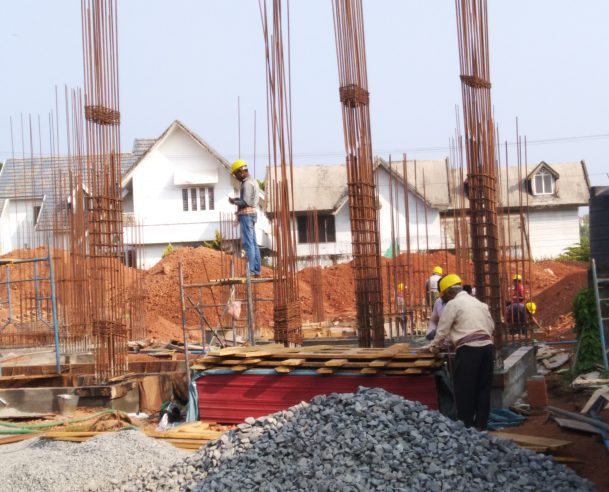 MAKING OF WOODEN COLUMN BOXES & STARTERS OF DIFFERENT SIZES [31-12-2018]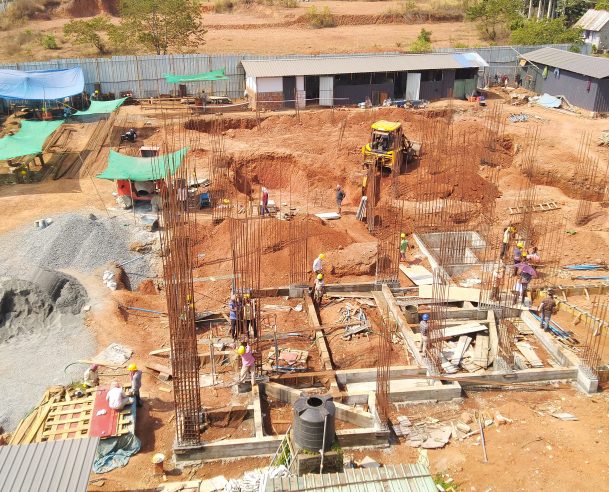 CONCRETING OF PLINTH BEAMS (30% COMPLETED) [31-12-2018]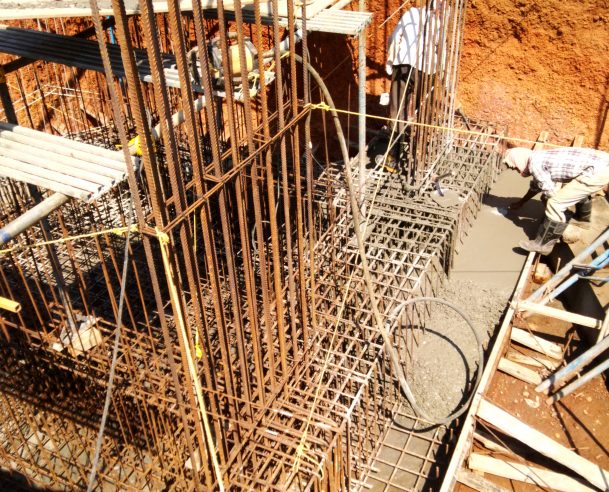 REBAR STRAIGHTENING & CUTTING FOR FOOTINGS & COLUMNS [30-11-2018]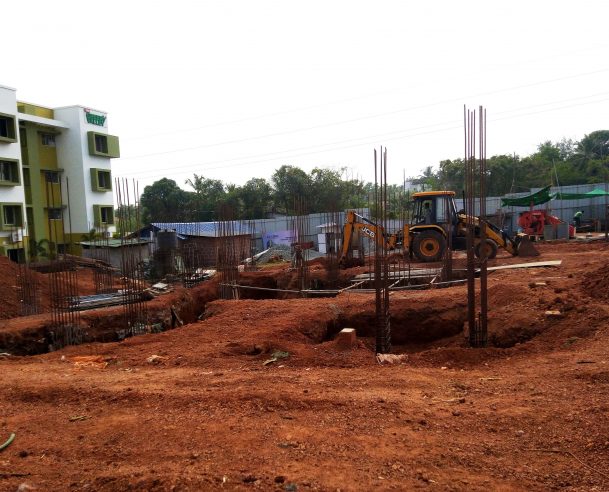 EXCAVATION FOR FOUNDATION & FOOTING (COMPLETED 52% - 19 OUT OF 37) [30-11-2018]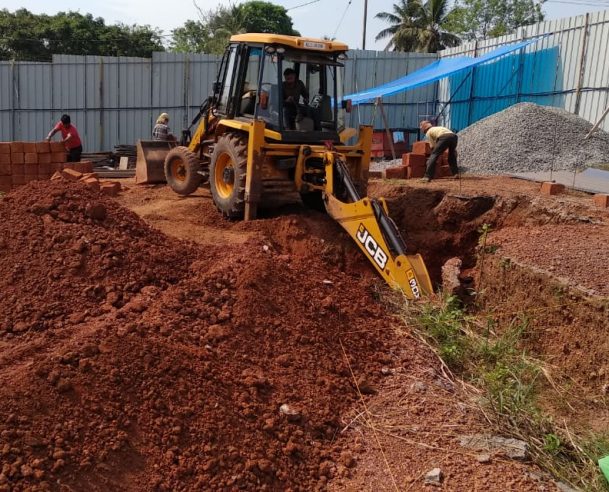 As on [31-10-2018]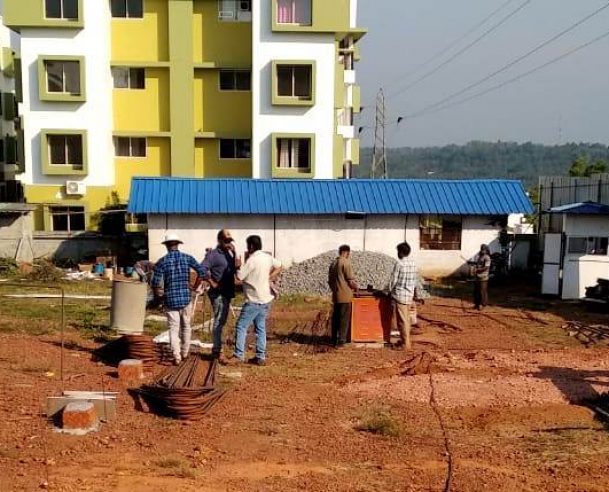 As on 31-10-2018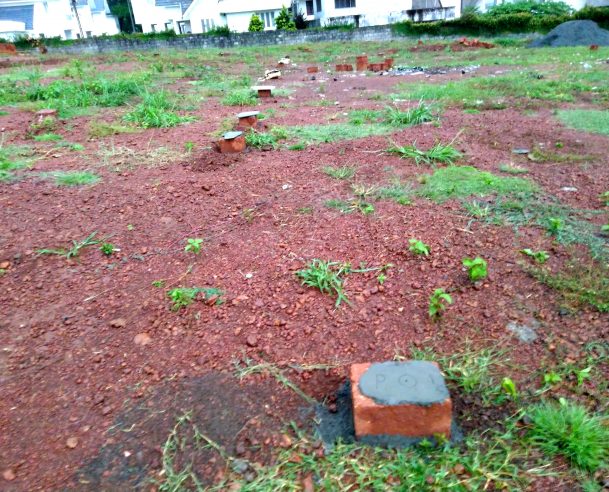 EXCAVATION FOR FOOTING [30-09-2018]
SITE CLEARING [30-09-2018]